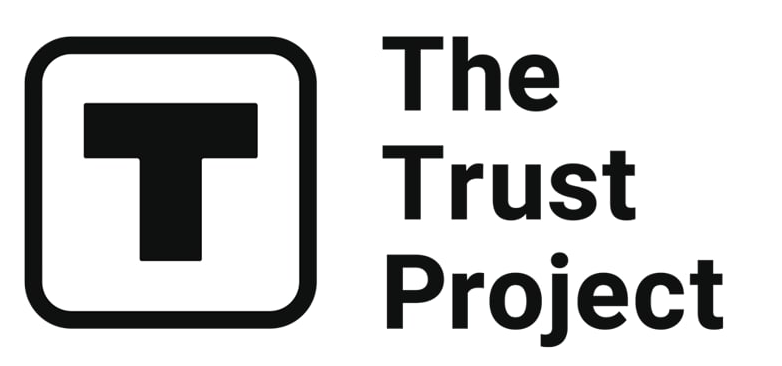 The Trust Project is a worldwide group of news organizations working to establish transparency standards.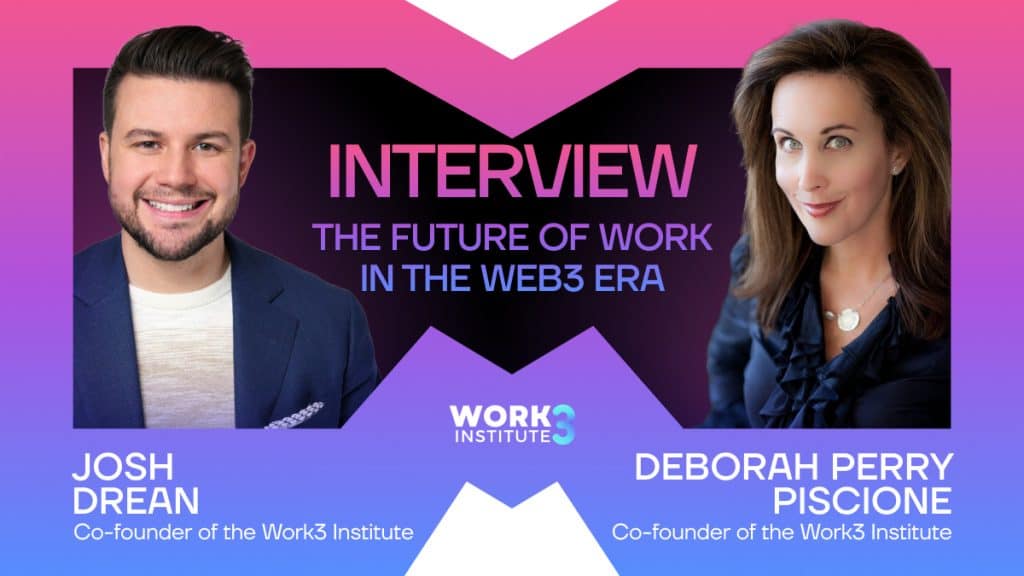 The way we work is on the brink of a major transformation, thanks to the rapid evolution of digital technology and the emergence of Web3. To delve into this exciting new paradigm shift, Sergei Medvedev, co-founder of the Metaverse Post, sat down to talk with Deborah Perry Piscione and Josh Drean, co-founders of the Work3 Institute.
Piscione brings her wealth of experience as a serial entrepreneur, best-selling author, and venture capitalist, while Drean has established himself as a renowned HR Transformation and metaverse expert and serves as the Web3 Advisor at the Harvard Innovation Labs. Together, they created the Work3 Institute, an agency that is focused on thought leadership, research, and consulting and is committed to helping organizations transition into the world of web3 by breaking up old management styles and re-designing the employee experience.
In the interview, Piscione and Drean share their insights into how Web3 technology is poised to disrupt traditional workplace structures and its potential impact on the workforce. They also discuss the exciting possibilities that arise when Web3 is combined with human-centric digital transformation strategies. As co-authors of an upcoming book on this very topic, they are perfectly positioned to provide a comprehensive understanding of how Web3 will change the way we work.
Tell me about yourself, Deborah. I know you have incredible experience.
Deborah Perry Piscione: Absolutely. It's so great to be here. So my story in a nutshell, I spent 18 years in Washington, DC, working in politics on Capitol Hill, the White House. Fell into media as a commentator of being in school and working there. I did two things really well: I learned how to divide people into an 'us versus them' mentality, and I also learned how to put fear in people because when you're running for office or you want more viewers on CNN, you just put fear in people and that's how you galvanize people. In 2006, my husband came home, and he said, we're moving to Silicon Valley, and I was like, "Where?" Eighteen years of experience and figuring out what it looks like in the world of Google and Intel. 
In 2006, I was standing in line at a Starbucks three weeks after arriving in Silicon Vallet, and a woman turned to me and said, "You're new in town? How can I help?" Because of that introduction from the woman at Starbucks, venture capitalists raised $5 million. Eighteen months later, that company sold.
Then I was fascinated by this ecosystem in Silicon Valley. There seemed to be these unspoken rules in the way that people operate and they collaborate together. So I ended up writing the book "Secrets of Silicon Valley", built four more companies, and wrote three more books around innovation and how we as individuals can bring forth our best value. And then I fell into the web3 space because of my sons, who were really pushing for me to invest in Bitcoin years ago. Now they're 18 years old and invested in Bitcoin and got super interested in web3 and its principles around democratization, so it's just been a great kind of metamorphosis. 
Thank you. What about you, Josh?
Josh Drean: Sergei, grateful to have shared the stage with you in South Korea last year, and so glad that we're chatting. I'm also very grateful to bring Deborah Perry Piscione along. She is the co-founder of the Work3 Institute. We're writing a book for the Harvard Business Review Press next year, so we're very excited about that.
As for my background, I was a Harvard student really interested in entrepreneurship and discovered the Harvard Innovation Labs, which is an incubator where startups can go and create new things based on their ideas based on where the market is. How do we develop a listening strategy within the workplace so we truly understand how employees are feeling, so we design better experiences for them at work? I don't think it's a secret that work, as it currently stands, doesn't necessarily serve the employee. It serves the organization, it serves the productivity that needs to be generated, but what about the fulfillment of employees? So I was building to death as a web3 advisor because there's a lot of interest in web3 technologies, the metaverse, and it was so great to sit down in later years with Harvard students and help them see the resources available to them, help them see the future of work, where it's headed. 
At Metacon, we were talking about how the metaverse will impact the future of work. Deborah reached out to me after I had applied to her conference, so I was really excited to see what she was working on. I was like: We need to write a book.
What we are interested in pushing forward right now is that the current structure of work is outdated. We are in need of a new vessel that offers more productivity, but also more fulfillment for employees. And we don't believe that you can find that anywhere in the current structure. It's going to jump fully to a web3 decentralized model for work.
Employees start to have more autonomy over their lives and their work. They have more flexibility; they have more ownership of the work that they're creating. We're seeing beginning examples of this happening with the younger generation and Minecraft. That's what we're really passionate about is teaching people that there's a new form of work coming in, and employers are going to choose it, and we need to be ready for that.
Thank you, Josh. Have you read a book called Bullshit Jobs by David Graeber?
Josh & Deborah: No.
He was incredible. Unfortunately, he passed away. It's a common agreement in society that companies and governments generate a lot of useless jobs just to keep people busy. What do you think about that? Do you think web3 will change that?
DPP: 100%. I think I've always been a web3 person since I was like 12 because I never understood that concept, particularly in our very incumbent industries and spheres of influence. If I got my job done at 3, why did I have to sit there 'til 6? And if I worked all night long, why was I heralded for putting in an all-nighter? And so I think there's a confluence of events in the world and this youthquake coming up that is going to change the workforce, whether it's these traditional generations, Gen Z and Gen Y coming, it is really about your passion project, your work. It's not necessarily about homeownership or all the things that I think were so critical for earlier generations to have that stability, and you only lived in one place, you worked for one person. Now it's gonna be just like really filling into the areas that you just got a great passion for. I think that's going to be the future of work, and employers need to quickly figure out how to move and transition into this model with these younger workers coming in who are never going to work in these old patterns.
I saw web1 transition to web2. It was huge, and I had the chance to participate. I was a student in Russia; it was a long time ago. Deborah, in your experience, did you face this web1 to web2 transition?
DPP: It was a situation where I remember sitting in my office in Washington, DC, and somebody goes, "I'm surfing the internet!" and I had no concept of what that was. What do you mean surfing? There's no ocean. You're staring at what they were doing with it, but that was incredibly consumer-driven. What Josh and I are finding is the adoption rates around web3, particularly at work, are going to look different. It will be more enterprise and industrial-focused through having digital twins and for greater operational efficiency overall. Supply chain, manufacturing, and collaborating and designing are gonna have much greater efficiencies through the use of digital twins. 
Then employers are going to have to figure out how to take it to the next level. And I think Accenture did an amazing job onboarding people last year through the metaverse, bringing on 150,000 new people to the metaverse.
Adoption rates are gonna look different from web2 to web3 versus web1 to web2 because it was so consumer and individualized because enterprises and companies just didn't know how to initially adopt web2 as a tool for learning and getting work done.
Personally, I was at the beginning of my career. I created a software development company, and we used decentralized developers, but nobody wanted to work with us even though we could guarantee better prices because they needed people's CVs. At the same time, they used to work in other big companies. You would've spent less money on hiring senior-level developers than junior to mid-level developers at a lower rate, as the additional hours of management will add to the cost per hour.  That's a big deal. When I understood I could do that decentralized and people just need to have the right process, right task management, it was just perfect.
Josh, with Deborah, you started the Work3 Institute. So tell me, what is that? What are you going to do? How, in general, should companies be prepared for this web3 shift?
JD: At the Work3 Institute, what we care about is people-centered digital transformation. That is bringing both people and technology together to create a better workforce. A lot of people right now think that going more digital is going to be less human because we have AI. That's a big scary thing, right? Avatar running around? How can that be more human? And we make the argument that the metaverse does make us more human as we move into more digital worlds. That's something that we should embrace. There are a lot of structural things that we worked through anywhere from HR companies who are still probably operating in a web1 model; we help them upgrade to web2 in preparation for web3. 
There are companies right now that are web2 that see what's coming and want to move into a web3 decentralized system; they just don't know how. We coach them on that. We'll go back to your example of how you're able to be more efficient, probably more productive and allow these engineers more flexibility with their time and their efforts because you're assigning them a task or a project over actually working internally for a company. 
Right now, there are huge inefficiencies in companies because they hire a bunch of employees for one task, and employees get frustrated because they're like, "I have way more to offer, but you just want me to press my button, so I'm just going to press my button, and eventually, I'd become disengaged." The majority of the workforce in today's world is disengaged. The pandemic kind of opened our eyes a little bit as companies started scaling back their spending and scaling back their employees; they started rescaling and saying, "Hey, this employee is really good at doing this as well, so maybe we can put them on another team, and they can do two things for the organization." 
There are tools right now being built called a talent marketplace, where employees can say, "Here I am; here's what I'm good at," and then AI and machine learning can match them with projects that make sense for them. What we believe is that there's going to be a global talent marketplace that does this exact thing, which means that with your talents and abilities, we will find your work wherever it is in the world, but it's going to be what you really love to do. It's gonna help you really figure out the career development goals that you have, and you don't have to be beholden to one company only. You can work for several DAOs in this network, and make more money, working less doing what you love. That is the utopia that we believe is possible and is coming. It's already here. We just are helping. 
DPP: I would love to add to that as well. When I first moved to Silicon Valley after selling that first company, I was fascinated by the culture. So I ended up writing the book Secrets of Silicon Valley because that was a time when you needed to live in a particular city, whether you were more than an incumbent traditional workforce or you're more of an entrepreneur. This is no longer, and there are a lot of economic indicators to show that not only is work going to be decentralized, but so is your geography and location. It's not about being in Silicon Valley anymore. We've got an impending banking crisis in the US that is going to impact the rest of the world on somewhat of a new world order that's gonna drive this no matter what. So for the first time, really since 2018, I'm sitting in the middle of Silicon Valley, you know, we're seeing the layoffs, we're seeing the cutoffs of very talented people from the big tech companies. I don't know if they're going to be able to get another job right now, so it is going to be this push to really figure out this new way of work. I think we're just sitting here at an extremely interesting point in time. It is the natural evolution of the Internet, the metaverse, but there's a lot driving this move into web3 at an exponential pace.
As a generation that was born before the consumer internet, I'm looking at my kids, and they're already in the metaverse. I've even outsourced my memory; all the phone numbers are in my phone. I remember, back in the day, my home phone number and my wife's phone number. This thing with navigation, we outsourced it to Google Maps. Even people who were born before the internet for them, it's a part of the average process. Deborah, what do you think will be the best-case scenario? Maybe you've seen really interesting cases of the web3 shift in the work process and employment, or maybe you could elaborate on a couple of good cases for our listeners.
DPP: I want to address something you just said first because I think it's really critical in the era of AI as well. Our brains are evolving and shifting, and even when my husband and I were raising our kids, we really vacillated when to allow them to have a cell phone and play video games. AI is now coming into the public domain at rapid speed, and we really got to make sure it augments what human intelligence does and not make a point to replace it.
Read more:
Disclaimer
Any data, text, or other content on this page is provided as general market information and not as investment advice. Past performance is not necessarily an indicator of future results.