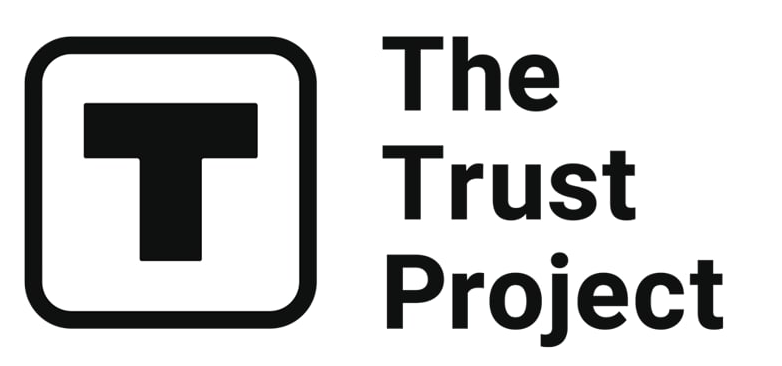 The Trust Project is a worldwide group of news organizations working to establish transparency standards.
The demand for text-to-speech (TTS) solutions is on the rise. This is driven by the need for more natural and realistic-sounding synthetic voices for a variety of applications, including speech synthesis, digital assistants, and educational resources.
To meet this demand, a number of companies are offering AI voice generators and voice cloning solutions. In this article, we will take a look at the top 7 AI voice generators and voice cloning solutions for text-to-speech.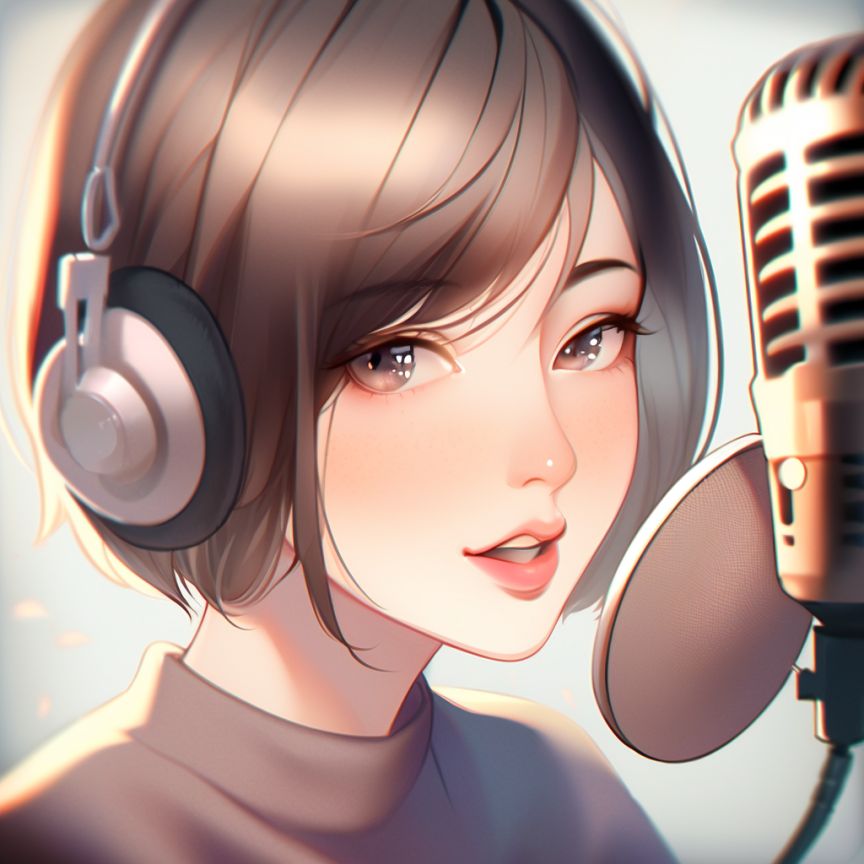 Murf.ai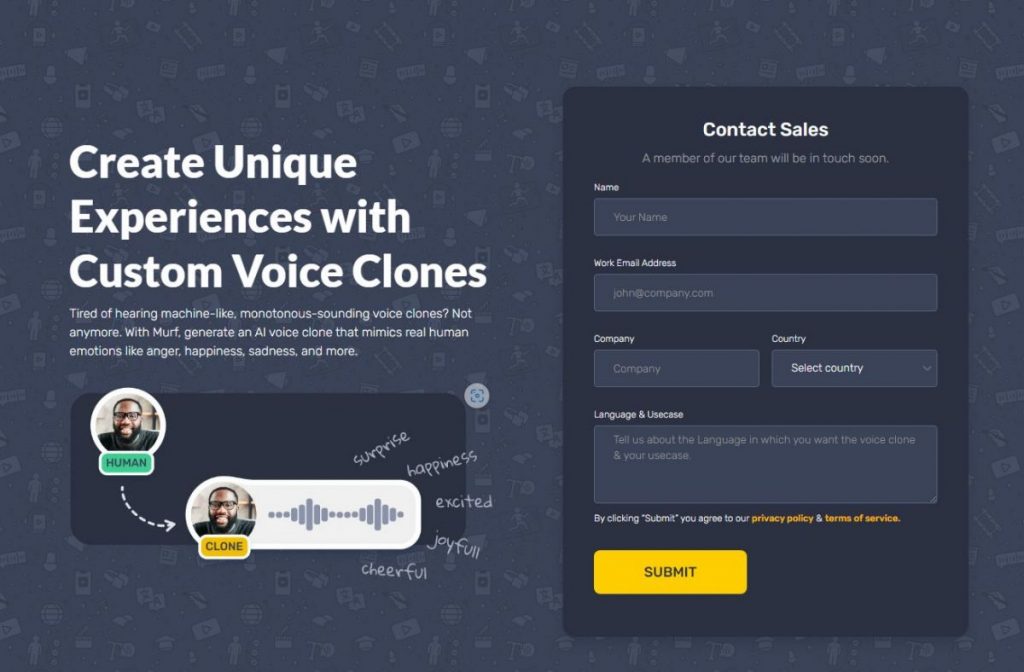 You may effortlessly duplicate the voice of your preferred actor with Murf, a trustworthy online voice cloner. Murf makes sure your team has exclusive access and that your copied voices are secure. However, that's not all. A complete voice solution is provided by Murf. Murf provides cutting-edge voice synthesis, editing, and visual timing features to assist you in quickly producing high-quality audio clones.
When you sign up with Murf, an account manager will be assigned to you specifically to help you with the process of deep voice cloning. From guiding you through the user cycle to troubleshooting and support needs, your account manager will be your point of contact.
Beyondwords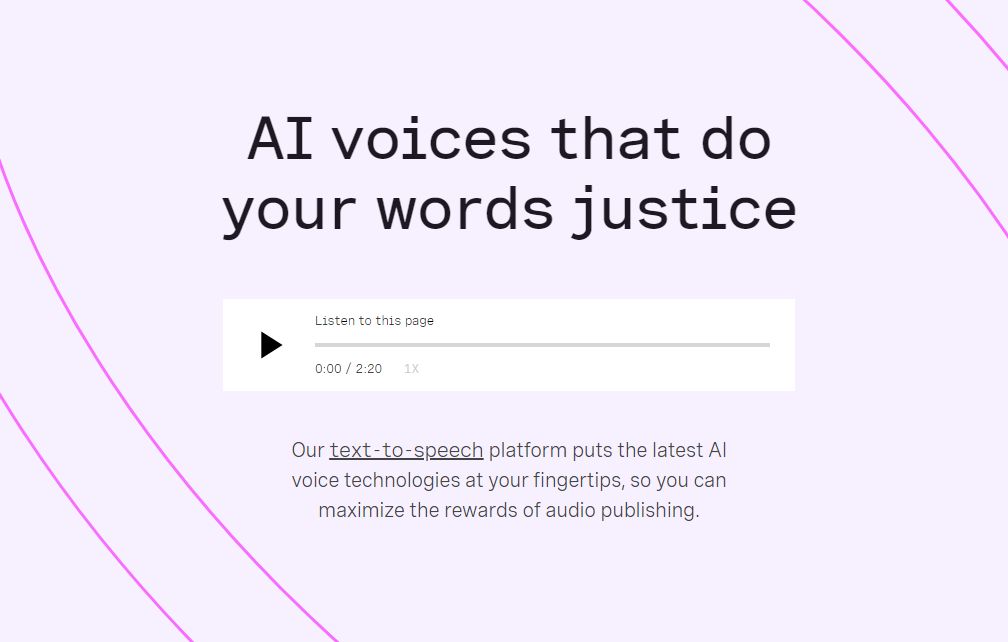 Beyondwords believes in producing AI voices in an ethical manner and employs deep learning technology to generate voice clones of authors, businesspeople, and voice actors. BeyondWords analyzes your text using natural language processing (NLP) and turns it into vocal synthesis markup language (SSML).
This enables the AI voice to narrate like a human would, choosing which parts to read aloud and how to do so. Our computational linguists constructed and are constantly improving our NLP algorithms, which may be tailored to your requirements. Because other text-to-speech services can't accurately pronounce certain aspects, you may rely on BeyondWords to do so.
Play.ht Voice Cloning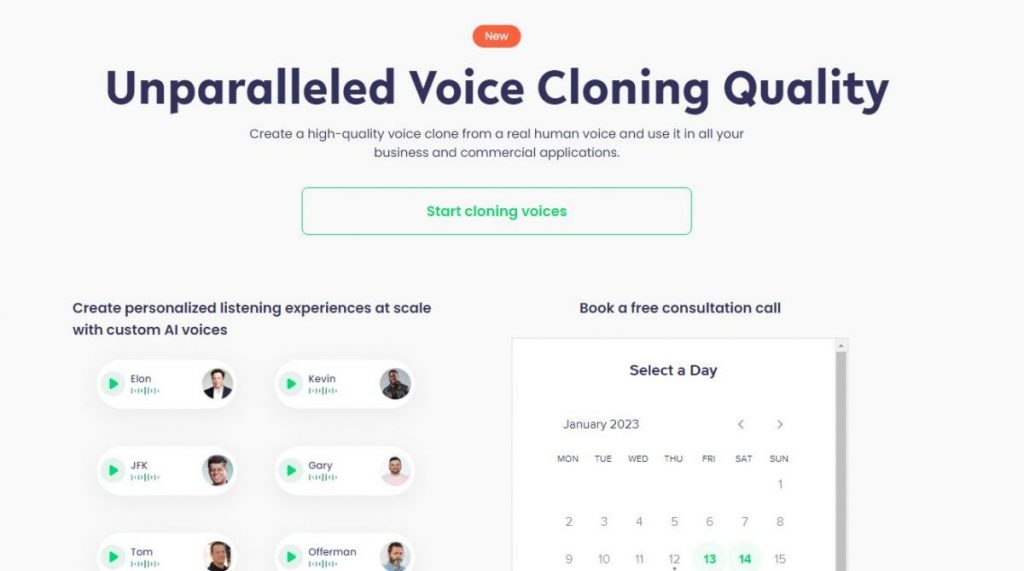 Peregrine was built from the bottom up to produce the most expressive speech and accurately mimic a human voice, in contrast to most traditional speech synthesis machine learning models and Text to Speech APIs that are meant to exchange quality and expressiveness for computer performance. Peregrine uses the same strategy as sophisticated language models like Dalle and GPT-2.
As a result, Peregrine's ultra-realistic voices are unmatched in their ability to capture the subtleties of human speech. Whether it's tone, emotion, or even laughter! All under your own supervision.
Lyrebird AI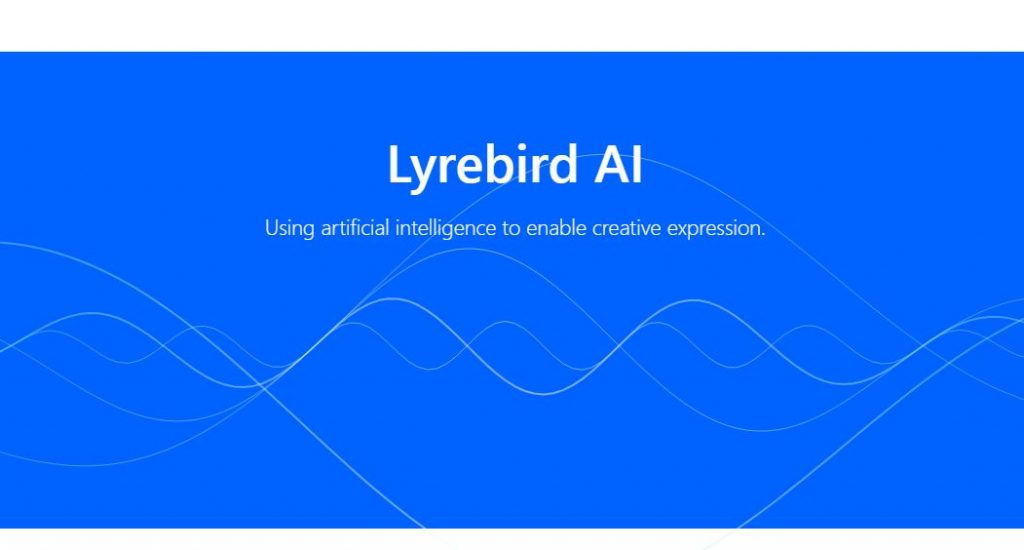 A new series of media editing and synthesis tools called Lyrebird makes creating content easier and more creative.
The Descript Lyrebird team, which conducts AI research, is the top platform for AI-based media synthesis with practical applications. It creates potent tools that make content production more straightforward and available.
When they were PhD students at MILA working under Yoshua Bengio, who received the Turing Prize in 2019 for his groundbreaking work in deep learning and neural networks, Alexandre de Brébisson, Kundan Kumar, and Jose Sotelo established Lyrebird in 2017.
Resemble.ai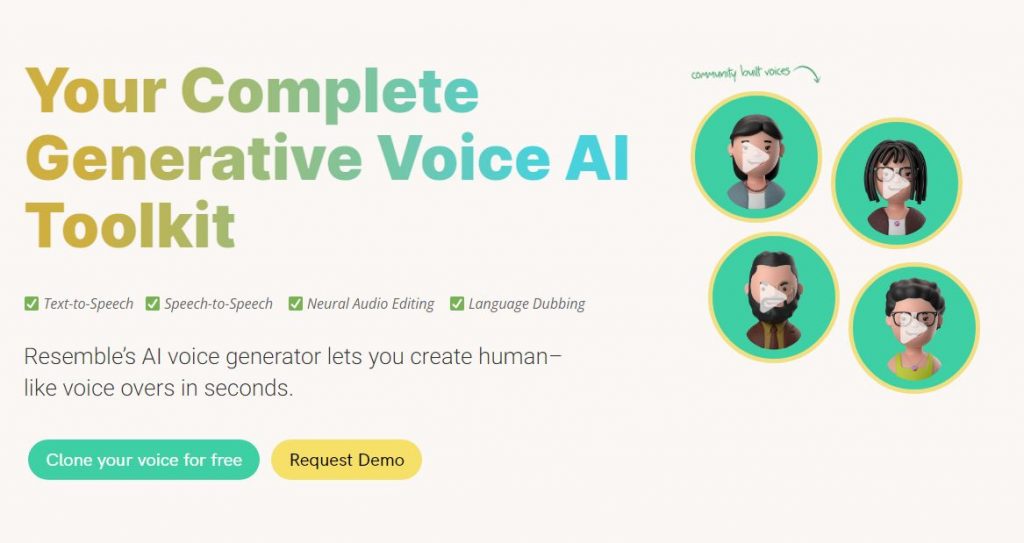 With the AI voice generator from Resemble, you can quickly produce voiceovers that sound human. Without any additional information, you can add an infinite number of emotions to your voice. Happy, sad, and angry feelings are all preloaded and ready to use. Real-time speech-to-voice technology can change your voice into the desired voice. Precise control over each and every tone and inflection. Without providing any information, translate your voice into any language. Reach a worldwide audience by using your voice across boundaries.
For a seamless experience, mix synthetic information with your genuine voice recordings. Effortlessly add, remove, or replace any speech. Utilize contemporary tools to quickly construct production-ready integrations. Use the Resemble API to acquire already-existing footage, make new clips, and even instantly generate voices. Give our low-latency API a try.
Respeecher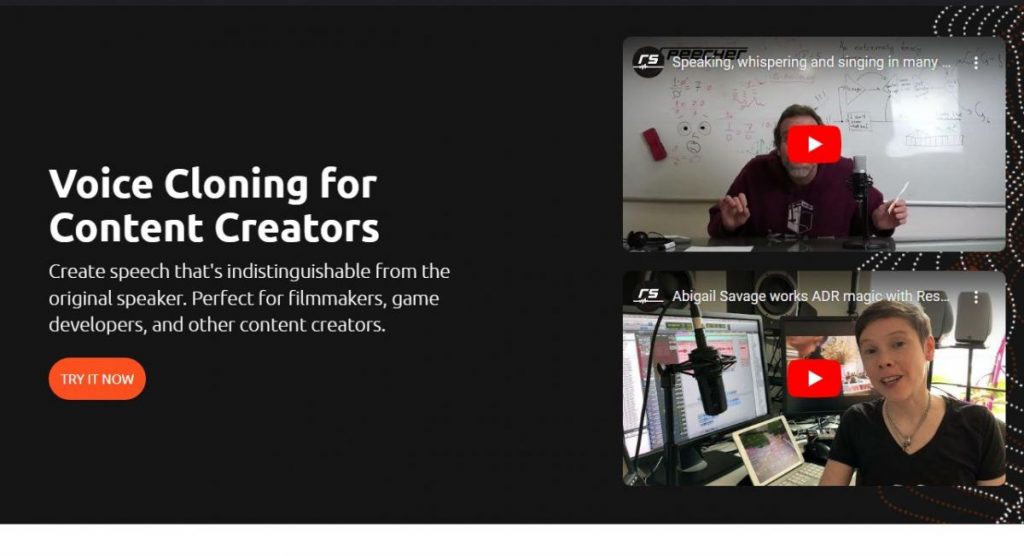 To perfect every aspect of your target voice, Respeecher applies cutting-edge artificial intelligence and machine learning. Respeecher mixes traditional algorithms for digital signal processing with exclusive deep generative modeling methods. The outcome voice produced by a computer that is an exact match.
Anyone who would profit from voice reproduction technology, from Hollywood film studios to gaming creators, should use Respeecher. Respeecher is the solution for you if you want complete creative control over your product and flawless quality.
Speechify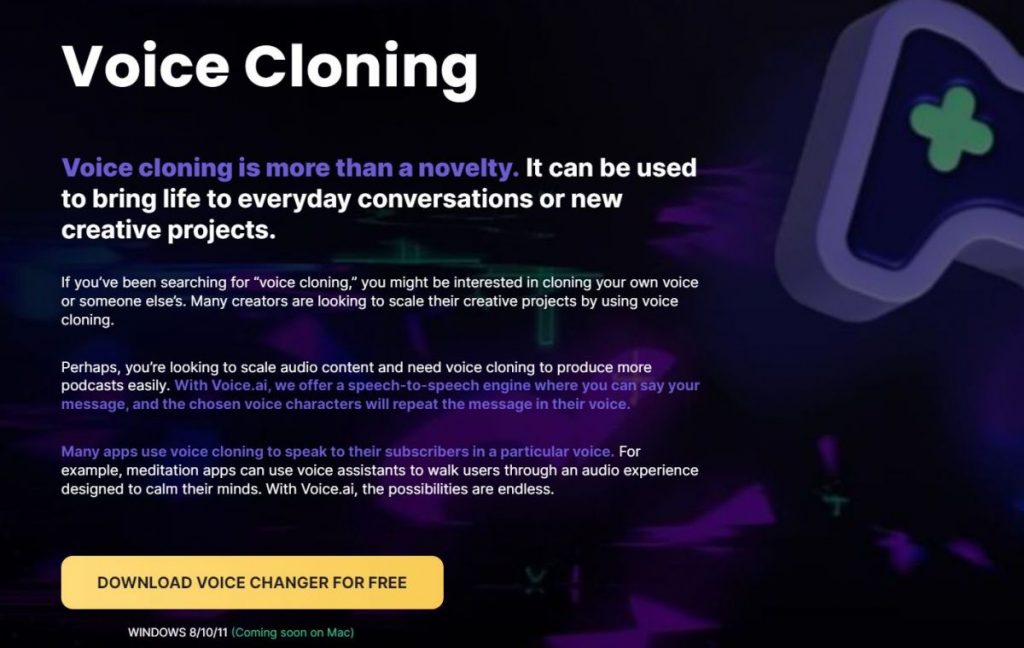 A technology called voice cloning duplicates a person's voice to be used as voice assistance. Hours of recorded speech are typically needed to create a collection of datasets that can be utilized to create a new voice model when cloning a voice. But now, it's feasible in a matter of seconds!
Users of Voice.ai's Voice Universe have recorded top-notch voices to create a library of more than 150 user-generated characters. As a result, anyone's voice may be examined, modulated, and corrected by the program, which can then instantly transform it into a pre-selected A-List celebrity impersonation.
Voice assistants had a lot of limitations in the past. They had an artificial, robotic sound. The pitch, tone, and accent of voices seem considerably more natural now that text-to-speech and artificial intelligence have advanced technology.
There are many voice generators and voice cloning software out there that can be used for text-to-speech. These voice generators and voice cloning software can be used to create lifelike voices for your text-to-speech applications. So if you're looking to create a voice that sounds like a real person, then these are some of the best options that you have.
Read more about AI:
Disclaimer
Any data, text, or other content on this page is provided as general market information and not as investment advice. Past performance is not necessarily an indicator of future results.