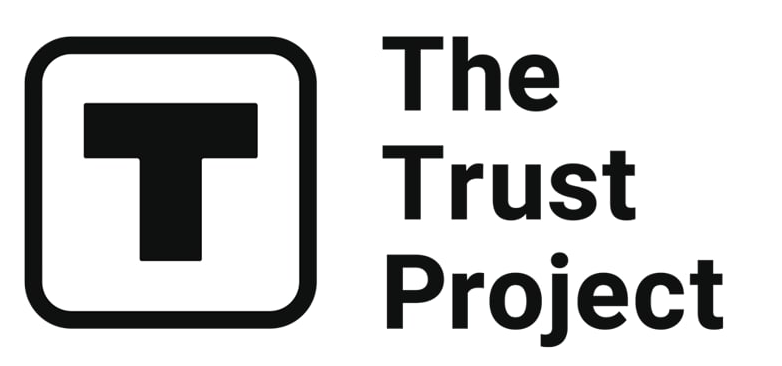 The Trust Project is a worldwide group of news organizations working to establish transparency standards.
The AI 3D generators can help you create three-dimensional models from text descriptions, image or video input. This can be useful for a number of applications, such as creating models for 3D printing, or for creating three-dimensional models of objects that don't exist in the real world. There are a number of AI text-to-3D generators on the market, and the best one for you will depend on your specific needs. In this article, we'll introduce you to five of the best AI text-to-3D generators and explain what makes each one stand out.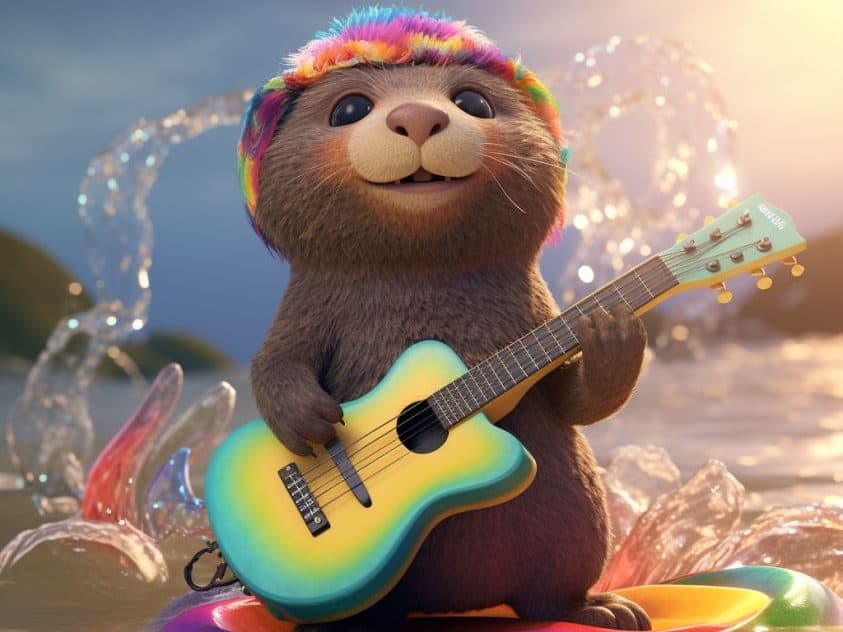 Best AI Text-to-3D Generators
Spline AI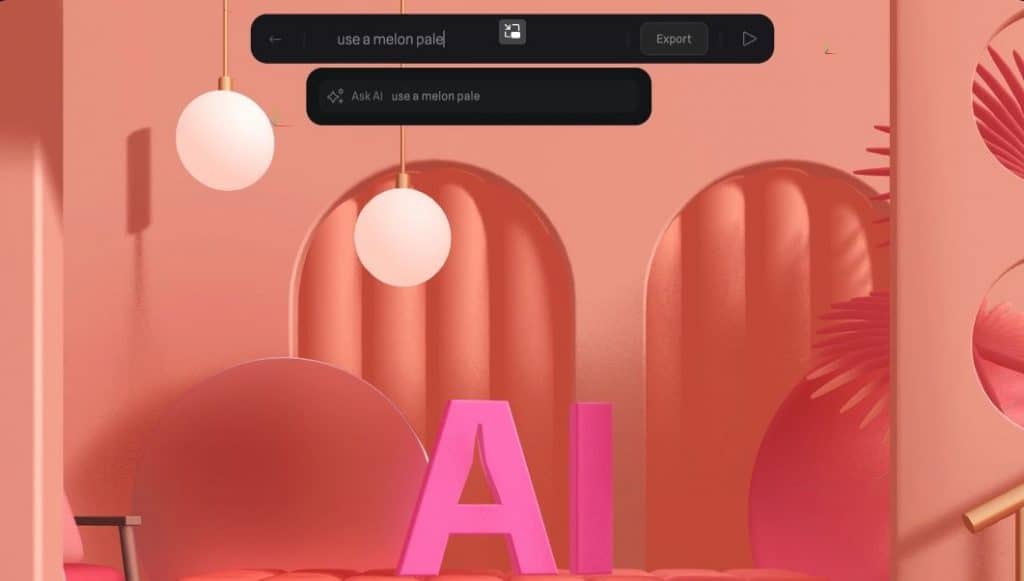 The power of Artificial Intelligence is coming to the Third Dimension. Spline AI is the revolutionary AI-powered text-to-3D generator that can create realistic 3D models and animations with just text-based prompts. This technology has revolutionized the way 3D creations are made, with its efficiency and quality blowing away traditional 3D modeling. Spline AI works by taking text-based prompts from the user and interpreting it into 3D objects and animations. This technology allows anyone to quickly generate realistic 3D models with just a few words. All that is needed is a prompt describing what the user wants to be created, and Spline AI will do the rest.
The prompts that Spline AI understands can be as detailed as the user wants them to be. For example, users can enter prompts like "a house with a red front door and two windows" and the AI will create a realistic 3D house object with that exact specification. If a user wanted to create a 3D animal, they could enter a prompt like "a tiger with orange fur and white stripes" and the AI would generate the perfect image without any further assistance.
Pros:
In addition to creating 3D models, Spline AI can also generate seamless textures for 3D objects with text-based prompts. Whether you're creating characters, creatures, or landscapes, the AI will be able to make a seamless texture based on what you describe in your prompt.
Spline AI also has powerful collaborative features which makes it easier to work with teammates. The AI can be accessed from any device, allowing users to easily share and edit their creations in real-time. This means that teamwork is speedier, with ideas and projects coming to life faster than ever.
Masterpiece Studio
Enter Masterpiece Studio – the world's first AI Text-to-3D Generator, developed by the same creative minds that reimagined 3D creation. This revolutionary tool allows users to create 3D models and animations with just a few words, saving time and energy. Instead of building entire models and animations by hand, users are able to give their words life in the form of 3D models at the click of a button. Plus, with its easy-to-use user interface, the Masterpiece Studio AI Text-to-3D Generator is the most accessible 3D creation tool on the market today.
Now, let's switch to a lower level of granularity to understand exactly how the Masterpiece Studio AI Text-to-3D Generator works. By using advanced Natural Language Processing (NLP) technology, the AI Text-to-3D Generator converts a user's descriptive text into an actual 3D model. For example, if you enter "guitar", the AI generator will create a model of a guitar based on your specifications. With the Masterpiece Studio AI Text-to-3D Generator, users don't have to spend hours pouring over every detail to make a model – the AI does all the hard work for them. This means that users can go from concept to creation in minutes, with just a few clicks of their mouse.
Pros:
The AI Text-to-3D Generator also can generate custom animation sequences for your creations. It churns out game-ready 3D models that can be utilized for a wide range of applications, including gaming, 3D printing, animation and mixed reality.
When it comes to creating 3D models and animations, the Masterpiece Studio AI Text-to-3D Generator is the perfect tool for the creative mind. It simplifies the creative process – something that was previously time-consuming and complex – and allows users to bring their ideas to life in a matter of minutes. The AI Text-to-3D Generator is the perfect tool for anyone looking to create inspiring content quickly.
Meshcapade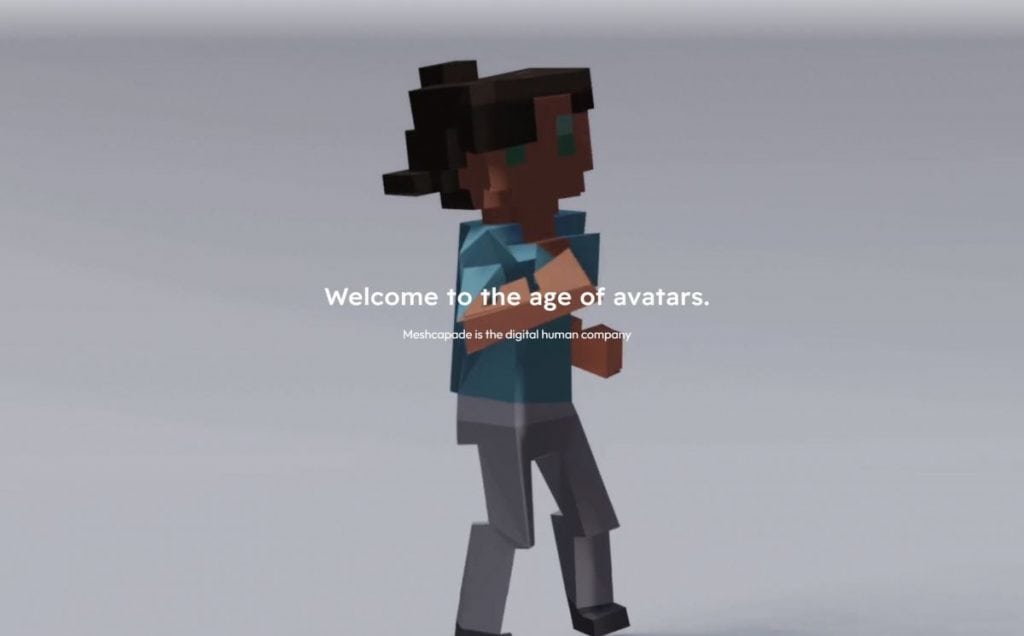 Welcome to Meshcapade – the best AI Text-to-3D Generator available. Meshcapade is an innovative technology company which provides an advanced platform to generate high-quality 3D models from text inputs. The platform was created with the goal of streamlining the process of creating 3D avatars, helping businesses to focus on their core services and not worry about the often tedious and difficult task of acquiring the right 3D models. The patented technology supports all your avatar needs from highly accurate digital doubles to the animation of fantasy characters, all on one platform and fully compatible with all game engines and graphics software. Developers have worked hard to create a platform that offers high fidelity 3D models with low-friction, high accuracy and full portability to ensure that every user can create amazing avatars quickly and easily.
One of the biggest features of Meshcapade is the ability to create accurate digital doubles from any source of data in a unified 3D body format which works for every industry. The Meshcapade platform can be used to generate digital doubles from a single image, no matter the pose or size. This is extremely useful for businesses that require accurate 3D avatars to be used in e-commerce scenarios, helping them to achieve better results and to make the shopping experience more personalised. The AI, which is based on our patented SMPL body model technology, is able to generate incredibly accurate 3D models of bodies with just a few measurements.
Pros:
Meshcapade has made it incredibly easy to connect your movements and emotions with your avatar. This is perfect for businesses that need to show off their garments or products to customers, as they can demonstrate their effectiveness with ease. Furthermore, all of the avatars created on Meshcapade's platform are completely compatible with each other, ensuring that businesses can have a unified and cohesive experience when using the platform.
Meshcapade offers an unparalleled level of accuracy and convenience for businesses and individuals looking to create 3D avatars. With it, customers can benefit from highly accurate e-commerce ready models, with the ability to create unique identities that adhere to their personal tastes. With Meshcapade, avatars
Mochi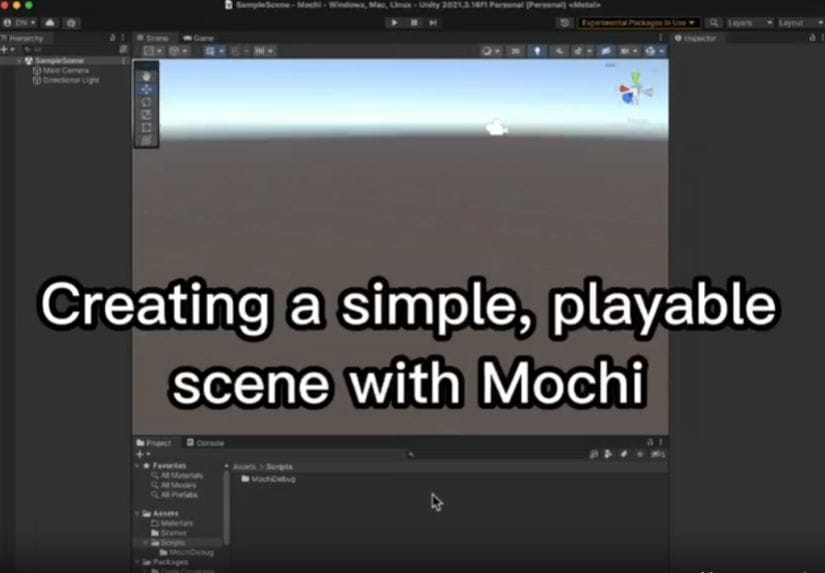 Creating 3D objects for games and other digital projects used to be lengthy and cumbersome. Now, thanks to AI text-to-3D generators, game developers can save time and create better-looking assets. Mochi is one of the best AI text-to-3D generators on the market, streamlining the creative workflow for game development. Mochi is a game development assistant-plugin that automizes asset creation and has a powerful text-to-image mapping function, allowing users to use natural-language commands to generate 3D models. It's easy to use and extends the user's creative autonomy. Instead of manually manipulating 3D-objects, users can generate them quickly through natural-language instructions like "create a wall model with 12 holding walls".
Mochi's ability to quickly generate 3D models and graphics makes the development process far more efficient than the traditional methods. Mochi has the ability to create complex objects using just a few words, producing stylish and functional 3D models with minimal effort.
Pros:
The capabilities of Mochi don't just stop at creating 3D models. It also includes useful design tools such as improving the visibility of objects in the game, making it easier to navigate and explore. Mochi also has a range of custom shortcuts, and by using them, you can simplify the process even further. For example, users can enter "+s awesomeness" and obtain a script quickly, ready to be deployed. All of these features help to improve the development process and save time.
Mochi is a great tool for game developers who need to get things done quickly but don't have time to manually create 3D objects. Mochi understands many commands, such as "add a mesh collider" or "set the material to red" when an object is selected. This makes it easy and fast to create 3D objects, saving you time and energy.
Luma AI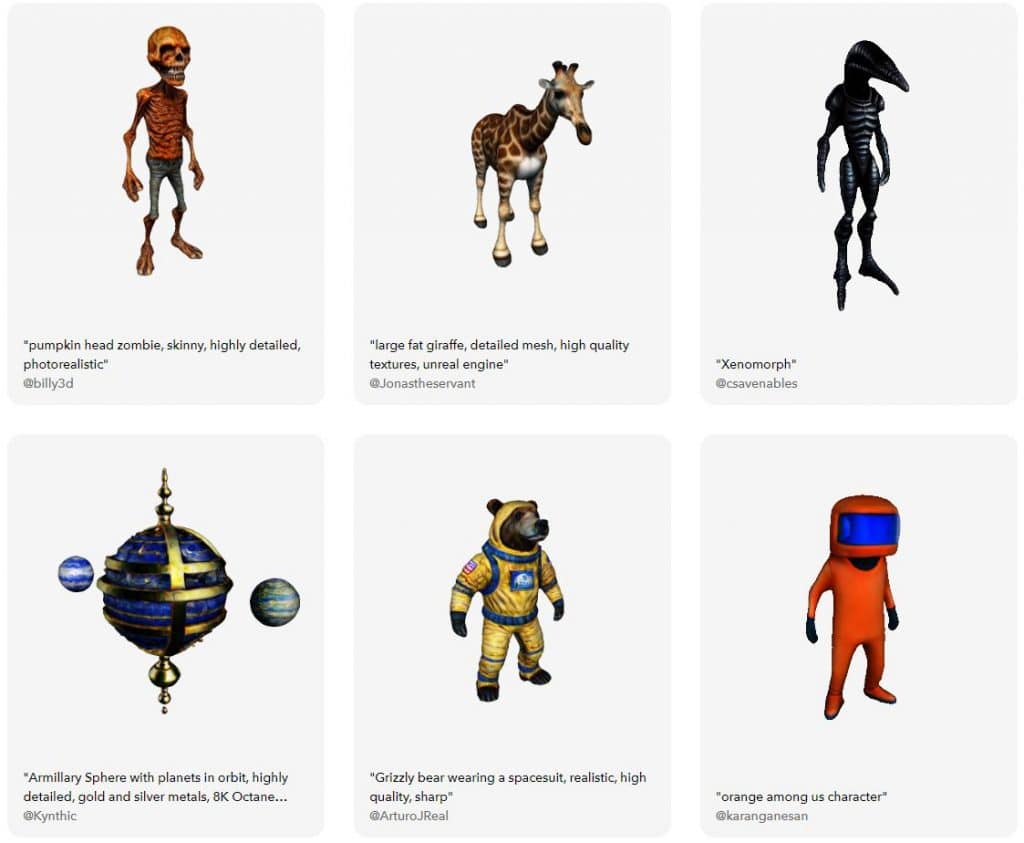 Luma AI is the newest breakthrough in 3D image generation, capable of realistically creating 3D models from text input. The new Imagine feature is revolutionary, allowing users to generate a 3D representation of anything they can think of without any prior experience with 3D modelling or graphics programming. Unfortunately, the actual feature is not yet publicly accessible, but early reports suggest that it is one of the most powerful 3D creation tools available. But Luma AI doesn't just allow users to create 3D models from text. It can also create a realistic 3D scene from a live video feed. This feature harnesses the immense data processing power of AI to determine which objects in a scene appear three-dimensional, and then accurately renders them in 3D for the user's enjoyment. With this impressive technology, users can create entire digital worlds from real world footage.
Pros:
The technology at the heart of Luma AI has been long in the making and is incredibly advanced, but the user interface is surprisingly easy to use. Whether creating a 3D model from a text description or video footage, the intuitive interface helps users easily navigate their way around the multitude of options available. The results are impressive, too – the 3D models created by Luma AI look almost identical to their real world counterparts and deliver lifelike visuals in an engaging way.
Luma AI is truly a revolutionary piece of technology and a testament to the possibilities of AI in the field of 3D image generation. With its powerful feature set and intuitive user interface, it is quite possibly the best AI text-to-3D generator currently available. Even though we don't yet have access to the Imagine feature, Luma AI looks set to revolutionize how we create 3D models and the way we experience the world.
Best AI Image-to-3D and 2D-to-3D Generators
NeROIC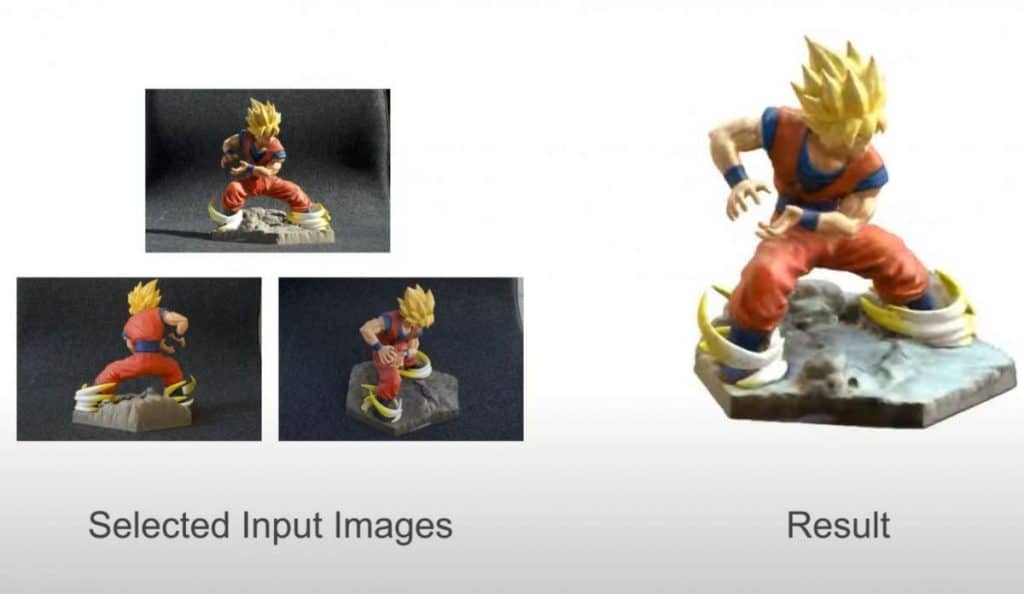 NeROIC is an AI technology-based feature with the ability to generate 3D models from image. Created by a major tech company, NeROIC has the potential to revolutionize the way we think of and interact with 3D models. By using pics to describe what the user has in mind, NeROIC can convert that pic into a 3D model. Unfortunately, there is no public demo version as of yet, but developers and tech enthusiasts alike are anxious to get their hands on the product.
In addition to the image-to-3D feature, NeROIC also has a great capacity to create a 3D scene from a video. This means that with a single video clip, you can create a 3D scene that can be adjusted, modified, and interacted with by users. This makes the process of creating 3D scenes easier and more efficient than ever before, with less time and labor involved.
Pros:
So, with all this in mind, what is the best AI image-to-3D generator? With so many options out there, it can be hard to decide. However, many experts agree that NeROIC appears to be the most comprehensive, efficient program available. With the image-to-3D feature allowing for detailed customization, and the video-to-3D feature being able to help create intricate 3D scenes in no time, it stands out among its competition.
Not only that, but NeROIC is also easy to use, even for beginners who have little to no experience with 3D models and virtual reality. As a result, more users are likely to use the feature, increasing its popularity and usage in the near future.
DPT Depth Estimation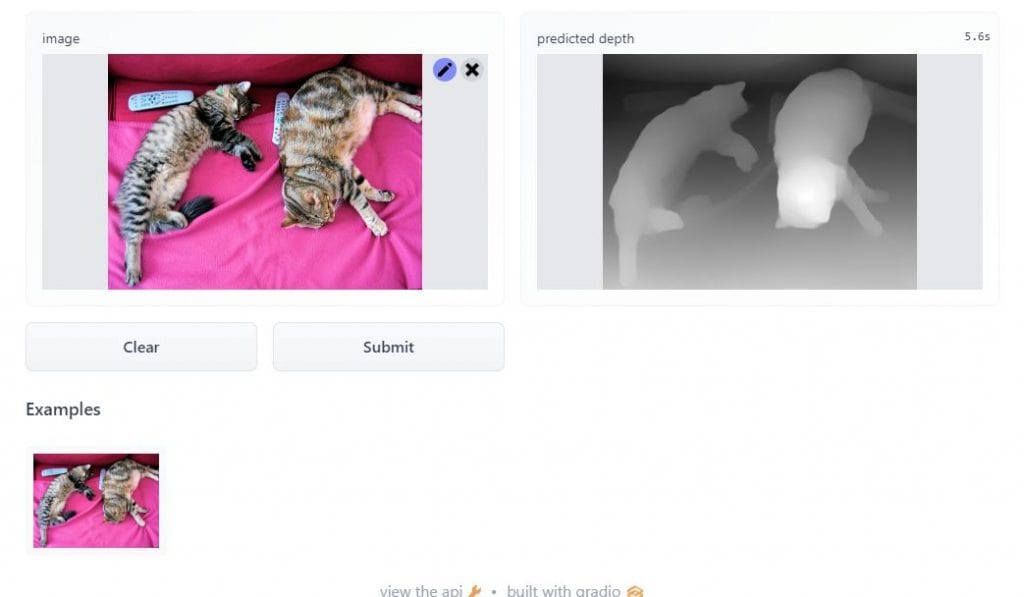 The technology behind creating 3D representations from 2D images is rapidly advancing. Deep learning-based techniques are introducing new ways to train models that can generate more accurate 3D representations of real-world scenes, such as point clouds and 3D meshes. One of the most promising methods is called DPT Depth Estimation, a deep convolutional network designed to capture the depth of an image and use it to generate a 3D object as a point cloud.
DPT Depth Estimation works by taking in a monocular image and then feeding it into a deep convolutional network that is trained on data of various scenes and objects. The network then uses the obtained information to estimate the depth of the scene and create a point cloud which is used to generate 3D meshes. The accuracy of DPT is significantly higher than other popular methods like stereo-matching and photometric stereo, and its performance surpasses human-level accuracy in some instances. DPT also has a superb inference time, making it an ideal choice for real-time 3D scene reconstruction.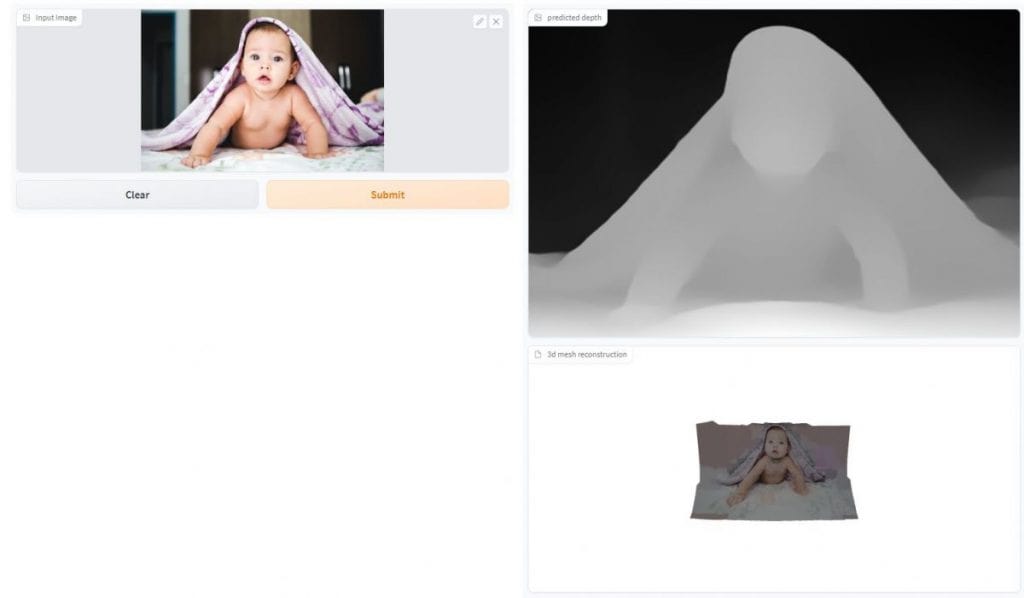 The most impressive aspect of DPT is its ability to generate 3D meshes from single images. This is done by first determining the depth of the scene, followed by a way to parameterize the object and create a mesh which is much more detailed and accurate than any other method. Additionally, DPT is able to infer the textures and colors of the scene, which allows it to create photorealistic 3D representations.
Pros:
The advantages of DPT also extend to its scalability. Compared to other methods, DPT can be easily trained on larger datasets, which allows it to work even with more complex scenes. Furthermore, its accuracy allows it to work effectively in challenging lighting conditions and with objects of any shape and size.
Moreover, in addition to higher accuracy and scalability, DPT also requires comparatively low cost. Compared to traditional 3D reconstruction techniques, the costs associated with training a model on DPT are much lower. This allows it to be used in production environments, making it an ideal choice for a vast array of applications.
RODIN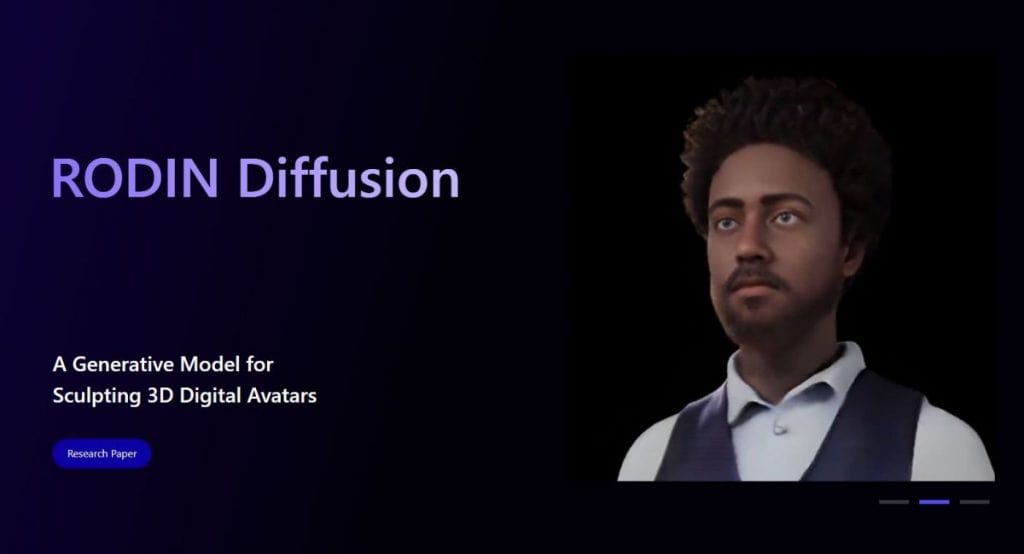 RODIN is quickly becoming known as one of the best AI 2D-to-3D generators on the market. It has revolutionized the process of creating 3D digital avatars by significantly accelerating what was traditionally a painstaking and complex process. Now, the process of creating a highly-detailed 3D avatar from one's portrait has never been easier.
RODIN's AI-based system is capable of producing high-fidelity rounded avatars from private data such as a picture from a client's portrait. These generated avatars can also easily be displayed in 360-degree views, allowing for an immersive viewing experience for the customer.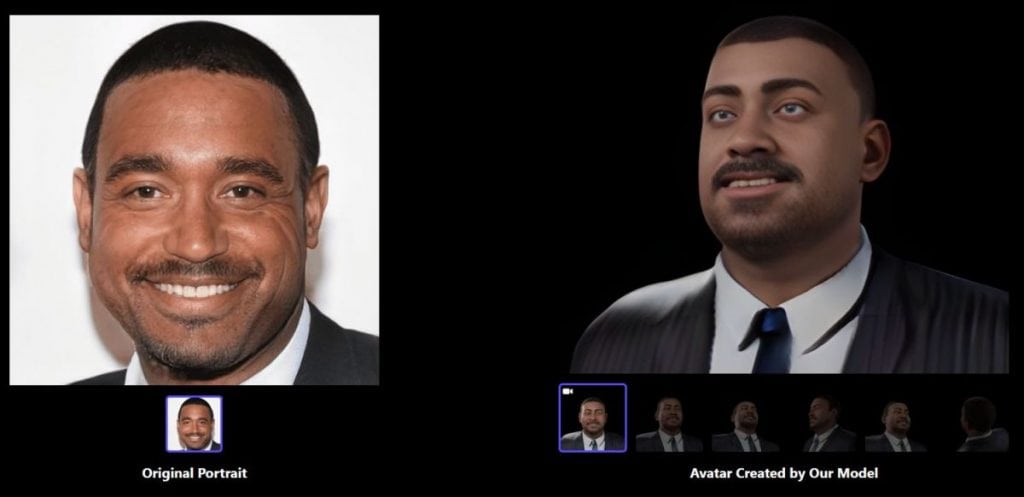 In addition to its 3D modeling, RODIN also offers the user a chance to customize and refine their digital avatars using text-guided manipulation. With the use of natural language, artists can now intuitively edit a variety of attributes for the reconstructed avatar. This includes details such as, gender, age, facial expression and various accessories. Allowing users to make any changes they desire to finalize their 3D rendered model.
Pros:
RODIN's revolutionary AI has made it possible to look down the road of what custom 3D avatars could offer in the future. With a wide range of editing options, users can explore the depths of what the model offers. Furthermore, there is an incredible amount of diversity in the types of 3D avatars the model can construct, with face shapes, ethnicities, and hair styles all at the users' fingertips.
Ultimately, RODIN's incredible technology makes it stand out from other AI 2D-to-3D generators as a leader in the field. With its comprehensive and enhancing features, it's no surprise that RODIN has gained such traction in the 3D digital avatar market. It's completely rethought the creation process, allowing artists and craftspeople to explore new possibilities and capture the true essence of their model's personality.
Best AI Video-to-3D Generators
Move.AI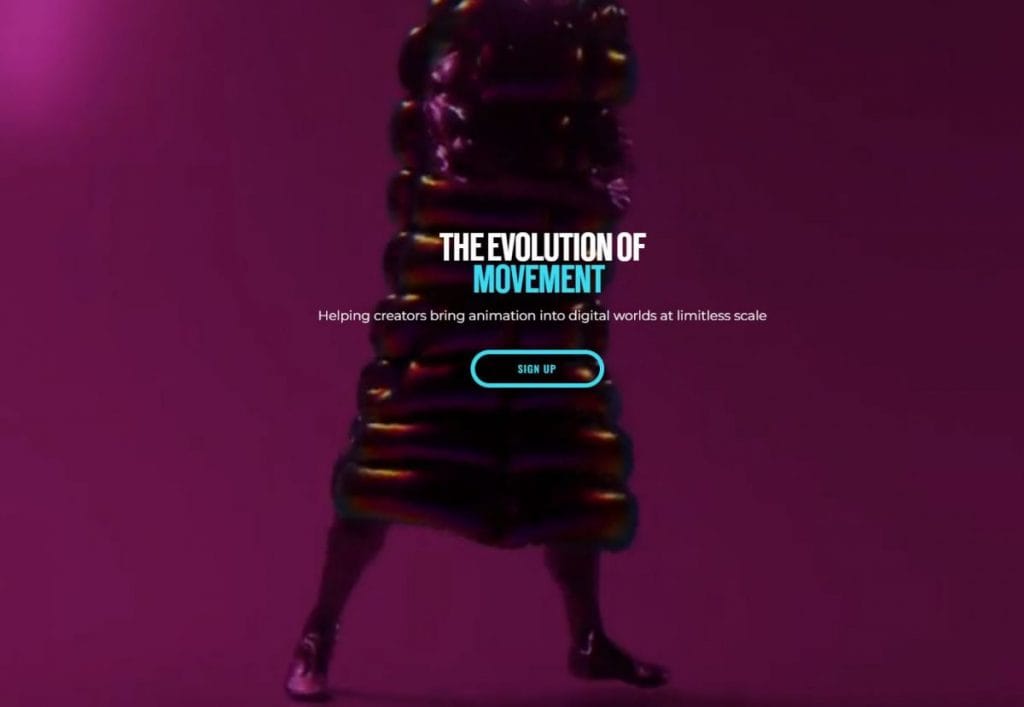 It's no secret that artificial intelligence (AI) has become a major factor in modern life. From robotics and digital assistants to production automation and facial recognition, AI has been able to accomplish a vast array of tasks. Now, with the launch of Move.AI, AI technology is being used to revolutionize the motion capture process.
Move.AI is a motion capture software based on AI technology. The program is designed to be easily accessible to creators who want to bring animation into digital worlds without the demands of typical motion capture technology. With Move.AI, videos can be filmed with any modern device, including HD cameras and ultra-high-definition devices, then converted into 3D models using advanced AI algorithms.
The program works by harnessing the generative powers of AI to detect and analyze human movements in videos and extract the motions with incredible accuracy and fidelity. By bypassing the need for bulky motion capture rigs and vast amounts of data processing, Move.AI simplifies the motion capture process, allowing it to be used with any modern device, making it easy and accessible for anyone to use.
Pros:
At Move.AI, the mission is to bring motion and animation to the masses. By eliminating the need for expensive motion capture rigs and tedious data processing, Move.AI enables content creators of all backgrounds to access the tools they need to break into the animation and gaming industry. The system is already being used by small and large companies to uncover the potential of generative AI to digitally capture and create lifelike lifelike digital representations of anything, from people and animals to robots and vehicles.
In short, Move.AI is a game changer for the animation and design industry. The program pushes the boundaries of what's possible with motion capture by providing easy-to-use yet powerful tools to help content creators propel their work and ideas into the realm of the virtual. Whether you're creating 3D graphics for mobile games or crafting Hollywood-grade animation, Move.AI is the perfect solution. It's no wonder why Move.AI is the best AI video-to-3D generator on the market today.
Rokoko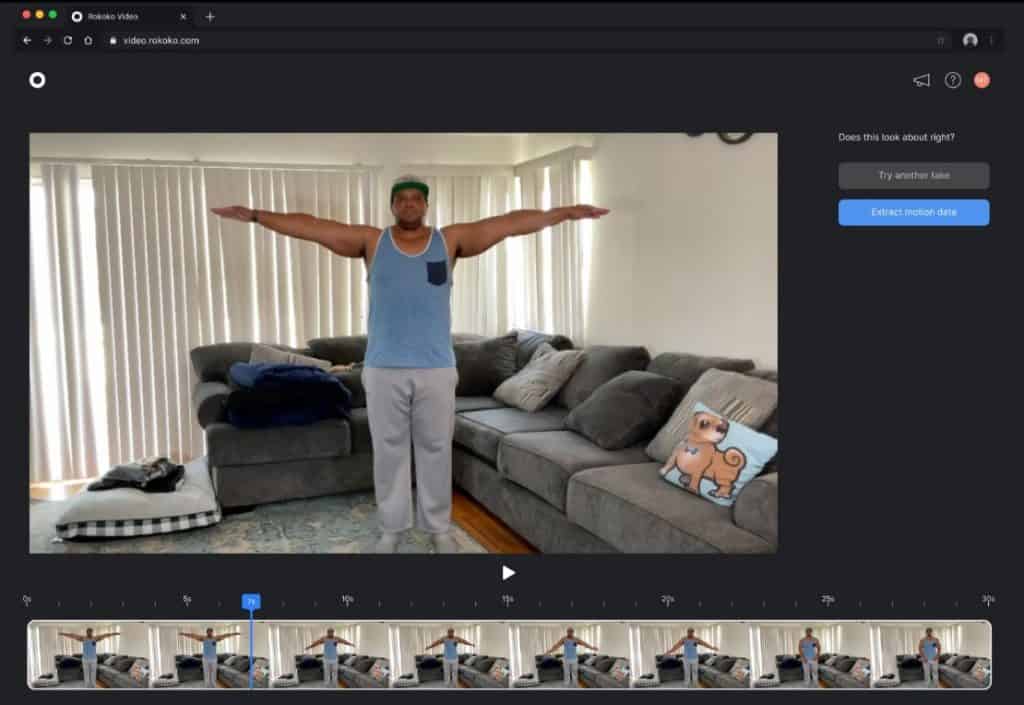 For anyone interested in using motion capture technology, Rokoko is the best AI video-to-3D generator available. With features like free AI motion video capture, transforming motion from video onto 3D, and access to motion capture from multiple different sources, Rokoko is the go-to choice for those looking to streamline their animation process.
Rokoko Video is a feature that helps streamline the motion capture process directly from one's browser. This allows creators that are just starting out to pre-visualize their ideas with relative ease. Additionally, users can record movement with their computer's webcam and further refine the captured mocap data with Rokoko Studio, the company's free software. It also offers filters like a foot lock and drift editor that helps to maintain accurate motion capture.

Pros:
For those users who prefer to upload footage of the subject, Rokoko has the ability to turn that footage into motion capture, as long as there is a clear view of the subject's body motion. After uploading the footage, the user can choose from a variety of different skeletons (HIK, Mixamo, etc.) and then transfer the file to a 3D tool (Blender, C4D, Unity, Unreal, etc.).
The ability to use a webcam, upload footage from a phone, or upload existing footage makes Rokoko an invaluable tool when it comes to animation. This powerful AI video-to-3D generator is the perfect choice for anyone looking to create stunning animations with simplicity. So for those looking for an unforgettable animation experience, Rokoko is the clear choice at the cutting edge of motion capture technology.
Deep Motion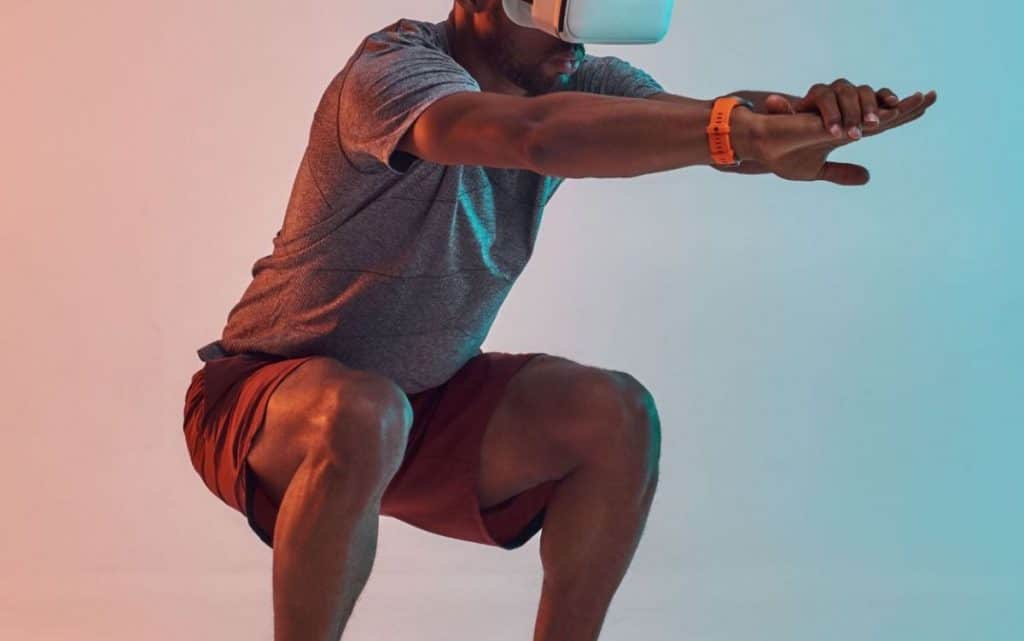 For those in the field of animation, getting the best possible results from the video-to-3D process can be time-consuming and a bit daunting. However, with DeepMotion, the leading AI video-to-3D generator, the process becomes much more manageable and the results often exceed expectations. DeepMotion is the world's foremost motion capture solution utilizing AI-powered markerless motion capture and real-time 3D body tracking, transforming motion from video onto 3D. This technology is brought to us by a passionate team of industry veterans with decades of experience from companies like Blizzard, Pixar, Disney, ROBLOX, Microsoft, Crystal Dynamics, and Ubisoft.
The DeepMotion experience offers much more than just time-saving video-to-3D conversions. It also offers a natural and intuitive way to develop, train, model, and animate a wide range of 3D characters. With its incredibly intuitive user interface, it's incredibly easy to quickly capture complex motion capabilities, with no special hardware, recording equipment or large software applications involved.
Pros:
DeepMotion also offers stunningly accurate hand and facial animations, giving your characters even more lifelike behavior. Add to this a powerful and easy to use animation creation, posing, and facial expression editor and you'll run away with the best 3D animation you've ever seen. What's more, DeepMotion offers a powerful and unique motion capture service, allowing you to capture motion in real-time, bringing unprecedented realism and control to your animated worlds.
Ultimately, DeepMotion is the absolute leader in the field of motion capture and 3D animation. It provides sharply detailed 3D results in record time, allowing studios and animators the liberty to explore their creativity and produce amazing works of art. DeepMotion's intuitive controls, top-tier animation and motion capture capabilities, and superior facial and body tracking make it the only choice for any serious 3D animation studio. With DeepMotion, you can get 3D results that bring your characters and stories to life, faster and more efficiently than ever before.
FAQs
What is the AI text-to-3D generator?
The AI Text-to-3D Generator is a tool that can generate 3D models from text descriptions, making it easier for designers to create three-dimensional models without having to create them from scratch.
What is the best AI text-to-3D generator?
There is no definitive answer to this question as there are many different AI text-to-3D generators available, each with its own strengths and weaknesses. Some of the more popular options include Spline AI and Masterpiece Studio.
What is the AI image-to-3D generator?
AI image-to-3D generator is a computer program that creates three-dimensional models from two-dimensional images. It can be used to create models of objects or buildings for 3D printing, or to create models for virtual reality simulations.
What is the best AI image-to-3D generator?
There is no one "best" AI image-to-3D generator. There are a variety of different tools and techniques that can be used for this purpose, and the best one for a given situation will depend on the specific details of the image and the desired 3D output.
What is the AI Video-to-3D generator?
The AI Video-to-3D Generator is a tool that can create 3D models from 2D video footage.
What is the best AI Video-to-3D generator?
There is no definitive answer to this question as different people may have different opinions. Some popular AI video-to-3D generators include Move.AI, Blender, and Deep Motion.
Disclaimer
Any data, text, or other content on this page is provided as general market information and not as investment advice. Past performance is not necessarily an indicator of future results.