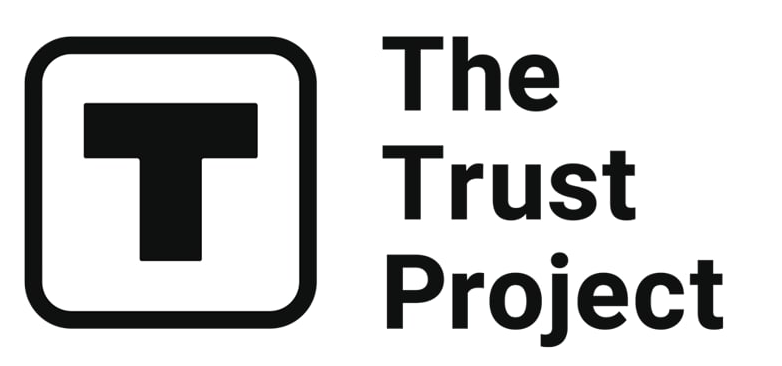 The Trust Project is a worldwide group of news organizations working to establish transparency standards.
If you're a photographer, you know that editing your photos is almost as important as taking them. The right editing tools can make a good photo great – and with the power of artificial intelligence (AI), you can now create stunning photos that are completely unique.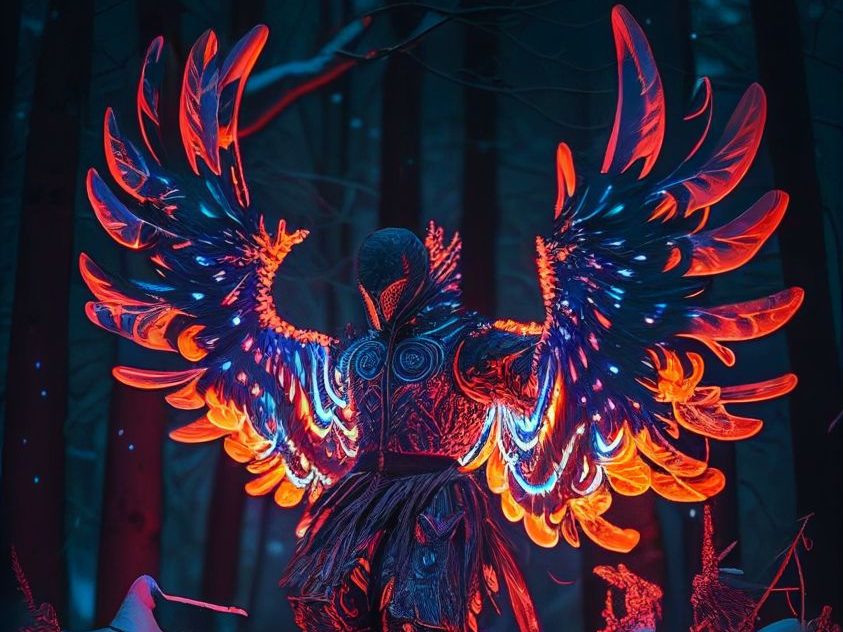 There are many AI photo editors on the market, but which one is the best? In this article, we've rounded up the 10 best AI photo editors for 2023, both online and free. So if you're looking for a way to take your photos to the next level, read on!
Pro Tips
1. Businesses can generate effective results from their AI marketing strategies with the help of AI generators.
2. By combining AI Plugins and AI SEO tools, businesses can unlock previously untapped potential for online success.
3. Look at this AI logo maker, which allows designers to create visually appealing logos in a fraction of the time and effort required in the past.
4. Don't miss our list of ChatGPT moneymaking videos to help you increase your earnings with AI technologies.
Palette.fm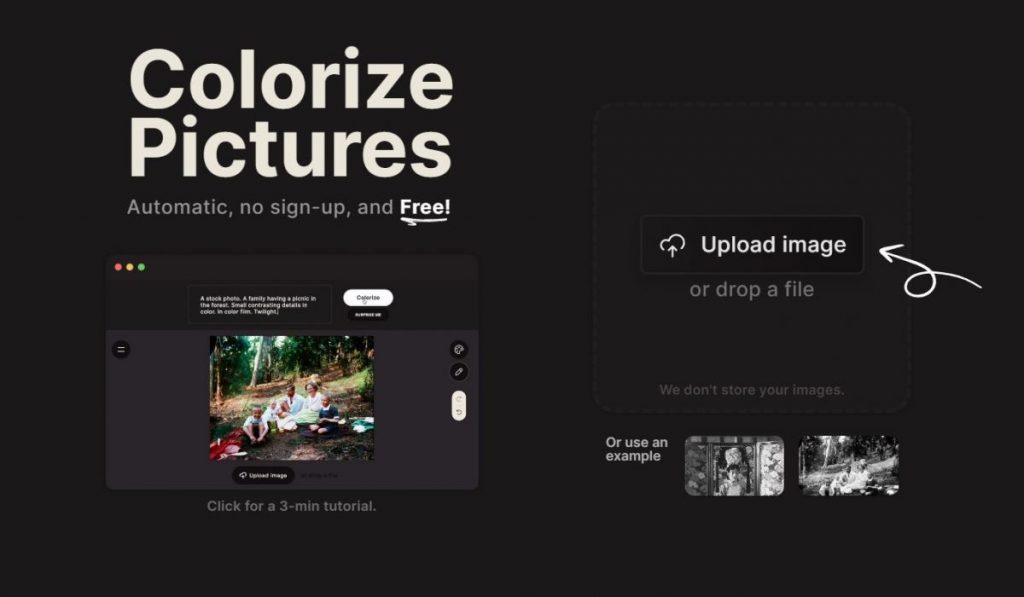 Palette is a simple yet powerful tool for colorizing photos. It is used by millions of people worldwide and has helped bring old memories back to life for pensioners, brought color to black-and-white photos for professionals working on Netflix Originals, and much more. The possibilities are endless with Palette. Seeing old photos come to life with vibrant colors is a wonderful reminder of the creativity and passion of people like you.
Palette is a great tool. It's easy to use and delivers high-quality results. Plus, it's totally free! Seeing old photos come to life with vibrant colors is a wonderful reminder of the creativity and passion of people. If you're looking for a tool to colorize your photos, we highly recommend Palette. It's a simple and free tool that can bring your photos to life in a beautiful way.
Erase.bg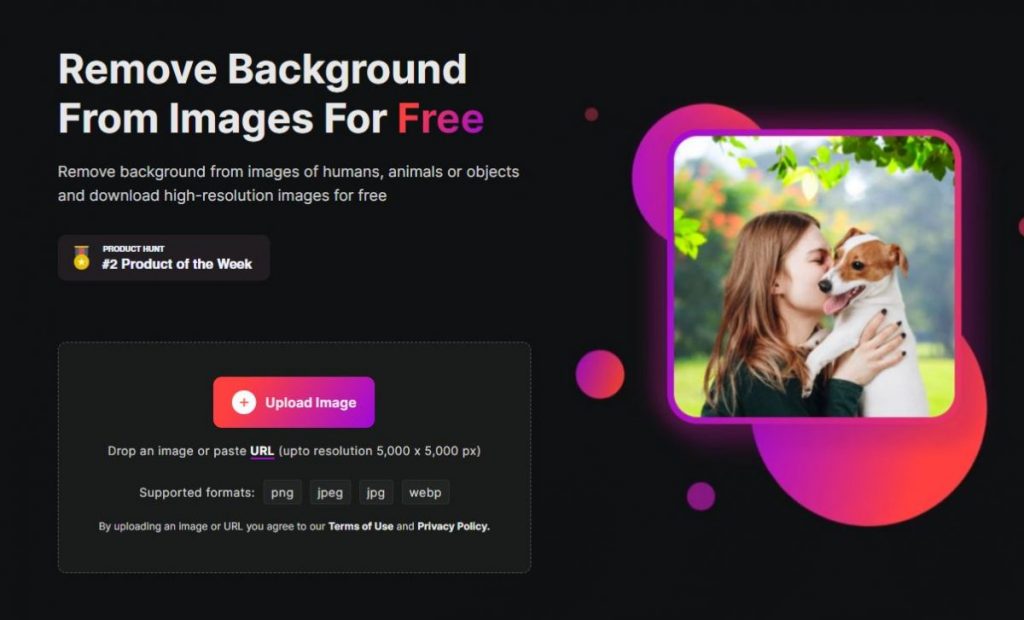 You've probably seen stock images where the subjects are cut out from the background with precision. Or, maybe you've seen product photos with a nice, clean white background. How did they achieve that? In most cases, they used a tool like Erase.bg to remove the background from the image. Erase.bg is an AI-powered tool that automatically removes image backgrounds in a matter of seconds.
Yes, Erase.bg is completely free for images processed on the website for personal use. Erase.bg now supports the image types PNG, JPG, JPEG, and WEBP. Images must feature a clearly defined foreground topic, such as a person, animal, product, car, etc.
To use Erase.bg, simply upload the image you want to remove the background from. The AI will automatically delete the background without losing quality. You can then download the image with the background removed. It's that simple! And it's completely free for personal use. So why not give it a try?
GreenScreenAI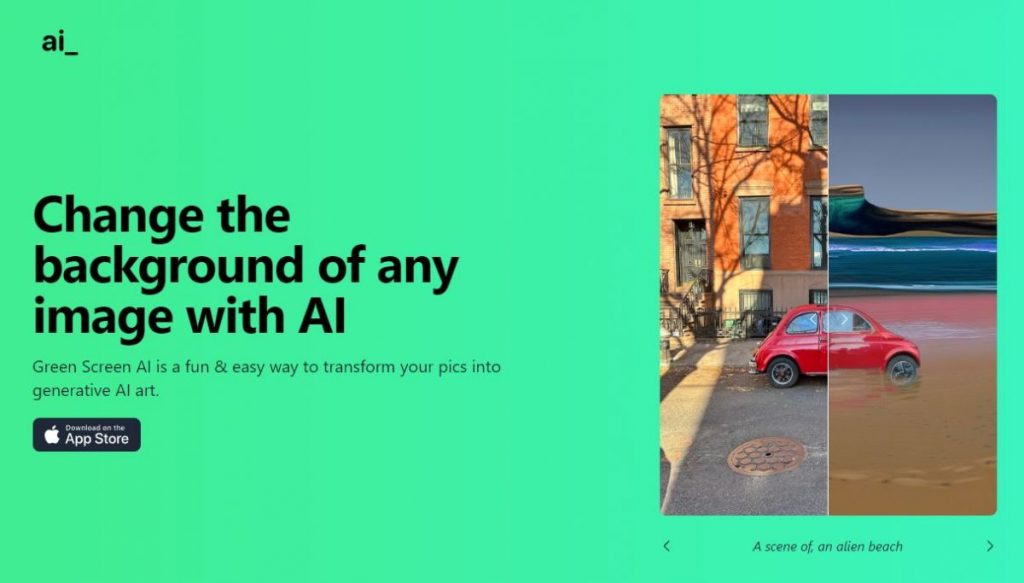 If you're looking for a way to change the background of any image with AI, look no further than GreenScreenAI. This fun and easy online tool uses generative AI to create unique backgrounds for any image. With automatic subject detection, you can be sure that the focus of your image will pop against the new background. And if you need some help composing the perfect prompt, Green Screen AI has a built-in prompt composer to assist you. Once you're satisfied with your creation, you can even turn it into a widget to make your home screen more unique. So why not give GreenScreenAI a try today?
RestorePhotos.io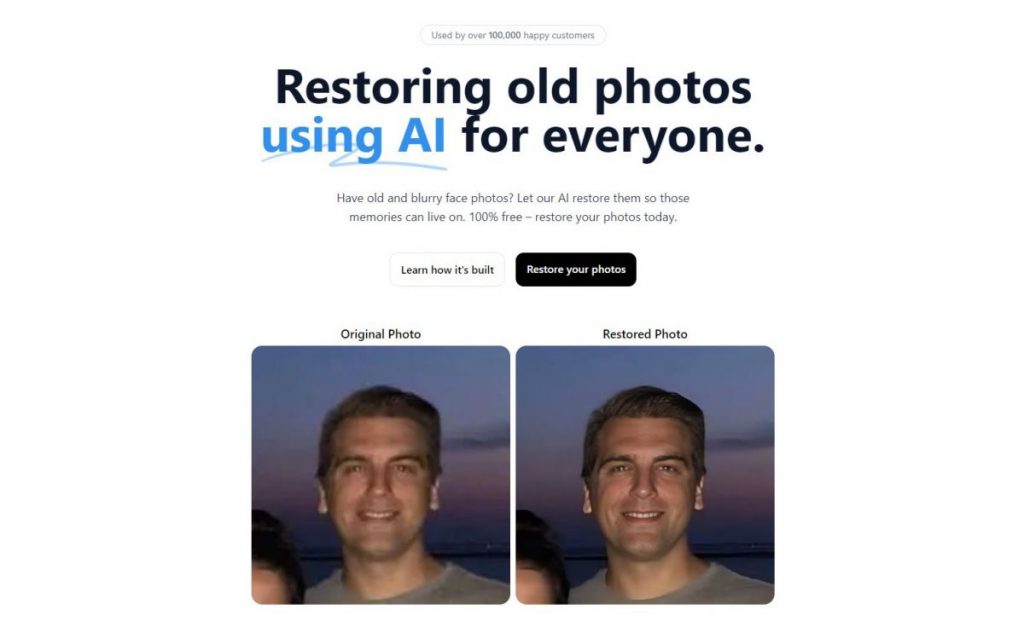 Do you have old, damaged photos that you're not sure what to do with? If you're not sure how to fix them or don't want to spend money on a professional, consider using RestorePhotos.io. It's an online, free photo editor that uses artificial intelligence (AI) to restore your photos.
With RestorePhotos.io, you can fix many common problems with old photos, such as color fading, damage from water or mold, and tears. The process is simple: upload your photo, choose the type of problem you want to fix, and let the AI do its job. In just a few seconds, you'll have a restored photo that looks better than ever.
Plus, RestorePhotos.io is loved by many people worldwide. Over 100,000 users have given the product five-star reviews, praising its ease of use and effective results. It's risk-free, and you might be surprised at how well it works.
Nostalgia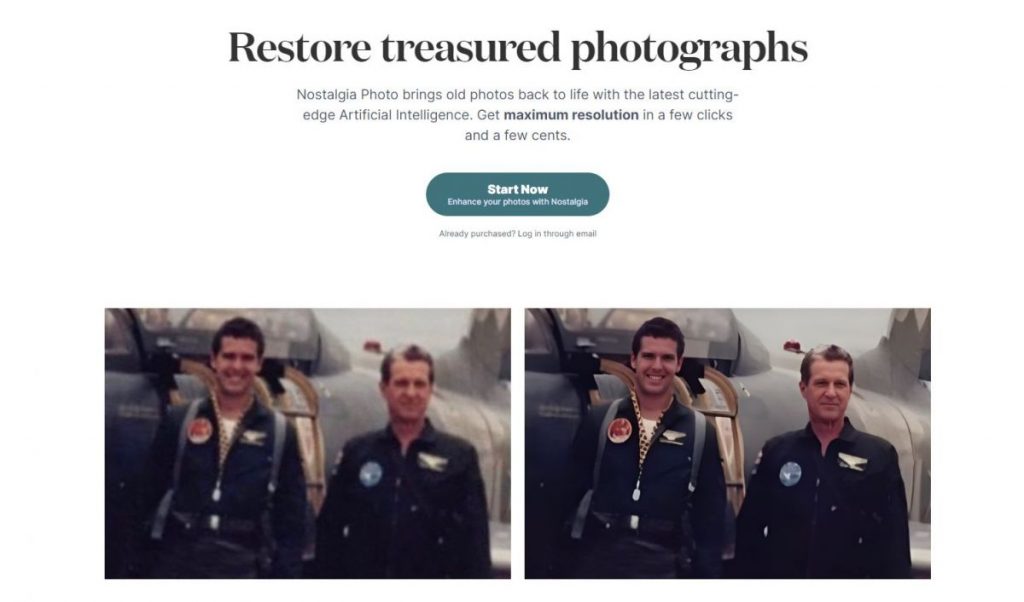 Nostalgia is an online photo editor that uses artificial intelligence to restore old photos. The app upsamples photos to HD quality and offers a variety of tools to improve the look of old photos. Nostalgia is the most popular app for restoring old photos.
The app is free to use and has a simple interface. With a few clicks, you can increase the resolution of your photos and remove any blur or imperfections. With Nostalgia, you can remove blur, torn images, and other imperfections to preserve your memories for generations to come. Nostalgia also specializes in upsampling poorly detailed photos to HD quality, giving them an ultra-sharp, defined, and improved look that can be used for printing.
ImgLarger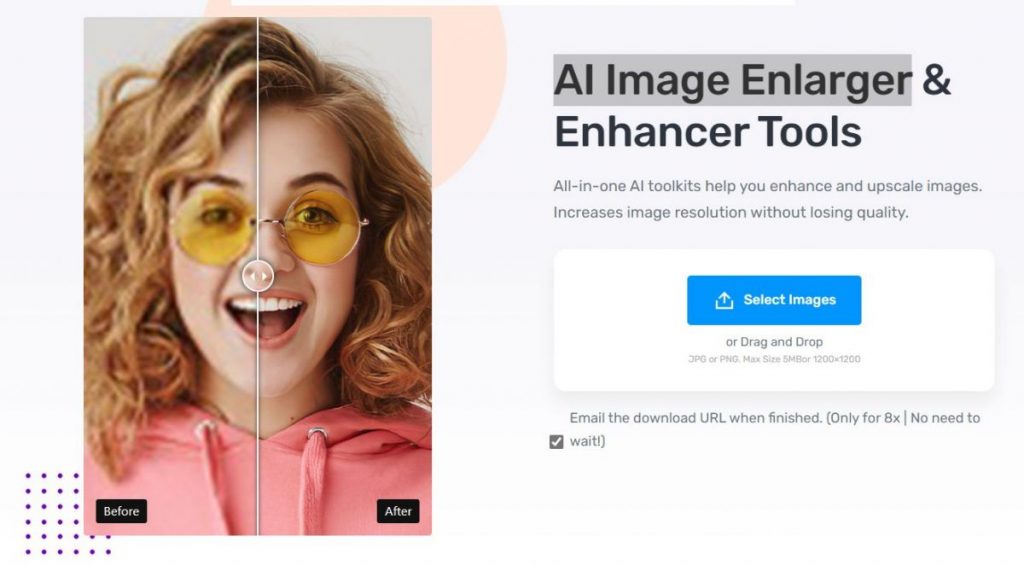 If you are looking for an easy and free way to edit your photos, then you should definitely check out ImgLarger. This online photo editor offers a variety of features that can help you improve your photos in no time. With ImgLarger, you can easily enlarge and resize your photos without losing any quality. This is thanks to the AI-powered upscaling algorithm that is used by the editor. You can also use the editor to deblur images, fix blurry faces, and remove unwanted objects from your photos.
What's more, ImgLarger offers a free magic eraser tool that can remove watermarks and other unwanted objects from your photos with just a few clicks. Overall, ImgLarger is a great online photo editor that is definitely worth checking out.
AI Picasso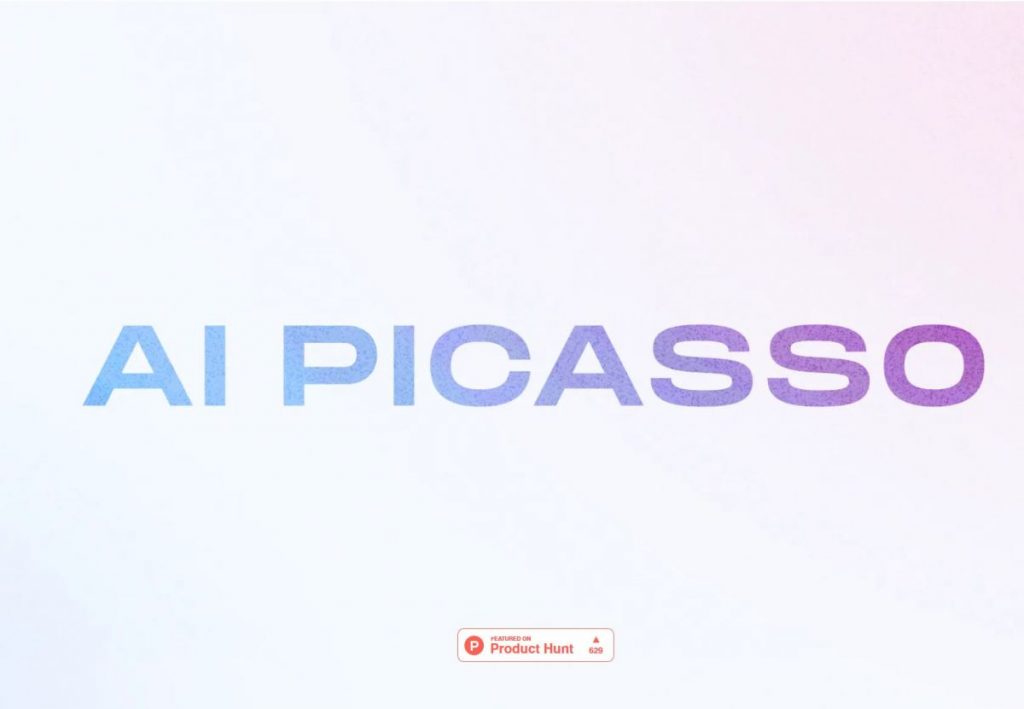 As anyone with an Instagram account knows, filters and photoshop can completely change the appearance of a photo. But what if you want to make a masterpiece without any prior knowledge of art? Well, now there's an AI for that.
Introducing AI Picasso, the online and free photo editor that uses an AI called Stable Diffusion to generate images from the text you enter. That's right, all you have to do is enter a prompt, and the AI will do the rest. Even if you have no artistic ability, you can still create stunning images with AI Picasso. Just enter a rough drawing, and the AI will complete the filled area. You can also edit filled areas with prompts. So if you're looking to create a masterpiece without any prior knowledge of art, then AI Picasso is the perfect tool for you.
Hama.app
If you've ever wanted to remove an object from a photo but didn't know how Hama.app is the solution for you. Hama.app is an online and free photo editor that uses AI to remove objects from photos with a single brush. And the best part is, it's free to use!
With Hama.app, you can upload an image of any size, and the app will remove the object you brush over, with no limit to the number of images you can edit. The app works best with a delicate touch- if it doesn't erase the object at first, try erasing the same part repeatedly. So whether you want to remove a stain from a shirt in a photo or a person from a group photo, Hama.app is the easy and free solution.
Bg.Eraser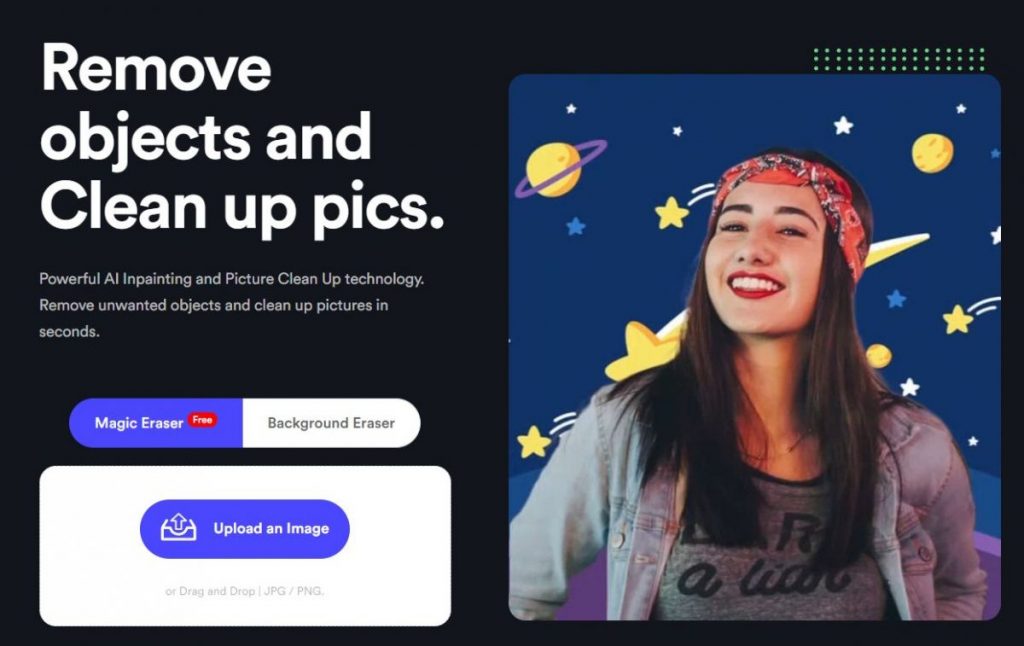 Bg.Eraser is an AI-powered image editing tool that enables users to remove backgrounds from images, remove watermarks, and erase unwanted objects. The tool is free to use and offers a simple, easy-to-use interface that makes image editing accessible to everyone, regardless of experience level. Bg.Eraser is the perfect tool for creating perfect product images for eCommerce purposes. With the ability to quickly and easily remove unwanted objects from images, Bg.Eraser makes it easy to create clean, professional-looking product photos that will make your products stand out from the competition.
Bg.Eraser is also great for quickly and easily removing watermarks from images. With AI-powered inpainting technology, the tool can remove watermarks without damaging or blurring the underlying image, making it the perfect tool for creating clean, unwatermarked photos. Whether you're trying to create perfect product photos for your online store or simply want to clean up a picture for your own personal album, Bg.Eraser is the perfect tool for the job.
Magic Eraser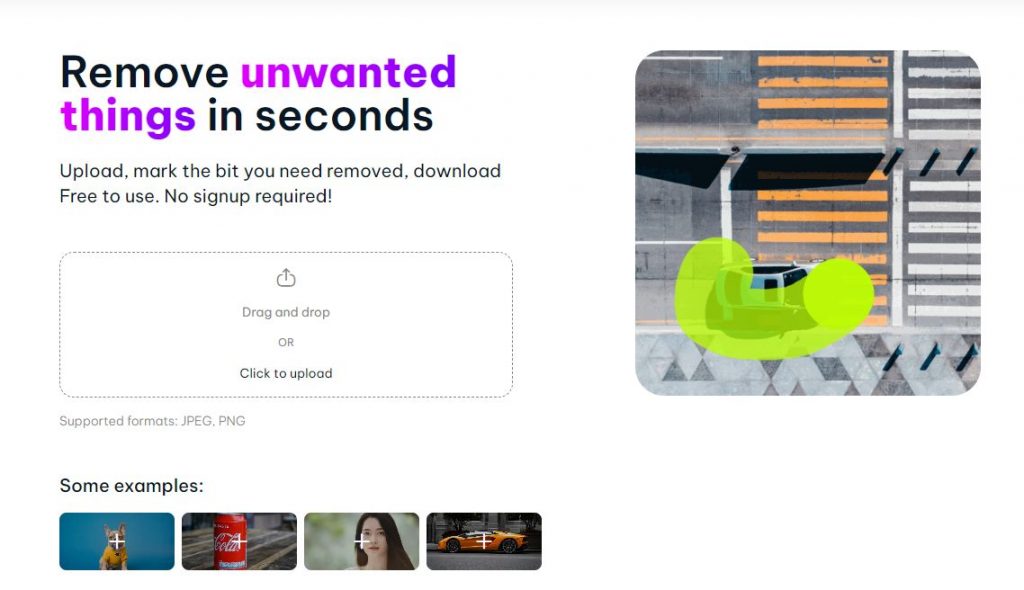 The internet has been a game-changer in so many ways – and one of those is in the way we edit and share photos. No longer do we need complicated, expensive software to make basic edits to our photos. With a few clicks, anyone can now erase objects, people, and other distractions from photos, thanks to online tools like Magic Eraser.
Magic Eraser is a free online photo editor that anyone can use. There is no signup required, and it's very easy to use. Simply upload the photo you want to edit, mark the area you want to remove, and then download the edited photo. Removing distractions from photos can be very helpful, especially if you're trying to sell a property. First impressions are important, and photos are often the first thing potential buyers will see. If your photos have a lot of distractions, they can reflect poorly on the property and make it harder to sell. But it's not just real estate photos that can benefit from a little editing. If you're a professional photographer, you can use Magic Eraser to quickly remove unwanted objects from your photos before you deliver them to your client. Or, if you're just sharing photos with friends and family, you can use Magic Eraser to remove any unwanted distractions.
Magic Eraser is a simple yet powerful online photo editor that can be used by anyone. So if you're looking for a quick and easy way to remove objects from your photos, give Magic Eraser a try.
Conclusion
In conclusion, there are many great AI photo editors available, both online and for free. AI photo editors can help improve your photos by providing automatic enhancement and correction features. This article provided a list of the 10 best AI photo editors for 2023. To learn more about AI and its applications, be sure to check out our other articles.
Read more about AI:
Disclaimer
Any data, text, or other content on this page is provided as general market information and not as investment advice. Past performance is not necessarily an indicator of future results.