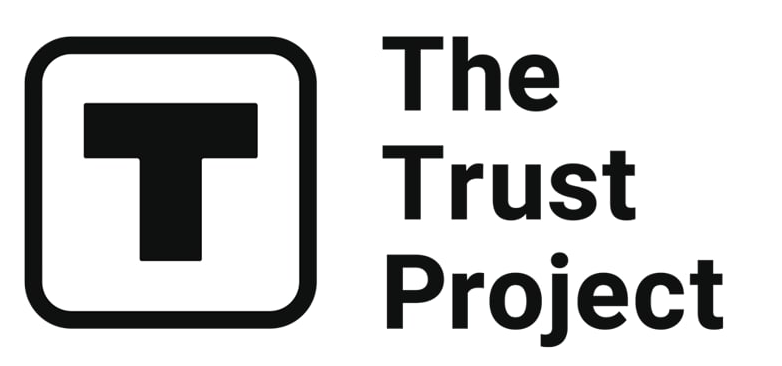 The Trust Project is a worldwide group of news organizations working to establish transparency standards.
You should absolutely check out ChatGPT if you're searching for a fun and engaging way to kill some time. You can play a number of games simply by chatting with a bot using this OpenAI platform. We'll go over the top ten games that you can play using ChatGPT in this article. You can play these games for hours on end and never get bored!
Pro Tips
Do you use Telegram? Talk with a top-notch AI chatbot right away by signing up for the Free ChatGPT bot.
Whether you're a side hustler, a small business owner, or a freelancer, ChatGPT can help you achieve your financial goals.
The companies that have adopted GPT-4 are likely to gain a competitive edge in their respective industries.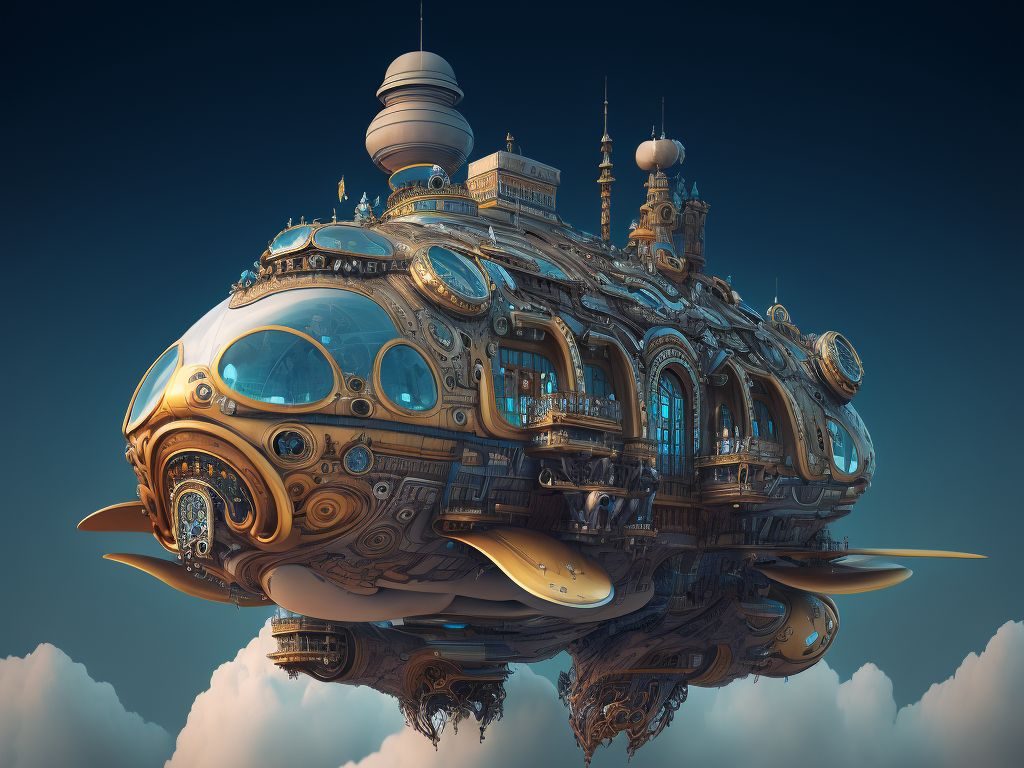 #1 Guess Who
You can ask ChatGPT to guess a character or movie name by using a yes-or-no format. ChatGPT will ask the appropriate questions and make an educated estimate as to the persona or title of the film you are thinking of. If the chatbot becomes lost, it will request a hint just like a human would. As an alternative, you can ask it to pick a character or a movie and then use questions to try to guess the name.
It's challenging to use ChatGPT in play mode because it wasn't designed for that purpose. You cannot simply request to play a 20-question game or a guessing game. Instead, you need to describe the gameplay first.
Prompt for starting a game:
You must go to the ChatGPT and type the following instruction to begin the game: "You are a text-based video game where you provide me options (A, B, C, and D). Harry Potter is the scene. I have 100 health at the beginning. You may add more options, alter the scenarios and locales, etc.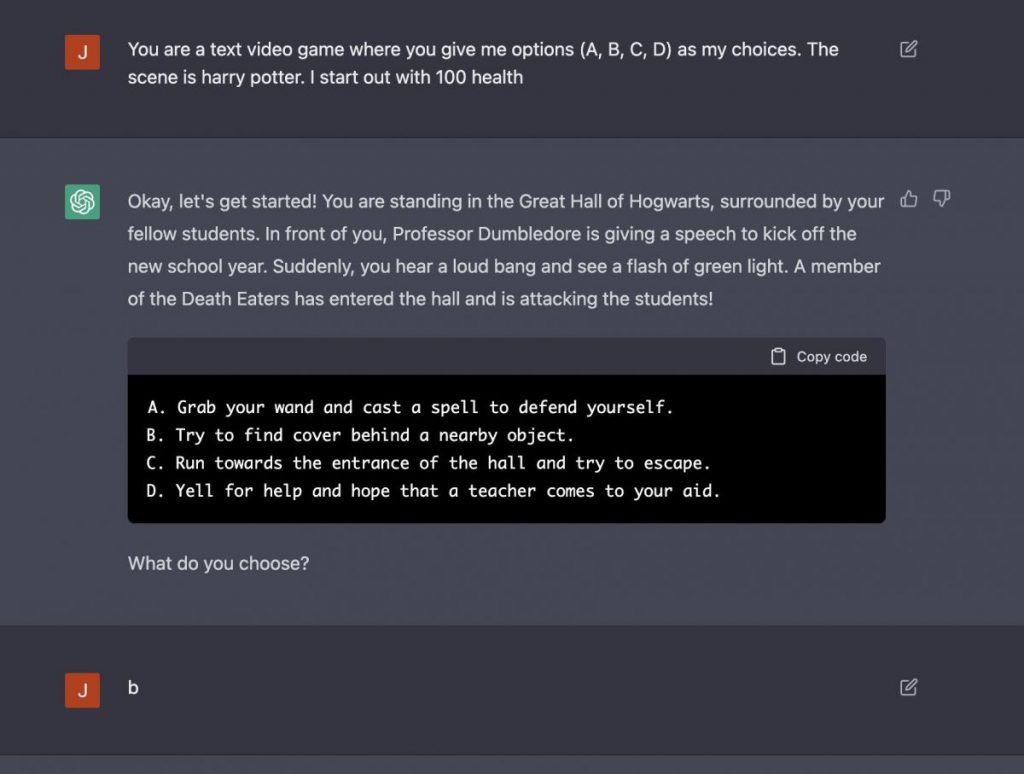 #2 Akinator
If you enjoy playing the well-liked Akinator game, you'll be pleased to learn that ChatGPT now supports it. You can take part in the game using ChatGPT by conversing with the bot. Start a discussion with the bot, then adhere to its instructions. A series of inquiries will be made of you regarding the person you are picturing, and the bot will attempt to identify them using your responses.
Enter the following in the chat window to start the game:
I'm considering character. You must query me, and I shall respond with a yes or no. Based on my response, you must determine the character I am thinking of. Begin with the first query.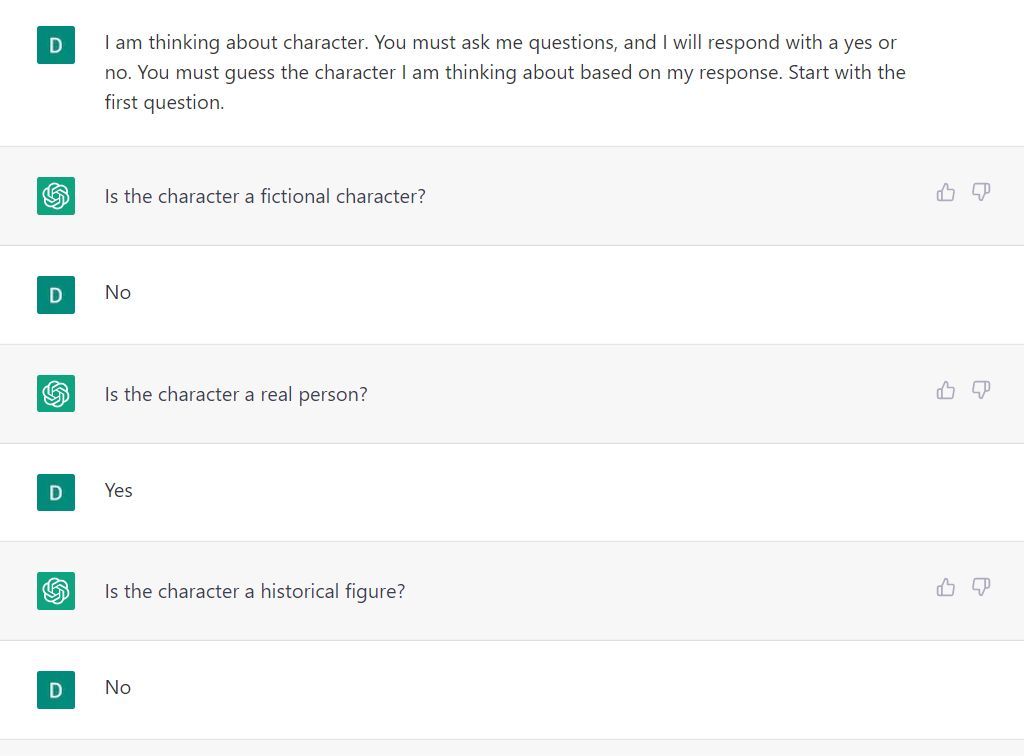 #3 Tic-Tac-Toe
Tic-tac-toe is a classic paper-and-pencil game everyone has played at some point. Players mark the three-by-three grid with X or O symbols, taking turns. The game will end when one of them can arrange three of their symbols in a vertical, horizontal, or diagonal row. Starting a game of tic-tac-toe on ChatGPT is even more difficult than starting a guessing game. When it starts the game, it thinks two persons are playing and only conducts the game. It sometimes merely gives a brief explanation of what Tic Tac Toe is and how to play it.
Prompt for starting the game:
Let's play Tic Tac Toe. You go first.
#4 Word Ladder Game
Word Ladder is a puzzle word game that you can solve using ChatGPT, or you can solve the puzzle that ChatGPT throws at you. Begin by telling the ChatGPT two words, such as pop and cat. The game's rules state that you can only modify one character at a time, and the goal is to alter the first word until you arrive at the second word. Here's the solution to the last example: pop, pot, cot, cat.
As you can see, you need to come up with existing words by altering just one letter at a time.
Prompt for starting the game:
Let's play Word Ladder. You go first.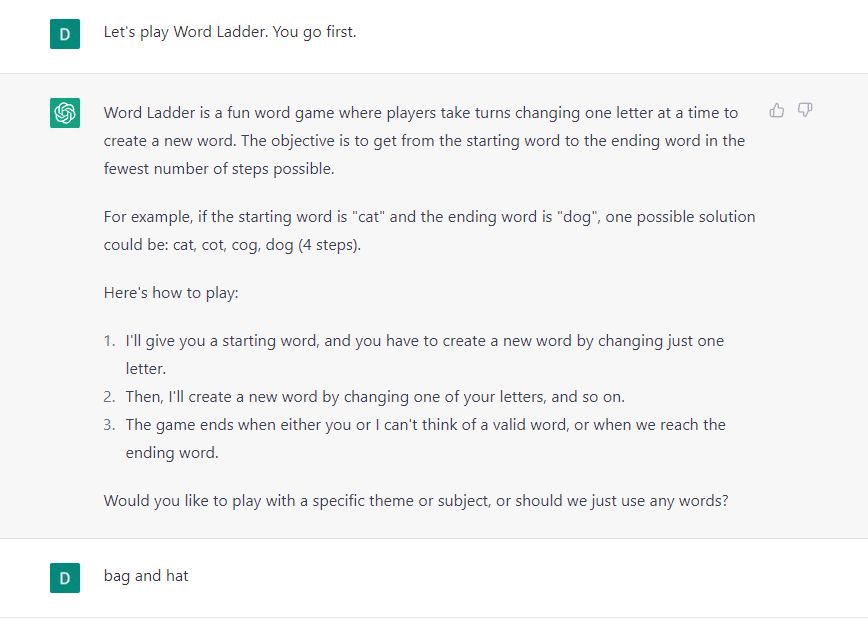 #5 Hangman Game
Hangman is a guessing game in which the AI generates a word. Your goal is to figure out what word it is by guessing the letters one at a time. If the letter you picked is incorrect, you will lose one of your six lives. A hangman diagram represents the six lives you have, hence the iconic name.
Prompt for starting the game:
Let's play Hangman game. Just use any words.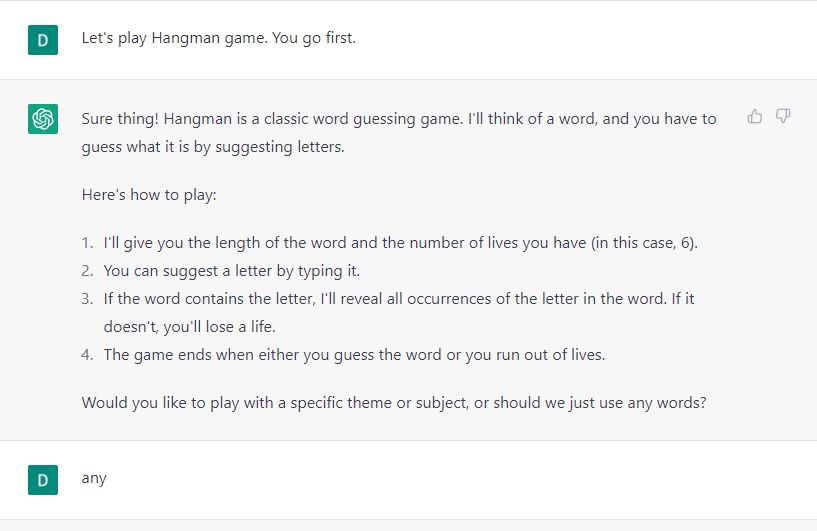 #6 Mad Libs Word Game
Mad Libs is another word game. ChatGPT requests terms from many categories, such as verbs, nouns, adjectives, and so on. It will attempt to generate a tale using the words picked by the player. While this isn't the most fascinating game in the world, it is popular, and the stories made by ChatGPT are amusing and odd.
Prompt for starting the game:
let's play Mad Libs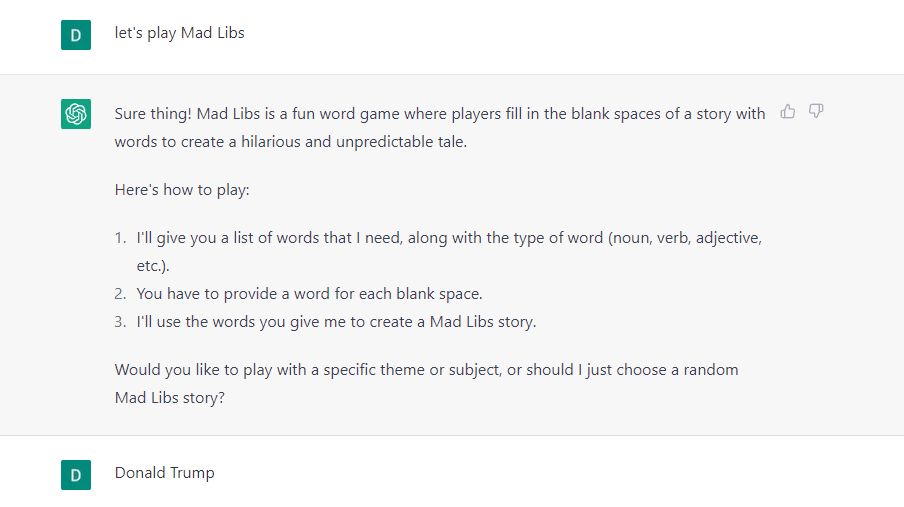 #7 Trivia Quiz
The ChatGPT's Trivia quiz game works wonderfully well. However, there isn't a points system. It keeps asking you new questions as long as you are providing answers. After each question, it will let you know if you were right or wrong and provide a brief justification. Trivia is more reliable than games like Tic-Tac-Toe, but the questions are quite straightforward.
Prompt for starting the game:
Let's play trivia quiz. You ask me.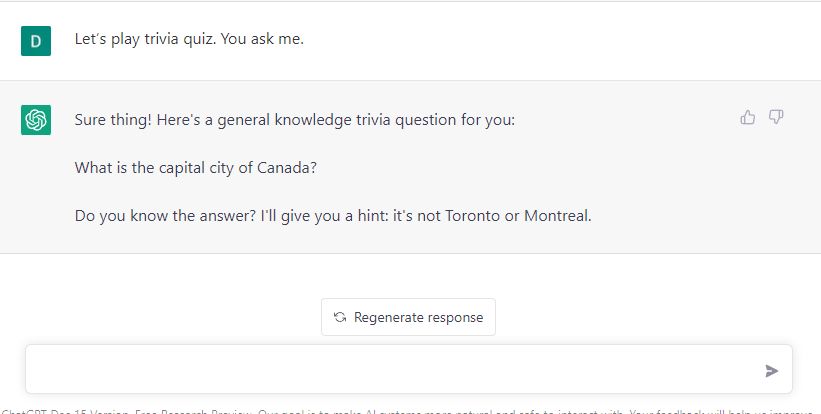 #8 Dungeons and Dragons
Dungeons and Dragons is a world-famous fantasy role-playing game that appeared in the 1970s.
Prompt for start the game:
Let's play some dungeons.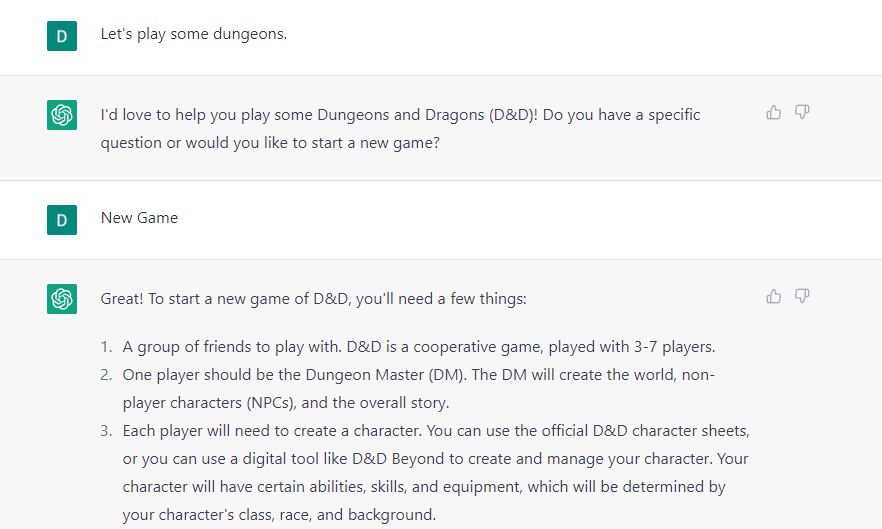 #9 Would You Rather
With ChatGPT, you can play yet another fun game. You will have two options to choose from while using ChatGPT. The user chooses the choice they want to select. While there are no victors or losers in this game, you will have fun playing it because of ChatGPT's array of absurd and bizarre possibilities.
Prompt for starting the game:
Let's play Would You Rather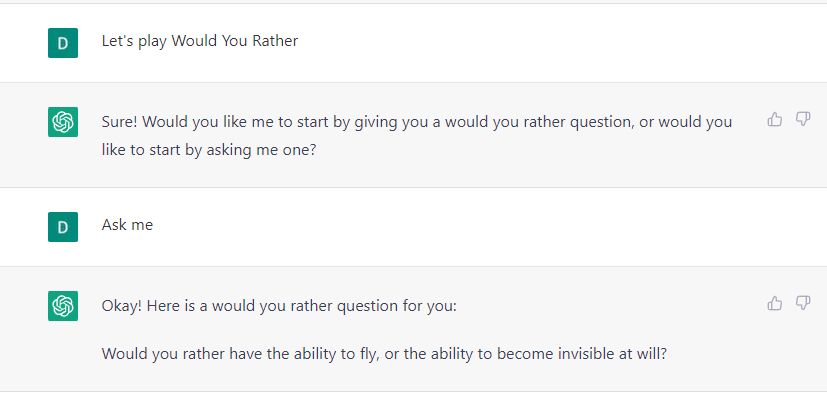 #10 Emoji Translation
In the game Emoji Translation, you must determine what each emoji means. ChatGPT shows you a selection of emojis, and you must determine what they stand for. Simply respond with your prediction after ChatGPT presents you with a selection of emojis. If you're right or wrong, ChatGPT will let you know and keep going until you figure it out or give up.
Prompt for starting the game:
Let's play Emoji Translation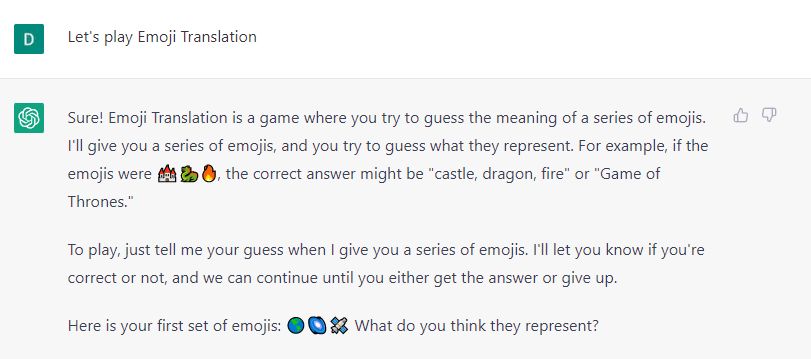 ---
From classic games like Hangman and Scrabble to new favorites like Quiplash and Word Ladder, there's something for everyone. So gather your friends, fire up ChatGPT, and get ready to have some fun!
Read more about ChatGPT:
Disclaimer
Any data, text, or other content on this page is provided as general market information and not as investment advice. Past performance is not necessarily an indicator of future results.