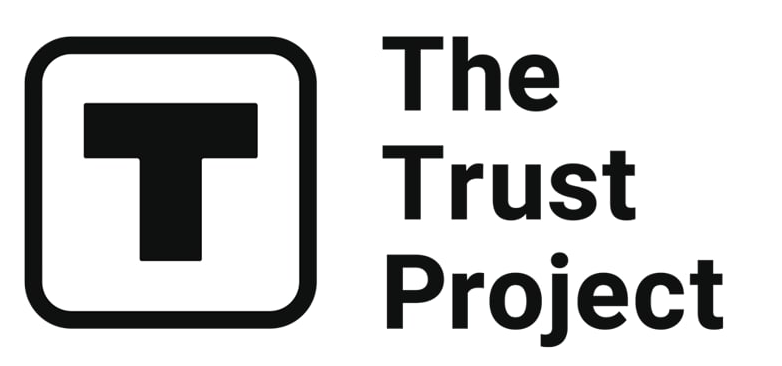 The Trust Project is a worldwide group of news organizations working to establish transparency standards.
As we reach the halfway point of the year 2023, the proliferation of artificial intelligence (AI) in the business world remains at the forefront of technological innovation. The AI sector is buzzing with startups aiming to leverage machine learning, deep learning, and other subsets of AI to solve intricate business and social challenges. This wave of innovation offers a promising vision of the future, filled with potential game-changers across various industries.
This article takes a deep dive into the 30 most anticipated AI startups of 2023, examining each for their unique contribution to this exciting field. The selected startups offer a range of AI-driven services and products, from improving healthcare diagnostics and treatment to augmenting business operations, bolstering cybersecurity, and revolutionizing customer experience. A comparative table at the end of the article provides an easy-to-follow analysis of these cutting-edge companies.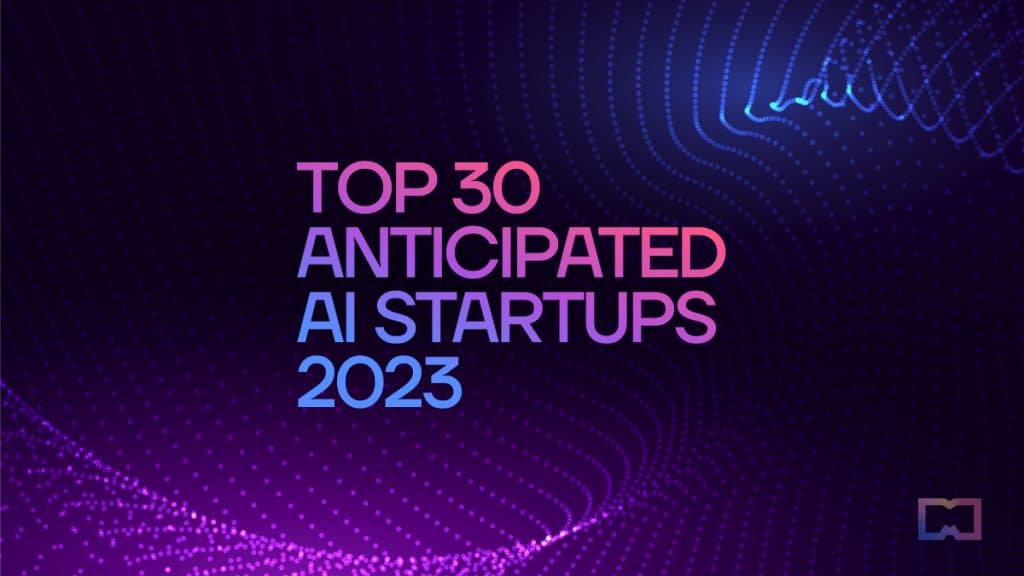 Comparison Table
| Startup | Total Funding | Notable Investors |
| --- | --- | --- |
| Adept | $415 million | Greylock Partners, General Catalyst, Spark Capital, Addition, Root Ventures, Air Street Capital, 10X Capital |
| Arena | $32 million | Founders Fund, Initialized Capital Management, Goldcrest Capital |
| AssemblyAI | $64.8 million | Y Combinator, TechNexus Venture Collaborative, MAVA Ventures, Accel, Insight |
| Banana | $3.2 million | Pioneer.app, Founders Inc, CapitalX, AVG Basecamp, Outset Capital, Spice Capital |
| BigHat Biosciences | $104 million | 8VC, MBC BioLabs, Amgen, Andreessen Horowitz, Section 32 |
| Character.AI | $193 million | Andreessen Horowitz, SV Angel, A Capital, Nat Friedman, Elad Gil, Paul Buchheit |
| Chroma | $20.3 million | Quiet Capital, AIX Ventures, Bloomberg Beta, AI Grant |
| Cohere | More than $170 million | Radical Ventures, Section 32, Index Ventures, Tiger Global Management, Geoffrey Hinton, Fei-Fei Li, Pieter Abbeel, Raquel Urtasun |
| Darrow | $24 million | Y Combinator, F2 Venture Capital, NFX, Entrée Capital |
| DeepL | $100 million | Not available |
| DeepScribe | $37.3 million | Index Ventures, The House Fund, Supernode, Wavemaker Three-Sixty Health, Plug and Play, 1984.vc, Berkeley SkyDeck, Foothill Ventures, Bee Partners, Industry Ventures, Stage 2 Capital |
| Fixie | $17 million | Redpoint Ventures, Madrona, Zetta Venture Partners, SignalFire, Bloomberg Beta and Kearny Jackson |
| Gretel | $68 million | Greylock, Moonshots Capital, Section 32 |
| Harvey | $5 million | OpenAI Startup Fund, Elad Gil, Sarah Guo |
| Hearth.ai | $3.75 million | Pear |
| Hebbia | $28.1 million | Index Ventures, Radical Ventures, Human Capital, Floodgate Fund |
| Hex Magic | $73.5 million | Amplify Partners, Redpoint Ventures, Andreessen Horowitz |
| HourOne | $26 million | Remagine Ventures, Intel Ignite, Kindred Ventures, Galaxy Interactive, Insight Partners |
| Inflection AI | $225 million | Greylock, Polaris Partners |
| Inworld | $70 million | Kleiner Perkins, CRV, Intel Capital, Section 32, Bitkraft Ventures |
| Jasper | $143 million | YCombinator, Insight Partners, Coatue Management, Bessemer Venture Partners, IVP, Foundation Capital, HubSpot Ventures, Hack VC, Liquid 2 Ventures, Essence Venture Capital |
| Latitude | $4.05 million | NFX, Album VC |
| Lavender | $13.2 million | Signia Venture Partners, Norwest Venture Partners |
| Metaphysic | $7.74 million | Section 32, To.org |
| Magic | $28 million | CapitalG, Amplify Partners, Elad Gil, Nat Friedman |
| MosaicML | ​​$58.7 million | Lux Capital, DCVC, Future Ventures, Playground |
| Pinecone | $38 million | Menlo Ventures, Wing Venture Capital, Tiger Global Management |
| Poly | $3.9 million | Y Combinator, Bloomberg Beta, NextView Ventures, Index Ventures |
| Regression Games | $4.2 million | NEA, Andreessen Horowitz, BBQ Capital, Roosh Ventures |
| Replicate | $17.93 million | Andreessen Horowitz, Sequoia Capital, AIX Ventures, Y Combinator, Activation Fund, Dylan Field, Guillermo Rauch |
| Seek AI | $7.5 million | Differential Ventures, Function Collective, ARC Angel Fund, Conviction, Battery Ventures |
| Stability AI | $101 million | Coatue Management, Lightspeed Venture Partners, O'Shaughnessy Ventures |
| Synthesia | $65.5 million | Radical Investments, LDV Capital, Mark Cuban, FirstMark Capital, Kleiner Perkins |
Pro Tips
Understand AI: Stay updated with AI trends, technologies, and key players to navigate the industry effectively.
Ethical AI: Consider the ethical implications of AI usage from the outset and strive for transparency and fairness.
Stay Agile: Adapt swiftly to changes in technology and market demands to keep your startup relevant and competitive.
Quality Data: Prioritize high-quality data for training AI models to ensure accurate results.
Top Anticipated AI StartUps
Adept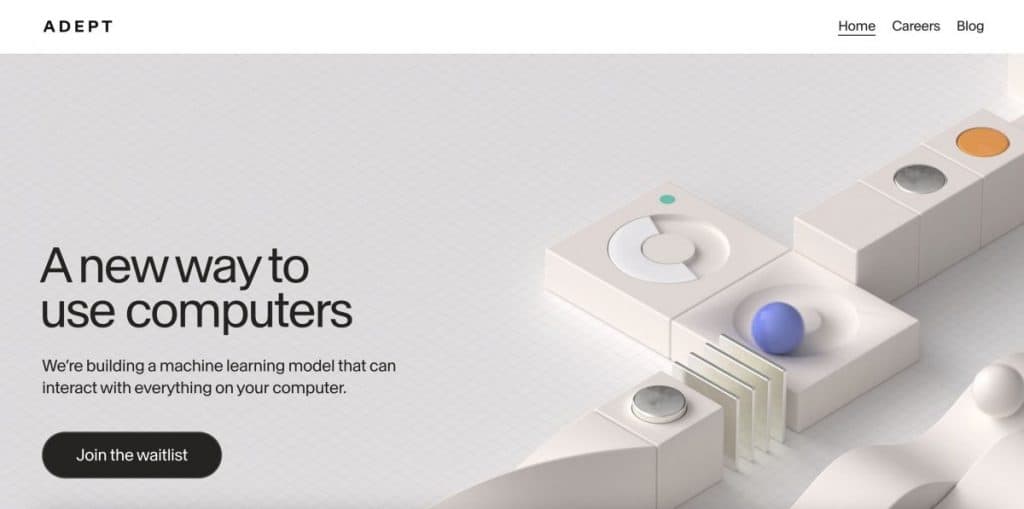 Founded by an exceptional team originating from premier companies such as OpenAI and Google Brain, Adept is a machine-learning research and product lab. The start-up has garnered much attention in the field, with a bold mission to develop AI technology capable of automating any task that a human can execute, from managing software to browsing the web. Saam Motamedi from Greylock, Jill Chase from CapitalG, and Jake Saper from Emergence Capital recommended the company.
Adept has strategically positioned itself as a 'full-stack' AI company, meaning it constructs its own foundation model instead of relying on other providers like OpenAI. This approach creates a formidable competitive barrier, making it harder for other companies to emulate their products. Additionally, Adept uses unique, private datasets for model training, thereby further differentiating its offerings. Although there are challenges in implementation, the potential for the company's technology to be incredibly potent if properly bounded and risks are minimized.
Arena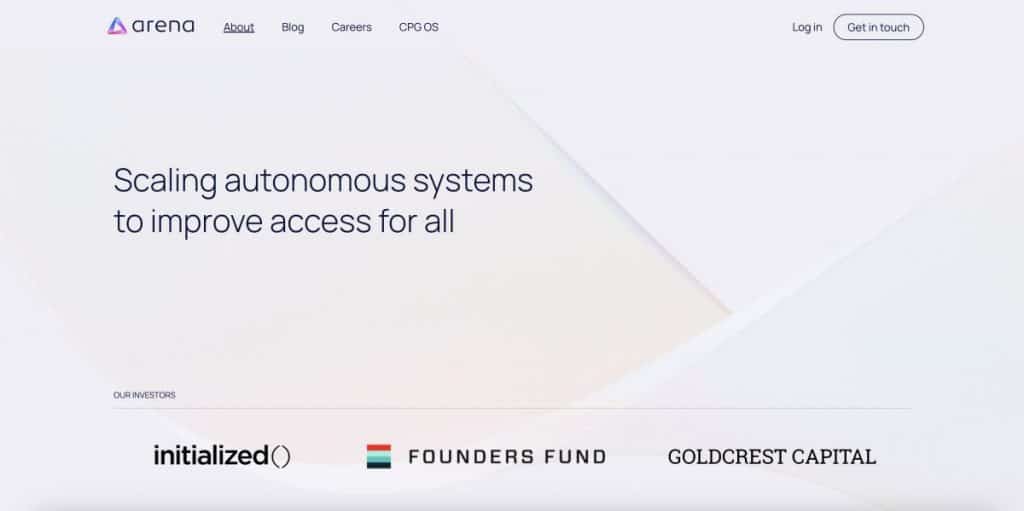 Arena is a startup co-founded by Engin Ural and Pratap Ranade, aimed at revolutionizing sales processes and supply chains for consumer goods companies. Using AI, Arena creates more autonomous, self-learning systems.
The company has secured total funding of $32 million. The notable investors include Founders Fund, Initialized Capital Management, and Goldcrest Capital.
Contrary to the traditional perspective of generative AI mainly for creative endeavors such as AI-produced art or content, Arena generates 'simulations of human behavior.' These simulations enable enterprise clients to develop pricing models and inventory management models based on unique simulations rather than solely depending on historical data. This innovative approach positions Arena in a distinctive space within the AI industry.
AssemblyAI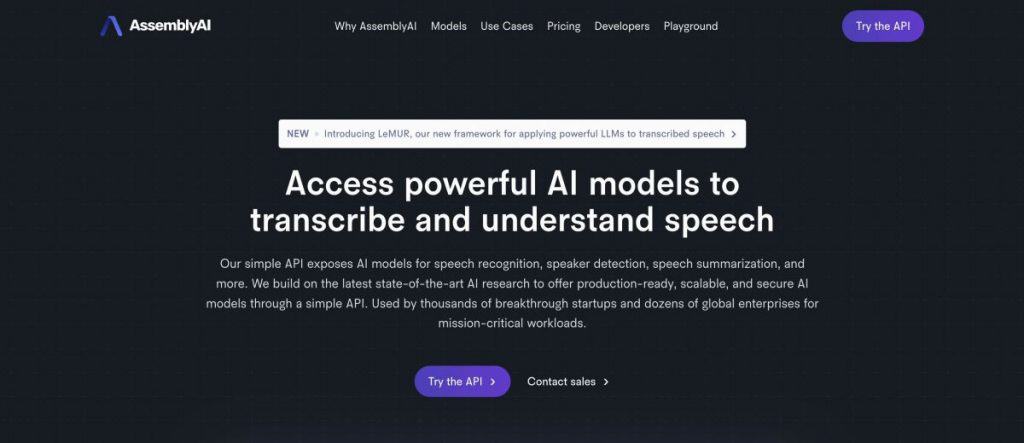 AssemblyAI, founded by CEO Dylan Fox, offers an API that leverages AI models to interpret and transcribe speech. The startup has secured funding amounting to $64.8 million, with key investors including Y Combinator, TechNexus Venture Collaborative, MAVA Ventures, Accel, and Insight.
The growing demand for AI-enabled products is met by the complex challenges of integrating them into existing solutions. AssemblyAI addresses this issue for organizations of varying sizes through its ready-to-use models. Over the recent months, the company has witnessed a significant growth of 291% in registered users. Initially focusing on the vast categories of audio and video for transcription, summarization, moderation, and compliance, AssemblyAI aims to expand its services to other essential areas.
Banana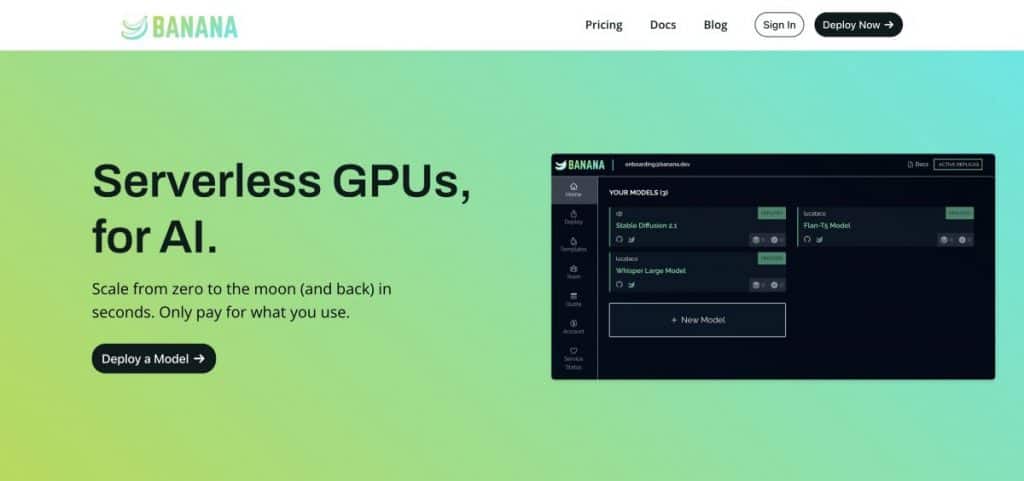 Banana is a startup co-founded by Kyle Morris and Erik Dunteman. Its primary function is to facilitate AI companies by providing hosting services for machine-learning models, thereby allowing customers to simplify the deployment process with an API. Banana has accumulated a total funding of $3.2 million, with noteworthy investors including Pioneer.app, Founders Inc, CapitalX, AVG Basecamp, Outset Capital, and Spice Capital.
Even with the growing enthusiasm around generative AI, the utilization and construction of large AI models still pose a challenge. Banana seeks to address this issue by democratizing access to substantial models for developers, essentially providing the "picks and shovels" for technologists amid the significant technological revolution of the 21st century. Banana's usage-based pricing permits developers to pay solely for the computing they use, while its three-step deployment process aims to provide cost-effective and efficient solutions for customers.
BigHat Biosciences
BigHat Biosciences, co-founded by Peyton Greenside and Mark DePristo, employs machine learning and synthetic biology to create safer and more effective antibody therapies. The startup has received a total funding of $104 million, with prominent investors including 8VC, MBC BioLabs, Amgen, Andreessen Horowitz, and Section 32.
BigHat Biosciences is a noteworthy investment for Section 32, reflecting the firm's interest in computational biology. The startup stands out for its ability to intervene when the human body fails to produce the necessary antibodies. The innovative approach of designing proteins from scratch offers a new pathway to develop therapeutic strategies.
Character.AI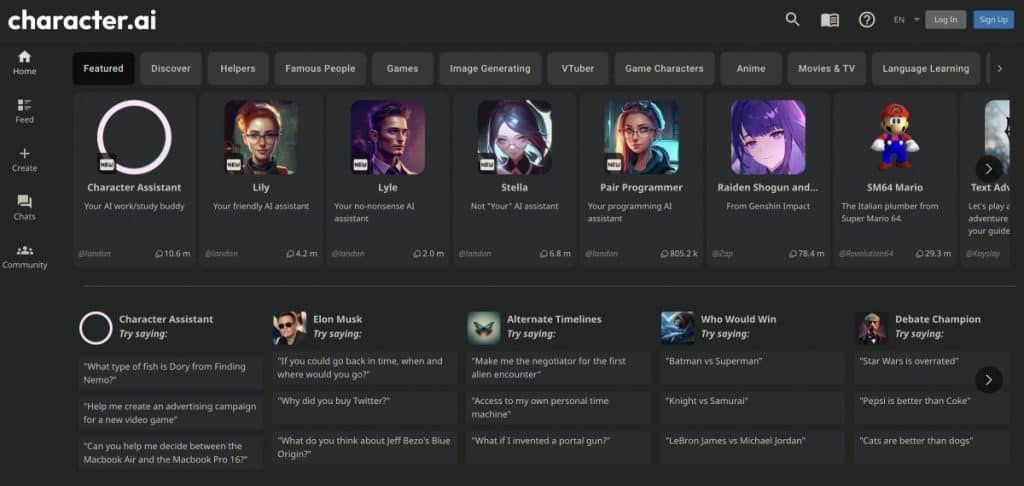 Character.AI, founded by Noam Shazeer and Daniel De Freitas, allows users to engage with a range of AI-powered personalities, from pop icon Billie Eilish to literary giant William Shakespeare. Despite its product still being in beta testing, Character.AI achieved a valuation of $1 billion, and raised an impressive $150 million in its Series A funding round led by Andreessen Horowitz. Its notable investors include SV Angel, A Capital, Nat Friedman, Elad Gil, and Paul Buchheit. Building its own foundation models has allowed Character.AI to establish a robust competitive barrier, differentiating it from rivals that rely on third-party models.
Chroma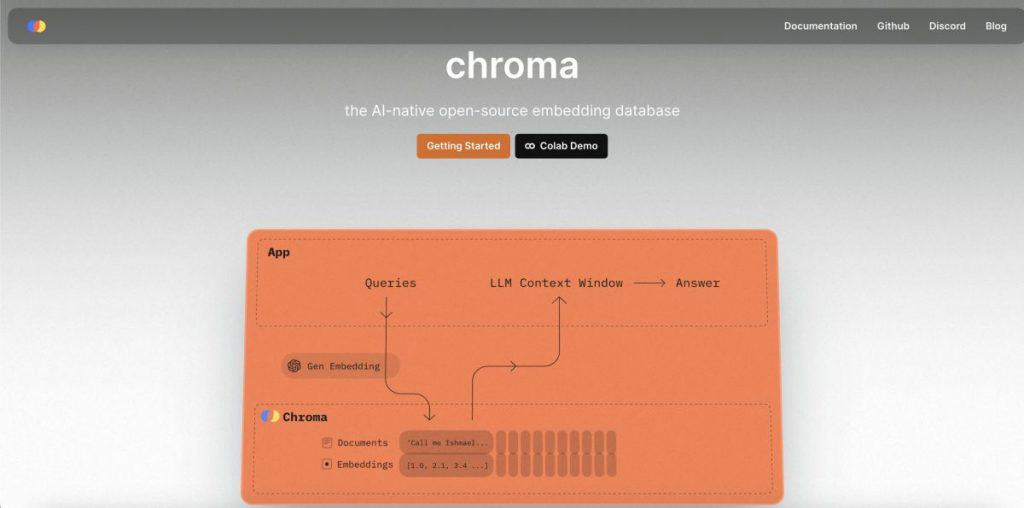 Founded by Jeff Huber and Anton Troynikov, Chroma is an AI-driven startup that enables businesses to integrate their own data, state, and memory into AI applications. The company raised $20.3 million, with notable investors such as Quiet Capital, AIX Ventures, Bloomberg Beta, and AI Grant. Chroma's unique approach, "vector embeddings", provides a numerical depiction of diverse data forms, including text, images, video, and audio. This makes it possible to impart new information to models without the need for costly fine-tuning, human feedback, or hallucinations. Chroma's simple and lightweight product was designed for easy operation and rapid prototyping.
Cohere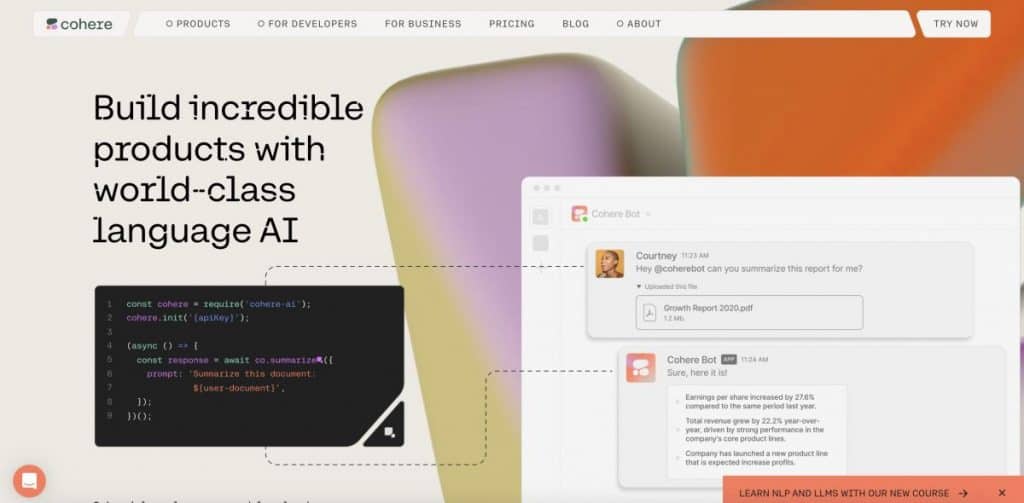 Cohere, co-founded by Ivan Zhang, Nick Frosst, and Aidan Gomez, offers large language models that can classify, generate, and extract trends and patterns from text. With more than $170 million in funding, Cohere counts Radical Ventures, Section 32, Index Ventures, Tiger Global Management, Geoffrey Hinton, Fei-Fei Li, Pieter Abbeel, and Raquel Urtasun among its investors. As a company operating in the AI infrastructure space, Cohere enables developers to program in this domain. Despite competing with AI giant OpenAI, Cohere has managed to remain relatively inconspicuous. However, rumors of a new funding round that could value the startup at over $6 billion may bring it into the spotlight soon.
Recommended post: 8 Best AI-powered Video Editors and Software in 2023
Darrow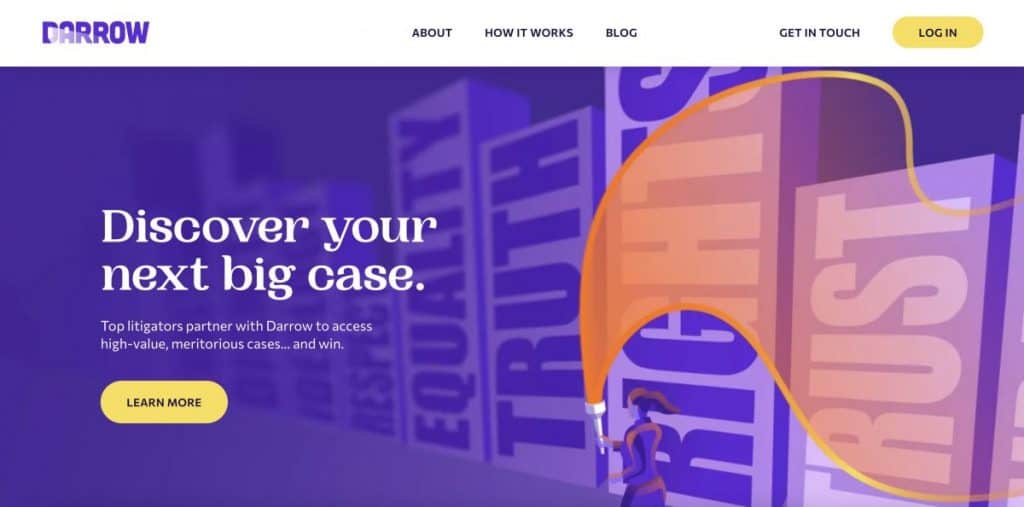 Darrow, co-founded by Gila Hayat, Evyatar Ben Artzi, and Elad Spiegelman, uses AI to sift through publicly available data, identifying potential claims and automatically generating cases for litigators. Darrow's use of generative AI allows it to analyze vast amounts of data, highlighting consumer issues and enabling collective action. The startup raised $24 million in funding, with notable investors like Y Combinator, F2 Venture Capital, NFX, and Entrée Capital.
DeepL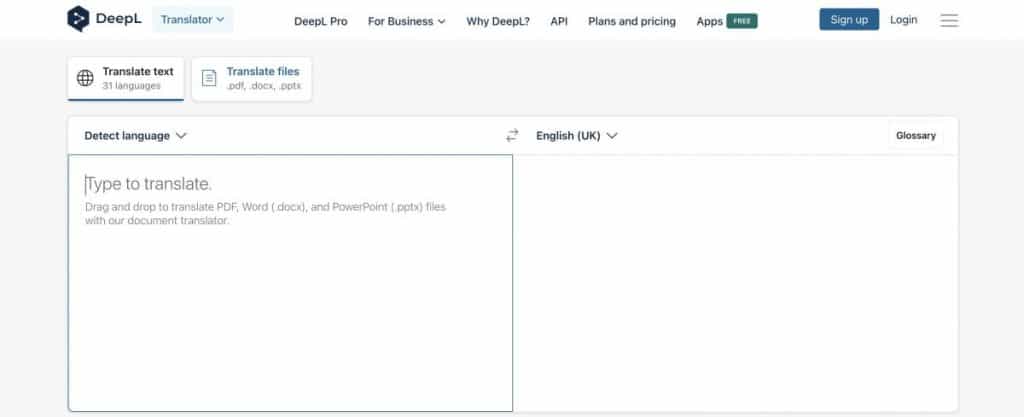 DeepL, founded by CEO Jarek Kutylowski, offers free translation services across various European and Asian languages. With a funding of $100 million, DeepL is attempting to outperform Google as a leading translation service provider, focusing on speed, accuracy, and accessibility for businesses. Furthermore, the startup's notable investors include btov Partners, TA Ventures, Niko Waesche, Cinco Capital, Tamiva Ventures, Benchmark, Blue Fund Consulting & Invest, and IVP.
DeepScribe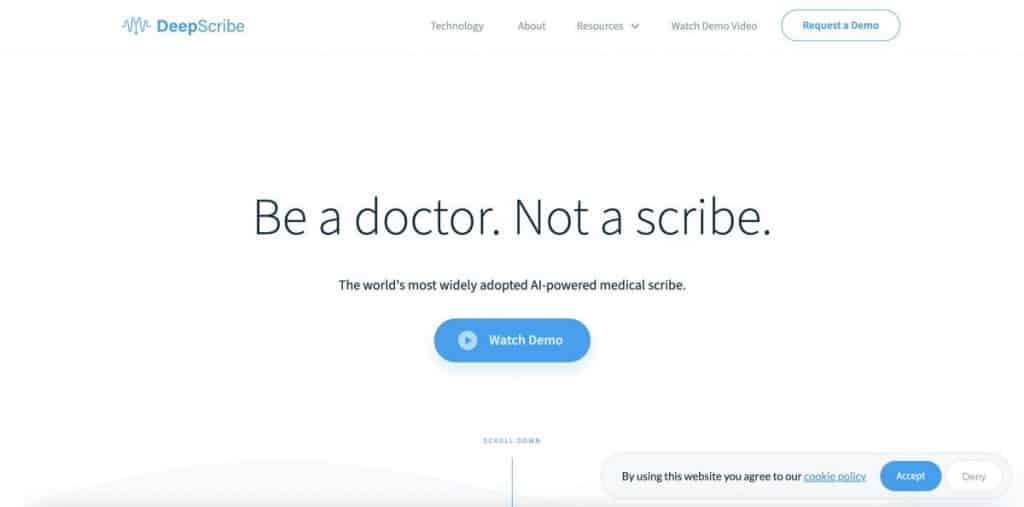 DeepScribe, founded by Akilesh Bapu and Matthew Ko, offers an AI-powered medical scribe that records and documents clinician-patient conversations, directly entering relevant information into electronic health record systems. The startup has secured $37.3 million in funding and its investors include Index Ventures, The House Fund, Supernode, Wavemaker Three-Sixty Health, and more. DeepScribe's AI system effectively filters out small talk, highlights medically-relevant information, and maintains patient confidentiality, allowing doctors to focus more on patient care.
Fixie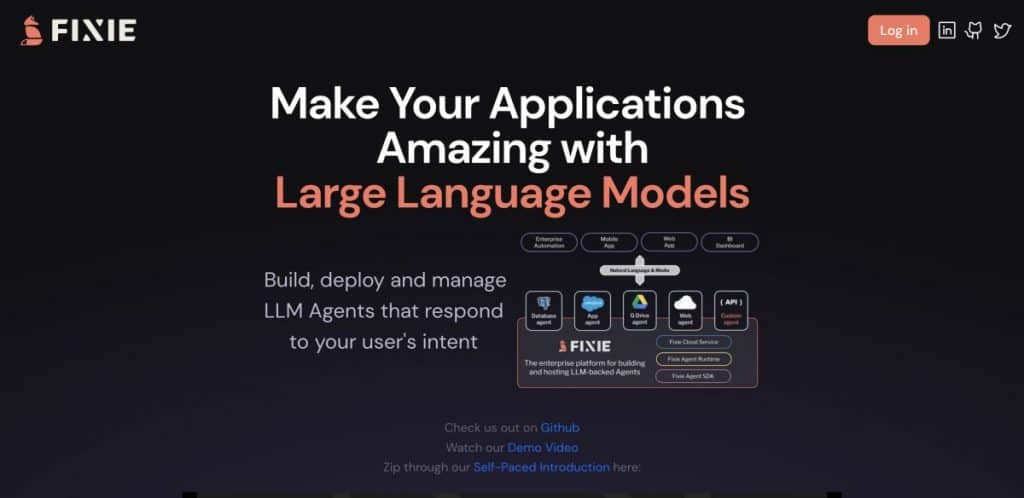 Fixie, a startup has received $17 million in funding from notable investors such as Redpoint Ventures, Madrona, Zetta Venture Partners, SignalFire, Bloomberg Beta, and Kearny Jackson. The company enables users to build large language-model apps, focusing on revamping the chat box by automating large language models to solve complex problems. Fixie stands out for its capacity to integrate with external applications or a company's existing apps.
Recommended post: The 10 Potential AI Apps That Could Revolutionize Sports
Gretel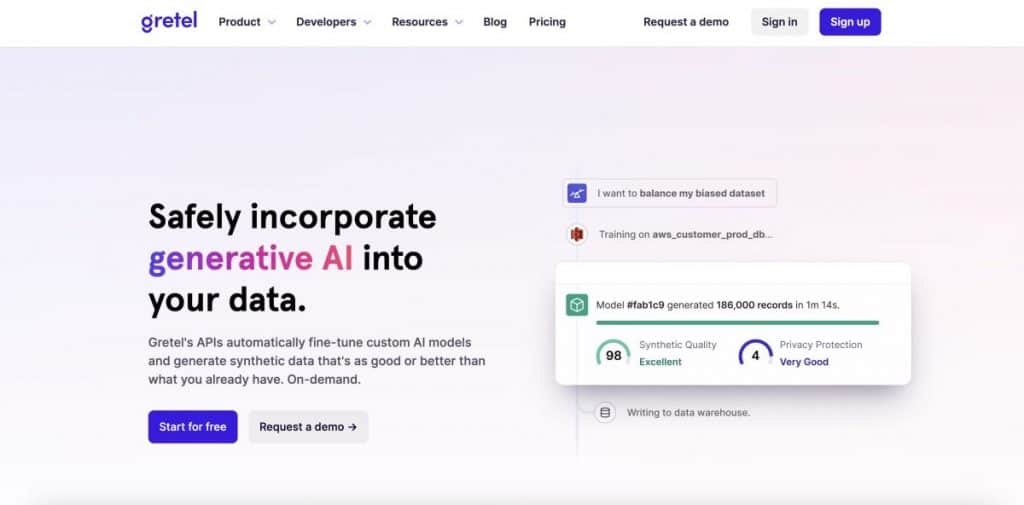 Gretel, co-founded by Alexander Watson, Ali Golshan, and John Myers, specializes in helping engineers create synthesized datasets to maintain data privacy. The startup has raised $68 million, with notable investors including Greylock, Moonshots Capital, and Section 32. Gretel's main goal is to solve the "small n problem" – a lack of sufficient data for meaningful analysis – by modeling various systems and behaviors, generating synthesized data, and facilitating data analysis processes that were previously impracticable due to regulatory and consent systems.
Harvey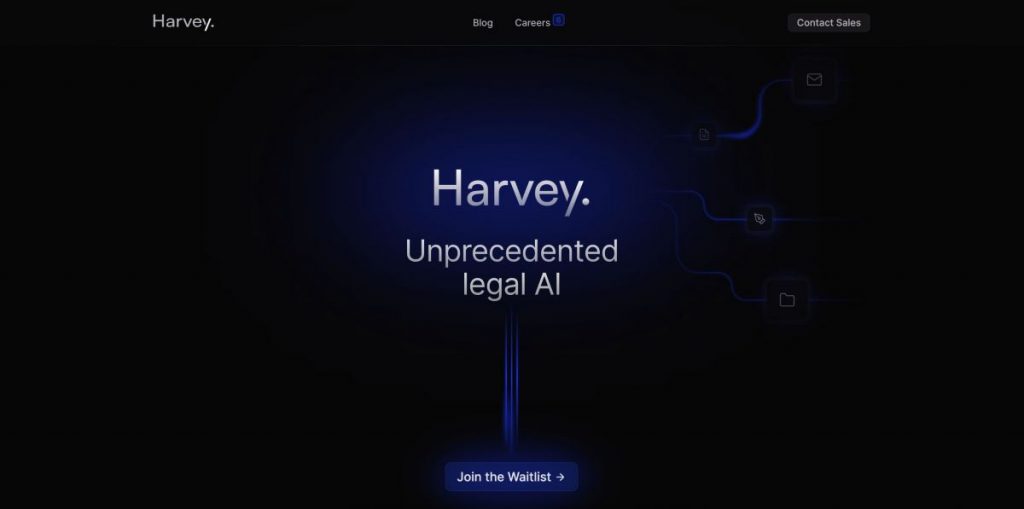 Harvey, a startup has secured $5 million in funding from notable investors like OpenAI Startup Fund, Elad Gil, and Sarah Guo. App creates custom language-learning models specifically for large law firms, helping lawyers with researching and editing legal documents. This is part of a growing trend of AI startups providing specialized services for specific verticals.
Hearth.ai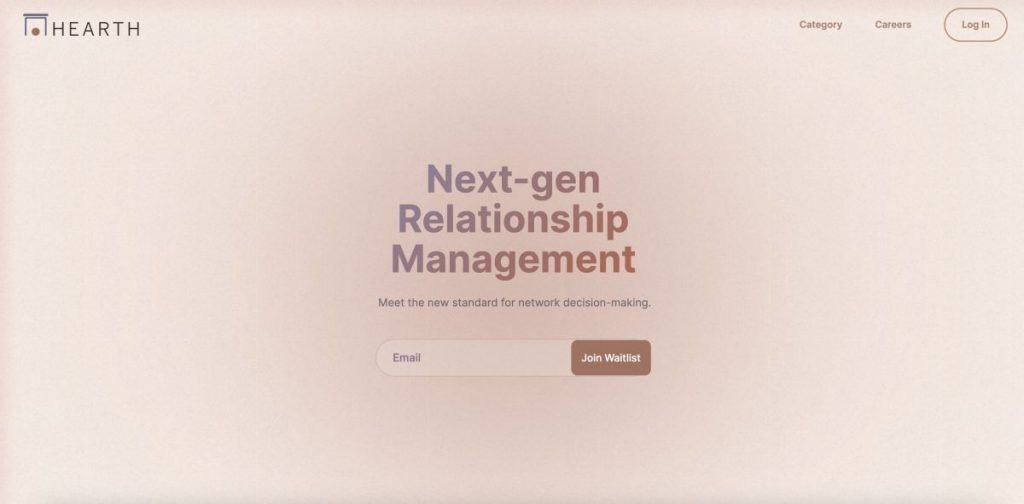 Hearth.ai has raised $3.75 million with Pear as a notable investor. The startup employs AI to assist individuals in managing their relationships and network. Hearth uses generative AI to help users understand the history of their relationships and the importance behind communications. The company is currently in private beta and aims to go beyond just suggesting responses to actively managing relationships.
Hebbia Hebbia, founded by CEO George Sivulka. With $28.1 million in funding, Hebbia is an AI-powered enterprise search engine that lets knowledge workers search their company's data or trusted sources. Unlike consumer-oriented search startups like You.com or giants like Google or Microsoft's Bing, Hebbia targets enterprises, saving time and effort for knowledge workers.
Recommended post: Top 10 Mobile AI Art Generator Apps in 2023 for Android and IOS
Hex Magic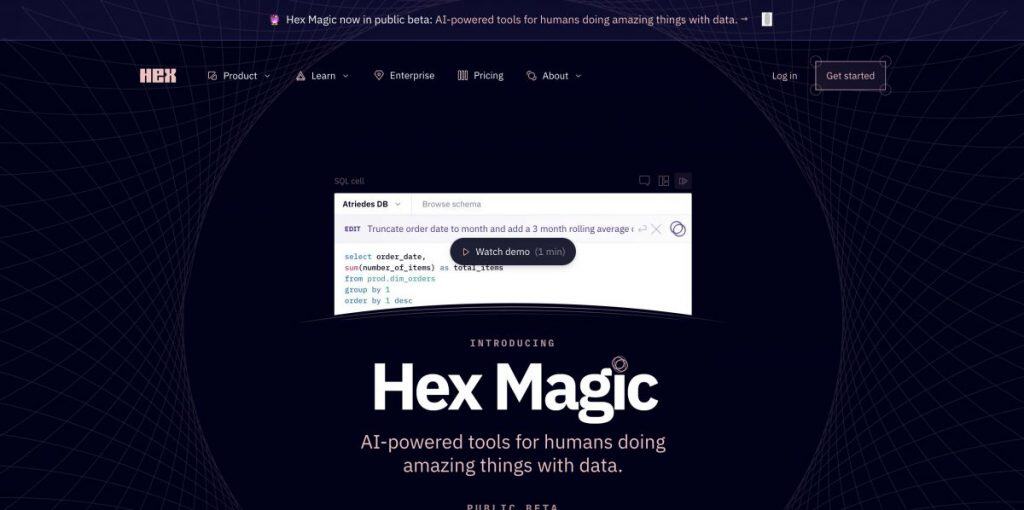 Hex Magic has raised $73.5 million. The startup uses AI to streamline the data-analysis process, including writing and editing SQL queries and Python code. By understanding data schemas, Hex can assist with everything from quick questions, auto-completing joins, to generating a challenging data filter.
HourOne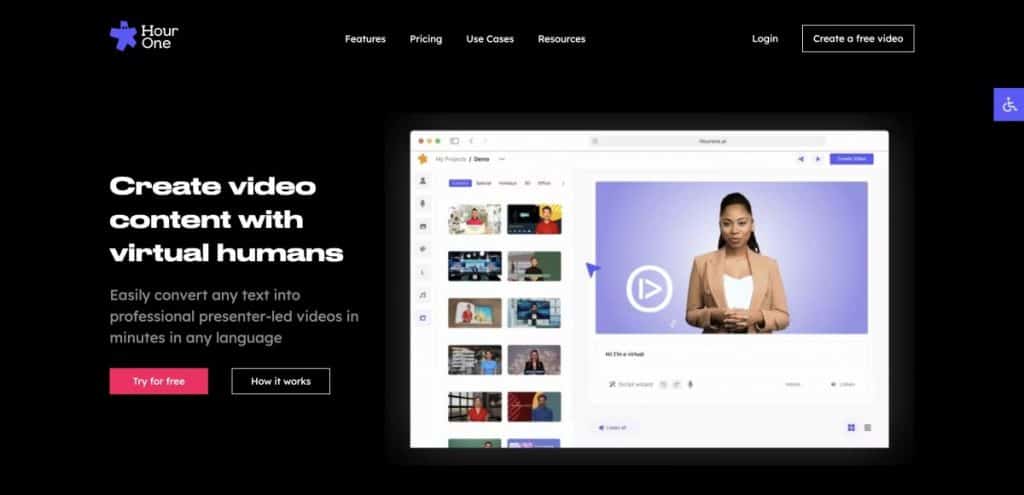 HourOne, also has secured $26 million in funding from Remagine Ventures, Intel Ignite, Kindred Ventures, Galaxy Interactive, and Insight Partners. The startup uses generative AI to convert text into videos featuring virtual human presenters, effectively creating "virtual twins". This technology can be applied to tasks traditionally done by receptionists, salespeople, HR reps, and trainers. The technology can, for example, automatically convert text-based news into studio-grade videos in over 35 languages, almost instantly.
Recommended post: 10+ Best AI Resume Builders and CV Makers 2023
Inworld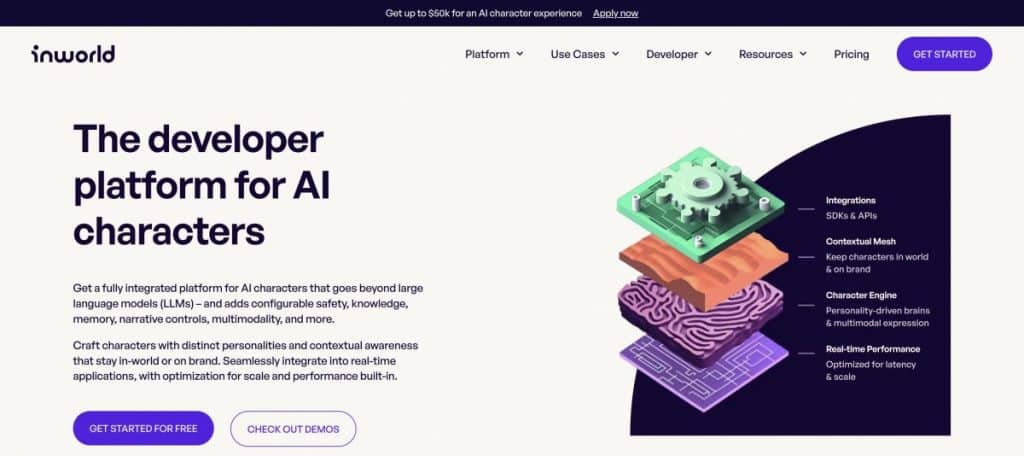 Inworld with $70 million in funding from notable investors like Kleiner Perkins, CRV, Intel Capital, and Bitkraft Ventures, uses AI to create virtual characters. The startup intends to offer tools for creators to generate content even when offline. It also sees potential applications in gaming and the metaverse.
Jasper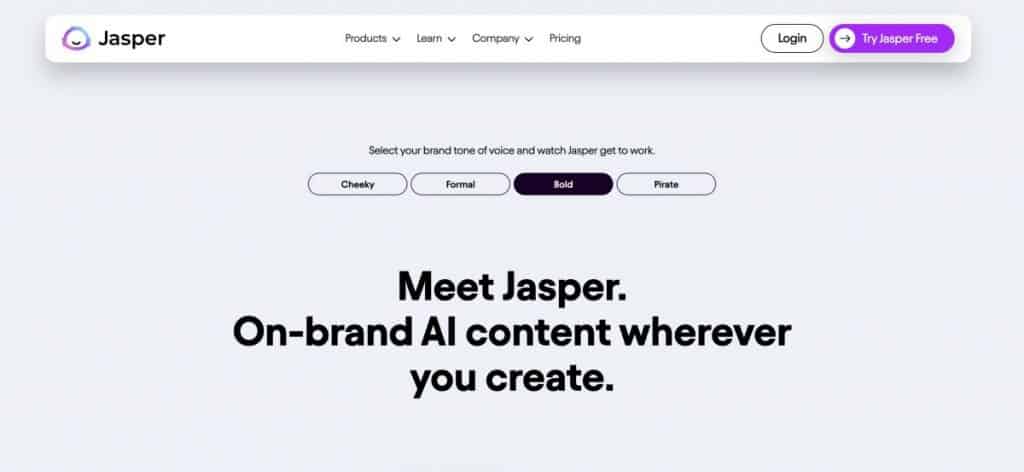 Jasper has secured $143 million in funding. App uses generative AI to create content ranging from marketing copy and blog posts to images. The startup has seen viral growth among customers and has been lauded for its tech capabilities and user utility. It's among the few generative AI applications that Gupta believes are on the right track with building workflows.
Latitude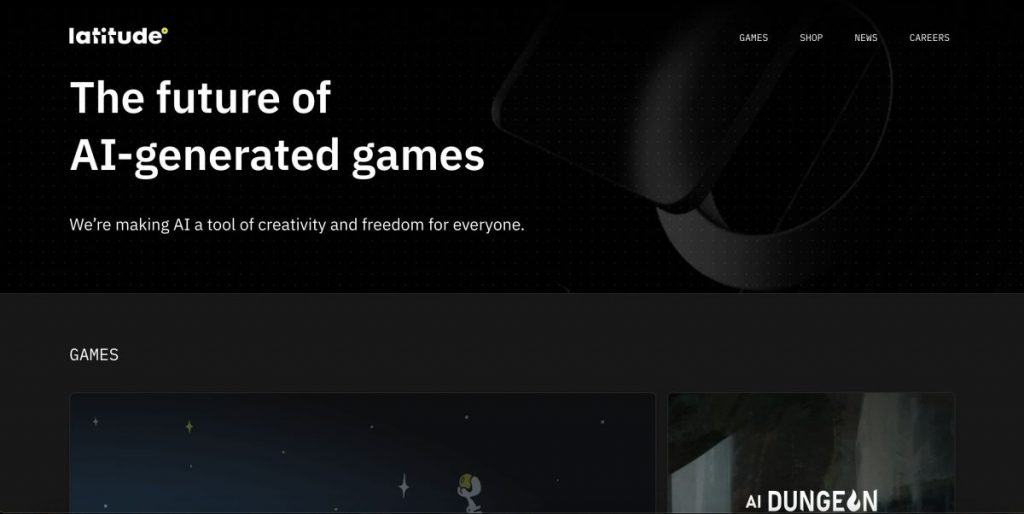 Latitude having raised $4.05 million in total funding, is a gaming company that creates AI-generated digital gamescapes and gaming storylines. The startup distinguishes itself in the AI gaming sector, which has yet to see significant company creation, through its profitability and multiplayer use cases. Furthermore, Latitude's AI capabilities enhance gaming by automatically creating non-playable characters and accelerating game development.
Lavender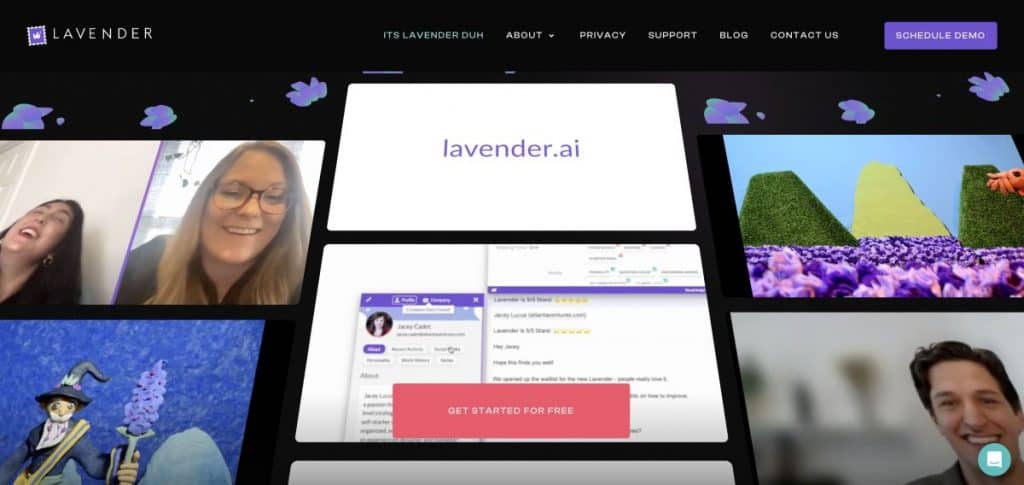 Lavender with total funding of $13.2 million, uses AI to improve sales emails. The AI platform coaches sales representatives to send better emails and humanize the sales process. Lavender's strength is not just in its generative AI but in its thoughtful and comprehensive business application. The startup aims to make sales reps ten times more effective by developing technology that understands the sales rep experience.
Recommended post: 20+ Best AI Chatbots of 2023: ChatGPT and Alternatives
Magic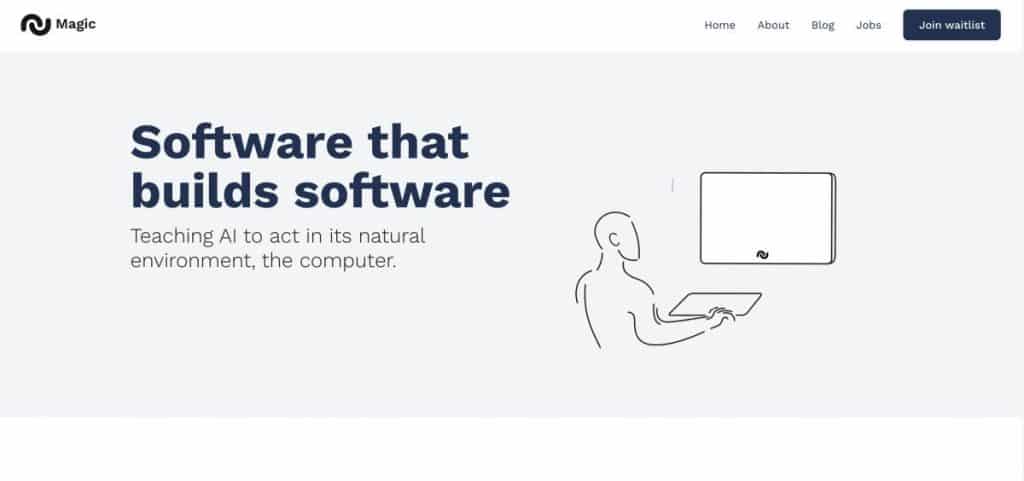 Magic, backed by Jill Chase from CapitalG with $28 million in funding, is developing an AI teammate for software engineering. This AI allows developers to interact in natural language to expedite code completion. Competing with the likes of GitHub's Copilot, Codeium, and Grit, Magic aims to increase developer productivity in a world where software engineers are in high demand but short supply. Magic differentiates itself by building its own neural network architecture capable of reading significantly more lines of code than existing models.
Metaphysic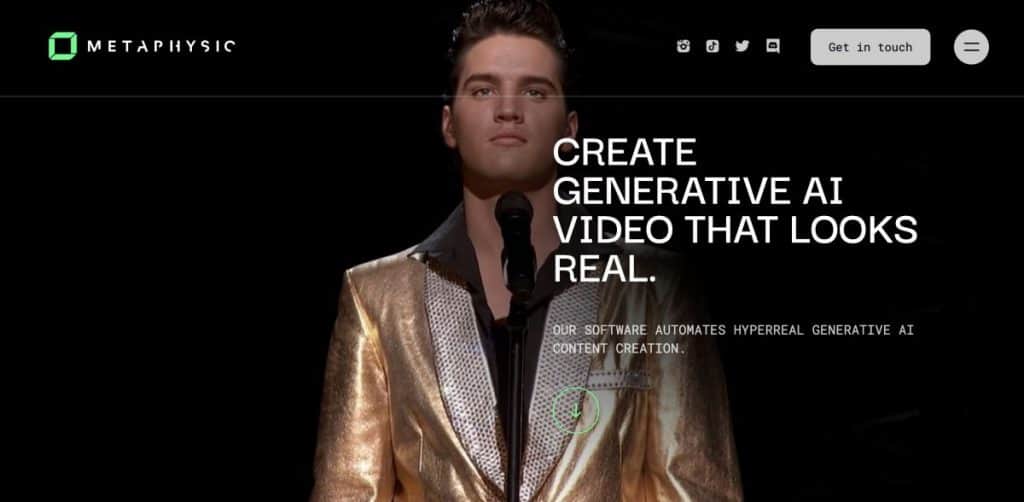 Metaphysic, with a total funding of $7.74 million, is renowned for its use of AI to create deepfakes, including a notable one of Tom Cruise. This technology allows personalities, such as Cristiano Ronaldo, to have their perfect representations created and owned by themselves. Major talent agencies and artists are exploring opportunities to license avatars that look exactly like them and represent them online.
MosaicML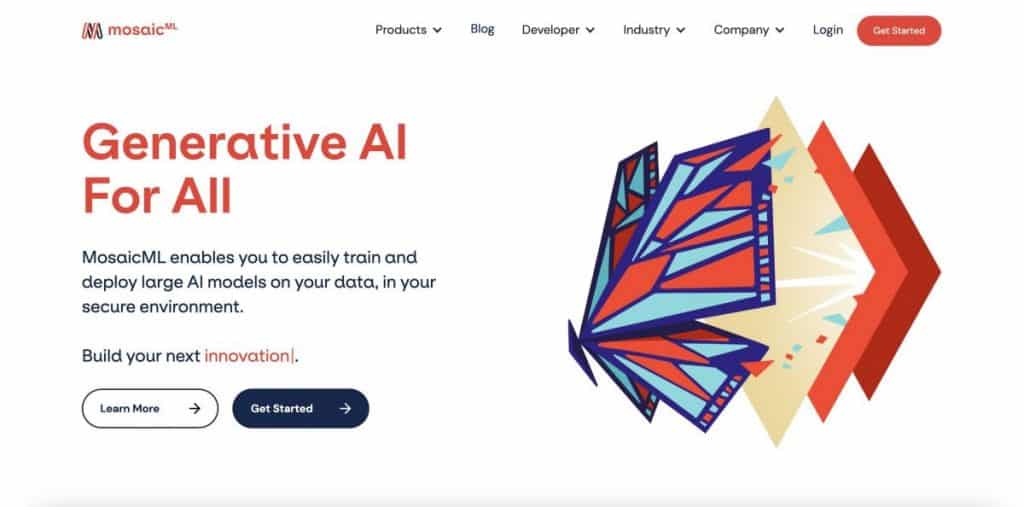 MosaicML, with total funding of $58.7 million, provides managed-infrastructure and software tools that assist customers in training large-scale machine learning models using their own data. Jill Chase from CapitalG considers MosaicML to be a particularly good bet in the AI ecosystem's infrastructure layer. The startup not only reduces the cost of training but also democratizes access to large-scale models. MosaicML serves a variety of high-profile customers, including Stability AI, Replit, and Stanford University.
Recommended post: 10+ Best AI Crypto Projects of 2023
Pinecone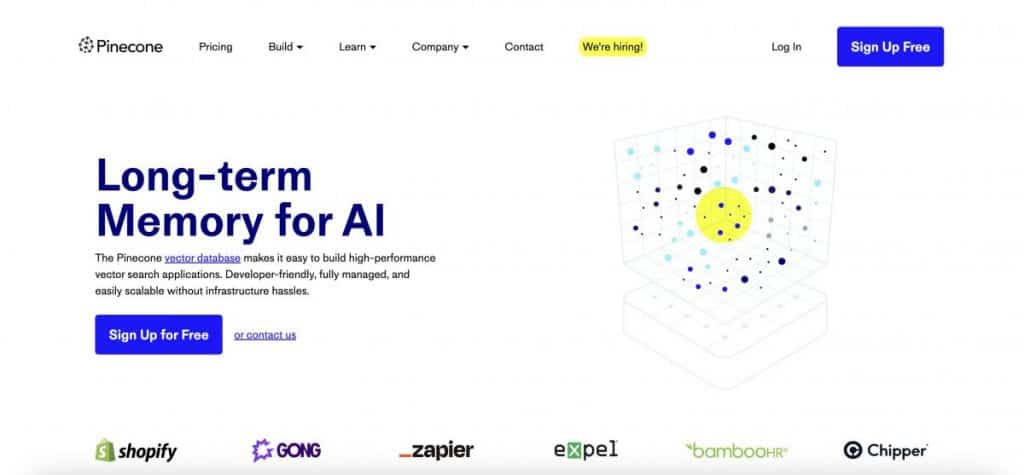 Pinecone, a vector-database platform, has a total funding of $38 million. This startup allows developers to add vector-search features to their applications using an API. Vectors help in classifying and organizing complex, unstructured data. They are ideal for dealing with rapidly multiplying unstructured data, such as videos and images. Pinecone aims to make vector databases more accessible and affordable for developers, and its offering is already being used by high-profile customers like Shopify, Gong, and Cohere.
Poly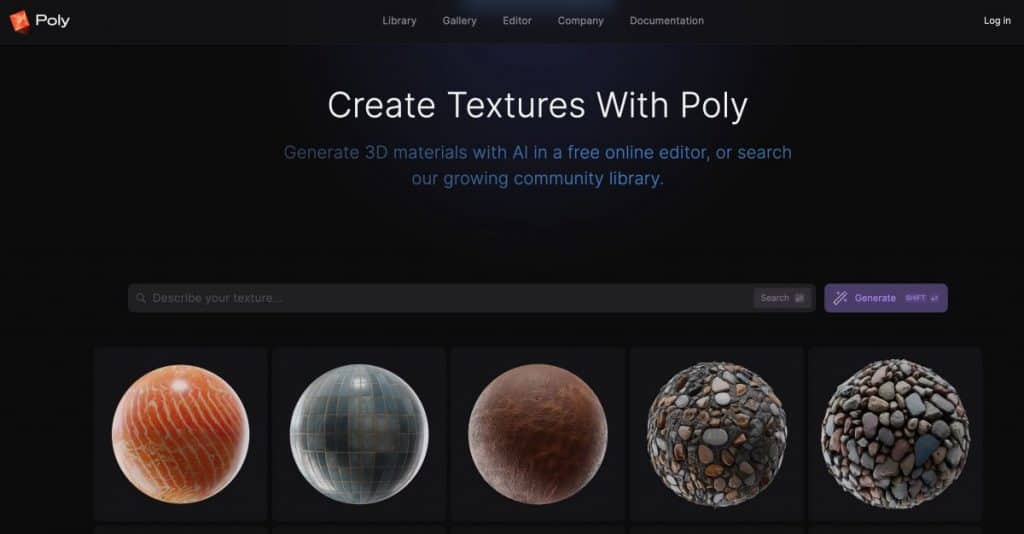 Poly is a web-first generative-AI startup that creates design assets. It has raised $3.9 million in funding and is notable for its ability to help designers quickly generate HD versions of design assets like logos, fonts, and color palettes with a single text prompt. The company's web-based texture-generation tool has already attracted thousands of active users, ranging from professionals in Fortune 500 companies to individual freelancers.
Regression Games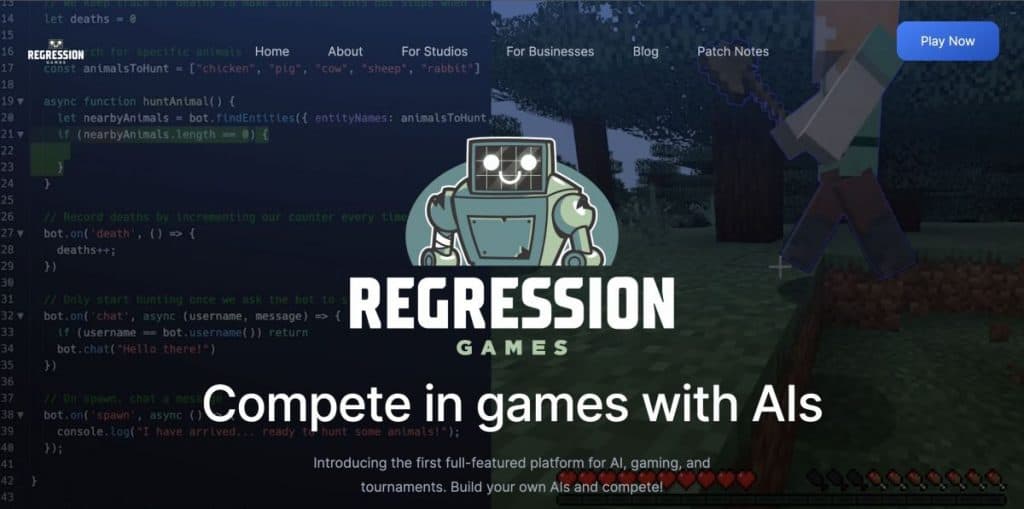 Regression Games, with a total funding of $4.2 million, enables players to create AI and use it in games and e-sports. Instead of just using AI to control background characters, the startup empowers players to use coding and AI to personalize their gaming experience. Regression Games aims to let users influence how games are made by integrating a low-code tool into the game, allowing users to change the storyline and how the game works based on their preferences.
Recommended post: 10 Best AI Chrome Extensions in 2023
Replicate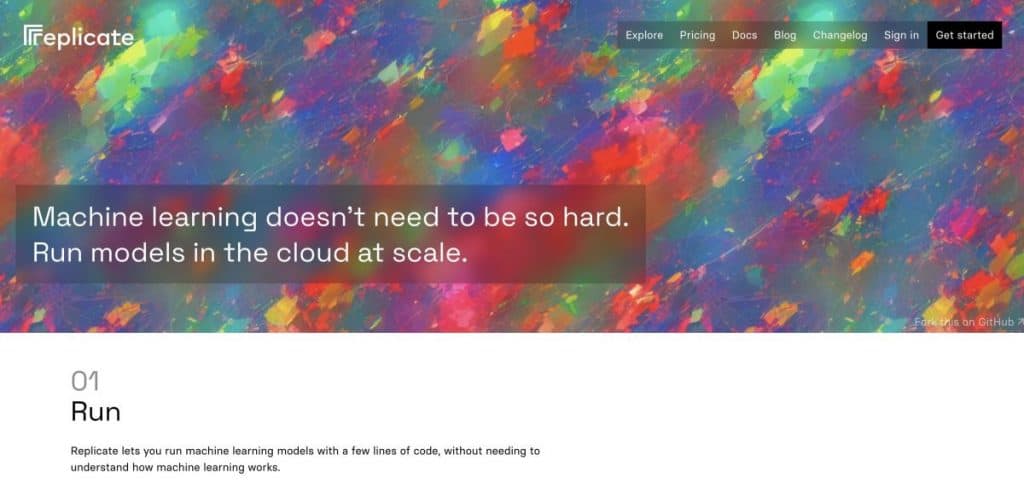 Replicate, an AI startup that raised $17.93 million in funding, aims to simplify the process of leveraging machine-learning models for businesses. This includes tasks from running models to building products and scaling. Replicate differentiates itself through developer experience and its wide range of open-source models for various applications.
Seek AI
Seek AI is a generative artificial intelligence platform that enables non-technical users to perform data analytics. Having raised $7.5 million, the platform allows users to ask data-related questions and get quick answers, minimizing reliance on data and tech teams. This innovative solution fits perfectly into the current capabilities of machine learning.
Stability AI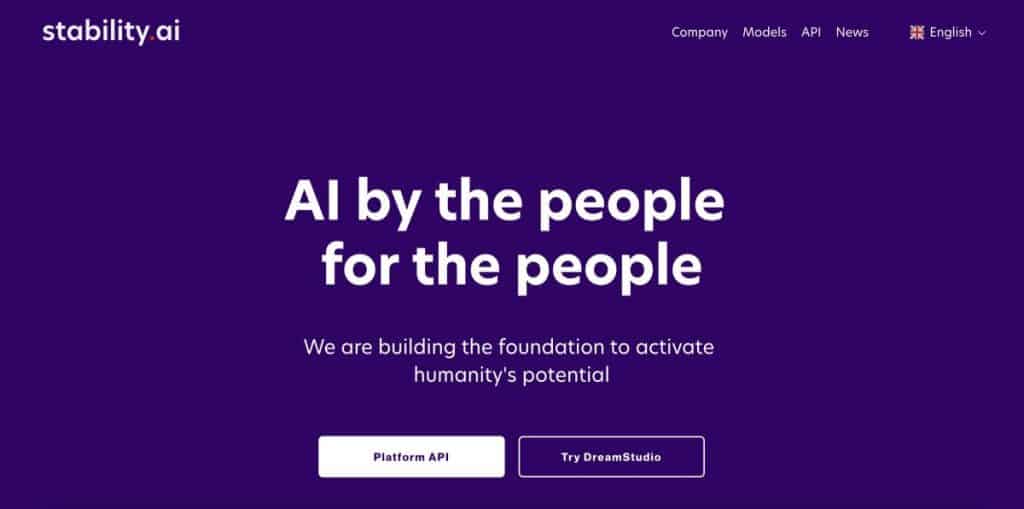 Stability AI is an open-source provider of generative-AI models. It has secured $101 million in funding and offers products such as the text-to-image art generator, Stable Diffusion. The startup aims to democratize access to advanced AI technology and increase transparency by making it open source.
Synthesia
Synthesia, a pioneer in the generative AI space, has secured $65.5 million in funding. It utilizes generative AI technology to create videos from plain text. This early player in generative AI technology has become successful and is now working with companies to create synthetic videos for training and marketing purposes. The team's ability to build its product from scratch sets it apart from competitors.
Conclusion
The journey into the future of AI is increasingly driven by the pioneering efforts of these emerging startups. While the diversity and potential of these 30 startups are inspiring, they represent just the tip of the iceberg in the expansive ocean of AI-driven innovation.
As AI technology continues to evolve, these startups will need to maintain their agility, constantly innovating and adapting to the shifting demands of the market and technology landscape. Furthermore, the ethical and societal implications of AI deployment will remain a critical consideration for these startups as they continue to break new ground.
As 2023 unfolds, we can look forward to witnessing the remarkable transformations these AI startups will bring about, setting the stage for the next phase of AI evolution. They embody the spirit of innovation and exploration, pushing boundaries and leading us towards a future where AI is seamlessly integrated into our everyday lives. We should follow their journey closely as they forge a new path in AI development, with the promise of changing the world for the better.
FAQ
What exactly is an AI startup?
An AI startup is a new company that leverages artificial intelligence technologies such as machine learning, natural language processing, and computer vision to develop innovative solutions, products, or services. These startups often aim to solve complex problems in various fields like healthcare, cybersecurity, finance, and more.
How does an AI startup differ from a traditional tech startup?
While both types of startups operate in the tech sector, AI startups specifically focus on harnessing the power of artificial intelligence in their products or services. This requires a unique set of skills and resources, including AI specialists and vast amounts of data to train their AI models.
What are some challenges that AI startups might face?
AI startups often encounter a range of challenges. This can include difficulties in securing funding, acquiring quality training data, ensuring the ethical use of AI, complying with data privacy regulations, and maintaining transparency in their AI models. They also face competition from both other startups and established tech giants investing in AI.
Why is there so much interest in AI startups?
The interest in AI startups stems from the transformative potential of artificial intelligence across various industries. AI has the capacity to automate tasks, provide insightful data analysis, enhance decision-making, and create new ways of interacting with technology, making it an attractive field for innovation and investment.
How can I invest in AI startups?
Investing in AI startups can be done through several avenues. This can include direct equity investment, venture capital funds, crowdfunding platforms, or even buying stocks in public companies that invest heavily in AI. However, investing in startups comes with a high level of risk, and professional financial advice is recommended.
Read more related articles:
Disclaimer
Any data, text, or other content on this page is provided as general market information and not as investment advice. Past performance is not necessarily an indicator of future results.