10 Best AI Chrome Extensions in 2023

by
Nik Asti
Published: April 20, 2023 at 3:11 am Updated: June 15, 2023 at 6:31 am

In Brief
AI-powered browser extensions enhance productivity and streamline tasks
Key features include natural language processing, content generation, meeting transcription, and communication assistance
Extensions offer personalized, user-friendly interfaces and customizable settings
Artificial intelligence (AI) has become an essential tool for enhancing productivity, streamlining workflows, and simplifying everyday tasks. With the ever-increasing integration of AI in various aspects of our lives, the demand for easy-to-use AI solutions has skyrocketed. One such domain where AI is making a significant impact is the development of Chrome extensions, designed to assist users in various ways as they browse the internet. This article will explore some of the best AI-powered Chrome extensions that have transformed the way we interact with the web, making our online experience smarter and more efficient. Each of these extensions offers unique features and capabilities that aim to simplify various tasks, from drafting emails and transcribing audio to conducting research and generating content.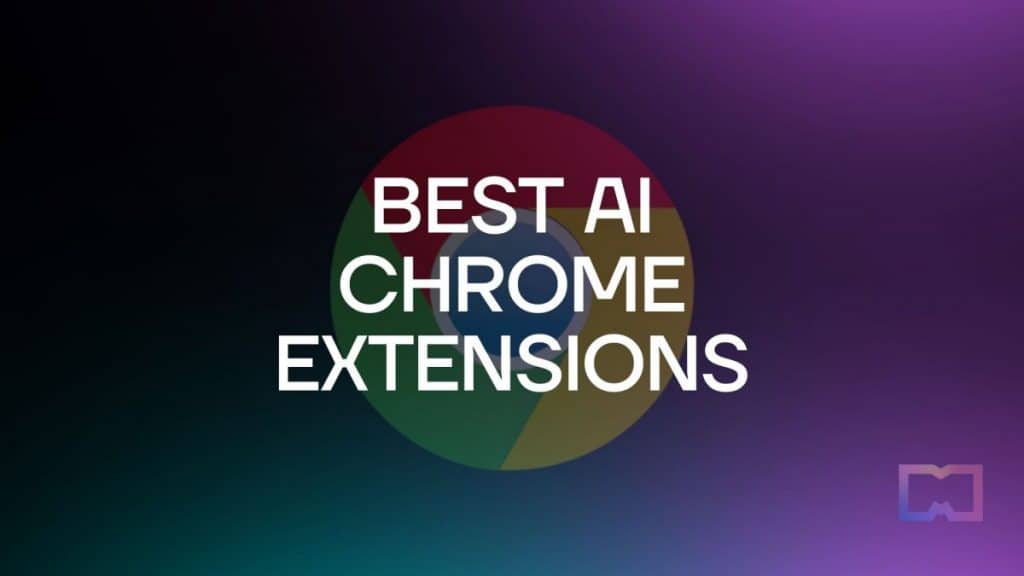 Pro Tips
1. Prompt Engineering guide covers all the essential AI prompt engineering concepts from beginner to advanced level, including practical applications and real-world examples.
2. These AI 3D generators use advanced algorithms and machine learning techniques to create stunning 3D models with incredible detail and realism.
3. AI content detection tools are expected to become more sophisticated and accurate by 2023, allowing for better identification of fake news, hate speech, and other harmful content.
AI Chrome Extensions Comparison Table
| Extension | Primary Function | Notable Features |
| --- | --- | --- |
| ChatGPT for Chrome | Natural Language Processing and Text Generation | Text summarization, content generation, language translation, paraphrasing, answering questions |
| Criminal IP: AI-based Phishing Link Checker | Comprehensive Link Scans in Real-Time | Extension offers robust protection against phishing sites, ransomware, malware, and fraud. |
| Jasper | Virtual Personal Assistant | Voice commands, reminders, scheduling, email management, web search |
| Compose AI | Email Drafting and Communication Assistance | Email drafting, sentence auto-completion, email templates, language suggestions |
| Fireflies.ai | Meeting Transcription and Note-taking | Meeting transcription, automated summaries, keyword extraction, integrations with CRM and other platforms |
| Text to Speech Reader | Text-to-Speech Conversion | Text-to-speech conversion, customizable voices, speed control, multilingual support |
| Otter.ai | Audio Transcription and Note-taking | Real-time transcription, keyword extraction, speaker identification, summary generation, collaboration tools |
| Scalenut | Content Creation and Optimization | AI-generated content, keyword optimization, grammar and tone checks, content planning |
| QuillBot | Paraphrasing and Text Rewriting | Paraphrasing, text rewriting, multiple output modes, grammar and style enhancement |
| AI tree | Research Assistance and AI-powered Search | AI-powered search, content summarization, keyword extraction, automatic citation generation, personalized recommendations |
This comparison table provides an overview of the primary function and notable features of each AI Chrome extension mentioned in the article. The table highlights the unique capabilities and strengths of each extension, allowing readers to better understand their applications and make informed decisions on which tools may best suit their needs.
ChatGPT for Chrome

Revolutionize your browsing experience with ChatGPT for Chrome, a powerful search extension that integrates ChatGPT 4's AI capabilities directly into your browser. This extension seamlessly displays ChatGPT's intelligent responses alongside search engine results from Google, Bing, and more, providing a more accurate and comprehensive search experience.
Key benefits of ChatGPT for Chrome:
Easy Access: Quickly access ChatGPT through your browser's extension popup without navigating to a separate website or application.
Enhanced Search: Receive accurate, concise AI-generated answers in real-time, side by side with traditional search engine results.
Code Highlights: Effortlessly read and understand code snippets identified and highlighted within your AI-generated responses.
Dark Mode: Enjoy a more comfortable viewing experience in low-light settings with the dark mode option, reducing eye strain.
Clipboard Copy: Easily copy text from the conversation to your clipboard for pasting into other applications or documents.
Criminal IP: AI-based Phishing Link Checker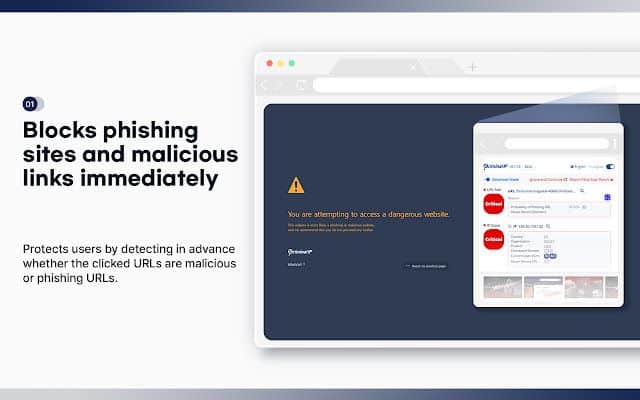 Safeguard your browser safety with the Criminal IP: AI-based Phishing Link Checker. Utilizing real-time scanning, AI-based risk detection, and comprehensive domain threat information, it offers robust protection against phishing sites, ransomware, malware, and fraud, ensuring a secure browsing experience.
Key benefits of Criminal IP: AI-based Phishing Link Checker:
Real-time Scanning: Provides real-time scanning and classification into five categories: Safe, Low, Moderate, Dangerous, and Critical, thus protecting against phishing sites, ransomware, malware, and fraud.
AI-Based Risk Detection: Utilizes AI-based technology to detect and block access to URLs with Danger or Critical risk levels, including recently generated malicious sites.
Pre-Check Safety Verification: Allows users to verify the safety of webmail and portal search links before accessing them with a single click.
Comprehensive Threat Information: Integrates Criminal IP's Domain Search technology to provide comprehensive threat information about domains.
Advanced Mode: Features an Advanced Mode that offers in-depth analysis and individual itemized data for expert users.
Jasper Chrome Extension

Experience a hassle-free writing process with the Jasper Everywhere browser extension, which brings AI assistance to all your writing tasks in a simple cursor. With this powerful tool, you can forget about logging in to AI tools, engineering perfect prompts, and copying & pasting answers into various platforms.
Key benefits of Jasper Everywhere:
Seamless Integration: Access 60+ templates on the platforms you use the most, including Gmail, Google Docs, WordPress, Webflow, Canva, and more.
Accelerate Content Creation: Create high-quality content 10x faster with Jasper's AI assistance, scaling up your content marketing without hiring more writers.
Optimize for Search: Generate keyword-rich, plagiarism-free blog articles tailored for search engine optimization.
Boost Ad Conversions: Write and test more copy variations to enhance sales and improve return on ad spend (ROAS).
Recommended post: 10+ Best AI Crypto Projects of 2023
Compose AI

Transform your writing experience with Compose AI, an innovative tool that uses artificial intelligence to accelerate the writing process. Write emails, create documents, and chat faster than ever before, as Compose AI automates your writing across various platforms.
Key benefits of Compose AI:
AI-Powered Text Generation: Type // to prompt the AI to generate text for blog posts, marketing copy, paragraphs, sentences, headlines, research, and more.
Autocomplete: Save time typing with the core feature, Autocomplete, which provides completions as you type. Simply hit Tab to accept a suggestion.
Compose Email: Draft quick replies or generate ideas for messages with Compose Now, the AI assistant for email writing.
Easy Email Reply: Reply to emails professionally and contextually with just one click, as the AI generates responses referencing the original email.
Rephrase: Effortlessly reword your sentences without rewriting by highlighting text to shorten, expand, rephrase, or adjust the tone.
Fireflies.ai

Elevate your meeting experience with Fireflies, a browser extension that records and transcribes Google Meet meetings directly from your browser. With Fireflies, you can focus on the conversation, leaving the note-taking to AI.
Trusted by over 62,000 organizations, Fireflies is perfect for various applications, including sales meetings, recruitment, customer feedback calls, internal meetings, podcasting, online events, webinars, classes, product research, and marketing surveys.
Key features of Fireflies:
Meeting Recordings and Transcripts: Automatically capture and organize all your Google Meet conversations in your workspace, complete with time-stamped notes, speaker detection, and audio playback.
AI Summaries and Notes: Receive AI-generated summaries and notes for easy reference.
Key Topic and Task Detection: Effortlessly identify important topics and tasks discussed during meetings.
Speaker Identification: Recognize individual speakers during the meeting.
Playback Speed Adjustment: Review meeting recordings at 2x speed for efficient revisits.
Soundbite and Snippet Creation: Create shareable snippets of meeting highlights.
Downloadable Transcripts: Export transcripts to various formats, such as CSV, PDF, and DOCX.
Conversation Intelligence: Analyze meeting data for valuable insights.
Team Workspaces: Collaborate effectively with team members.
Editable Transcripts: Make changes to the transcript as needed.
Recommended post: 20+ Best Telegram AI Chatbots of 2023 (ChatGPT and GPT-4)
Text to Speech Reader

Transform your reading experience with Readme TTS, a powerful Chrome extension that employs text-to-speech technology and ChatGPT OpenAI to provide you with a hands-free, enjoyable way to consume written content. Listen to web pages, PDFs, and eBooks in natural-sounding voices, and get quick summaries of text and videos using advanced language processing algorithms.
Key Features:
Effortless text-to-speech conversion
Multi-language support
Customizable speaking speed
User-friendly controls: play/pause, skip, and volume adjustment
Choice of male or female voice
Select specific text for conversion
Compatibility with PDFs and eBooks
Webpage summarization
Video summary compatibility with platforms like YouTube and Vimeo
Otter.ai

Say goodbye to manual note-taking and embrace Otter, an AI-powered meeting assistant that records audio, writes notes, captures slides, and generates summaries. Otter's proprietary AI creates real-time meeting notes and fosters collaboration among participants. By connecting with Microsoft Outlook or Google Calendar, Otter Assistant automatically joins virtual meetings to record and transcribe, while sharing live transcripts for interactive highlighting and commenting.
The Otter.ai Chrome extension intelligently detects virtual meeting links in your browser or calendar events, making it effortless to send Otter Assistant to capture every critical moment. The extension is compatible with Zoom, Google Meet, and Google Calendar.
Key Features:
AI-generated meeting notes in real time
Automatic meeting attendance with Otter Assistant
Live transcripts for collaborative editing and commenting
Seamless integration with Microsoft Outlook, Google Calendar, Zoom, and Google Meet
Capture of slides and summaries for comprehensive documentation
Recommended post: 10+ Best AI Resume Builders and CV Makers 2023
Scalenut Chrome Extension

Introducing Scalenut Content AI, a powerful Chrome extension designed to boost your writing productivity and conquer writer's block. The AI-powered writing assistant works across Gmail, Facebook, LinkedIn, Quora, Twitter, and more, helping you create engaging content effortlessly.
Key Features:
Templates: Generate high-quality copy for various tasks.
Rephrase: Transform repetitive text with plagiarism-free alternatives.
Command: Expand upon phrases, generating relevant paragraphs.
Complete: Seamlessly finish an unfinished text with AI assistance.
Simplify: Convert complex sentences into concise, easy-to-read versions.
Unlock the power of AI-enhanced writing with Scalenut Content AI and elevate your content creation process.
QuillBot

Enhance your writing with QuillBot's Chrome extension, offering a Grammar Checker, Paraphrasing Tool, and Summarizer. Join 30+ million users improving their writing and workflow.
Key Features:
Grammar Checker: Detects errors and polishes your work
Paraphrasing Tool: Overcomes writer's block and assists non-native writers
Summarize: Condenses texts and aids reading comprehension
Boost your productivity with QuillBot's advanced AI-driven tools.
AI Tree Chrome Extension

A great solution would be to add AI tree to your collection of extensions. This remarkable Chrome extension provides you with convenient and swift access to a broad range of AI applications. Enhance your productivity and streamline your daily tasks with the power of cutting-edge AI tools, all available right at your fingertips. Don't miss out on this opportunity to elevate your browsing experience and harness the potential of artificial intelligence with AI Tree!
Conclusion
In conclusion, AI-powered Chrome extensions have become an indispensable part of our digital lives, helping us save time, reduce errors, and enhance our overall online experience. This article has provided a comprehensive overview of nine remarkable AI Chrome extensions, namely ChatGPT for Chrome, Jasper, Compose AI, Fireflies.ai, Text to Speech Reader, Otter.ai, Scalenut, QuillBot, and AI tree.
These cutting-edge tools cater to a wide range of users, from students and professionals to content creators and researchers. As artificial intelligence continues to evolve and mature, we can expect even more innovative and efficient solutions that will further revolutionize the way we interact with the internet. Embracing these AI-driven tools will not only help us stay ahead of the curve but also empower us to lead a smarter and more productive digital life.
FAQs
What are AI Chrome extensions?
AI Chrome extensions are browser add-ons that utilize artificial intelligence to enhance user experience and improve various aspects of browsing, such as productivity, communication, and content creation.
How do I install AI Chrome extensions?
To install AI Chrome extensions, simply visit the Chrome Web Store, search for the desired extension, and click "Add to Chrome." Once installed, the extension will be accessible from your browser toolbar.
Are AI Chrome extensions free?
While some AI Chrome extensions offer free versions with basic functionalities, others may require a subscription or one-time fee for advanced features or unlimited usage.
Can I use these AI Chrome extensions on other browsers?
Some AI Chrome extensions may be available for other browsers like Firefox or Safari. However, compatibility may vary, and it is advisable to check the respective extension's website or browser add-on store for availability.
How secure are AI Chrome extensions?
Security and privacy are essential aspects of any browser extension. Most AI Chrome extensions prioritize user data security and comply with standard privacy practices. However, it's always a good idea to review the privacy policy and user reviews before installing an extension.
Can AI Chrome extensions work offline?
While some AI Chrome extensions may offer limited offline functionality, most of them require an active internet connection to function correctly, as they rely on cloud-based AI services to perform their tasks.
Read more:
Disclaimer
In line with the Trust Project guidelines, please note that the information provided on this page is not intended to be and should not be interpreted as legal, tax, investment, financial, or any other form of advice. It is important to only invest what you can afford to lose and to seek independent financial advice if you have any doubts. For further information, we suggest referring to the terms and conditions as well as the help and support pages provided by the issuer or advertiser. MetaversePost is committed to accurate, unbiased reporting, but market conditions are subject to change without notice.
About The Author
Nik is an accomplished analyst and writer at Metaverse Post, specializing in delivering cutting-edge insights into the fast-paced world of technology, with a particular emphasis on AI/ML, XR, VR, on-chain analytics, and blockchain development. His articles engage and inform a diverse audience, helping them stay ahead of the technological curve. Possessing a Master's degree in Economics and Management, Nik has a solid grasp of the nuances of the business world and its intersection with emergent technologies.
More articles


Nik is an accomplished analyst and writer at Metaverse Post, specializing in delivering cutting-edge insights into the fast-paced world of technology, with a particular emphasis on AI/ML, XR, VR, on-chain analytics, and blockchain development. His articles engage and inform a diverse audience, helping them stay ahead of the technological curve. Possessing a Master's degree in Economics and Management, Nik has a solid grasp of the nuances of the business world and its intersection with emergent technologies.
Hot Stories
by Victor Dey
November 30, 2023
by Kumar Gandharv
November 30, 2023
by Victor Dey
November 30, 2023
by Nik Asti
November 29, 2023
Latest News
by Alisa Davidson
November 30, 2023
by Victor Dey
November 30, 2023
by Alisa Davidson
November 30, 2023
by Nik Asti
November 30, 2023