Meet Kenny Schachter, art insider and NFT crusader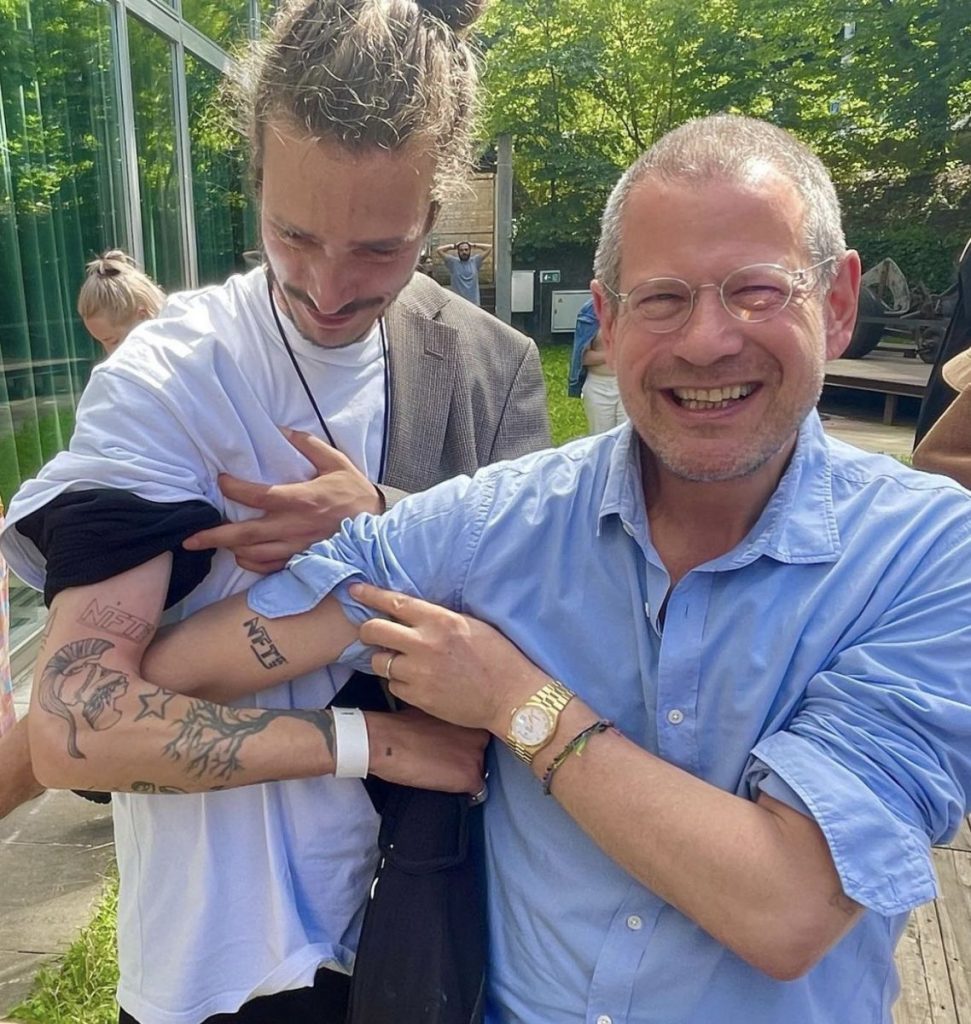 Artist, writer, collector, and curator–Kenny Schachter has been called a lot of things since leaving Long Island, studying law, and getting his feet wet in the fine art world thirty years ago. These past six months alone, Sotheby's said, "Schachter is the art world's enfant terrible," and ARTNews called him "something of a gadfly in the art world." Now, a number of people know Schachter as an NFT crusader, complete with a tattoo on his arm that reads "NFT-ism."
For more than thirty years, he has curated contemporary art shows across galleries and exhibitions, as well as taught art history and economics at schools like the University of Zurich and SVA. The NYC-based personality is best known for his publishing credits, though–he has a famous column reporting art market news for Artnet, noted for its candor and cutting humor. Schachter famously outed anonymous auction bidders and bad actors like former friend and fraudulent art dealer Inigo Philbrick, sometimes even sparking IRL confrontations.
He even made the cover of The New York Times Magazine in September 1996, the central protagonist of an article about "Do-It-Yourself" art dealers breaking the mold and curating their own shows throughout empty spaces in downtown Manhattan. People are quick to call Schachter the same type of names they criticize him for calling others, but for a long time, people forgot he called himself an artist first and foremost.
The 1996 NYT piece notes: "Much of the art that Schachter favors is characterized by a sort of sweaty intensity; like his own work, which ranges from sound and video art to computer-manipulated photographs, it often deals with impermanence, death, and decay. He traces this affinity to the year he was 13 when he watched his mother die of a brain tumor."
Now Schachter's got a new beat. Graduating from gadfly to guru, he's organizing NFT exhibitions for institutions like Galerie Nagel Draxler while giving talks at art fairs and universities around the world. Metaverse Post caught up with the jetsetter for a beat between back-to-back speaking engagements to learn more about his coordinates on the path from reporter to creator.
According to an article from the Observer last summer, it all started for Schachter in September 2020. "I found out from a mutual friend who came from the crypto sector, she first informed me about NFTs," Schachter said in that piece. "I didn't fully grasp it, I didn't partially grasp it, other than the fact that she said it was a way for digital artists to disseminate their work into commercial streams of commerce. And that I understood."
Schachter tried uploading his own artwork to the NFT platform NiftyGateway. His first big hit came when he sold a few pieces for $4,000 in December 2020. However, the artist admitted to Metaverse Post that "in NFT time, that is considered eons ago." The opportunity opened his eyes but only to practical benefits. Schachter called his pre-NFT art practice "indistinguishable [from] my art practice post NFTs—primarily videos and computer-generated imagery as far back as the early 1990s." He made no adjustments, putting out "whatever work I was working on at the moment of discovery." As Schachter said, "art equals art."
"The trajectory is unaffected," he continued. "I make what I make regardless of the fact a newfound digital market has emerged of late; the only difference is that I have been able to sell my art over the past two years for the first time in more than three decades of trying." In fact, NFTs haven't changed his thinking about art much at all, "Though finally, digital art and videos are in line to gain parity with painting, which has been a long time coming."
In conversation with the Observer last summer, Schachter said, "If there was a whole new generation of buyers who had never bought art before which presented itself on a digital super platter, you would think that they would foam at the mouth and devour it, and it just pissed people off so much! The arguments and the fights just escalated until, you know, I'm still getting threats of people trying to beat me up at night, just for defending NFTs."
Other articles since have tried to understand what Schachter really wants. In that piece surrounding his presentation at the posh Independent Art Fair in SoHo during NYC Art Week in May, ArtNews wondered whether it was money before settling on attention. Now listen–there's attention sought to fill the god-shaped hole in one's heart, and there's attention sought as a resource. A platform. Schachter's mission seems more like the latter. His work does have substance to share.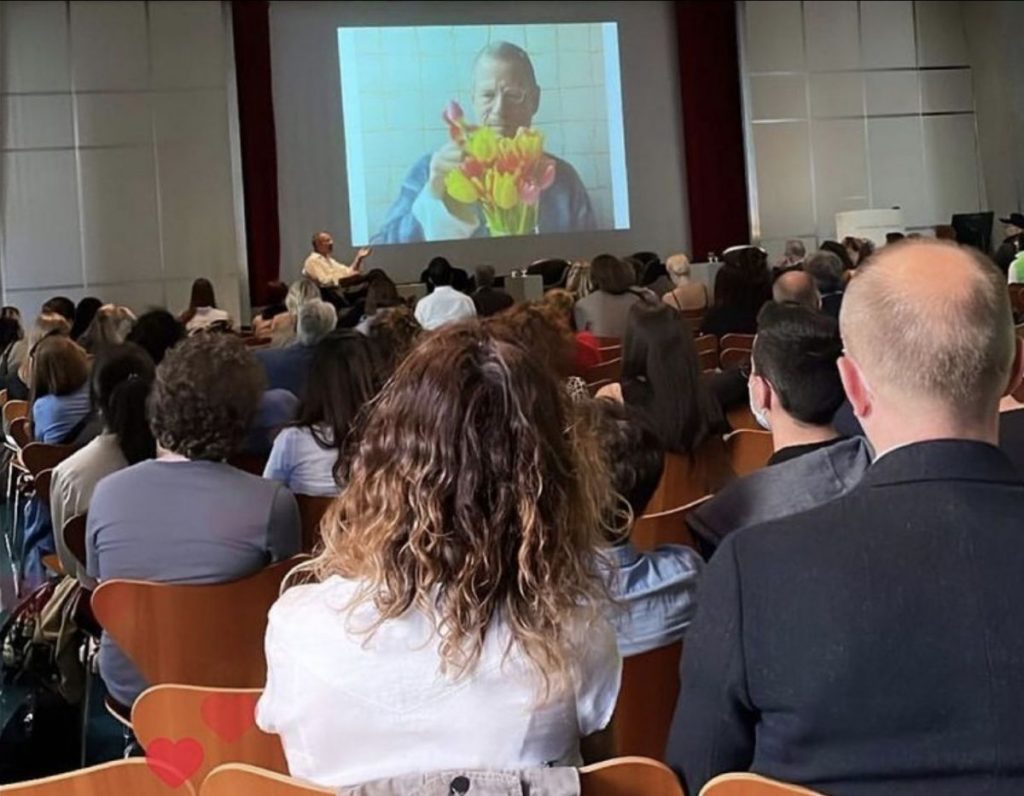 He cited two favorite works so far: "i tokenized my grandma blanche," minting a photo that does just that to "highlight the accessibility and lack of barriers to entry for creatives to enter the fray." He also cited "Eating the Bubble," a video NFT where Schachter "proceeded to eat a dozen tulips to illustrate the fact that nearly 500 years after the tulip frenzy of the mid-17th century, we still value tulips. Admittedly not as much as a grand chalet," he said. "Bubbles are generally elusive, though pockets of overpriced assets will always persist."
Schachter also delivered a super impactful point at an NFT-focused panel discussion with Erik Calderon of Art Blocks at EXPO art fair in Chicago this April. There, Schachter noted how much art in this world remains hidden from view, stowed in the dark recesses of rich peoples' private collections. At least with NFTs, the public can still enjoy artworks after their acquisition. SuperRare's opening exhibition at their SoHo pop up, for example, offered all works that have already been owned. Through this lens, it's hard to use attention as if it were a dirty word.
"I think people still love to hate on NFTs; it's all but an international sport," Schachter told Metaverse Post. "Except for brands and speculators who see opportunity in them there hills."
What's next for this man on the move? "I just signed a book contract with Rowman and Littlefield to co-author an NFT book with Renaissance scholar Noah Charney, contributed an essay to a catalog for the Palazzo Strozzi Museum in Florence, and am featured in a definitive history of NFT art to be published by Taschen," Schachter said. You should also check out this incredible Metaverse poem he wrote on IG.
What's more, Schachter's at work curating an "up to the minute NFT art survey exhibit" in Sydney, Australia, for September and gearing up to give a talk at NFT.NYC next week. "I have a surprise up my sleeve, stay tuned," Schachter teased. Anyone can say that. He's one you have to believe.
Read related posts:
Disclaimer
In line with the Trust Project guidelines, please note that the information provided on this page is not intended to be and should not be interpreted as legal, tax, investment, financial, or any other form of advice. It is important to only invest what you can afford to lose and to seek independent financial advice if you have any doubts. For further information, we suggest referring to the terms and conditions as well as the help and support pages provided by the issuer or advertiser. MetaversePost is committed to accurate, unbiased reporting, but market conditions are subject to change without notice.
About The Author
Vittoria Benzine is a Brooklyn-based art writer and personal essayist covering contemporary art with a focus on human contexts, counterculture, and chaos magic. She contributes to Maxim, Hyperallergic, Brooklyn Magazine, and more.
More articles


Vittoria Benzine is a Brooklyn-based art writer and personal essayist covering contemporary art with a focus on human contexts, counterculture, and chaos magic. She contributes to Maxim, Hyperallergic, Brooklyn Magazine, and more.
Hot Stories
by Victor Dey
November 30, 2023
by Kumar Gandharv
November 30, 2023
by Victor Dey
November 30, 2023
by Nik Asti
November 29, 2023
Latest News
by Alisa Davidson
November 30, 2023
by Victor Dey
November 30, 2023
by Alisa Davidson
November 30, 2023
by Nik Asti
November 30, 2023