London-based project space opens NFT exhibition by Brendan Dawes
May 20 opened "Moments Spent with Others," the latest solo show by UK-based digital artist Brendan Dawes at GAZELL.iO's project space in London.
As the exhibition overview explains, Dawes's second show, with the technologically-focused arm of Gazelli Art House, "explores the beauty behind moments that may initially seem insignificant and how the concept of time and space is connected to the captivating feeling of interacting with others." The exhibition showcases three abstract digital works by Dawes, undulating on screens arranged in an outward-facing triangular formation that illuminates the otherwise dark, stark gallery space.
A collection of 13 NFTs based on the show dropped on June 1, allowing collectors all over the world an opportunity to participate in the phenomenon unfolding. Dawes has worked with new media like machine learning, code, and data for over two decades. Here, inspired by the pandemic and the isolation we're all still psychologically recovering from, Dawes employs "algorithmic visuals derived from mundane moments that somehow stick to one's memory."
"Much of my work is about the small, seemingly mundane things and the importance of these moments, especially those spent in the company of others," Dawes says in the show's press release. "The lockdown period taught us many things, one of which was how we crave human contact and connection. With that in mind, I've created three pieces that celebrate these moments—physical and digital manifestations of the beauty of these fleeting moments."
Each artwork corresponds to a memory from the artist's own personal history. "One such memory is sitting on the edge of a building in Soho, New York, in 2001, while eating pizza with his friend and designer Hillman Curtis, who changed his life when Dawes moved to New York City to work for him," the press release says. "The second work takes inspiration from Dawes' late-night experiences of watching classic films with his father, who ignited his passion for movies, making it an important reference point in much of the artist's work to date." Lastly, "the third work in the show reflects Dawes' love for simply sitting on a park bench with his wife Lisa."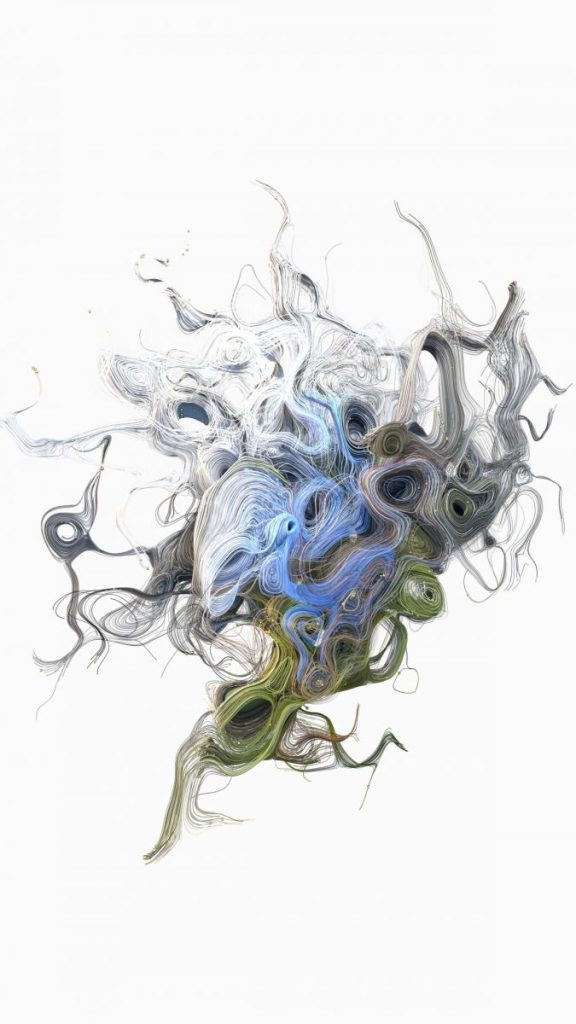 Discussing his latest series in a video on the NFT page, the artist noted that he works in abstraction on purpose. Avoiding outright representation creates space for others to project their own memories, interpretations, and relationships onto the work. Meanwhile, pieces of the artist's own personal history persist through motion and color palettes—sometimes bustling bright like New York City traffic, sometimes black and white in homage to Hitchcock films, other times flashes of outfits and faces snatched from an afternoon spent people-watching.
Dawes explained the exhibition's accompanying NFTs in the same footage. Though his other NFTs have appeared on Makersplace, KnownOrigin, NiftyGateway, and SuperRare, Dawes worked with GAZELL.iO to formulate their own platform powered by Verisart to host this particular drop appropriately. The centerpiece is a "master NFT" encompassing all three works on display in the physical gallery—an edition one-of-one video currently available at a whopping $65,000. Four one-of-one stills of each digital artwork are also available at the relatively accessible price point of $10,000.
"I think digital art and generative art is very much the art of our time," Dawes said in the same video. "Contemporary art should be of the now, and we live in a very digital way." Though he has a history with these art forms, the advent of NFTs offered a revelation. "I realized that NFTs [were] the perfect medium for digital art. It always drove me crazy that for digital art to be collected, we often transmuted it into analogue form." Making digital art into prints carried the subtext that something achieved moral superiority only IRL. In Dawes's eyes, blockchain technology allows him to keep the work pure and present his creations to viewers and collectors in their most natural element.
"I always feel that my work is not finished until a viewer sees it and brings something to the work of themselves," Dawes said. He hopes those memories conjure precious times spent with loved ones, but abstraction is, of course, a blank canvas. Viewers can complete the equation by checking out "Moments Spent with Others" in-person in the heart of Mayfair through June 25. There's also a virtual viewing room and another solo show on the horizon for Dawes—opening on August 1 at Neal Gallery in Beijing, China.
Read related posts:
Disclaimer
In line with the Trust Project guidelines, please note that the information provided on this page is not intended to be and should not be interpreted as legal, tax, investment, financial, or any other form of advice. It is important to only invest what you can afford to lose and to seek independent financial advice if you have any doubts. For further information, we suggest referring to the terms and conditions as well as the help and support pages provided by the issuer or advertiser. MetaversePost is committed to accurate, unbiased reporting, but market conditions are subject to change without notice.
About The Author
Vittoria Benzine is a Brooklyn-based art writer and personal essayist covering contemporary art with a focus on human contexts, counterculture, and chaos magic. She contributes to Maxim, Hyperallergic, Brooklyn Magazine, and more.
More articles


Vittoria Benzine is a Brooklyn-based art writer and personal essayist covering contemporary art with a focus on human contexts, counterculture, and chaos magic. She contributes to Maxim, Hyperallergic, Brooklyn Magazine, and more.
Hot Stories
by Victor Dey
November 30, 2023
by Kumar Gandharv
November 30, 2023
by Victor Dey
November 30, 2023
by Nik Asti
November 29, 2023
Latest News
by Alisa Davidson
November 30, 2023
by Victor Dey
November 30, 2023
by Alisa Davidson
November 30, 2023
by Nik Asti
November 30, 2023