SuperRare opens Soho pop-up with inaugural group show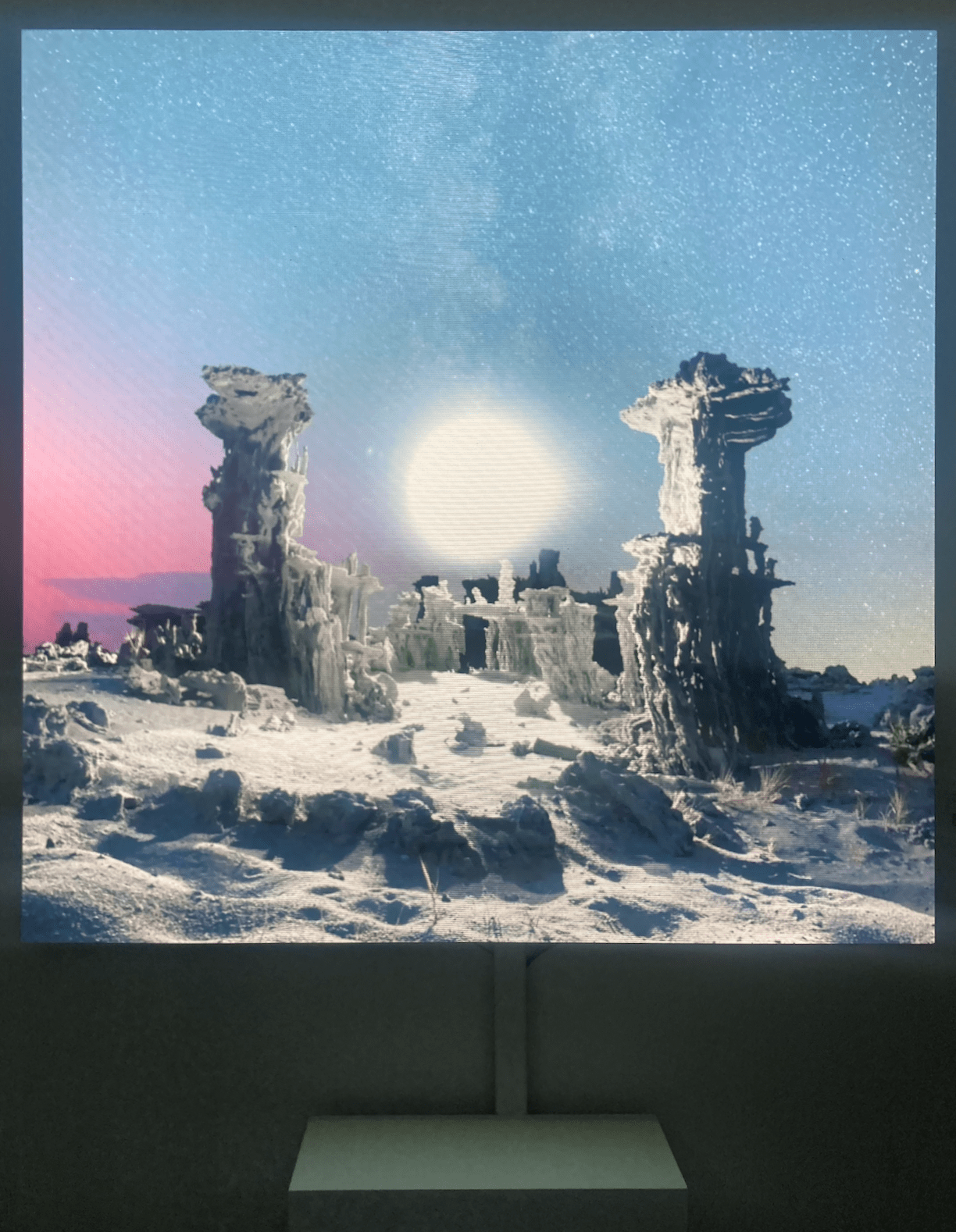 Last night, pioneering NFT marketplace SuperRare opened their first-ever physical gallery in SoHo, New York City, a downtown neighborhood of narrow cobblestone streets and high fashion boutiques like Gucci and Saint Laurent. "It doesn't feel real," SuperRare Co-Founder and Chief Product Officer Jonathan Perkins told Metaverse Post while the DJ thrummed, the artworks shimmered on, and partygoers serving complete looks shimmied about.
Their pop-up gallery will stay open for just three months. In conversation with ArtNet, SuperRare co-founder and CEO John Crain yielded no concrete plans for the future. Living in the present, last night's opening party was a phenomenon unfolding around "Visions From Remembered Futures," SuperRare's inaugural group show of NFTs "exploring themes of humanism and Sci-Fi inspired by cyberpunk landscapes of both the near and far future," as the wall text explains.
Each NFT approaches the notion from its own surface–Samsung powers the presentation. The concrete rectangular venue offers a lofted gallery atop a wide staircase towards the back wall featuring five of the show's sixteen artworks and sweeping views of the entire space.
Curators An Rong and Mika Bar-On Nesher have arranged the sixteen screens mostly with symmetry, aside from a handful of works including "Fourteenth Century Sky" by Ruben Wu–which grounds the show at its start in dusk's timeless, dusty grandeur. Most of the displays face a dimensional counterpart on the opposite wall, square across from square and rectangle across from rectangle. Aesthetics even echo in some instances, like "One Way Ticket" by "environment concept freak" Idil Dursun and "Waiting" by Danguiz on the top floor, both with blue hues and wistfulness–not melancholia.
Others meet mostly over dimension. "Created in different styles, the artworks share a common thread: a futuristic reflection on the human condition and its ever-expanding relation to machines," the wall text continues, adding that the show's ultimately "a celebration of NFTs and a future where art and technology actively empower one another, where artists reach their full potentials creating beyond the limitations of medium boundaries."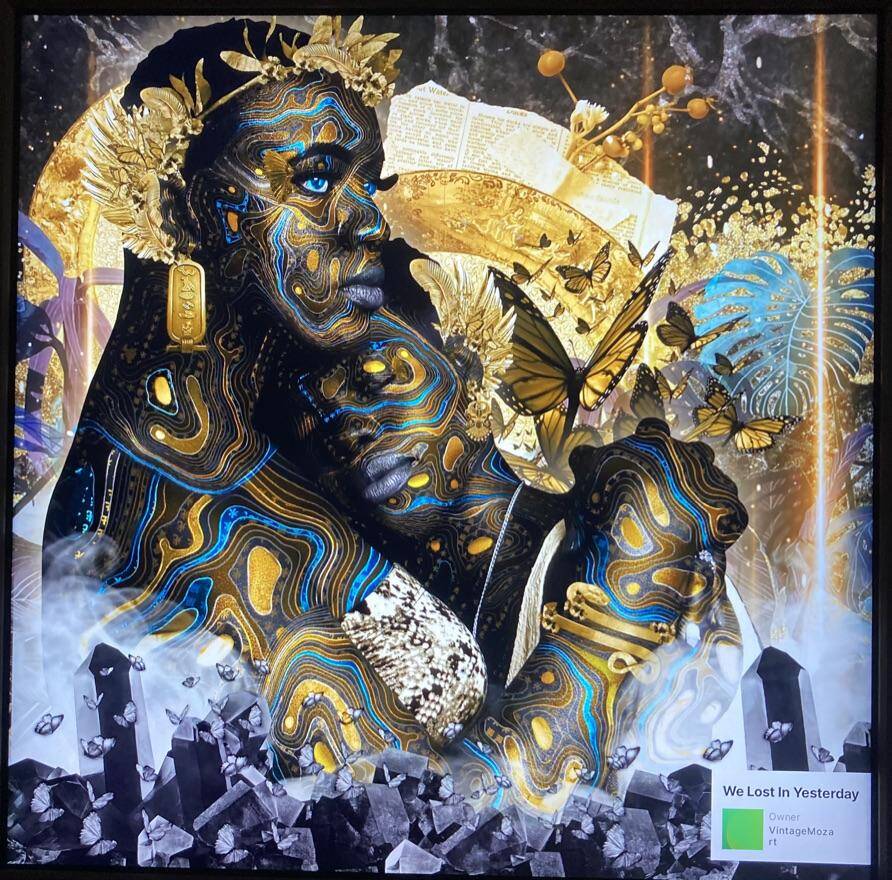 From a creative standpoint, new media offers new avenues for expression–visual art can have a soundtrack, and move to it. These artists aren't the first to experiment with digital art, but those working with SuperRare are on the vanguard right now. Since 2018, the curated blockchain marketplace has facilitated more than $240M worth of sales in ETH, proving SuperRare can affect both culture and resources.
As such, "Visions From Remembered Futures" errs rebellious, with bold aesthetics. There's classical beauty in "We Lost In Yesterday" by afro-futurist, mythological artist Vintagemozart and striking glitch art with "crypto art" by Alpha Centauri Kid. There's innovation in new media's potential with the first-ever NFT digital house by Krista Kim, which provides a file upload to the owner's Metaverse. "The Line to Anchor City" by Mari K offers the chance to own "a vision of 'Anchor City,' from Untitled Frontier's first sci-fi short story," available online. Literal rose colored glasses in MetaSense by Federico Clapis underscore the growing power of the Metaverse paradigm, maybe not without costs.
It's noteworthy that SuperRare chose SoHo, a neighborhood with deep ties to art but current commercial connotations. New York has many art neighborhoods–SoHo doesn't possess nearly the same gallery concentration as TriBeCa, Chelsea, or the Lower East Side. The popup's flash timeframe and location aligns instead with the "lean and agile" ethos that's allowed SuperRare to empower other creators. Isolation is the cost of agility, but that doesn't necessarily mean loneliness.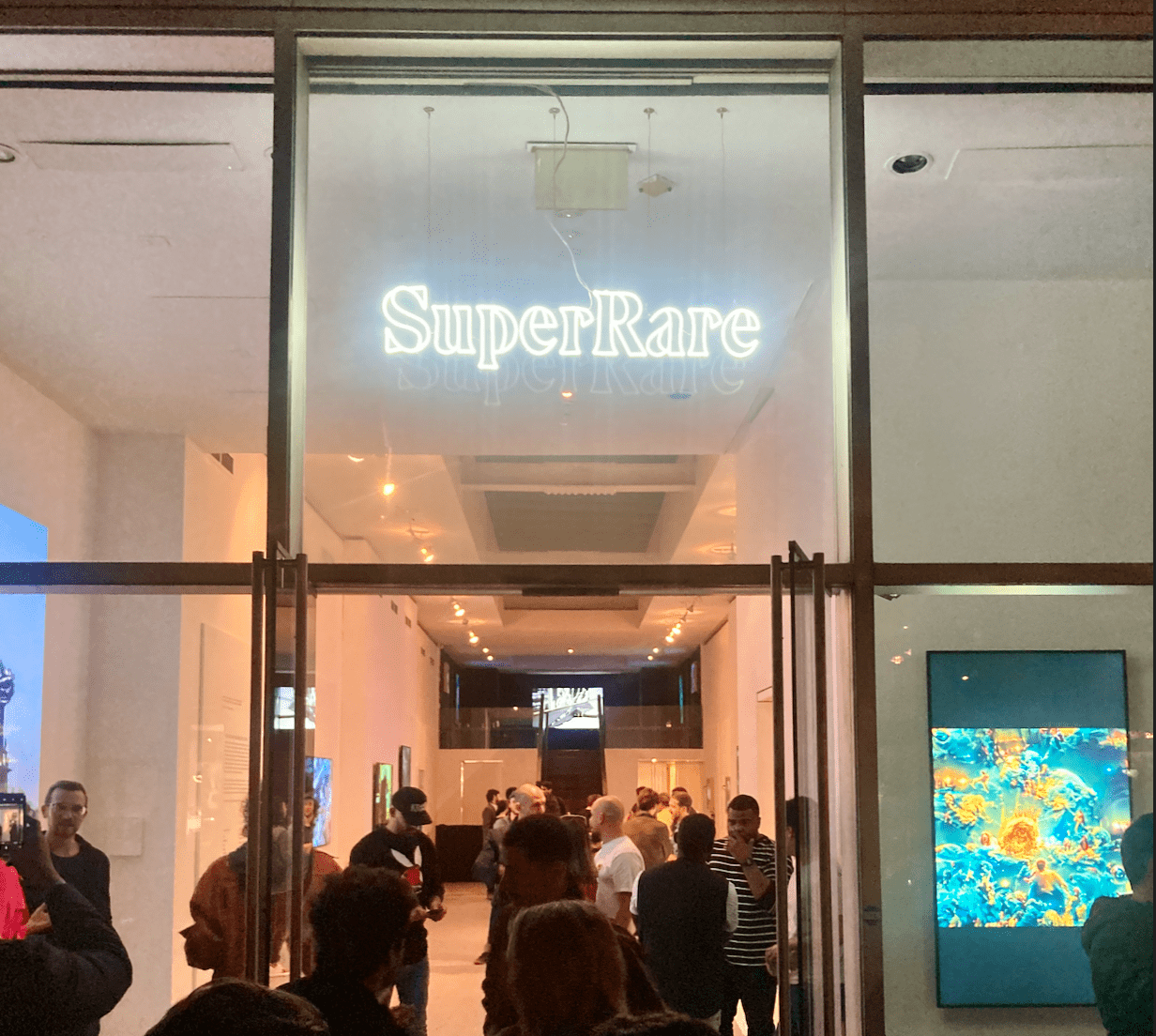 Wall text with the artist's name, the artwork title, and a QR code accompanies each screen, providing a description about the work, how many views and favorites it's racked up, the artist's SuperRare account, and the owner's account too, listing the work's transaction history transparently along with the prices it's gone for. The hallmark of blockchain tech.
Most of these artworks have sold–some many months ago but others very recently, and for healthy sums too. "We want people to view, experience, and contemplate art NFTs as if they are in an art museum," Rong told ArtNet–in certain regards they've achieved that, because SuperRare is showing work that's already owned. Once a painting is sold it usually lives in private, but easy projection of an owner's NFTs for the public mitigates so much art stowed away from the eyes it deserves.
Galleries are not bad–most gallerists in the aforementioned neighborhoods are very passionate about the work they show and sharing it with the public. It's what happens after art passes through this community touchstone that matters.
The SuperRare Network features an announcement updated four months ago about SuperRare 2.0: "In order to scale up and take advantage of the true power of web3," the first page reads, "SuperRare is embarking on a path of progressive decentralization – shifting ownership and governance of the network to our community."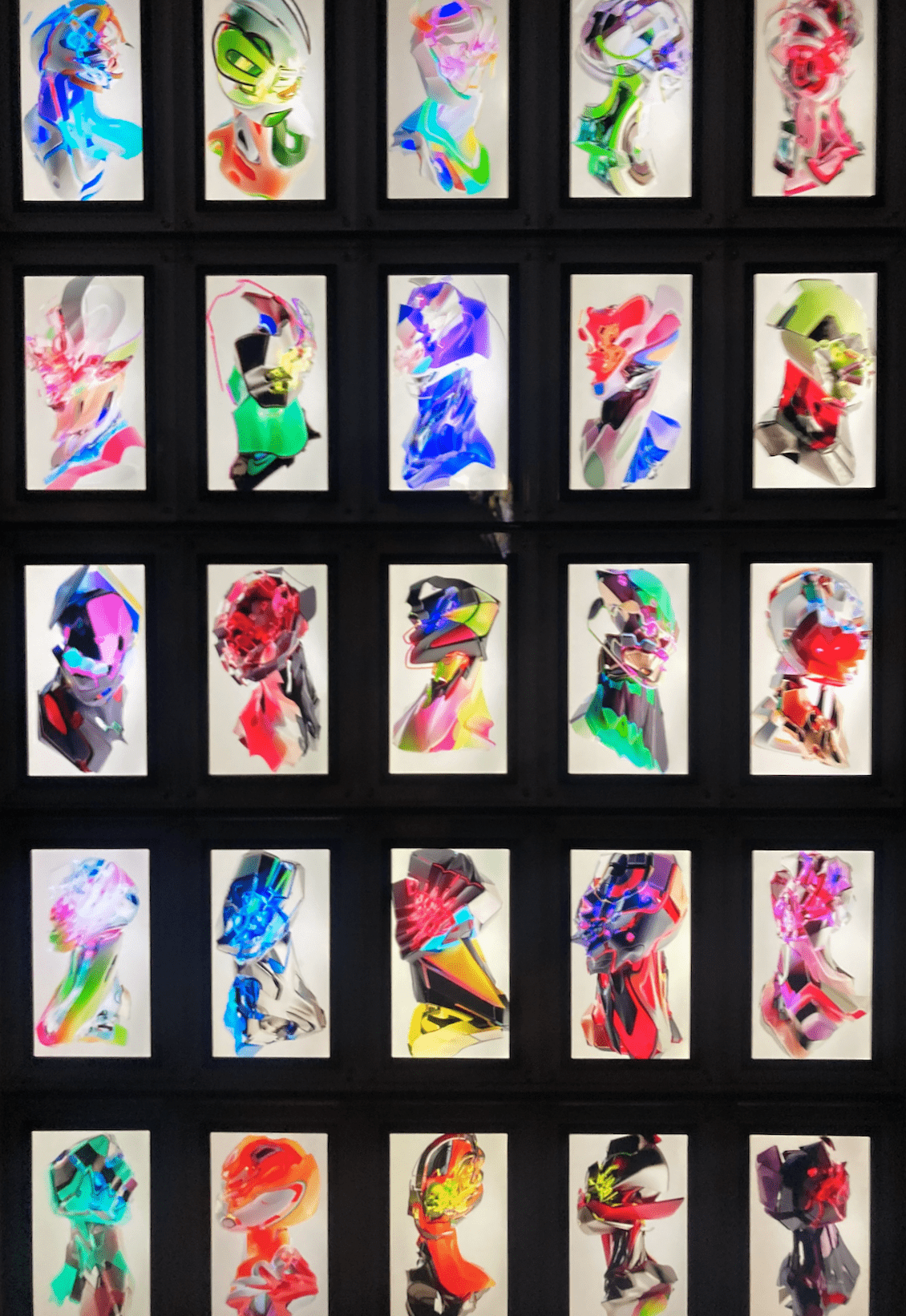 Their decision to start opening SuperRare's online curation up to the community reflects those principles, as does their approach to this physical space. "Visions From Remembered Futures" is one of several upcoming exhibitions over the next three months, including shows around Pride Month, Black digital artists, and two-dimensional digital painting–as listed by ArtNet.
"By bridging the NFT movement, which is inherently futuristic, to the mainstream audiences, the exhibition brings together the digital and physical realms as well as the present world and future ones," the exhibition's text says. SoHo might not have as many galleries, but it does have a whole lot of people–one of the largest shopping districts in a city of over 8 million. Artists are the connective tissue throughout, and SuperRare's community showed up last night in full force. There was strict management at the door–non-hierarchical might not mean non-delineated. SuperRare, for the first time, offered their core community a place to convene, and now they're inviting the rest of the world to join.
Read related posts:
Disclaimer
Any data, text, or other content on this page is provided as general market information and not as investment advice. Past performance is not necessarily an indicator of future results.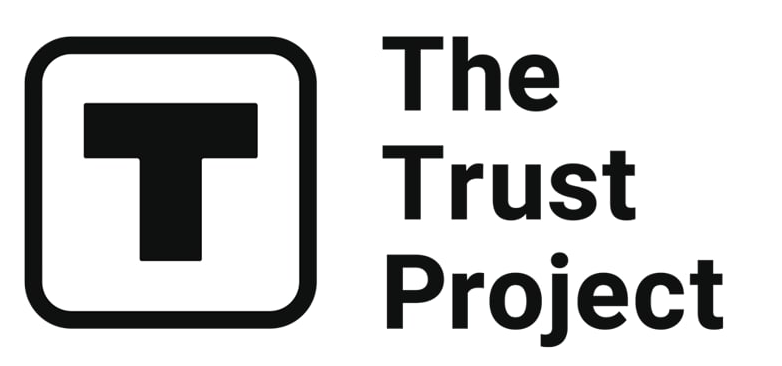 The Trust Project is a worldwide group of news organizations working to establish transparency standards.
Vittoria Benzine is a Brooklyn-based art writer and personal essayist covering contemporary art with a focus on human contexts, counterculture, and chaos magic. She contributes to Maxim, Hyperallergic, Brooklyn Magazine, and more.
More articles


Vittoria Benzine is a Brooklyn-based art writer and personal essayist covering contemporary art with a focus on human contexts, counterculture, and chaos magic. She contributes to Maxim, Hyperallergic, Brooklyn Magazine, and more.
Hot Stories
by Nik Asti
October 02, 2023
by Cindy Tan
September 29, 2023
by Nik Asti
September 28, 2023
by Damir Yalalov
September 27, 2023
Latest News
by Agne Cimermanaite
October 02, 2023
by Victor Dey
October 02, 2023
by Agne Cimermanaite
October 02, 2023
by Nik Asti
October 02, 2023