With NFTs, cultural and regular currency get a little closer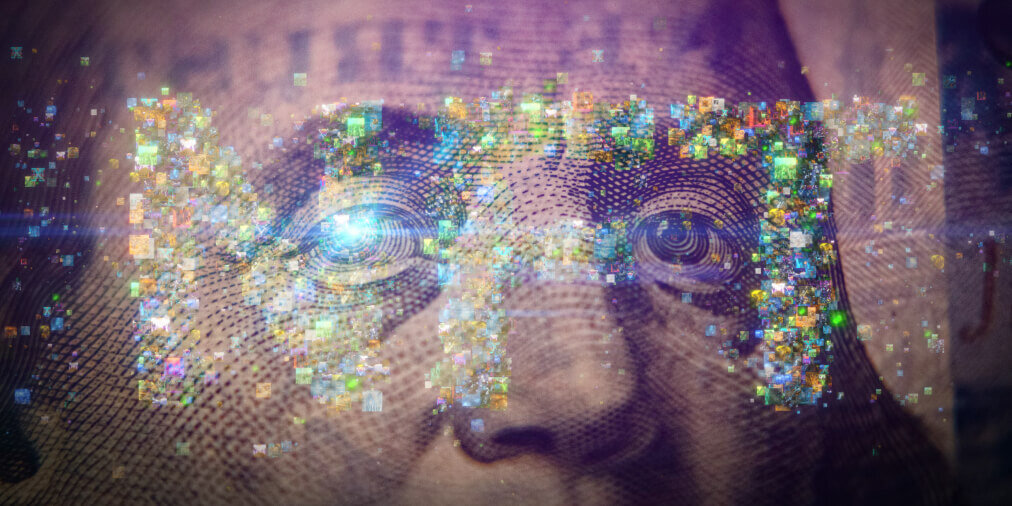 Yesterday, NBC News ran a story about a Miami man who lost significant sums after investing in Bored Bunny NFTs at the advice of Floyd Mayweather. The same day, Bella Hadid made headlines announcing her own collection of 11,111 "unseen spirits, hearts," and 3D scans of the supermodel's own body. From NFL players to electronic musicians, everyone wants a piece of the profiteering NFT action. Intermingling the influencer economy—still in its nascency—with digital commodities bordering securities has been messy, to say the least.
Another article by Wired circa February 2022 starts with Mila Kunis's live-cast video chat with Mark Zuckerberg's sister Randi to discuss Kunis's own NFT project, "Stoner Cats." In what Wired calls "a surprising admission," Kunis offhandedly mentioned that fans should regard NFTs as art rather than investments—not only on facts and principles but also because the government could get her for insinuating otherwise.
Instagram and descendants like TikTok have blurred the lines between paid spokespeople and soft influencers—between billboards and native advertising. Web3 and crypto add new layers. Pseudonymity remains a question on the blockchain—what's to stop a celebrity from investing in the products they go on to pump? Who's to say they haven't already? And by the way, is an NFT an item or an investment at this point?
In a hypothetically cut and dry world where people tell the whole truth, Wired imagines another potential situation: "say a hypothetical celebrity were to accept a free NFT in exchange for promoting it. If this is the case, the Federal Trade Commission's current guidelines about social media promotions should apply." They quote Truth in Advertising executive director Bonnie Patten on the exact policy: "The law is clear that if you are gifted an item that you then promote, you are required to clearly and conspicuously disclose that material connection."
The fan in NBC's story thought he was getting sound financial advice from Mayweather, who was likely among the many celebrities Bored Bunny paid to artificially hype their cultural currency for sake of earning real currency.
Some people are doing good work tracking all these shenanigans. Wired cites a blog called Dirty Bubble Media that's examined some of Justin Beiber's recent activity with BAYC, while Substack's Max Read has not only penned a succinct exploration but also created an enlightening flow chart. Read asks hard-hitting questions about celebrities and NFTs: "Who is recommending that they buy one? Is this really the best thing any of them can think to do with their money and fame?"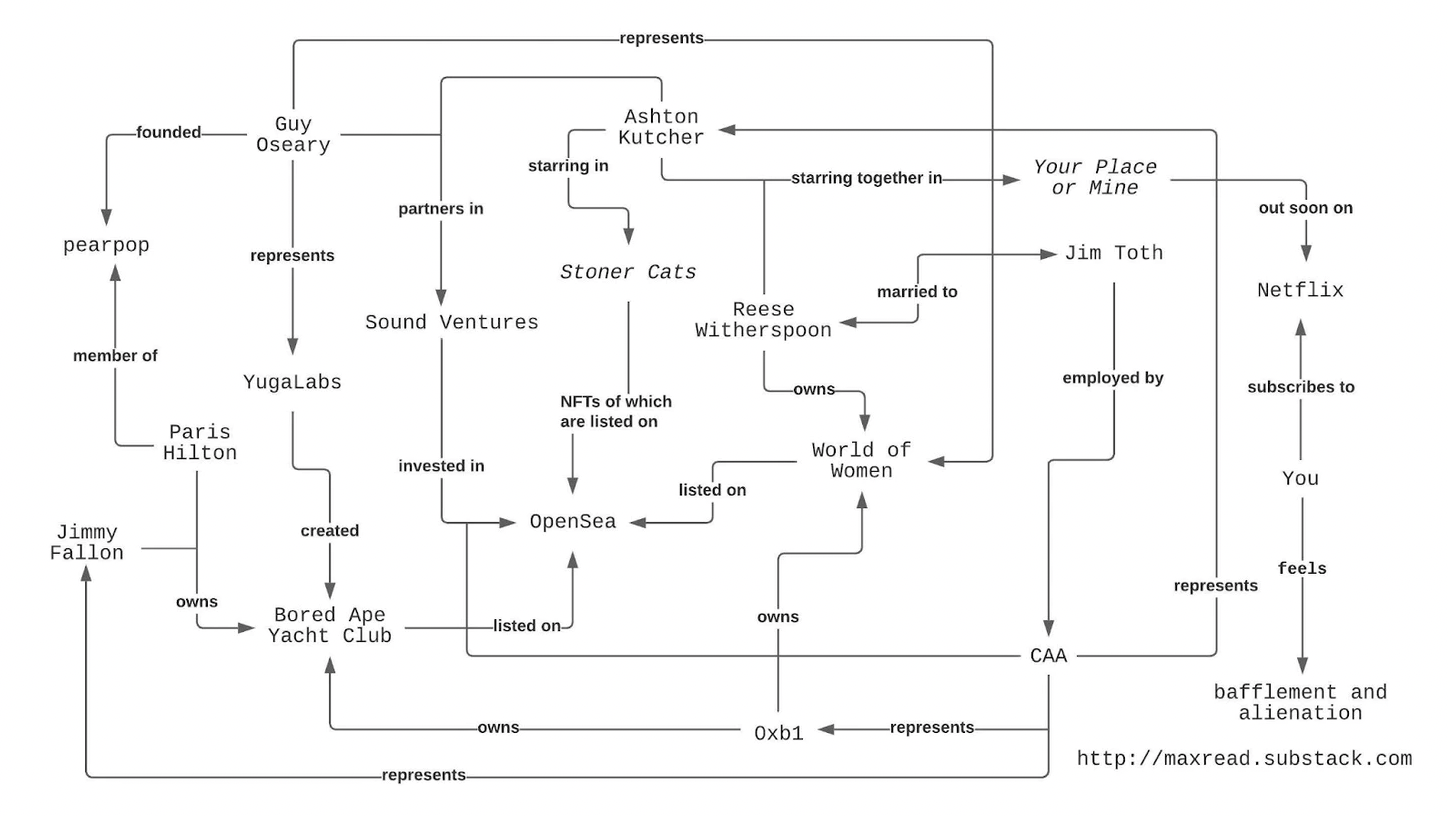 "You can begin to pick out the contours of an expanding, interconnected, celebrity-based web3 financial-cultural complex," Read continues. "Did you know, for example, that Jimmy Fallon is represented by CAA, which is an investor in the NFT marketplace OpenSea, and which recently signed a deal to represent the NFT collector 0xb1, who owns NFTs from Bored Ape Yacht Club and World of Women? Did you know that another CAA client, Ashton Kutcher, is also an investor in OpenSea, through his company Sound Ventures?"
If you read Metaverse Post, by the way, then you also know United Talent Agency has recently invested in DeFi platform Syndicate.
It would be fun to let Read go on conspiracizing longer, which he does in his own piece, but it's really all in the flow chart. Crucially, though, he closes by saying the boundaries between illicit activity like pyramid and Ponzi schemes "and 'just regular old financial capitalism working as intended' are not really as clear as we might like or hope. In which case, maybe it's just … a bunch of rich people and companies in the same couple businesses forming close ties?"
That is probably what's happening–the same old financial patterns rushing to replicate and fill empty space. That's why it matters that each individual part of the larger whole plays an active, intentional, and examined role in building the Metaverse—from DAOs to AR—so it's truly the decentralized new iteration of the internet so many people claim it will be. Making waves starts from within–not from Floyd Mayweather. Real successes always take time.
NBC's piece breezes through the heartbreaking point that their story's subject has abstained from providing his last name lest he faces ridicule from Twitter trolls mocking failed NFT investors, but who can blame this person? Celebrities are out here using their means for a quick buck. Maybe it doesn't work like that for regular people. Then again, celebrities are regular people too—just those we've lent our own cultural currency. There's an adage in marketing I'll paraphrase: If you think you're immune to advertisements, you are in fact most susceptible.
Read related posts:
Disclaimer
Any data, text, or other content on this page is provided as general market information and not as investment advice. Past performance is not necessarily an indicator of future results.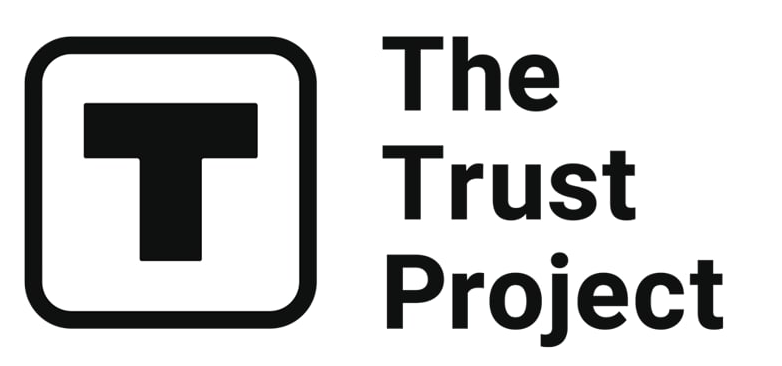 The Trust Project is a worldwide group of news organizations working to establish transparency standards.
Vittoria Benzine is a Brooklyn-based art writer and personal essayist covering contemporary art with a focus on human contexts, counterculture, and chaos magic. She contributes to Maxim, Hyperallergic, Brooklyn Magazine, and more.
More articles


Vittoria Benzine is a Brooklyn-based art writer and personal essayist covering contemporary art with a focus on human contexts, counterculture, and chaos magic. She contributes to Maxim, Hyperallergic, Brooklyn Magazine, and more.
Hot Stories
by Nik Asti
October 02, 2023
by Cindy Tan
September 29, 2023
by Nik Asti
September 28, 2023
by Damir Yalalov
September 27, 2023
Latest News
by Agne Cimermanaite
October 02, 2023
by Victor Dey
October 02, 2023
by Agne Cimermanaite
October 02, 2023
by Nik Asti
October 02, 2023