In Brief
NFT projects' treasuries seem to be loosing volume. We analyzed the current market situation and discovered the actual state of NFT projects' treasuries.
Overall, the lack of a clear value proposition leads to a decrease in demand for NFTs and a decline in the value of tokens held in projects' treasuries.
Stablecoin-based treasuries are a better choice which helps organizations remain active in such a difficult period.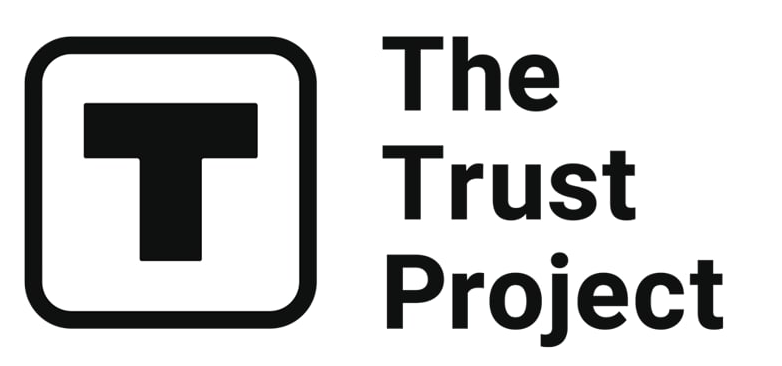 The Trust Project is a worldwide group of news organizations working to establish transparency standards.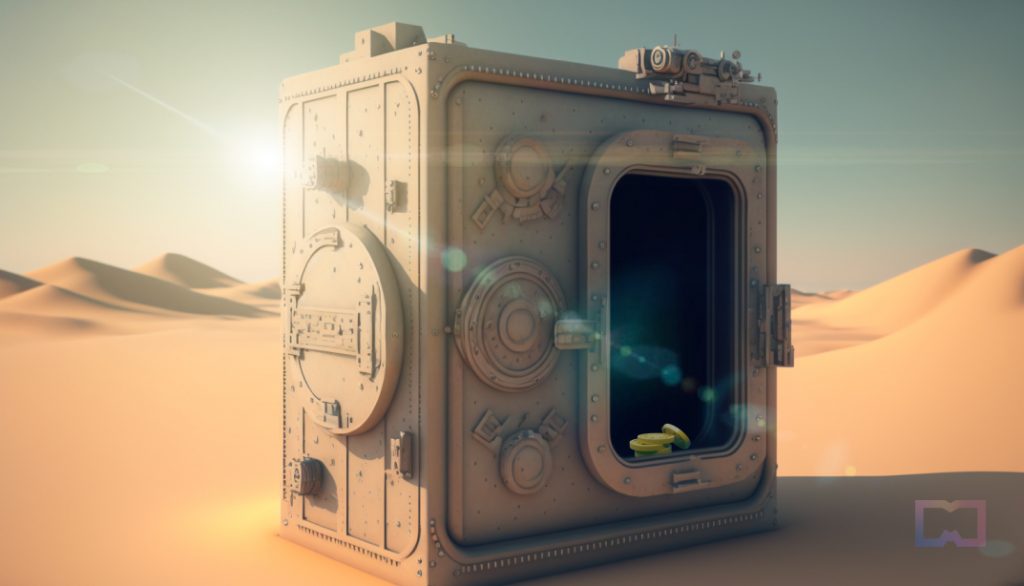 The web3 space has been facing difficulties in the past few months. The ongoing bear market and the crash of the cryptocurrency exchange FTX brought problems to many crypto-related projects, including non-fungible token ones.
On January 18, the CEO of blockchain analytics platform Nansen, Alex Svanevik, tweeted about NFT treasures running out of funds.
Metaverse Post analyzed the current market situation and discovered the actual state of NFT projects' treasuries using several statistics aggregators.
To start, we analyzed the data provided by the DAO analytics aggregator Deep DAO. We opted for this analysis as projects' treasuries are usually managed by their decentralized autonomous organizations.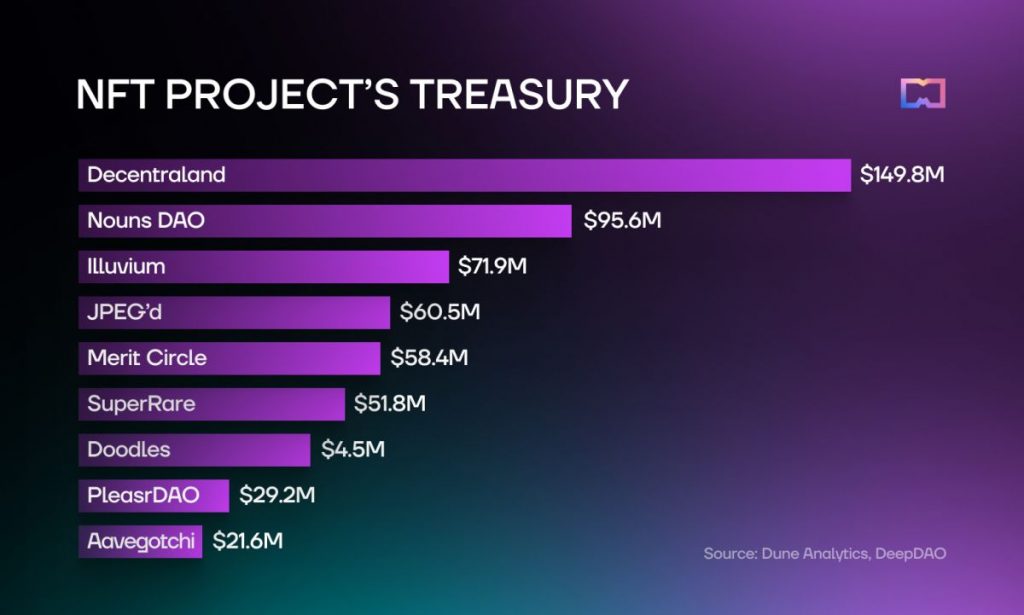 Nouns DAO
Nouns DAO, the autonomous organization of the Nouns NFT collection, is an excellent example of a well-functioning DAO. The project effectively uses its treasury, spending 0 on PR and various initiatives offered and voted on by the community. As a result, the brand continues growing even in such a difficult period for crypto.
Generally, Nouns DAO aims to create a sustainable ecosystem for non-fungible tokens. For instance, the company is developing new NFT marketplaces and a stablecoin that would be pegged to the value of NFTs.
The project's treasury currently counts $95,674,130, 83.4% of which is stored in ETH.
Doodles
Doodles is a blue-chip NFT project, with the floor price of its tokens starting at 7.6 ETH (approximately $12,213 at the time of writing). Doodles keeps its treasury in ETH, and the current value of the brand's portfolio is $4,512,859.
The company continues growing in the web3 space and outside of it. On January 24, Doodles announced the acquisition of Golden Wolf, the Emmy-nominated animation studio behind "Rick & Morty."
Aavegotchi
Aavegotchi is a digital collectible game that is built on the Ethereum blockchain. Players can buy, breed and train ghost-like creatures called Aavegotchis. These creatures can be used to battle other players' Aavegotchis, and players can earn rewards and cryptocurrency for winning battles. The game utilizes the Aave Protocol's aTokens, and players can also earn aTokens by staking their Aavegotchis.
Aavegotchi's treasury features approximately $21.6 million. The game uses Aave Protocol's aTokens that can be earned by users who stake their Aavegotchis.
PleasrDAO
PleasrDAO is an autonomous organization established by and for NFT collectors focused on art and history. It has approximately $29,218,245 in its treasury. Out of these, $18,572,758 are stored in USDC. Notably, the community stores 24.7% of its funds in $DOGE. However, the tactic might not be the best one as the token is highly volatile.
SuperRare
SuperRare is a leading NFT platform and marketplace governed by artists, collectors, and curators. It serves selected artists and a wide interested audience with exhibitions, art projects, special releases, and royalty features. The platform features a crypto museum, a residency program, and galleries.
The NFT platform SuperRare has 84.1% of its treasury stored in its native token, $RARE.
The platform's governance is ruled by the holders of the $RARE token, who are incentivized to vote. The current balance of SuperRare's treasury is approximately $51,830,407. Of these, $4,236,236 are stored in ETH and $3,896,442 in USDC. Notably, the marketplace only accepts ETH as a form of payment.
JPEG'd
JPEG'd is a decentralized peer-to-protocol lending protocol on the Ethereum blockchain. The platform enables NFT holders to open collateralized debt positions (CDPs) using their NFTs as collateral. Liquidity suppliers may mint PUSd (the native stablecoin of the protocol) or pETH (the native Ethereum derivative of the protocol), enabling them to effectively obtain leverage on their NFTs through various DeFi investment tools. For instance, the protocol allows integral swaps, secured oracle-based NFT floor pricing, boosting position for larger borrows, NFT auctions, traits boost factor, liquidation insurance, and more.
JPEG'd opts for USDC and its native token $JPEG for asset storage. The organization's treasury currently features over $60,537,521, of which 30.7% is USDC and 27.9% is $JPEG. Portfolio diversification positively affects the dynamics of the treasury.
Decentraland
Decentraland is a gamified metaverse platform for gaming, socializing, trading, and building over its NFT lands. It allows tokenized content creation and monetization. Decentraland decision-making begins in discussions over social platforms, continues to off-chain community signaling on Snapshot, and finally, policies are executed on-chain by its Council multi-signature accounts on Ethereum and Polygon blockchains.
The metaverse platform is an example of a big project in which the treasury is formed almost entirely from the native tokens of the project. This leads to the fact that the value of the treasury in dollar terms changes regularly due to changes in the exchange rate of Decentraland's native token, $MANA.
The current complex value of Decentraland's treasury is $149,839,821. Out of these, $146,446,773 are stored in $MANA, which is volatile and can either go to zero or gain value.
On a side note, the company first launched the public sale of its $MANA and $LAND tokens in 2017. In Q4 of 2021, the treasury balance of Decentraland exceeded $750 million.
Merit Circle
Play-to-earn DAO Merit Circle is an organization that operates across different metaverse game ecosystems through investments, development, and content creation. In addition, it features a gaming community and a marketplace for gaming NFT commodities.
Merit Circle DAO holds its treasury wallets on Ethereum, BSC, Solana, and Ronin blockchains. The current total balance of the DAO's treasury is $58,397,728. Out of these, $35,776,002 are stored in USDC. Merit Circle's stablecoin strategy makes its portfolio stable, even though the DAO's native token lost drastically in value.
It's worth mentioning that Merit Circle focused on raising funds through initial coin offerings. When launched, the price of Merit Circle's token was $2.57. At the moment of writing, the token values are $0.3302.
This model brought the company's treasuries to a decline – when the initial coin offering was issued, Merit Circle's token was worth $142,178,979. Today, considering the massive drop in the token's value, it is worth just $18,267,509.
Illuvium
Play-to-earn Role Play Game Illuvium, currently available in private beta, also chooses its governance tokens, $ILV, as a form of funds storage. The current token balance of the project's treasury is approximately $71,940,354. At the moment of writing, Illuvium holds $55,490,616 worth of its native tokens.
Like in Decentraland's case, the value of treasury is related to the value of the game's native token. Illuvium has not been released publicly yet, so the funds are rather small.
Summary
Overall, 2022 brought a significant change to the treasuries of NFT projects. Organizations struggle to keep their treasuries full and the communities active. The reasons for it are many: the ongoing bear market and the increased competition in the NFT space are among these. The prices of many tokens have dropped and decreased the value of DAOs' treasuries.
So, after the analysis, we have discovered why stablecoin-based treasuries are a better choice which helps organizations remain active in such a difficult period.
1. Reduced volatility: stablecoins such as USDT or DAI can be seen as digital dollars. A dollar is a dollar at any time and in any market phase.
2. Increased predictability. The organization can be sure about the size of its treasury when it is based on dollars, as it does not change due to fluctuations in the market.
3. Increased stability. The community tends to invest in projects that have predictable and stable financial performances.
4. Availability. Stablecoins are the most liquid assets that can be exchanged for almost any cryptocurrency or fiat currency.
5. Better alignment with project goals. When treasuries are kept in stablecoins, projects can predict their costs and investments more accurately.
While the technology behind NFTs is innovative and has the potential to revolutionize the way we perceive digital ownership, many projects still have to demonstrate a clear and compelling use case for their tokens. The lack of a clear value proposition leads to a decrease in demand for NFTs and a decline in the value of tokens held in project treasuries.
Disclaimer
Any data, text, or other content on this page is provided as general market information and not as investment advice. Past performance is not necessarily an indicator of future results.