Saga partners with Animoca Brands to raise funds for Soulbound
Yesterday, VentureBeat reported that Saga DAO has raised $3.6 million dollars with a round of funding led by blockchain gaming and entertainment firm Animioca Brands. That cash goes towards Saga's latest endeavor, Soulbound–a work of metaverse middleware that wants to unite players across games with their own Web3 fingerprint. Their own digital saga.
"Soulbound serves communities of gamers, guilds, and games so that a healthy metaverse ecosystem can thrive for years to come," the project's site explains. Their player profile platform can plug into any game that partners with Saga, who's seeking partnerships specifically with triple A games–which one company's white papers define as "high-budget, high-profile games that are typically produced and distributed by large, well-known publishers."
Once teamed up, the Soulbound profile is available to players, following them across compatible games they play and presenting new quests with new awards and accolades. VentureBeats listed Phantom Galaxies and Highstreet as two early adopters of Soulband's self-purported "set of cross-chain smart contract tools that interface between gamers, guilds, and games to help educate and onboard the next generation of metaverse souls."
They're banking that this spirit of partnership can redirect developers from "competing for users that will complement and support their ecosystem" into a greater spirit of collectivism. Soulbound's compelling value add really does benefit all parties, from players to game makers. VentureBeat told readers, "you will not be able to simply buy yourself onto a council," unlike other blockchain games like Walken, where those willing to pay can jump leagues ahead of other players by paying for high stat CAThletes.
To empower the on and off chain rewards their quests will yield, Soulbound will launch the Non-Transferable Social Token (NTST), "a new token that can not be sold or transferred," according to VentureBeat. "It can only [be] earned." Soulbound will build onto NTST with M-XP, metaverse experience points, to create "a new tokenized proof of play system."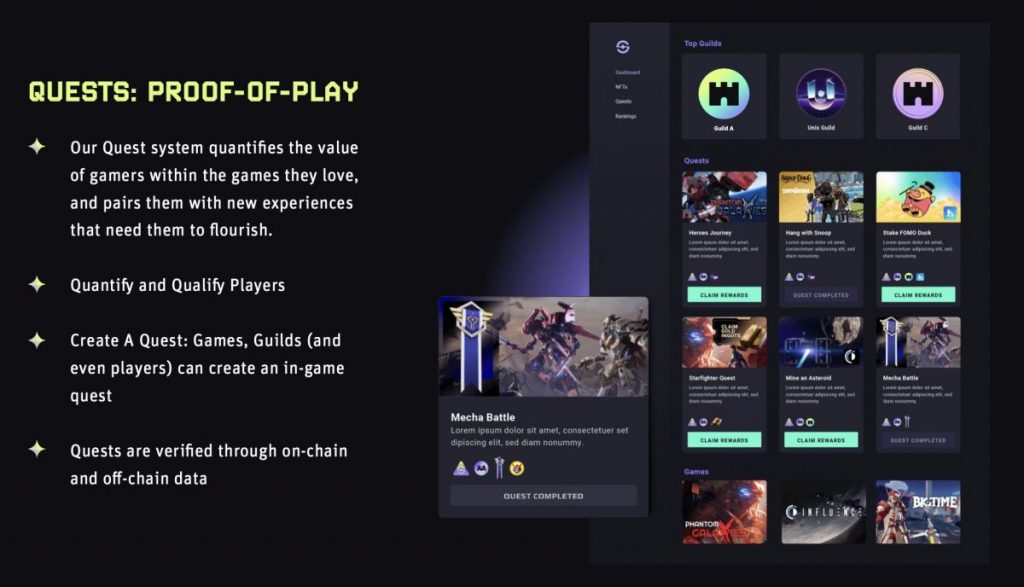 Someone on Reddit pontificated on this concept just five months ago, after noticing the loophole of transferring POAP NFTs, which are "basically proof of attendance tokens."
u/Euclois lamented, "If they are transferable, then they make no sense. If you physically attend an exclusive event, receive a POAP badge, then someone buys it from you, claiming that they have been on that event, seems to me that there's something wrong with that." There's real utility to Soulbound's focus on meritocracy.
Soulbound's multifaceted mission has clearly made its case. VentureBeats reported that with leadership from Animoca Brands, Soulbound received cash from the following investors: Delta Blockchain Fund, Genblock Capital, Moonchain Capital, Compute Ventures, NGC Ventures, Highstreet Ventures, M31 Capital, TsingTing Capital, Metal VC, PANONY, Rainmaker Games, Everest Ventures Group, vEmpire, SL2 Capital, and AAG Ventures.
"Saga shares our vision of an open metaverse, and we look forward to working with its team as it develops solutions to unlock the potential of blockchain gaming at scale," Yat Siu, executive chairman of Animoca Brands, said in a statement published by VentureBeat. "We are strongly encouraged by Saga's partnerships with upcoming triple-A titles, tooling, and commitment to regulation-friendly ecosystems, and we believe that its Soulbound middleware approach will be able to assist blockchain games in growing committed player bases."
It's also worth wondering, perhaps, how VentureBeat got ahold of that information. Neither Saga DAO nor Soulbound offer press releases on their site. Animoca Brands' web materials make no mention either. Is there a direct feed afoot?
Animoca Brands' site does share their mission and vision: "To deliver digital property rights to the world's gamers and Internet users, thereby creating a new asset class, play-to-earn economies, and a more equitable digital framework contributing to the building of the open metaverse." They're behind notable projects like the Sandbox and Epic Games.
"Using Soulbound as the foundation, SAGA will build tiered integrations and smart contract tooling to help this next evolution of gaming and social connection," VentureBeat wrote. If you haven't noticed, there's a blockchain gaming gold rush afoot–even in this economy.
Companies with horses in the race keep talking potential, keep unpacking and repackaging how the movement can take off. Saga's belief that "Web3 games need to be fun, broadly accessible, and valued as entertainment first," echoes recent insights from Polygon Studios' Ryan Wyatt.
Ultimately though, existing games will always benefit the most from Soulbound's platform–that's the point of their meritocracy in the first place. "Gamers in Web2 massively multiplayer online (MMO) and online games have poured billions of hours and dollars into walled gardens that will never reward them for the value they bring," VentureBeat said. "Saga wants to change that."
Read related posts:
Disclaimer
In line with the Trust Project guidelines, please note that the information provided on this page is not intended to be and should not be interpreted as legal, tax, investment, financial, or any other form of advice. It is important to only invest what you can afford to lose and to seek independent financial advice if you have any doubts. For further information, we suggest referring to the terms and conditions as well as the help and support pages provided by the issuer or advertiser. MetaversePost is committed to accurate, unbiased reporting, but market conditions are subject to change without notice.
About The Author
Vittoria Benzine is a Brooklyn-based art writer and personal essayist covering contemporary art with a focus on human contexts, counterculture, and chaos magic. She contributes to Maxim, Hyperallergic, Brooklyn Magazine, and more.
More articles


Vittoria Benzine is a Brooklyn-based art writer and personal essayist covering contemporary art with a focus on human contexts, counterculture, and chaos magic. She contributes to Maxim, Hyperallergic, Brooklyn Magazine, and more.
Hot Stories
by Victor Dey
December 06, 2023
by Victor Dey
December 06, 2023
by Kumar Gandharv
December 06, 2023
by Victor Dey
December 05, 2023
Latest News
by Alisa Davidson
December 06, 2023
by Alisa Davidson
December 06, 2023
by Kumar Gandharv
December 06, 2023
by Victor Dey
December 06, 2023