In Brief
The article explores ten AI-powered tools that can be used by fashion brands and consumers.
The list includes Cala, Designovel, Zmo.ai, Vue.ai, Heuritech, Stylumia, Dupe Killer, Bodify, Lykdat, and Styliser.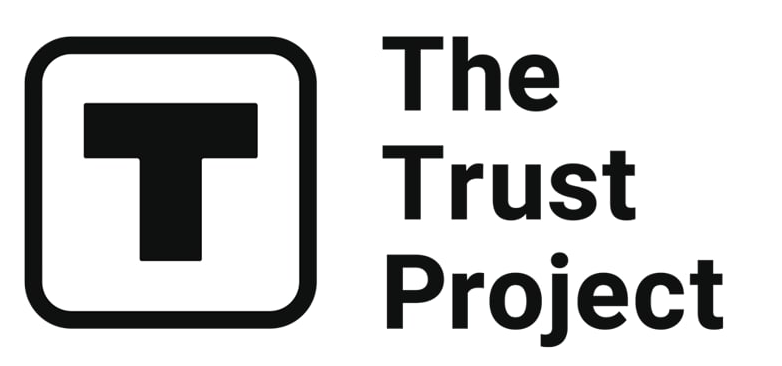 The Trust Project is a worldwide group of news organizations working to establish transparency standards.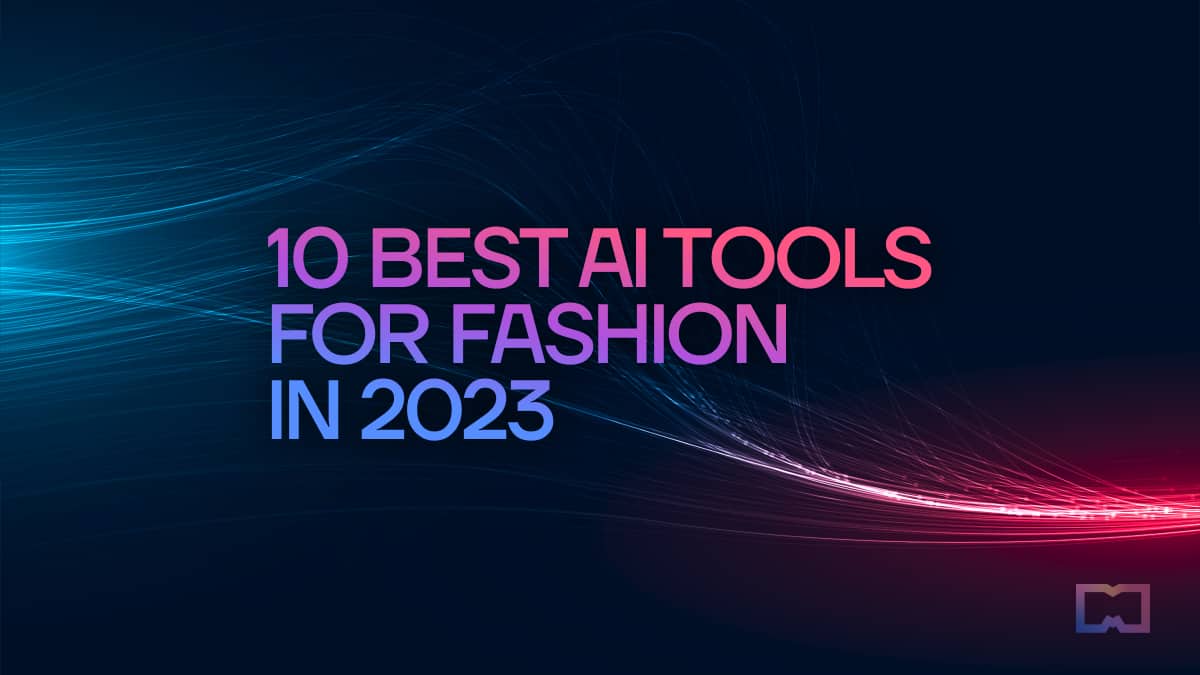 The fashion industry is known for its constant evolution. In recent years, it has been embracing the use of artificial intelligence. With the increasing availability of AI tools, fashion companies can analyze large amounts of data and make more informed decisions on everything from design to marketing.
As we head into 2023, the fashion industry continues its integration of AI. In this article, we explore ten artificial intelligence tools that are revolutionizing the industry. Whether you are a fashion designer, retailer, or consumer, these tools are sure to provide valuable insights and enhance your experience in the world of fashion.
Best AI Tools for Fashion
Design creation tools enable digital designers to convert mood boards, sketches, and text into 3D designs. Artificial intelligence can help creatives enrich imaginary products by integrating new ideas and using existing samples. One of the cons of production tools is the possibility of creating prototypes of clothing while using desired patterns, fabrics, and sketches.
On a side note, the jean brand Levi's was one of the first to launch an AI program that helped its designers develop garment models with the help of machine learning.
Cala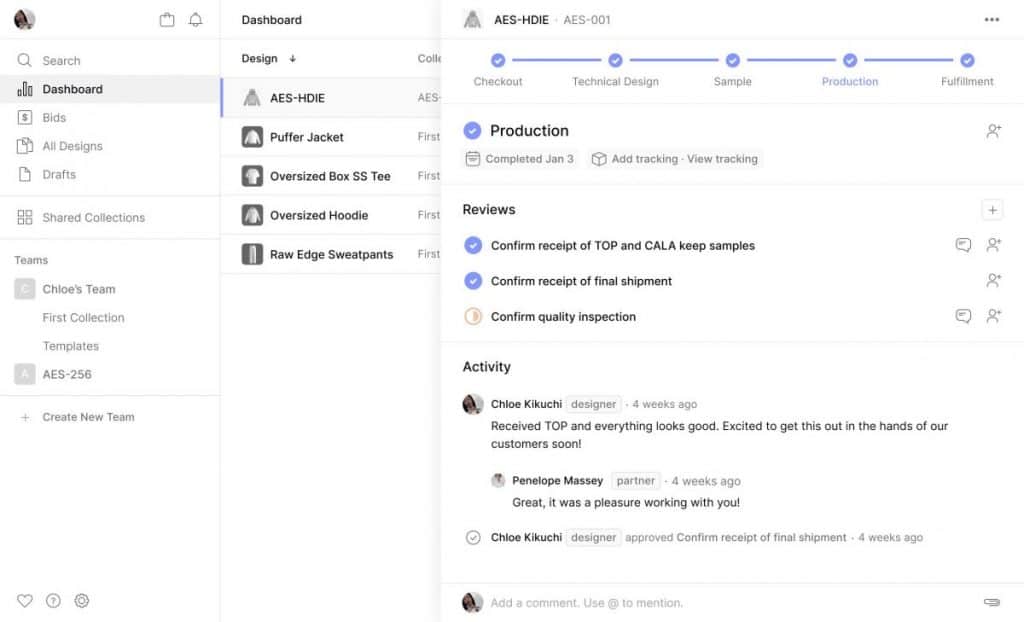 Cala is a platform that provides AI-powered fashion design solutions and other tools. The interface unifies different steps of the designer process, starting from product ideation to e-commerce enablement and order fulfillment. In terms of design, Cala helps users generate mood boards, fresh ideas, and seasonal takes on evergreen products. The platform allows users to create designs based on text, sketches, and references.
Notably, the platform is suitable for both small independent designers and large retailers. It can be used in live collaboration mode in real-time, allowing designers to connect with teammates and manufacturers easily and quickly.
Designovel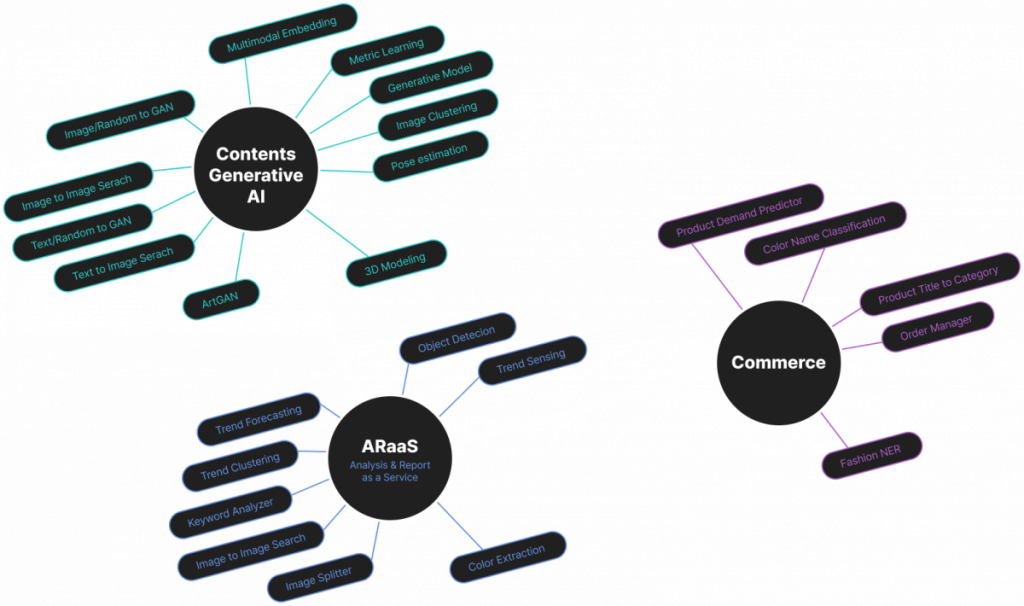 Designovel is an AI-powered fashion design platform that uses advanced algorithms to help designers create new collections. The platform's features include automated design suggestions, fabric recommendations, and real-time feedback on design choices. Designovel also allows users to upload their own sketches and inspiration images to generate custom designs that match their vision.
The platform provides such features as trend recognition, market analysis, and product/service planning. Designovel analyzes data from a vast range of sources, including social media trends, runway shows, and street style, to provide designers with the latest insights on what's in style and what consumers are looking for.
Overall, the platform aims to streamline the design process, reduce production costs, and help designers create innovative and stylish collections.
Zmo.ai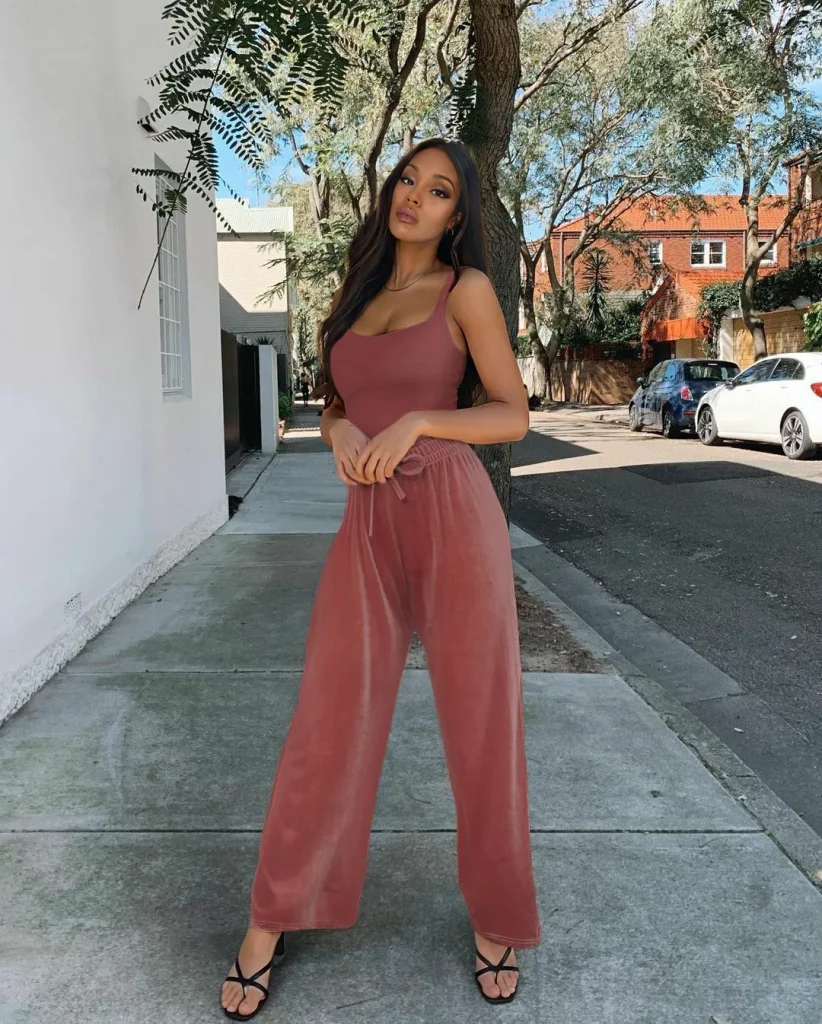 Artificial intelligence enables brands and designers to develop editorial photoshoots that would take hours to create in real life. Well-written prompts can help develop fashion campaigns featuring diverse models in difficult-to-shoot settings.
Inditex's mass-market brand Stradivarius is one of the companies that has already adopted the innovation. Earlier this month, the brand released an AI-created fashion campaign that features garments from the collection.
Zmo.ai is a platform that offers several AI-powered image creation tools. One of its features is "Zmo AI Models," which enables users to showcase fashion garments on thousands of models in minutes. The platform generates high-quality digital human model images, allowing designers to create lookbooks and editorial photoshoots of their collections in minutes. The feature enables customers to create a more inclusive brand image and increases the accuracy of target marketing.
In addition, Zmo.ai features an all-in-one AI art generator that creates high-quality, realistic photos from text or images. Users can also professionally edit photographs and images with a few clicks.
Vue.ai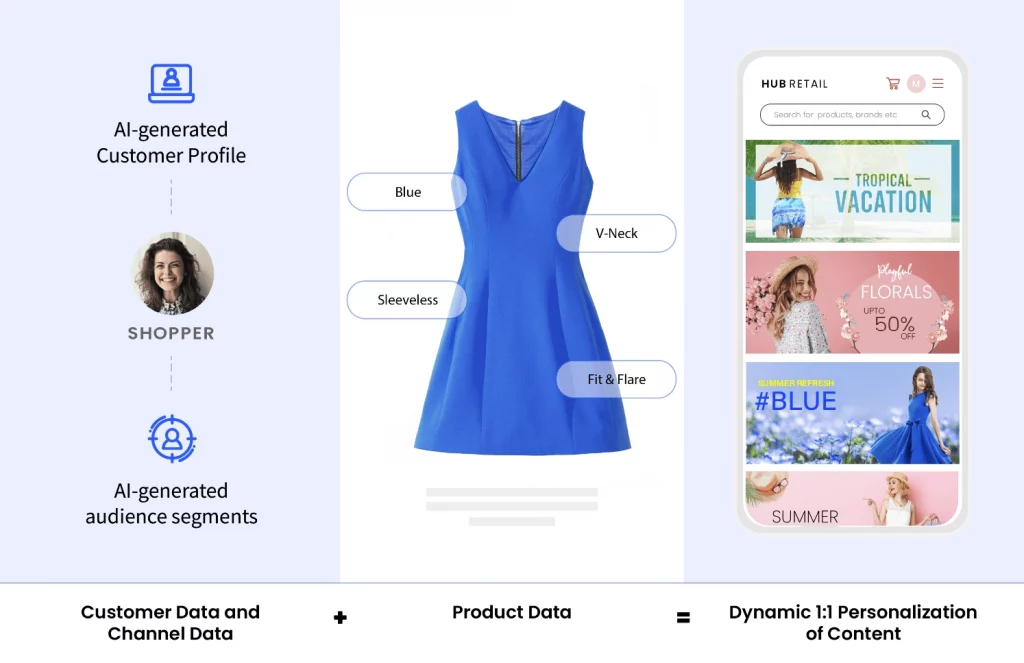 Vue.ai is an AI-powered retail automation platform that helps e-commerce companies optimize their customer experience and increase sales. The platform offers various solutions, including visual merchandising, personalized recommendations, product tagging, and image editing. Vue.ai's technology uses computer vision and natural language processing algorithms to analyze product images, descriptions, and customer data, to provide personalized product recommendations and visual merchandising strategies for online stores. The platform's automated product tagging feature helps streamline the process of product categorization and indexing, making it easier for shoppers to find what they are looking for.
In addition, Vue.ai has an image editing tool that can help improve the quality of product images, making them more visually appealing and attractive to customers.
Heuritech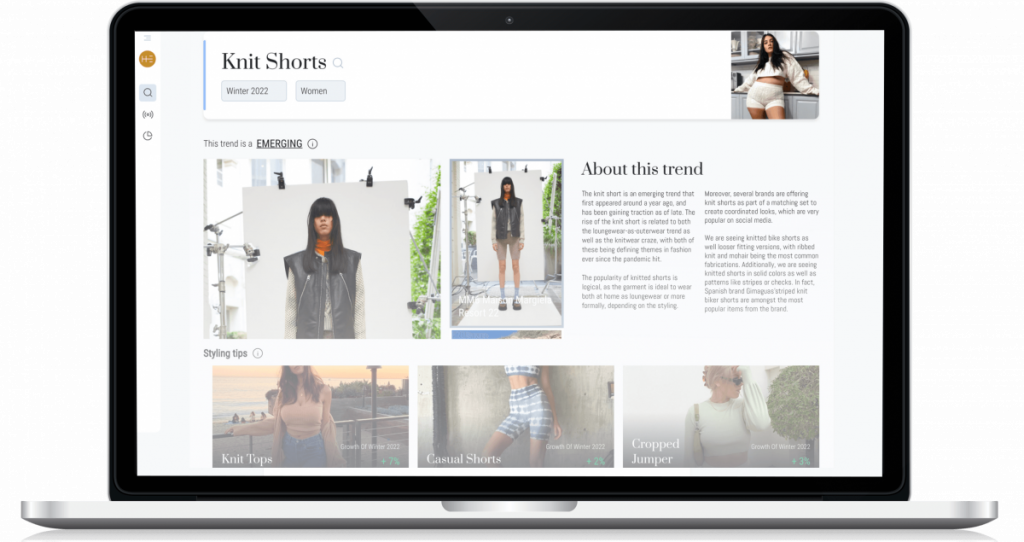 Heuritech was created by two PhDs in Machine Learning in 2013. The platform offers a deep analysis based on insights drawn directly from the consumer. It analyzes approximately three million images daily and can recognize over 2,000 apparel details. Notably, the platform analyzes images shared on social media by different customer segments: from celebrities and influencers to the general public. This means the app can provide up-to-date trend analysis based on customers' needs.
Fashion brands can use Heuritech to develop their future collections' designs based on the insights drawn from large amounts of data. The tool can also be useful for individuals who plan to launch a fashion business.
Stylumia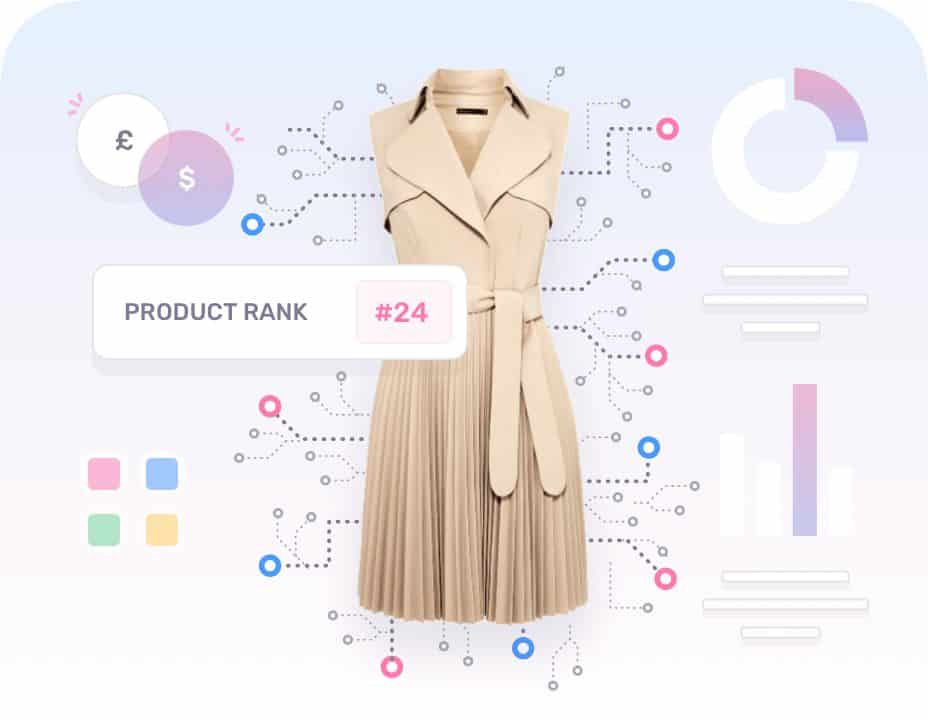 Stylumia is an AI-powered platform that offers fashion trend-forecasting solutions. The platform can help users spot winning products and demand forecasting for new pieces. Stylumia also enables inventory optimization across the value chain and helps localize assortment for a store. Users can request instant validation of trends and fashion garments, as well as discover the right price range for the product. Overall, the platform allows customers to enter new market categories faster and more confidently.
Dupe Killer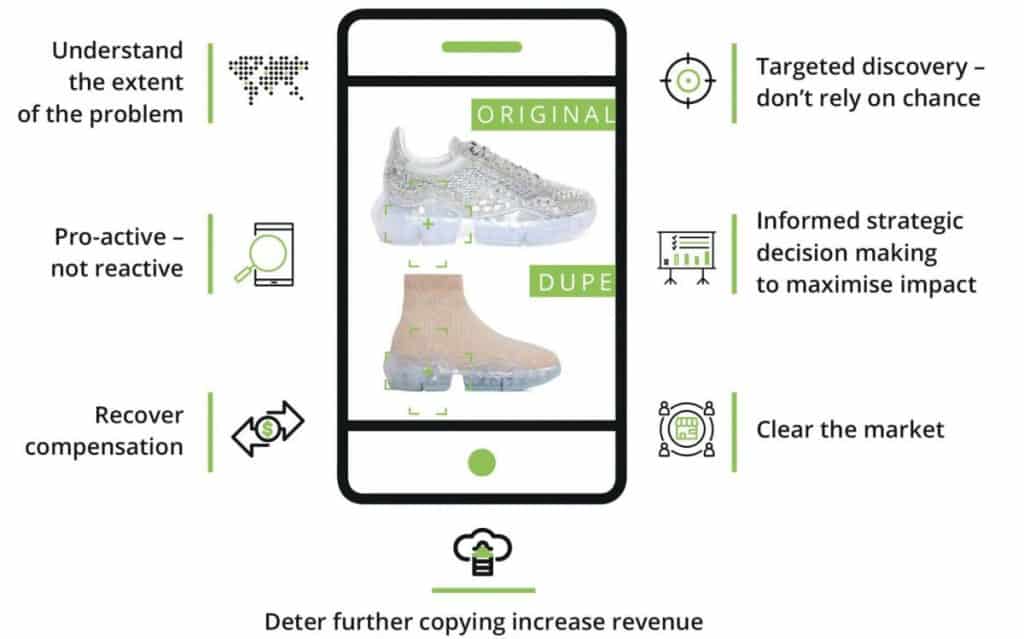 Dupe Killer is an AI-powered tool developed by the consultancy company Deloitte. The innovative program detects product copies by scanning shapes or configurations of garments. Dupe Killer focuses on finding duplicates of original designer pieces presented under a different brand. Such a problem differs from counterfeit, where copy producers claim to be the original.
In order to spot a duplicate, the program scans millions of photographs and measures visual similarities among them. Dupe Killer gathers data from Instagram and other social media, as well as Amazon, Depop, and eBay.
Bodify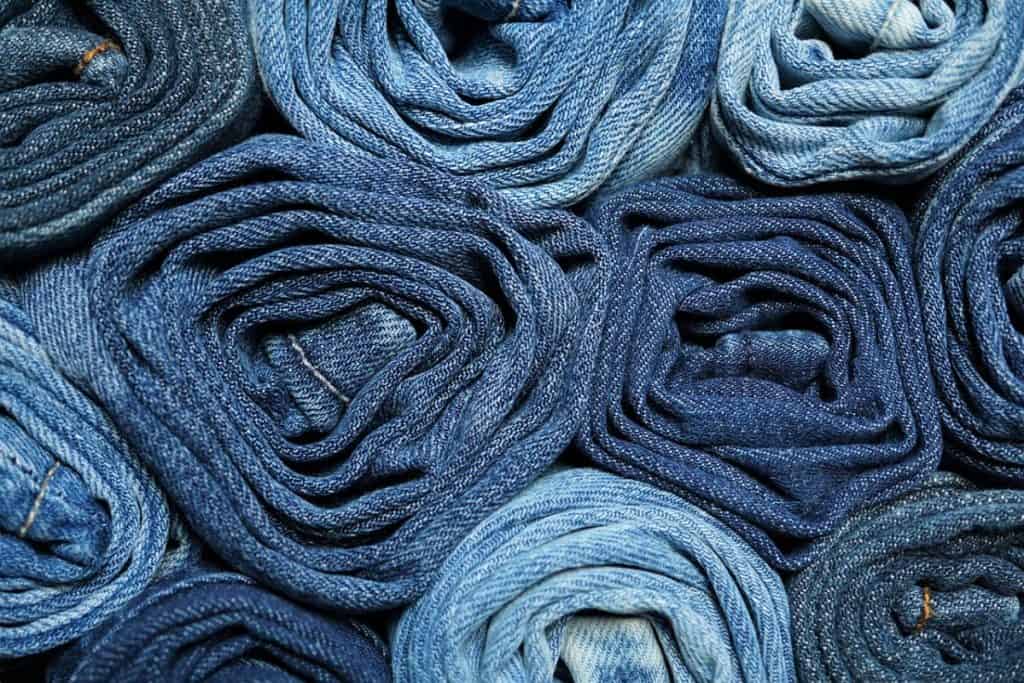 Bodify is an AI-powered platform that helps online shoppers find the best brands and products that fit their body type and size. The platform uses machine learning algorithms to analyze users' body measurements and preferences data. It also gathers product information from various brands to provide personalized recommendations for clothing and apparel. Bodify's technology aims to solve the problem of online shopping where customers can't try on clothing before buying, leading to uncertainty about fit and sizing.
Bodify aims to improve the online shopping experience and reduce returns for customers and retailers by using AI to suggest products that are more likely to fit well and be comfortable.
Lykdat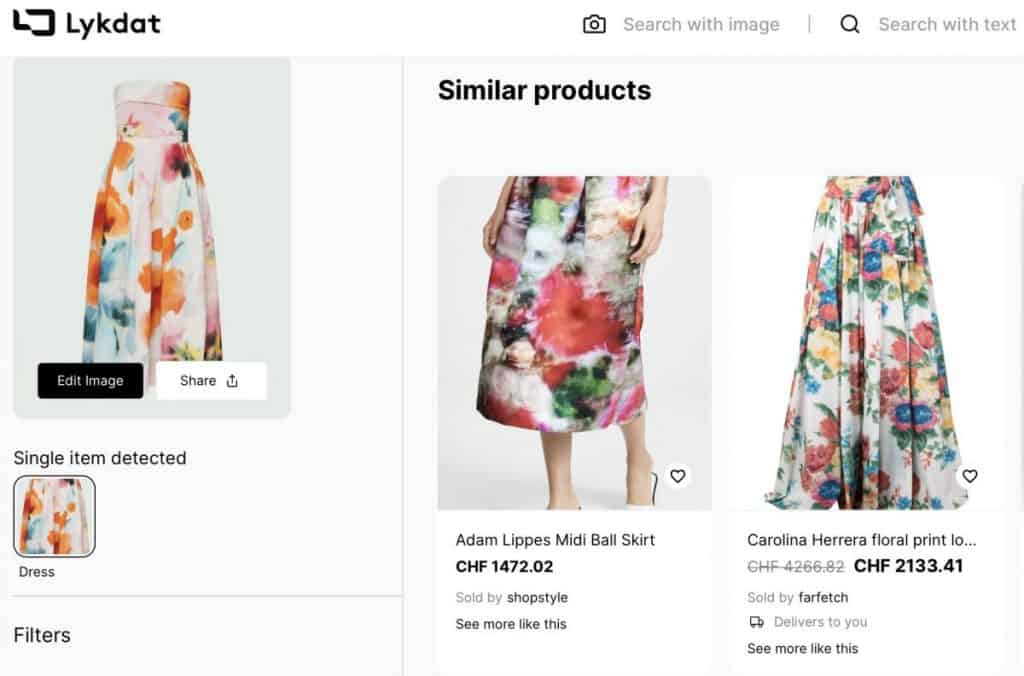 Lykdat is an AI-powered platform that offers a personalized shopping experience with image search capabilities. The platform uses computer vision and machine learning algorithms to analyze product images and identify key features such as color, pattern, and style. Customers can upload images of products they like, and Lykdat will provide tailored recommendations for similar items from various retailers.
The platform aims to improve the online shopping experience and help customers find products that fit their needs and tastes. More than that, it helps retailers increase sales by offering personalized recommendations that are more likely to lead to purchases.
Styleriser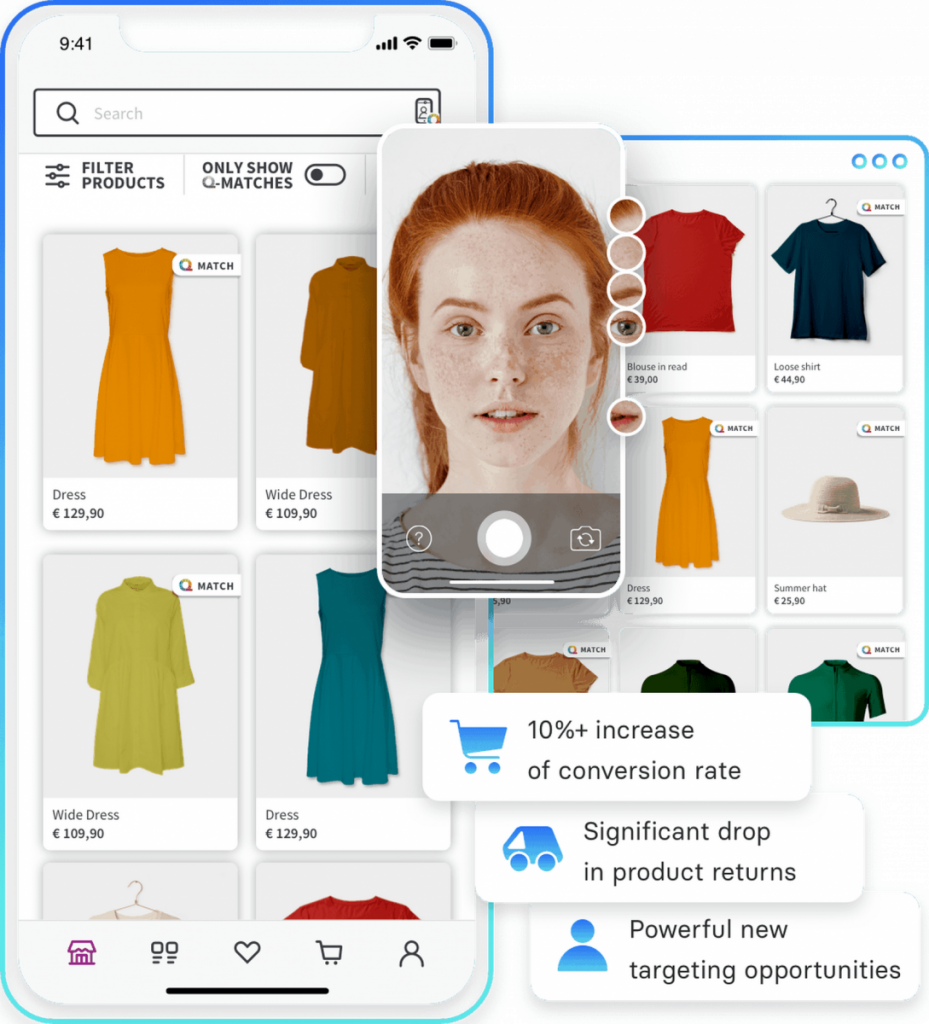 Styleriser is an AI-powered platform that offers a digital shopping assistant. It uses machine learning algorithms to analyze customers' facial features, such as skin tone and face shape, and provides highly relevant product suggestions for apparel e-commerce. The platform can help customers find items that fit their style and preferences.
Artificial intelligence reduces the time and effort required for customers to search for products manually, making the shopping experience more convenient and enjoyable. By leveraging facial analysis technology to generate personalized product suggestions, Styleriser improves the online shopping experience and helps retailers increase sales.
Generally speaking, AI technology enables mass-market and luxury fashion brands to recommend users items based on specific fashion terms, their style, appearance, and other requests. With AI, retailers and brands can offer styling solutions and outfit combinations created with artificial intelligence.
On a side note, the Italian luxury brand Zegna has recently introduced its AI-powered application, Zegna X. German retail platform Zalando also announced its ChatGPT-powered fashion assistant, which will enable customers to browse items more intuitively.
Conclusion
The fashion industry has seen a significant shift in recent years, with artificial intelligence tools becoming increasingly prevalent in many aspects of the business. The ten AI tools highlighted in this article represent some of the most useful technology applications available for fashion brands and consumers in 2023. From personalized styling and design to supply chain optimization, these tools offer valuable solutions for businesses looking to stay competitive in the evolving fashion landscape. As technology advances, we can expect to see even more AI tools emerge in the fashion industry, enabling companies to make smarter, more informed decisions and create more sustainable and efficient business models.
FAQ
How can AI be used in fashion?
There are several applications of artificial intelligence for the fashion industry. Brands and individuals can use AI to create designs, develop inclusive photoshoots, set up logistics, offer curated garment selections, and more. 
What is the best AI app for clothes design? 
Cala and Designovel are among the best artificial intelligence clothes design apps. 
Do fashion brands use AI?
Fashion companies and independent designers use artificial intelligence for a variety of tasks: from design to e-commerce. 
Read related posts:
Disclaimer
Any data, text, or other content on this page is provided as general market information and not as investment advice. Past performance is not necessarily an indicator of future results.