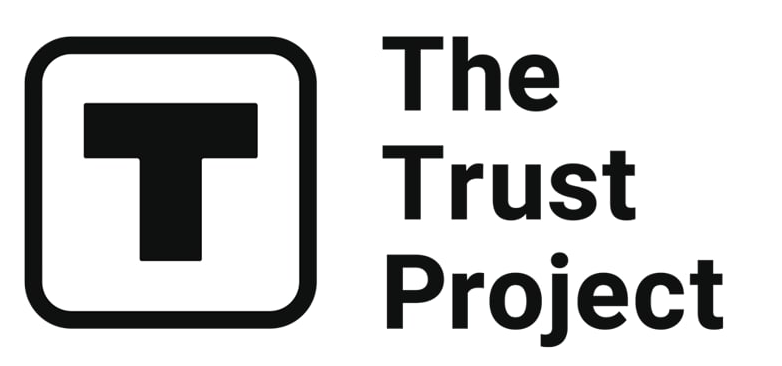 The Trust Project is a worldwide group of news organizations working to establish transparency standards.
Figma is a vector design and animation software that is increasingly becoming popular among graphic designers. One of the reasons for its popularity is that it offers a wide range of features and plugins that allow designers to create better graphics. In this article, we will be discussing the 10 best AI plugins for Figma that can help designers create better graphics. These plugins are easy to use and offer a wide range of features that can help you create high-quality graphics.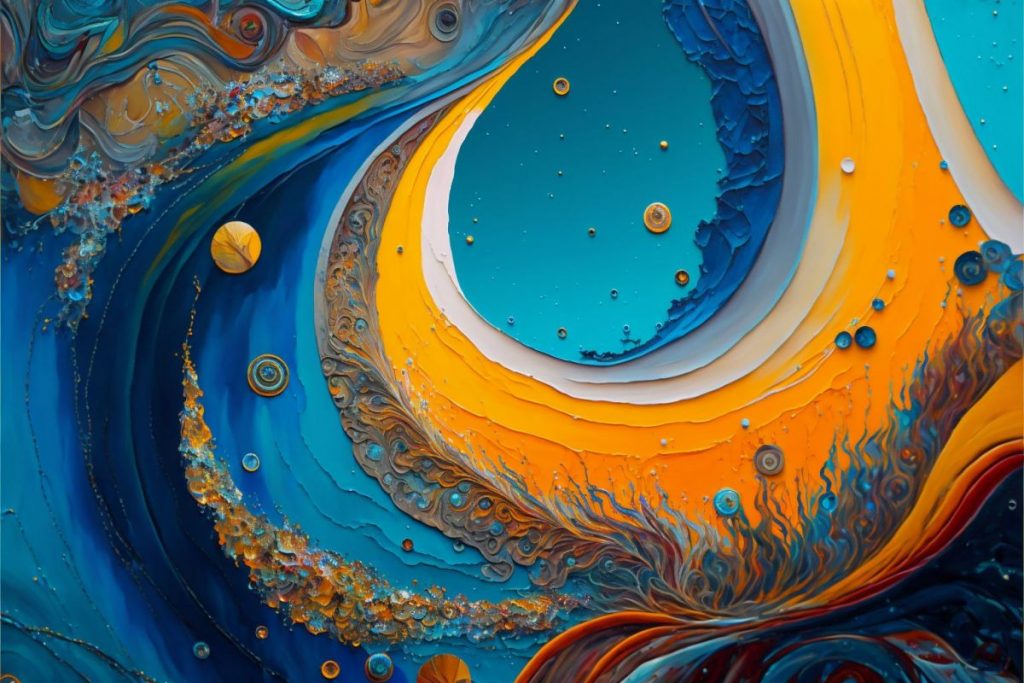 MagiCopy – AI Text Generator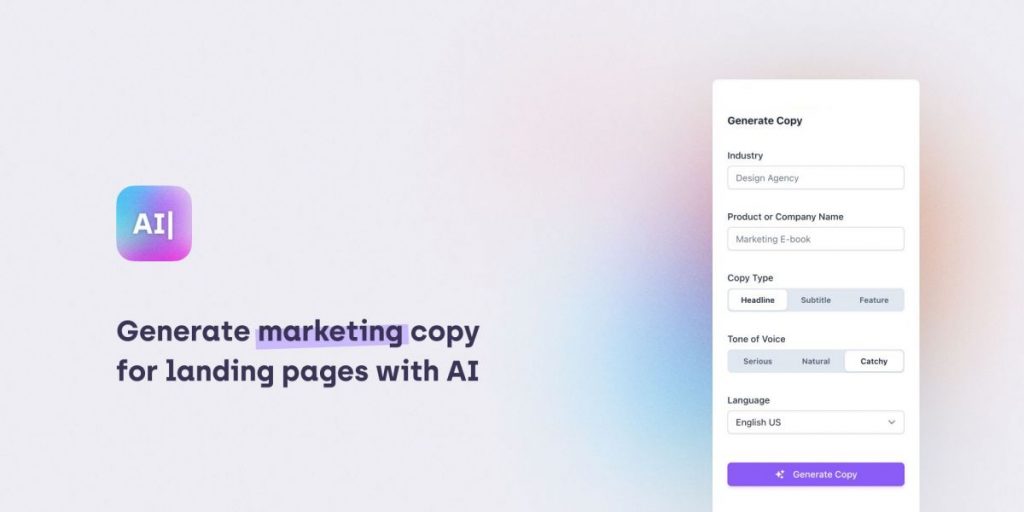 Looking to reach a global audience with your marketing? MagiCopy is the perfect tool for you! With the ability to generate marketing copy in 14 languages, you can easily connect with customers and prospects in any market around the world. But tool isn't just about language translation – it's also about crafting compelling marketing copy that resonates with your target audience. With a variety of templates and customizable options to choose from, you can create marketing copy that speaks to the unique needs and interests of your audience. Whether you're looking to drive more traffic, generate leads, or increase conversions, our marketing copy generator can help you achieve your goals.
CraftAI – Resume/Portfolio Writer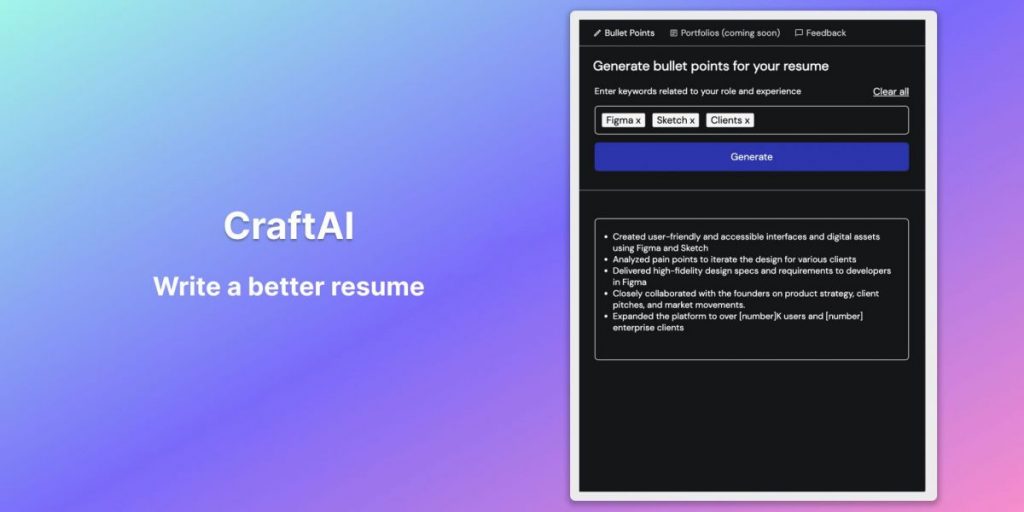 If you're a creative professional, chances are you've poured your blood, sweat and tears into your portfolio. But when it comes to creating a resume, the process can be a little bit daunting – especially if you're not sure where to start. Never fear! AI-powered resume writer is here to help you create a designer resume or portfolio that will help you level up your career.
With the resume writer, you'll get personalized help and advice tailored to your specific career goals. Plus, you can use our templates and examples to make sure your resume is polished and professional. So if you're ready to take your career to the next level, our AI-powered resume writer is the perfect place to start!
Unbackground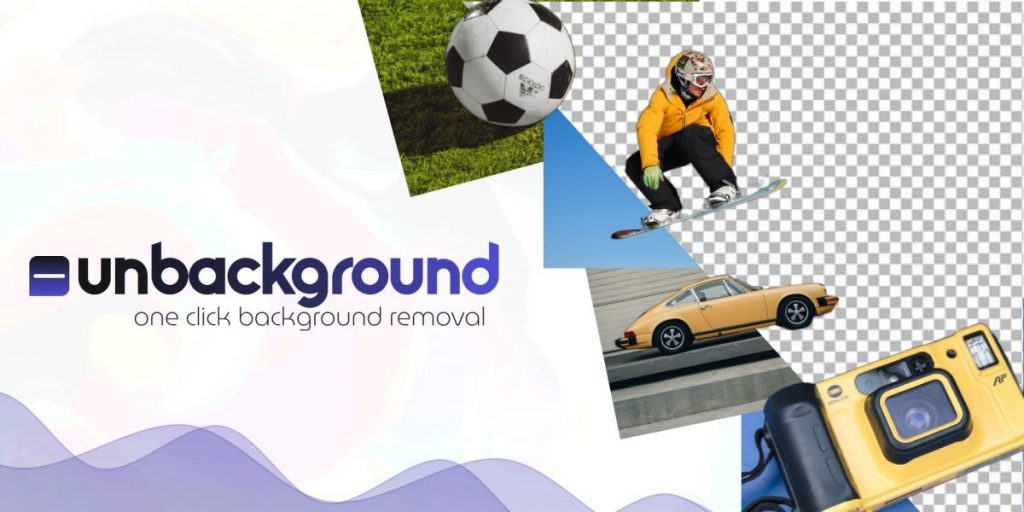 Are you looking for an easy way to remove the background from an image? If so, then you should check out this new online tool that allows you to do just that in a single click, free of charge!
This tool is called Unbackground and it's an plugin that provides users with the ability to quickly and easily remove the background from any image. The process is simple: just upload your image, select the area you want to keep, and the background will be automatically removed. Remove Background is free to use and doesn't require a subscription. Plus, it's easy to use, even for those who are not familiar with image editing software. Simply select the area you want to keep and the background will be removed in a single click. If you're looking for an easy way to remove the background from an image, then Remove Background is the perfect tool for you.
Astrid Text Generator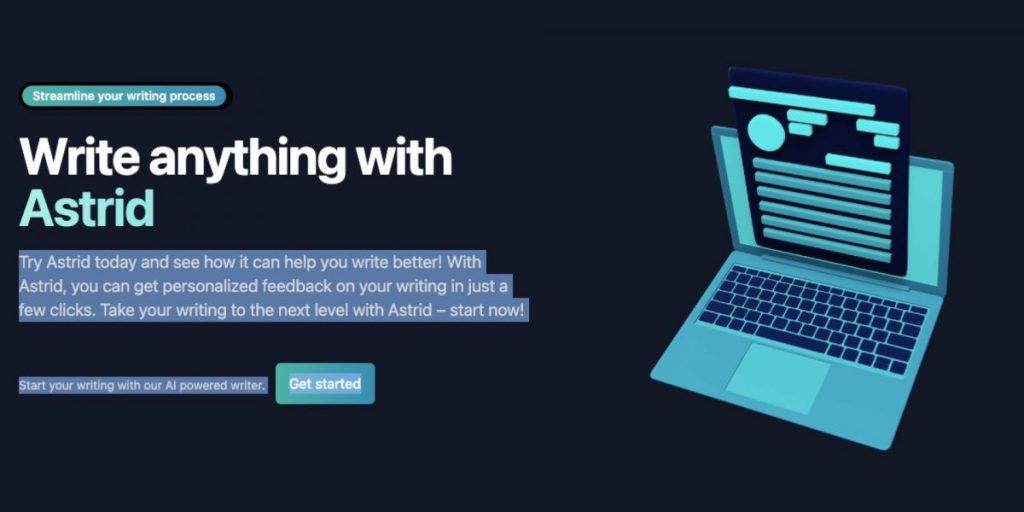 What is Astrid? Astrid is a text generator that provides personalized feedback on your writing. It uses Artificial Intelligence to analyze your writing and give you suggestions on how to improve it. Astrid is the perfect tool for writers of all levels, from beginners to professionals. How much does it cost? Astrid is free to use!
Avatars generator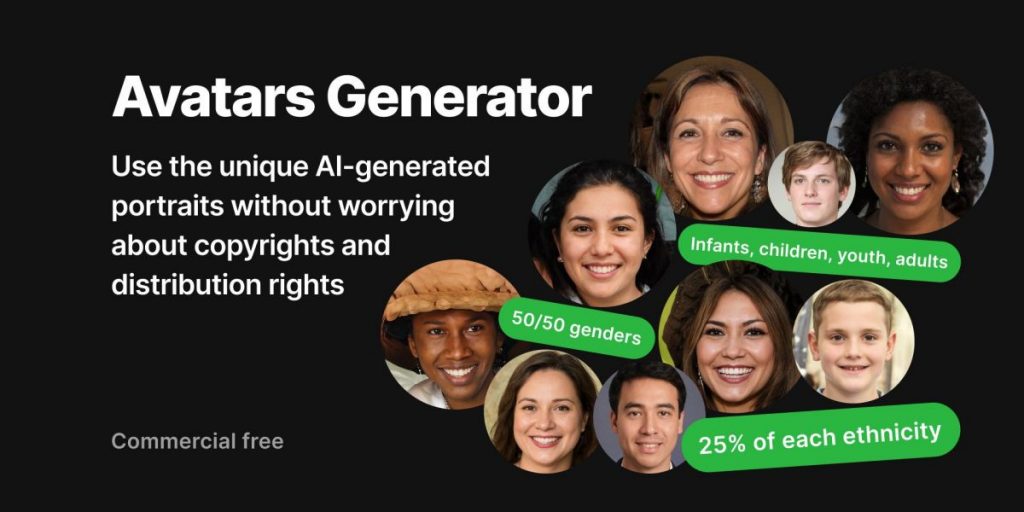 If you're looking for a unique way to represent yourself online, you may want to consider using an avatar generator. These tools use artificial intelligence (AI) to create photos of fictional persons that can be used as profile pictures or as avatars in virtual worlds. Avatars generator uses AI to generate photos of faces. You can control the facial features of the avatar, including the hair, eyes, nose, mouth, and chin. You can also add accessories, such as glasses, hats, and necklaces. Once you're happy with the way your avatar looks, you can download it to
Ando – AI Copilot for Designers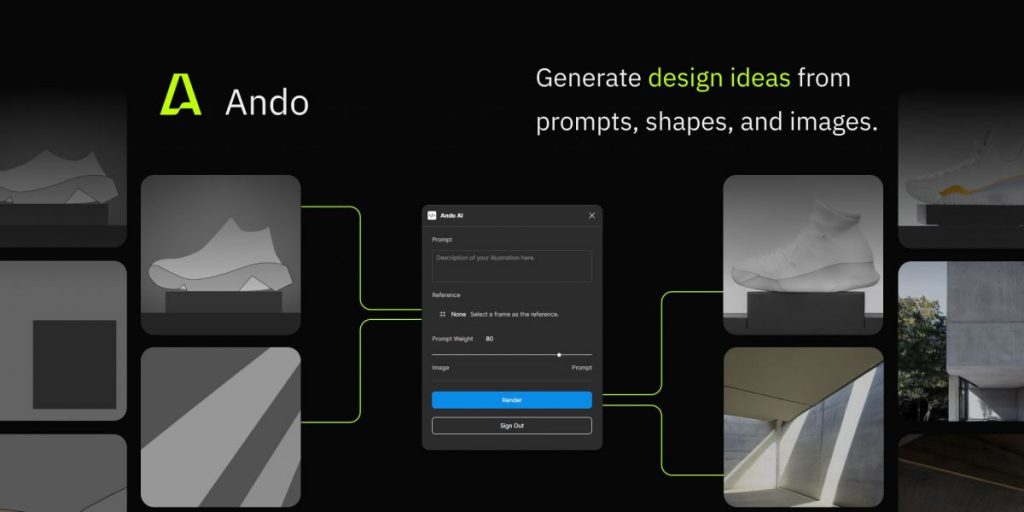 If you're someone who struggles with creative blocks, or just need a little inspiration for your next project, you should definitely check out Ando AI. It's an AI-powered platform that can help you generate millions of design ideas from prompts, shapes, and images. I recently had the opportunity to try out Ando AI for myself, and I was really impressed with how easy it was to use and the sheer volume of ideas that it generated. All you have to do is input a prompt, shape, or image and Ando AI will provide you with a ton of design ideas that you can use for your next project. If you're looking for a way to jumpstart your next project, or just need some inspiration, I would definitely recommend checking out Ando AI.
Stable Pixel AI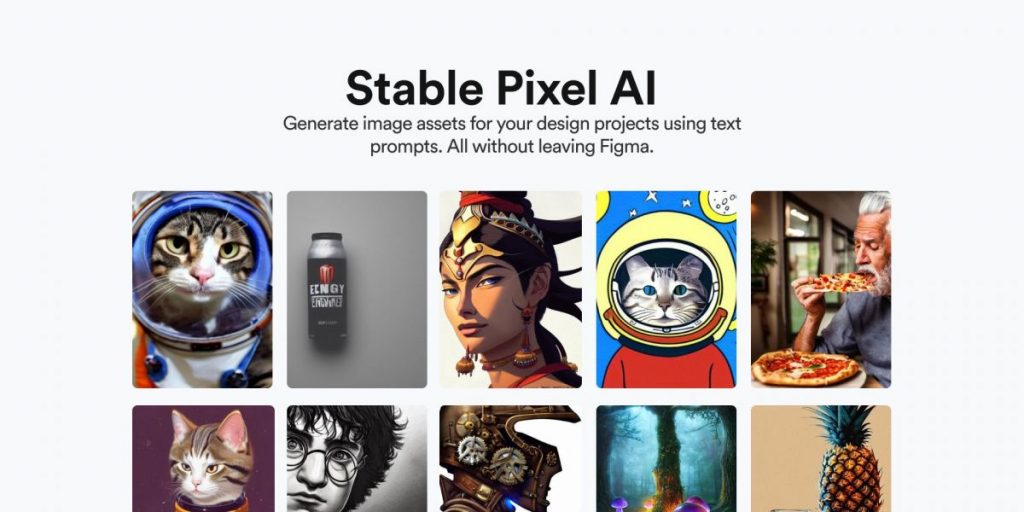 Looking for the perfect image to complete your design project? Tired of scrolling through countless stock photos? Stable Pixel has you covered. With the artificial intelligence-powered image generation tool, all you need to do is describe the image you want and we'll create it for you.
Here's how it works:
Enter a text prompt describing the kind of image you are looking to generate. Be as detailed as possible.
Browse through the results and add the image of your choice to the Figma board.
That's it!
With Stable Pixel, you'll never have to worry about finding the right image again. So go ahead and give it a try today.
Magestic – AI Generated Icon Sets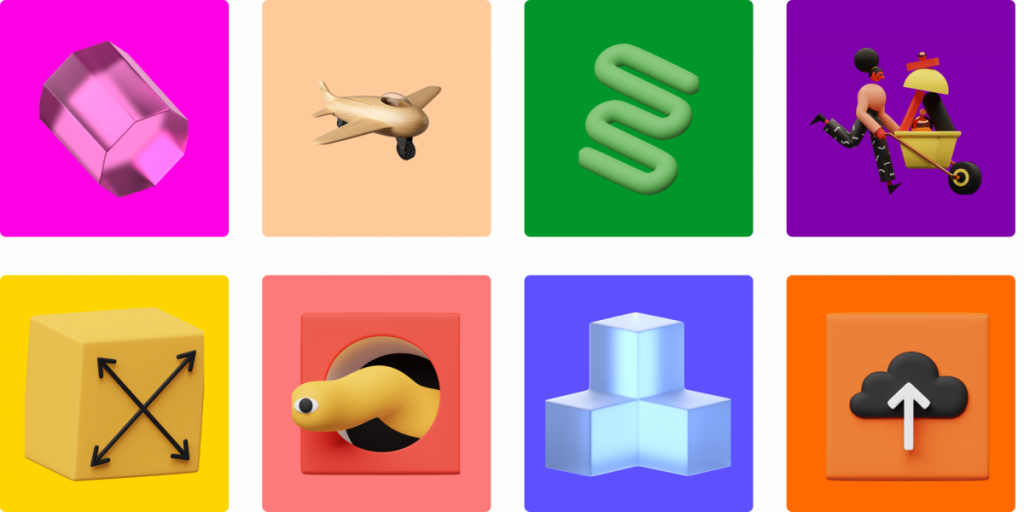 If you're like most people, you probably use icons all the time without giving them much thought. They're a ubiquitous part of our digital lives, whether we're using them to navigate our smartphones or find our way around a new website.
But have you ever wondered how those icons are made? If you have, you're in for a treat, because today we're going to take a look at Magestic, an AI-powered text to image platform that lets you create your own icons, graphics, and images. With Magestic, all you need is an idea – you can speak your icons and graphics into existence directly in Figma. And the best part is, you own all the icons, graphics, and images that you create. Icon sets created and curated by the Magestic team are usable for personal and commercial use, so you can create whatever you want without worrying about copyright issues. Whether you're a professional designer or just someone who likes to play around with images, Magestic is a great platform to explore. So let's dive in and see how it works!
Rendition [Beta]: Figma->Webflow and React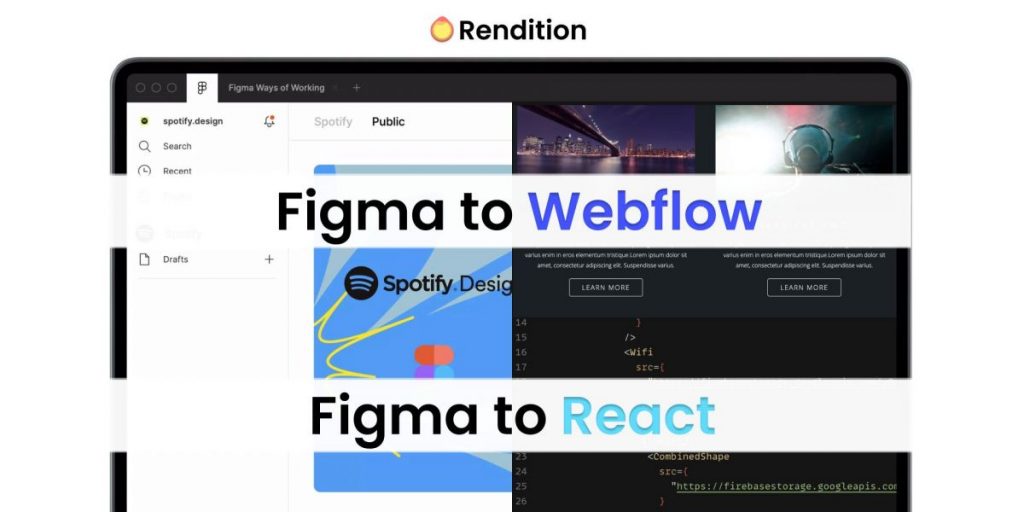 If you're a web developer, you know that one of the most time-consuming parts of the job is translating a design into code. It can be a real pain, especially if you're starting from scratch. That's where Rendition comes in. Rendition is an AI assistant that helps translate your Figma design into real, responsive components and code. With Rendition, you can turn your Figma design into high quality Webflow sites and React components. Rendition is a great tool for speeding up your workflow. It's as flexible as can be, so you can get results from a small component design or even a whole page design. And it's not just good at making things look good. Rendition is designed to give you high-quality components that you can use in your project.
After a free trial, Rendition costs $30/mo. But it's worth it, because it can save you hours of work. So if you're looking for a way to streamline your workflow, check out Rendition.
Person Generator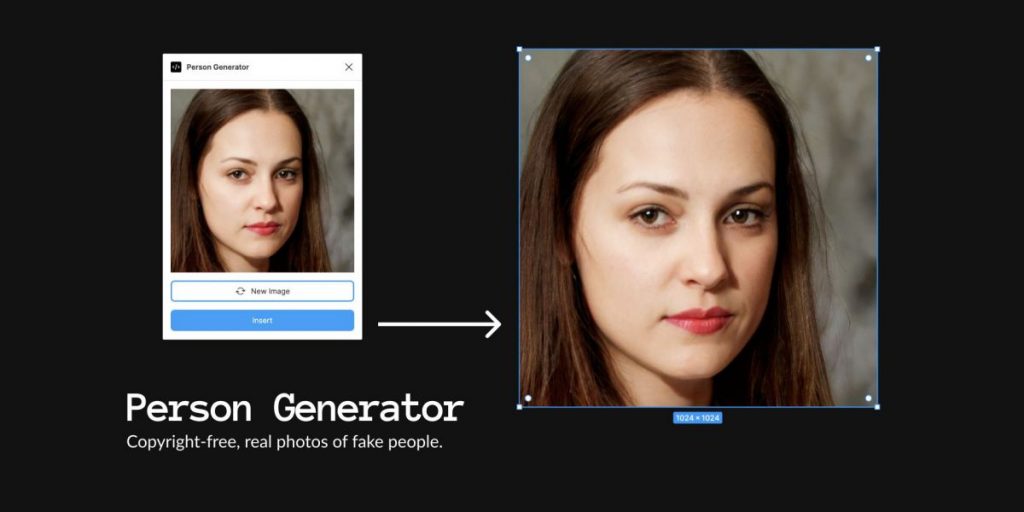 If you're anything like me, you've probably looked at a stranger and thought to yourself, "I wonder what that person's story is?" Well, now there's a way to find out, sort of. Introducing the Person Generator, a tool that creates completely random, yet completely realistic, people. These people are generated by artificial intelligence, and they are source from thispersondoesnotexist.com. That's right, each and every one of these people is 100% fake. But they're also 100% realistic. So realistic, in fact, that it's almost impossible to tell they're not real.
So what can you do with these fake people? Well, the possibilities are virtually endless. You could use them as characters in a story, or as placeholders in a design. You could even use them as avatars in a video game cover or virtual reality world. The only limit is your imagination. So why not give the Person Generator a try and see what kinds of people you can create?
---
The 10 best AI plugins for Figma can help designers create better graphics by automating repetitive tasks, providing more accurate color suggestions, and helping to generate complex designs. With these plugins, designers can focus on the creative aspects of their work, and leave the tediouswork to the machines.
Read more articles about AI:
Disclaimer
Any data, text, or other content on this page is provided as general market information and not as investment advice. Past performance is not necessarily an indicator of future results.