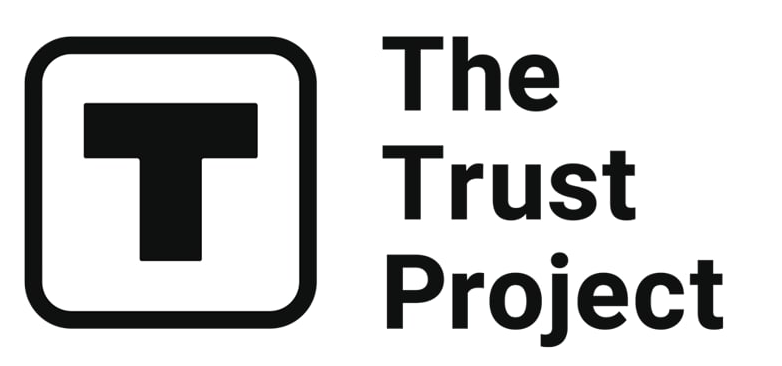 The Trust Project is a worldwide group of news organizations working to establish transparency standards.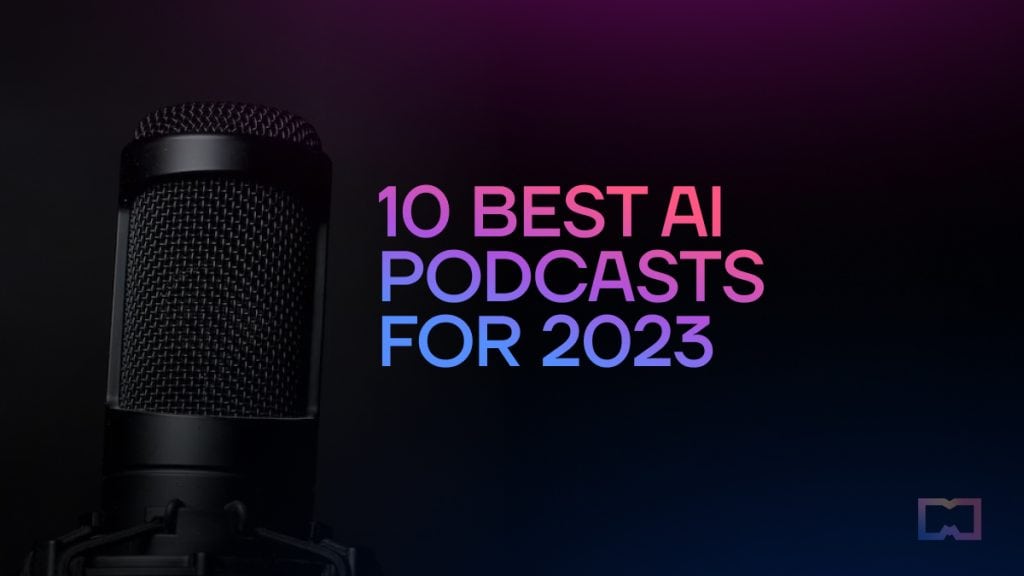 Artificial intelligence is constantly evolving, and one of the best ways to stay up-to-date with the latest advancements and insights is to tune in to an AI podcast. We've scoured the internet and curated a list of the 10 best AI podcasts for 2023. Whether you're a seasoned AI expert or just starting to explore the field, these podcasts will provide you with valuable information, engaging discussions, and expert perspectives on the future of AI.
1. The AI Podcast by NVIDIA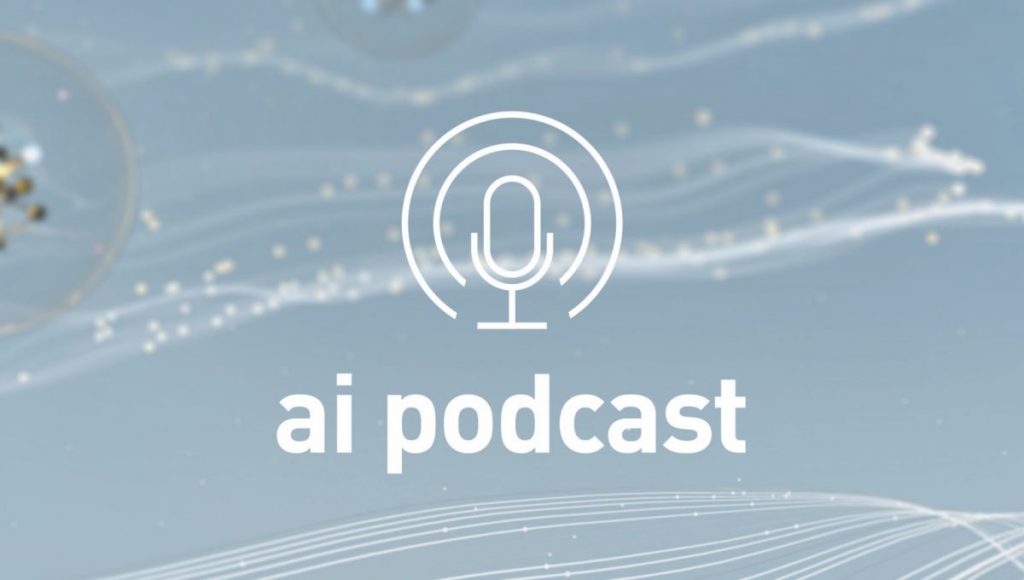 Let's start with a podcast with a very apt name: AI Podcast. It is hosted by an experienced journalist Noah Kravitz and features interviews with technology leaders about the impact of AI, deep learning, and machine learning on the current world. The podcast is available on various platforms such as Google, Apple, Spotify, Overcast, Amazon Music, PlayerFM, and Soundcloud. Each 25-minute episode explores the impact of AI. The podcast has been highly praised and has garnered 3.4 million listens so far. Some interesting episodes include "Ubisoft's Yves Jacquier on How Generative AI Will Revolutionize Gaming," "Peter Ma on Using AI to Find Promising Signals for Alien Life," and "AI-Equipped Drones Could Offer Real-Time Updates on Endangered African Black Rhinos."
2. Practical AI by Changelog Media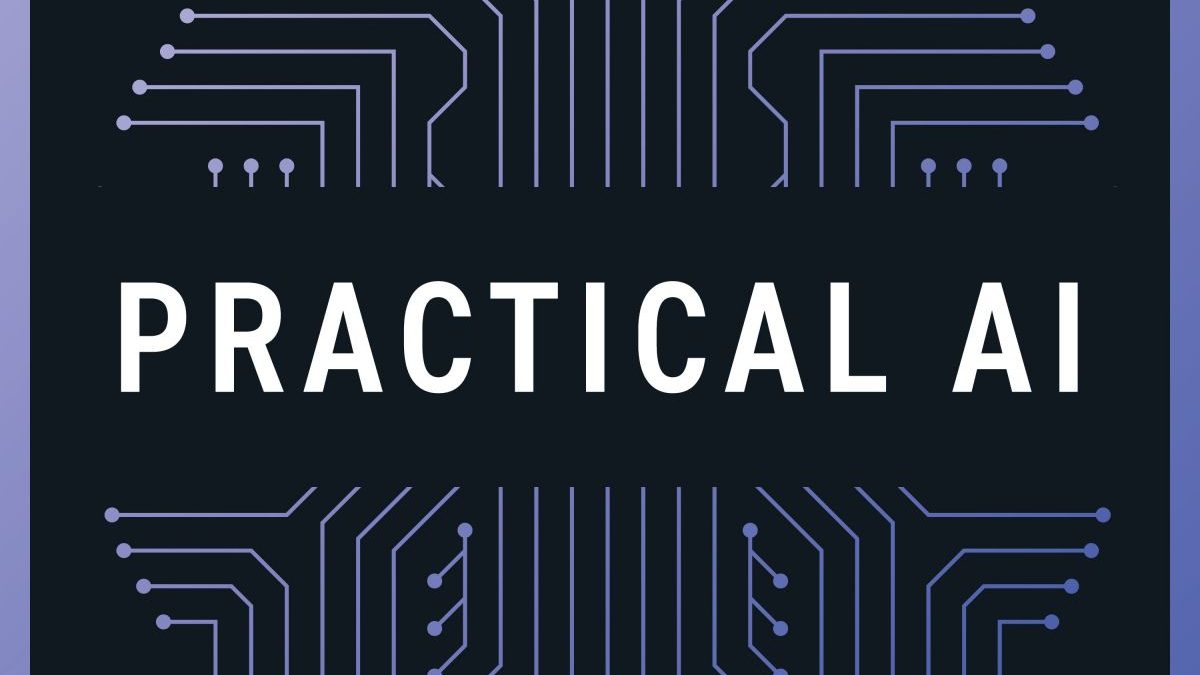 Practical AI features discussions about AI and related topics, such as neural networks, machine learning, deep learning, GANs, AIOps, MLOps, and more. Hosted by AI strategist Chris Benson and data scientist Daniel Whitenack, the podcast is designed for technology professionals, business people, students, enthusiasts, and expert guests who want to keep up with the latest advances in AI. It focuses on productive implementations and real-world scenarios and aims to make "artificial intelligence practical, productive, and accessible to everyone." Listeners can expect lively discussions and insights from industry experts in each episode.
3. AI in Business Podcast by Daniel Faggella

The AI in Business Podcast is created for non-tech native business leaders who are looking for AI opportunities in their organizations to align AI capabilities with their overall strategy, and deliver a return on investment. The podcast is hosted by Daniel Faggella, the CEO of Emerj Artificial Intelligence Research, and features interviews with top AI executives from Fortune 500 companies and startup unicorns. Each week, Faggella and his guests explore current trends, real-world use cases, and best practices for AI adoption. The most recent episodes include: "AI and Responsibility in Financial Services – with Scott Zoldi of FICO," "Laying the Groundwork for AI Transformation through Infrastructure – with Carm Taglienti of Insight," and "The Foundational Phase of CX Transformation – with Aamar Hussain of Microsoft."
4. Machine Learning Street Talk by Dr. Tim Scarfe
The MLST podcast, inspired by academic research, features dynamic discussions with prominent figures in the AI field and covers current affairs in AI with in-depth analysis. The hosts have a rigorous and comprehensive approach to researching each topic, as they believe in intellectual diversity in AI and explore all the major ideas in the field without being swayed by hype. Listeners can expect thoughtful insights and meaningful conversations that delve into the latest trends and developments in AI. The recommended episodes include "Avoiding AGI Apocalypse – Connor Leahy" and "Prof. Chris Summerfield – Natural General Intelligence."
5. AI Today by Cognilytica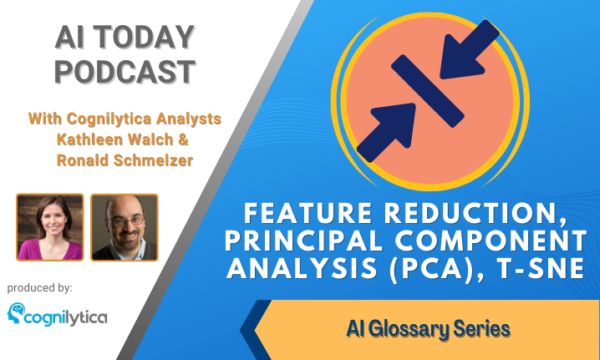 AI Today provides information about the current state of artificial intelligence. The podcast features discussions on pressing topics related to AI, interviews with experts across various domains within AI, and attempts to cut through the hype to identify what's really happening with AI adoption and implementation. It's the go-to podcast for those seeking practical, real-world insights into what enterprises, public sector agencies, thought leaders, leading technology companies, pundits, and experts are doing with AI today. The hosts are Kathleen Walch and Ronald Schmelzer, who are both founders and managing partners of Cognilytica, an AI and data-focused firm.
6. The Gradient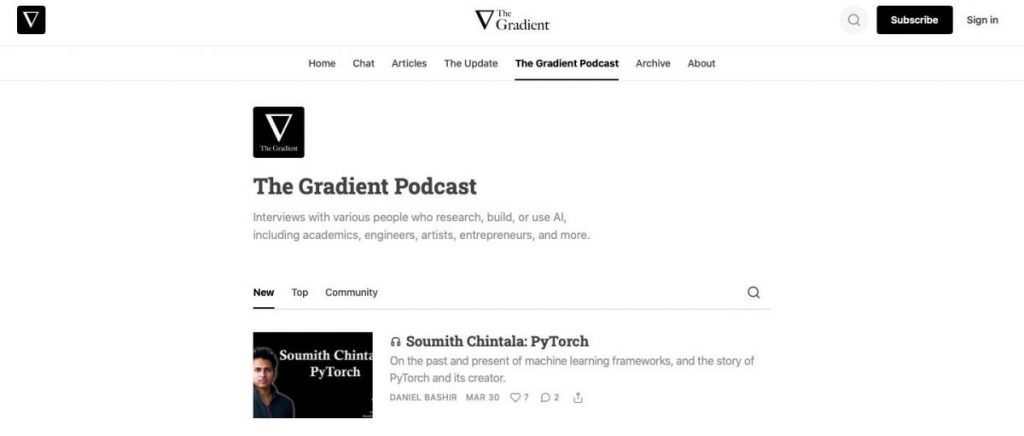 The Gradient Podcast features interviews with a diverse range of people who research, build, or use AI, including academics, engineers, investors, industry executives, science fiction authors, and more. The Gradient is a non-profit organization with the goal of making AI more accessible and facilitating discussion within the AI community. The podcast is run by a group of graduate students, researchers, and engineers from different institutions and companies, who founded the organization in 2017 at the Stanford Artificial Intelligence Laboratory (SAIL). There is a multitude of interesting episodes, including: "Ken Liu: What Science Fiction Can Teach Us," "Richard Socher: Re-Imagining Search," and "Steve Miller: Will AI Take Your Job? It's Not So Simple." Besides the podcast, Gradient's projects include The Gradient Magazine, The Update newsletter, and the Mastodon instance Sigmoid Social.
7. The TWIML AI Podcast by Sam Charrington

The TWIML AI Podcast (short for "This Week in Machine Learning & AI") is dedicated to making machine learning and artificial intelligence more accessible to a wider audience. By featuring a diverse range of voices from the world of ML and AI, including researchers, practitioners, and innovators, the podcast aims to enhance the lives of its listeners and their communities. Since its launch in mid-2016, the podcast has grown to become a leading voice in the field with over seven million downloads and a large and engaged community following. In addition to the podcast, TWIML offers online meetups, study groups, conferences, and a variety of educational content. Hosted by an industry analyst, speaker, commentator, and thought leader Sam Charrington, the podcast brings top minds and ideas to a broad and influential audience of ML/AI researchers, data scientists, engineers, and tech-savvy business and IT leaders.
8. Artificial Intelligence: AI Podcast by Lex Fridman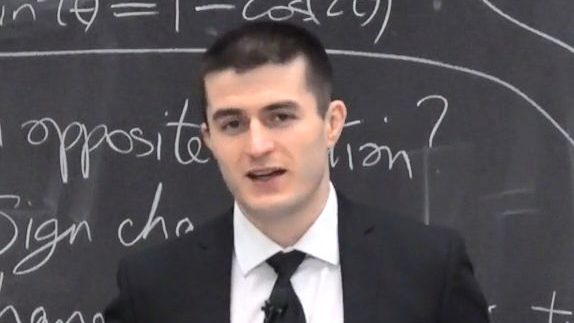 Another title on this list is Artificial Intelligence: AI Podcast, hosted by Lex Fridman, is a series of conversations that cover technology, science, and human experience. Lex, an AI researcher at MIT, engages in discussions on topics ranging from history, philosophy, intelligence, consciousness, love, and power. While the podcast features conversations with industry leaders from various fields, Lex is widely known for his interviews with the most brilliant minds in the industry. The podcast has gained massive popularity due to Lex's ability to attract a mainstream audience. Lex has interviewed tech moguls such as Elon Musk and Mark Zuckerberg and even linguist Noam Chomsky on the possibility of war between China and the United States. One of his most popular AI episodes is an interview with Sam Altman, "OpenAI CEO on GPT-4, ChatGPT, and the Future of AI." The podcast can be found on popular platforms like Apple and Spotify, as well as YouTube, in which Lex Fridman has over 2.68 million subscribers and over 330 million views.
9. Data Skeptic by Kyle Polich

Kyle Polich, the founder and host of Data Skeptic, interviews experts in the fields of artificial intelligence, machine learning, and data science. Launched in 2014, Data Skeptic has become a reputable source on these topics with millions of downloads and hundreds of interviews. The podcast runs in seasons, each exploring a specific theme and featuring active researchers and industry professionals. Beyond the podcast, Polich's consulting firm focuses on algorithmic design, cloud infrastructure, and end-to-end machine learning solutions for small and medium enterprises. Some interesting podcasts include "Measuring Trust in Robots with Likert Scales," "AI Decision-Making," and "The Agent Model of Artificial Intelligence."
10. The Robot Brains Podcast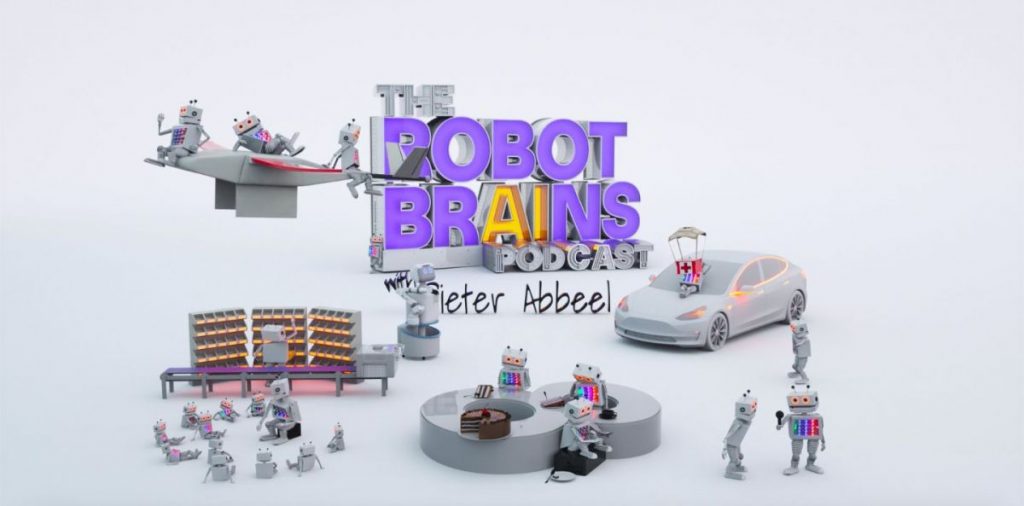 The Robot Brains Podcast is hosted by Pieter Abbeel, an esteemed AI researcher, professor, and entrepreneur. In each episode, he interviews leading experts from around the world who are striving to create robots with brains. Pieter's deep knowledge of AI and his extensive network allows him to ask the most important questions and gain a comprehensive understanding of the progress being made in creating conscious computers, mindful machines, and rational robots. The podcast features notable guests such as Andrej Karpathy, Director of AI at Tesla, Sergey Levine, Professor at UC Berkeley, and Ilya Sutskever, Co-Founder and Chief Scientist of OpenAI.
FAQs
How can I stay informed about AI and machine learning through podcasts?
There are many great AI podcasts available to help you stay informed about the latest developments in the field of AI and machine learning. You can search for these podcasts on various online platforms, such as Spotify, Apple Podcasts, and Google Podcasts. You can also subscribe to RSS feeds, email newsletters, and social media accounts to stay updated on new episodes and guest appearances. Listening to interviews with leading experts, researchers, and entrepreneurs in the field can be an excellent way to stay up-to-date on the latest trends, breakthroughs, and challenges in these rapidly-evolving areas.
Can listening to AI podcasts help me in my career or business?
Yes, listening to AI podcasts can definitely help you in your career or business, especially if you work in a field related to AI or technology. Keeping up with the latest developments, trends, and best practices in AI and machine learning can give you a competitive edge and help you stay ahead of the curve. Moreover, podcasts often feature interviews with industry experts and leaders, providing valuable insights and perspectives that can inform your own work or strategy.
What sets the top AI podcasters apart from the rest?
The top AI podcasters often have a unique perspective or approach to the topic, and they bring in guests who are experts in the field. They present complex ideas in a way that is understandable to a wide range of listeners, and they provide insights and analysis that are valuable to both beginners and experts. In addition, they often have a strong following and community and are able to engage with their listeners through various channels such as social media and events.
Is it possible to interact with the hosts or guests of these AI podcasts?
It depends on the podcast. Some podcasts allow listeners to send in questions or participate in Q&A sessions with the hosts or guests, while others may have social media accounts or online forums where listeners can interact and engage with other listeners. It's best to check the podcast's website or social media pages to see if there are any opportunities for interaction.
Conclusion
The top 10 AI podcasts provide an excellent resource for both beginners and experts alike to learn and stay informed about the ever-changing landscape of AI. Whether you are interested in technical discussions or want to explore the ethical and societal implications of AI, there is a title on this list that will suit your interests.
Read more:
Disclaimer
Any data, text, or other content on this page is provided as general market information and not as investment advice. Past performance is not necessarily an indicator of future results.