SuperRare hosts "A Space Odyssey" panel discussion on decentralized curation in SoHo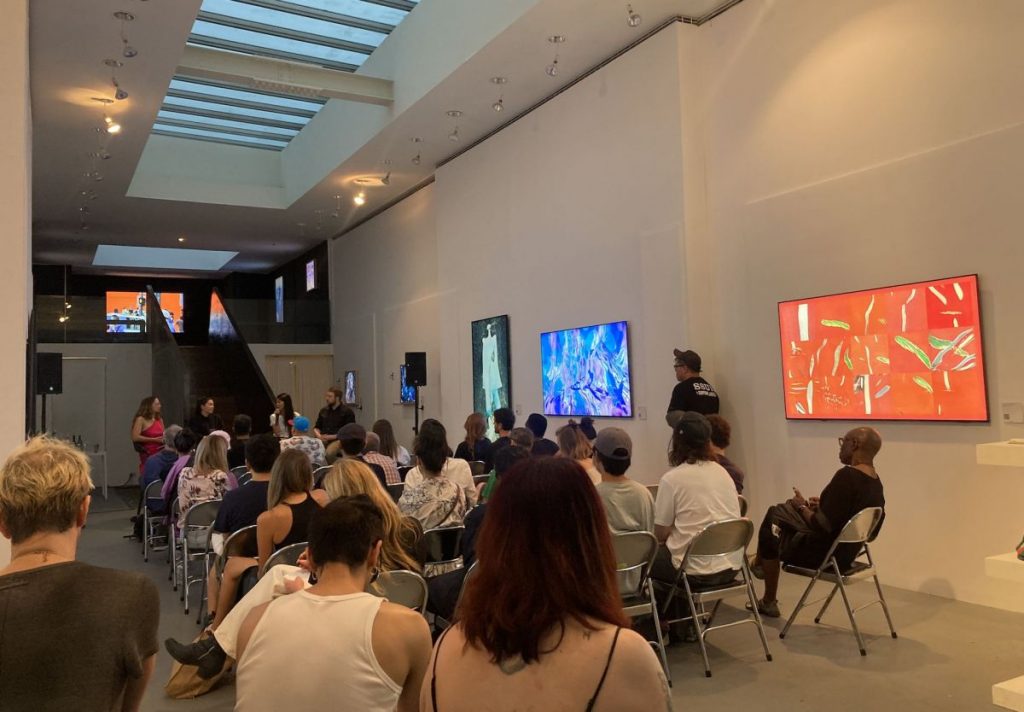 Last Thursday, SuperRare packed their SoHo pop-up space for a gallery event titled "A Space Odyssey," featuring cutting-edge Web3 curators–Masako Shiba of ONBRD, Sasha Stiles of theVERSEverse, and Kirk Finkle of the Museum of Crypto Art (M○C△). Each group hosts a SuperRare space–their own virtual gallery within the platform's greater ecosystem, and one way that SuperRare has sought to counter its own oversized influence.
Shiba, Stiles, and Finkle all joined SuperRare Labs community strategist Lauren Lankford for a lengthy discussion on the very concept of curation, an innately top-down process itself, in the context of burgeoning decentralized paradigms. As they spoke, screens sparkled with works in the gallery's current group show, "Ghost in the Machine," which collects work from 17 diverse digital artists like Noah Kocher and Anne Vieux, who all helped pioneer digital media. 
Curators are the ostensible gatekeepers of the traditional fine art world. Although the industry runs on art collectors' money, the curators at galleries, museums, and even innovative online NFT platforms like SuperLab determine who gets a pedestal–which usually correlates with who receives sales but always with who has a voice. Curation is a necessary process for any entity that wishes to provide a platform for creatives, whether they're an online gallery or museum. 
"How do we let the crowd decide what's worthy of a particular spotlight?" Finkle mused aloud during the panel. Perhaps curation could shed some of its pretentiousness by crowd-sourcing opinions—enter: decentralized principles and the new technologies that empower them.
"Our mission is to preserve the truth," reads the about page for M○C△, the first cultural institution dedicated to crypto art. "A common truth is found when many voices are heard." Though Finkle didn't feel comfortable equating their community entirely with the "tricky label" of a DAO, he did admit they're like a "baby DAO," incorporating their own native token and allowing for limited internal governance. However, there's still some centralization at play.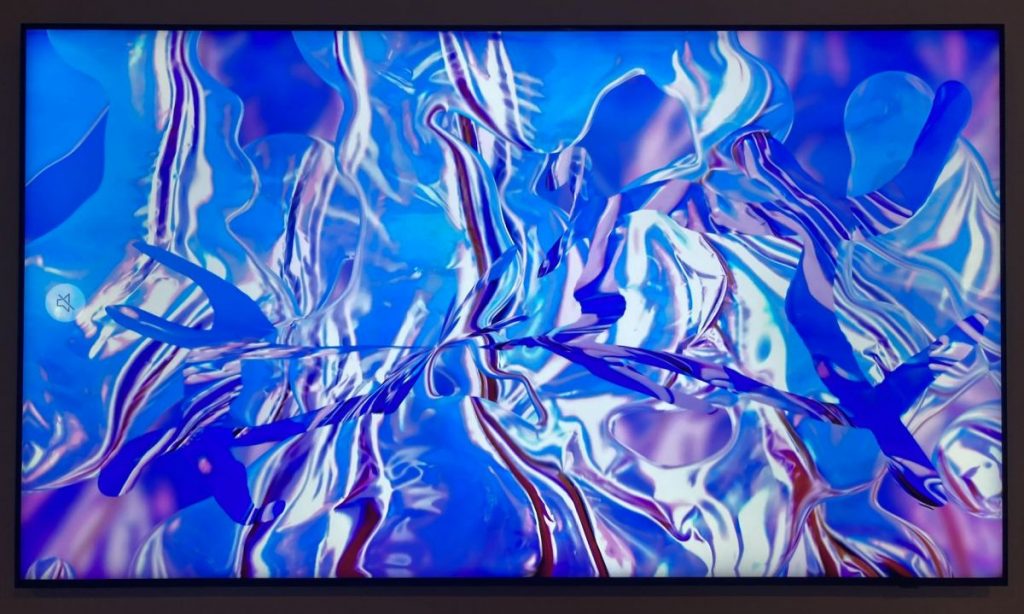 All this makes sense through the lens of visual art, but Sasha Stiles and her all-female teammates at theVERSEverse bring writers into the blockchain fold, encouraging poets to surrender control over their process to AI for verses that make chimeras of human and machine thought–to be minted as NFTs. Metaverse Post also interviewed Stiles about her work in June.
In conversation at SuperRare, Stiles focused on traditional writers' reticence to enter crypto–whether due to unfortunate stereotypes about the space or intimidation at employing new technologies they don't understand. However, since decentralization really means the equal redistribution of power and resources, she's learned to speak a language everyone understands. Money. Blockchain ledgers enable resale rights on everything from artworks to event tickets and, yes, poems too. 
Masako Shiba left her own traditional role in the art world's nonprofit sector for Web3 on the basis of improved resale rights alone, she intimated at "A Space Odyssey." It's a matter of respect for the creators themselves, she said, without whom there'd be no work to negotiate in the first place. ONBD (pronounced "onboard") aims to do just that, acting as a curatorial brand and incubator that helps artists break into Web3 and blockchain benefits by "discovering, conceptualizing, and realizing digital art projects," singlehandedly getting artists like Baiwei on SuperRare through their own space. 
Most questions in the audience Q&A session that followed also centered around material resources. In the traditional fine art world, an artist can usually bet they'll split sales from their work about 50/50 with their gallery. In Web3, crypto artists only surrender something like 5% to whatever brand of the platform they're using. Shiba called the figure "mutually respectable" since those fees typically keep the platform running. 
Contracts and provenance arose as well. Does getting into a SuperRare space count as a working relationship with the platform proper? Well, like so much in these early stages of decentralization, it's complicated.
Learning to surrender (and share) power doesn't take any effort except for the time necessary to acquire the hang of it. Shiba likened the process to Stiles's cohorts, who relinquish their own creative voice for AI to process. Stiles responded that this part of the process is a benefit rather than a hurdle. It frees writers from ruts they can't see, keeping them in shackles.
In fact, Shiba even wondered if an AI curator could solve these problems in one fell swoop–though she joked about waiting a few more years before actually trying it to maintain job security.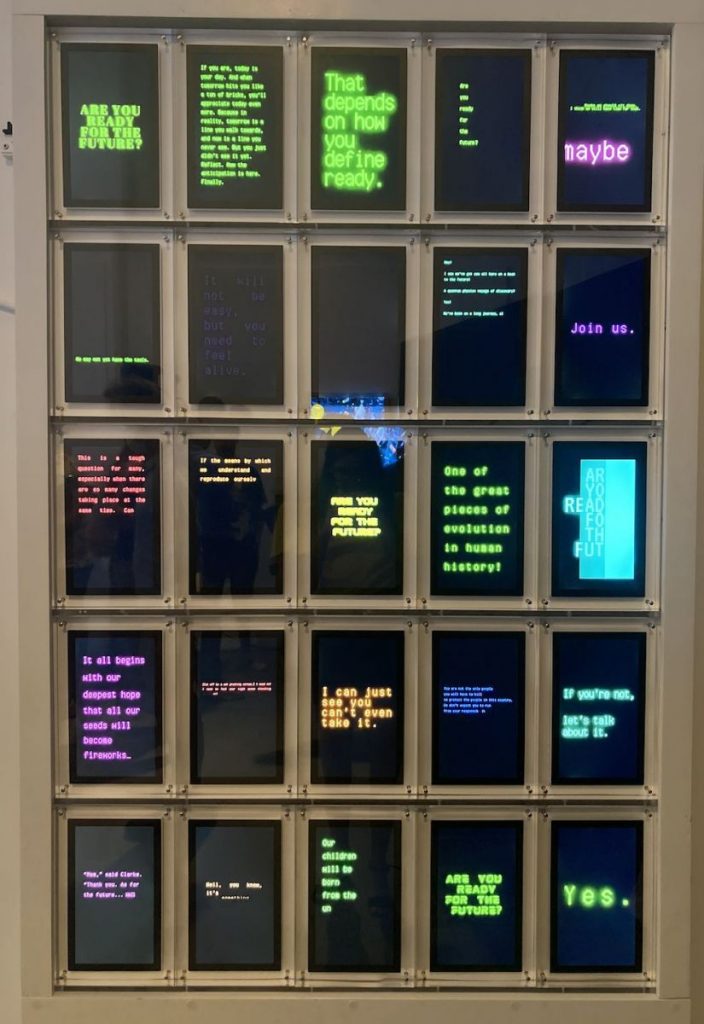 But back to the material, some concerns a person would intuitively classify under the strict purview of the old IRL art world actually linger well into Web3. A traditional architect by background, Finkle finds himself wondering about the spatial parameters for a metaverse museum. Physical buildings themselves direct energy–as do user interfaces in every shape and style. Does a crypto museum need walls? How many? And how weird can they be without turning people away?
In Finkle's eyes, directing energy also applies to building the decentralized paradigm. He pointed out, as we often do here, that new technology is not dangerous, and it's all a matter of human behavior and how we use the tools that we invent. Without attention, artificial intelligence and even the ethics of Web3 will look the same as it ever was–a cold, uncalculating curation. 
Conversation can change that–SuperRare's holding up the promises they made to foster dialogue upon adopting their SoHo space. Word in the crowd was they're extending the pop-up another month. 
Read related posts:
Disclaimer
In line with the Trust Project guidelines, please note that the information provided on this page is not intended to be and should not be interpreted as legal, tax, investment, financial, or any other form of advice. It is important to only invest what you can afford to lose and to seek independent financial advice if you have any doubts. For further information, we suggest referring to the terms and conditions as well as the help and support pages provided by the issuer or advertiser. MetaversePost is committed to accurate, unbiased reporting, but market conditions are subject to change without notice.
About The Author
Vittoria Benzine is a Brooklyn-based art writer and personal essayist covering contemporary art with a focus on human contexts, counterculture, and chaos magic. She contributes to Maxim, Hyperallergic, Brooklyn Magazine, and more.
More articles


Vittoria Benzine is a Brooklyn-based art writer and personal essayist covering contemporary art with a focus on human contexts, counterculture, and chaos magic. She contributes to Maxim, Hyperallergic, Brooklyn Magazine, and more.
Hot Stories
by Victor Dey
November 30, 2023
by Kumar Gandharv
November 30, 2023
by Victor Dey
November 30, 2023
by Nik Asti
November 29, 2023
Latest News
by Alisa Davidson
November 30, 2023
by Victor Dey
November 30, 2023
by Alisa Davidson
November 30, 2023
by Nik Asti
November 30, 2023