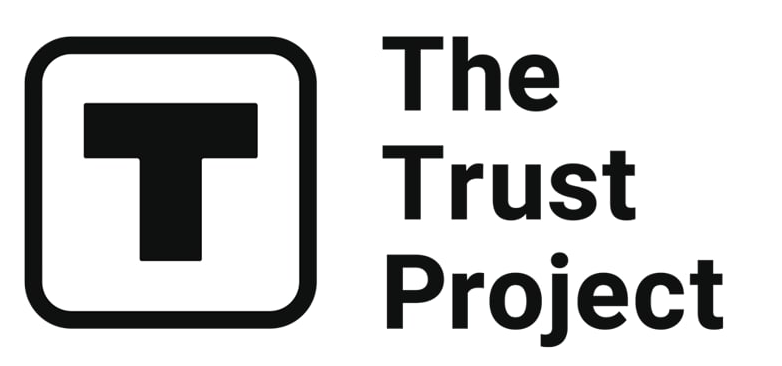 The Trust Project is a worldwide group of news organizations working to establish transparency standards.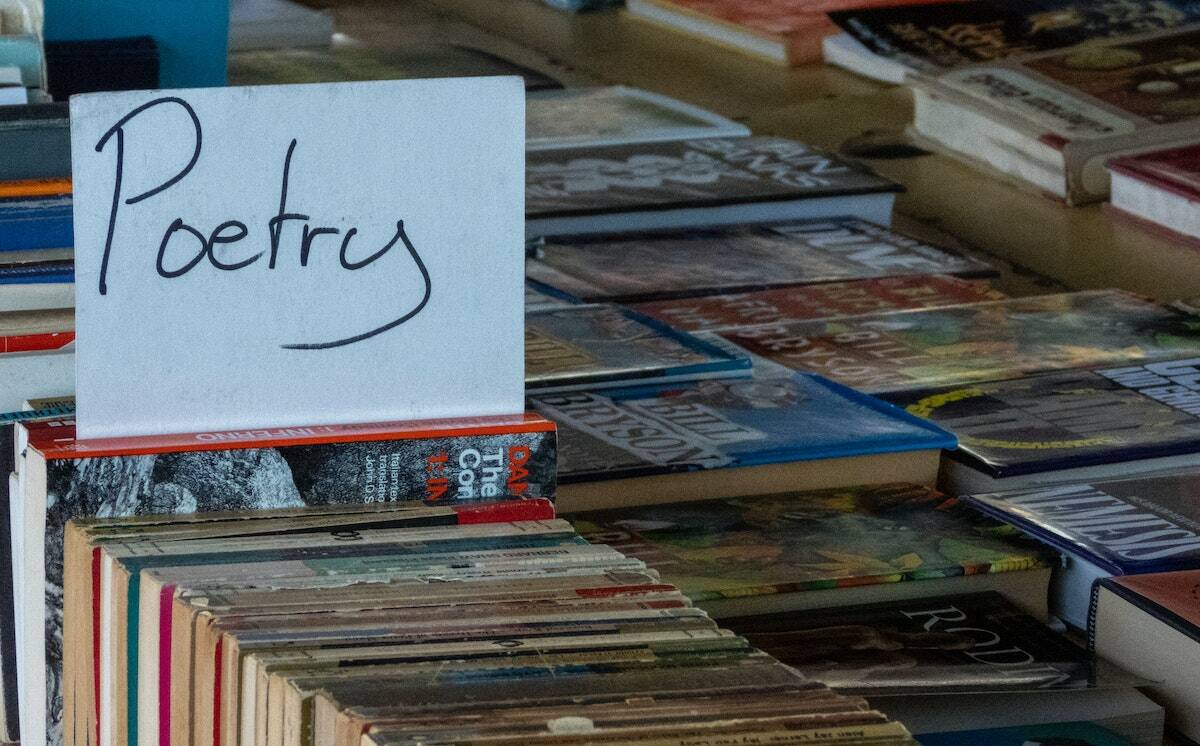 Visual artists aren't the only ones finding their footing in Web3. Written-word NFT creators are beginning to join in the fun with experimental projects. In the Metaverse, poetry doesn't have a limit—words can become interactive artworks, and art and technology can become essential parts of a poem.
To see how literature plays a role in Web3, Metaverse Post interviewed the founders of theVERSEverse, a literary gallery where poems are works of art, and Crypto Poetry, a community-focused platform where poets can freely share their work.
TheVERSEverse – a curated written-word NFT gallery
TheVERSEverse is a curated poetry gallery founded by writers Ana Caballero, Kalen Iwamoto, and Sasha Stiles. To create the visual written-word gallery, the three poets partnered with art advisor Gisel Florez.
The platform collaborates with crypto natives, tech artists, and conceptual writers in the crypto space, as well as traditional poets unfamiliar with blockchain. Some of the VERSEverse's poets are also visual artists, who combine art with the written word.
"We're focused on onboarding traditional poets and pairing them with crypto-native artists to create these very special, immersive works of art. Most of the artworks have a spoken word component, some are video poems. Right now, we're focused on contacting poets who have been working traditionally for some time, and bringing them on to crypto and the Metaverse," award-winning poet Caballero said.
TheVERSEverse has exhibited poems by traditional poets like Denise Duhamel, Julie Marie Wade, Nicole Tallman, David Hernandez, and Kevin Abosch.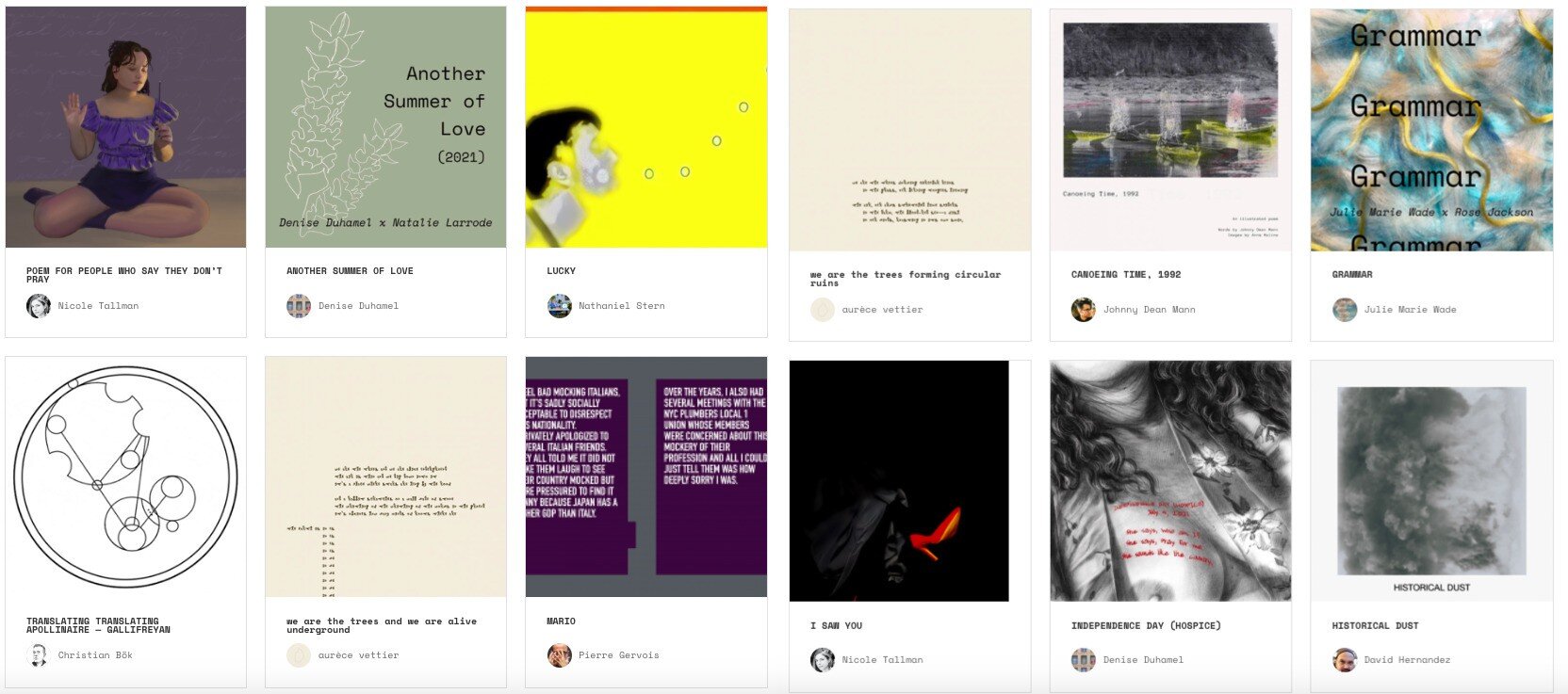 Crypto Poetry – community-run poetry collective
Crypto Poetry was founded by Kai, a tech-savvy poet who started his literary journey with NFTs. He created the project by publishing his own poetry as NFTs and reaching out to writers to inspire them to join the NFT poetry collective. Now, Crypto Poetry is entirely run by the community, where poets create different poem collections for each blockchain – Ethereum, Solana, Tezos, Polygon, Flow, and KardiaChain. One poet can post one poem per collection, and the work is listed on the marketplaces native to the blockchains.
It's an open and creative space for diverse poets and different poetry forms – there are no deadlines for projects; people contribute where they want, share their ideas, and try to implement them. Creatives share their poems and participate in community readings. So far, the community has around 100 poets, with 20–30 very active contributors. The members decide how to manage and govern the collective.
Crypto Poetry also collaborates with digital artists, who create visuals for the poems. According to Kai, visuals are quite important for NFTs and can be an essential part of the piece.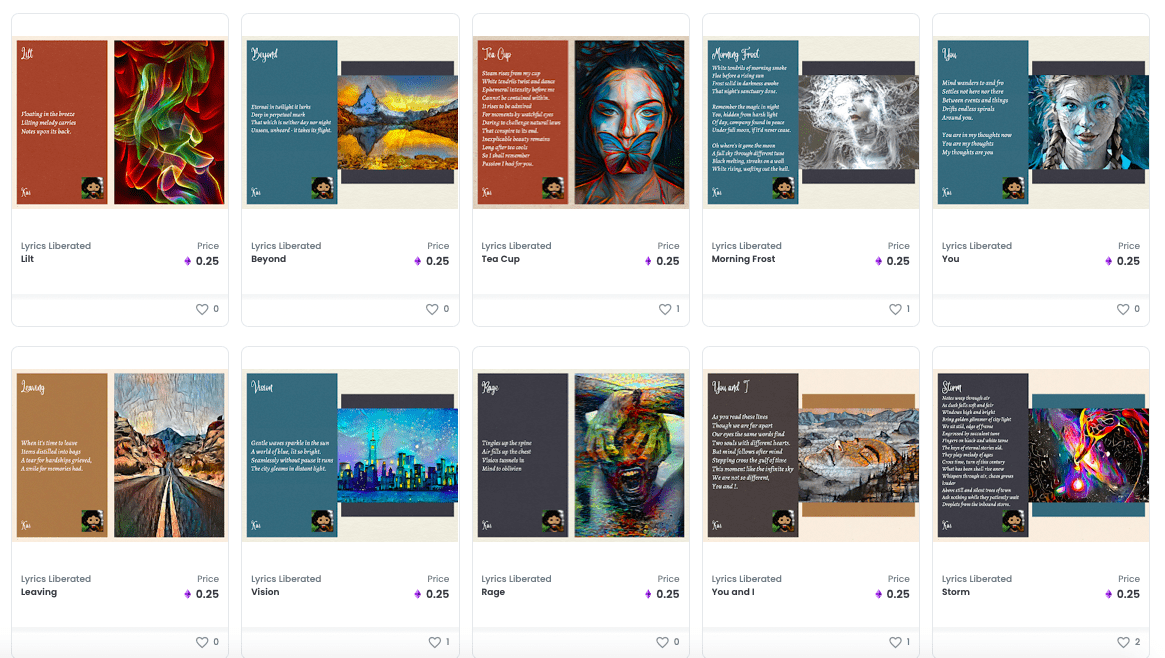 Poets don't need to be visual artists to create NFTs
Before theVERSEverse launched, conceptual NFT artist Iwamoto founded the Crypto Writers group on Discord to encourage traditional writers to join the Web3 space. She noticed that writers were under the impression that to be successful with NFTs they needed to produce visual work. While this might have once been the case, poets often work with artists to co-create an amalgam of text and visual art that suits the medium.
"I think poets constantly look for artists to collaborate with. The predominant view is that poets need to collaborate with artists to gain any sort of success, which I don't necessarily agree with because my pieces are often black and white – black text on a white background," Iwamoto said. "In the Crypto Writers group, we partnered with Redlion Studios on a Crypto Poetry Anthology, where crypto artists created artwork for the poems. I have a feeling that poets want some visual element to the NFT, either by creating their own visuals or through collaborations. Often, individual poets seek individual crypto artists to create a unique NFT."
Blockchain opens the door to a non-traditional literary medium
For theVERSEverse creators, the most exciting part of getting immersed in blockchain poetics is pushing the limits of language further. While creating poems as NFTs, digital poetry and digital art can suddenly merge into one.
"I've been working in digital poetry and writing poetry with technological tools for a long time; it's a large part of the themes that I enjoy exploring. So I had been making video poems and digital animations for years before getting into crypto," poet Stiles said. "I didn't know what to do with them. I was writing traditional poems and submitting them to journals, and that was going well, but then I would try to submit some of the more experimental, multimedia pieces, and they didn't find a place in the traditional literary journals."
In 2020, Stiles wrote a poem for an exhibition in the Metaverse. That was the moment when she entered the poetry space in the virtual realm, where artists were dominating and there weren't many writers.
"I'm very interested in using technology to expand the idea of what a poem can be, that it doesn't have to be a piece of text printed on a page or a piece of text performed at an open mic reading. It can be an immersive interactive piece, it can be a video game, an AR filter, and much more," she said.
There's an oral tradition of poetry and a long history of written language. Literature in the Metaverse is different from oral or written language – words can come alive and breathe and move, and there's a dynamic element to what can be done with a text.
"Our digital poems have a seat at the art table, and they can change the way people think about poetry, even though poetry has been culturally revered. What's fascinating is that now a digital poem can become the same as a digital painting, and it can be valued, enjoyed, and experienced in the same way. We're approaching this new valuation of poem equals work of art, which is the mission of theVERSEverse," Caballero said. "My hope is that poems will be curated in more exhibitions and museums, not even for specific shows like "poetry on the blockchain" or "poetry as a digital art form," but just poems included with other works in their own right."
Blockchain empowers writers to earn money for their poems
TheVERSEverse's foundational mission is to empower writers to earn a profit from their work in a way that's never been done before. Stiles believes that a game-changing idea for her and other poets in the community is the ability to sell a poem for a decent amount of money, and then also potentially claim royalties for as long as the NFT lives on the blockchain.
"Poetry is not a very lucrative profession. Speaking for myself, I've been writing for decades and have been published in a lot of journals. I have never made more than a couple of hundred dollars, so poetry is something that I enjoy doing, but it's not something that can really sustain a livelihood. Poets publishing on the blockchain have the potential to sell a piece directly to a collector, just the way artists have been able to sell pieces directly to art collectors and get closer to being able to sustain a career as a poet," she said.
George Byron Pestana, a poet and member of Crypto Poetry, got into self-publishing books and NFTs when the pandemic began, and shortly realized that he could sell more by selling one poem at a time as an NFT for the same price as an entire book in an old-fashioned way.
"It is difficult to monetize NFTs, but I think it's slightly easier than monetizing sales of entire books. This is because, in both cases, the critical 'tool' is actually a strategy—networking. The networking effects using tools such as Twitter and Discord are much more effective with NFTs than with books because with NFTs there is a much smaller pool of seminal artists who can get to know one another, resulting in easier press coverage because poetry via NFTs is so new," he elaborated
Poetry in the Metaverse
Metaverse seems to be the next step for NFT poem creators. Several poets from Crypto Poetry are currently working on the 3D poetry gallery that will soon be available on the official website. In April, which is National Poetry Month in the US, theVERSEverse curated a poetry exhibition at a Metaverse museum, Digital Francisco Carolinum.
"We had a poetry happy hour, where theVERSEverse invited poets from the gallery, and poetry lovers from the community to come and meet us in the Metaverse, and we all walked together as our avatars through the exhibition and had readings. It was very surreal and exciting to be able to gather people from all around the world and come together in that space and just celebrate poetry together, as our Metaverse avatar," Stiles said.
Stiles released a physical book of poetry in April, and she also launched the book in the Metaverse in theVERSEverse's poetry exhibition. She's also keen on doing more hybrid events to bring the physical world and the Metaverse together. That would also bring in a lot of readers and writers who aren't familiar with the possibilities of blockchain and would introduce crypto native and Metaverse-savvy audiences to different kinds of writing and different poets that they might not encounter otherwise.
"One of the things we intend on doing is hosting hybrid events that integrate real life and virtual life and create a lot of connections in that way. That's one of the exciting things about the new formats of poetry is that poems can exist in the Metaverse in many interesting ways—as immersive, screen-based, multimedia, or real-life installations."
How poets can enter the NFT space
The NFT poet communities are very open and collaborative, where everyone knows each other and offers advice and support. Poet Internella (Chen), who is a part of the Crypto Poetry collective, shared how she started creating NFT poems:
"I was doing research on technologies suitable for an immersive learning experience and it led me to NFTs, blockchain, and metaverse tech. I started reading informative guides about the tech and features of creators, and my mind was blown by all the highly creative and innovative art and literature produced by NFTs.
An article about literary NFTs showcased Kalen Iwamoto's NFTs. I DMed her, and she kindly let me join the Crypto Writers discord, where I met many friendly creators and even joined an innovative project called text.art – the first anthology of art and poetry minted as an NFT. Later on, I joined the Crypto Poetry community, and I now help manage the Twitter account and host poetry readings on Spaces."
Read related posts:
Disclaimer
All of the information on our website is provided in good faith and solely for educational reasons. Any action taken by the reader in response to material on our website is entirely at his own risk.