Snapshot drops shielded voting feature this week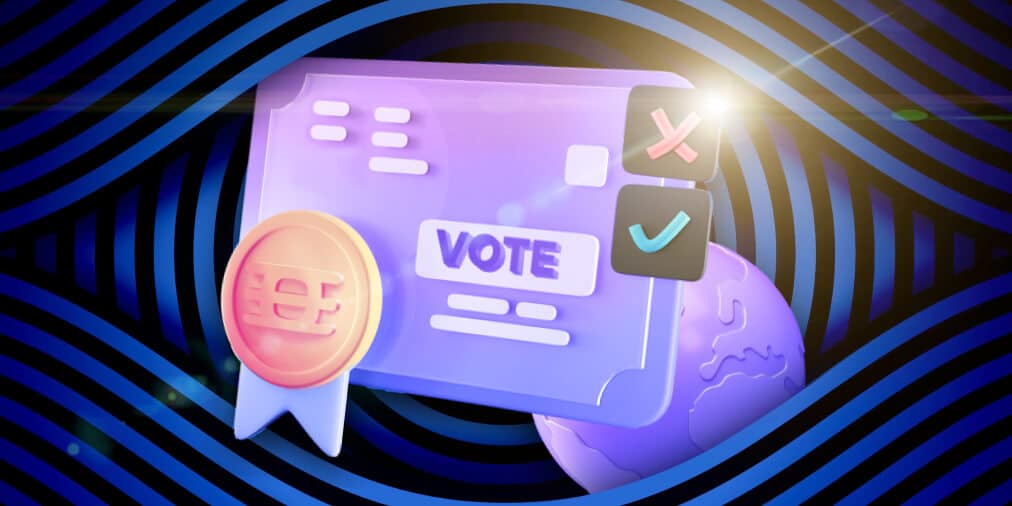 Following a closed beta period, voting-as-a-service platform Snapshot drops "shielded voting" this week. Their latest feature, designed in partnership with layer-2 project Shutter Network, attempts to mitigate current inequalities in DAO governance by, perhaps ironically, eliminating some of DeFi's characteristic transparency.
Shielded voting means no one can see the real-time results of proposals until they've been decided, restoring at least the illusion of agency to members who hold less sway than whales. It also stymies front running–the situation where those with loaded stakes in a vote can keep their eye on its progress and initiate big action in the eleventh hour to swing their desired outcome.
Launched in August 2020 to suit the Balancer community, Snapshot's free platform has grown into the gold standard, helping 2,000+ DAOs at this point visualize voting results while they pour in. Snapshot's been one of the earliest players in DeFi, and now they're helping to shape its future at this pivotal Web3 moment.
Whether intentional or not, Snapshot's announcement appears to respond to a June 27 report by Chainalysis that parses data from 197 DAOs spanning Uniswap to Nouns. The effort left Chainalysis experts wondering whether DeFi's truly as decentralized as its name denotes.
"By analyzing the distribution of ten major DAOs' governance tokens, we find that, across several major DAOs, less than 1% of all holders have 90% of voting power," their report reads.
Not all amounts of power hold proportional weight in this situation, either. "Voting is simple – any holder can do it," Chainalysis says, getting down to the brass tacks of DAO membership. "But what about creating a proposal? And what about passing it?"
They analyzed ten DAO proposal requirements and divined two critical insights. First, only 0.01% to 0.1% of DAO holders command enough tokens even to create a proposal of their own.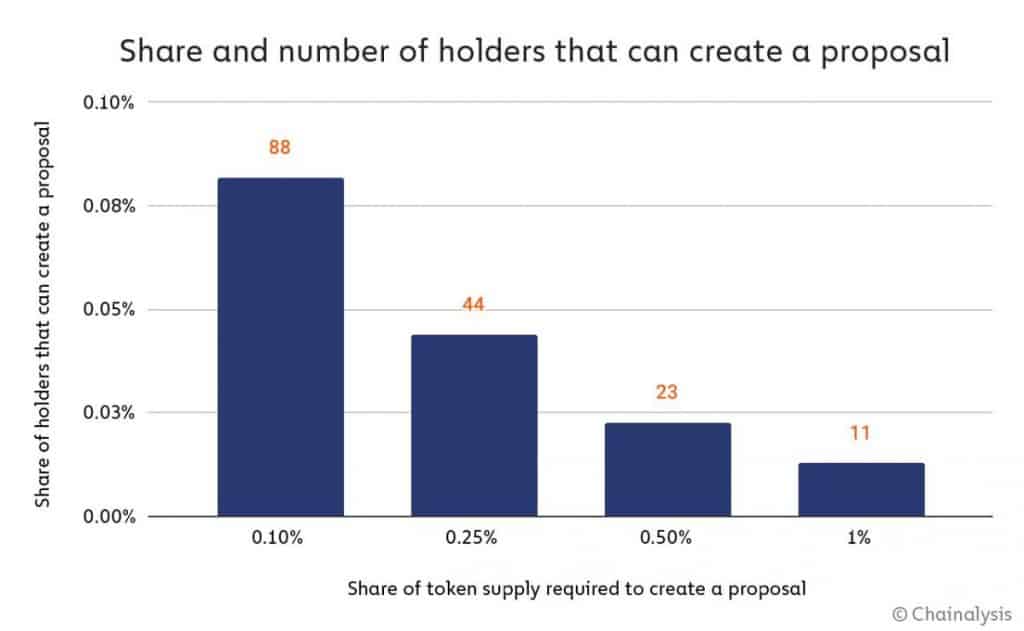 It's not all a conspiracy, either. In some ways, this disparity proves practical. If too many people can make proposals, it puts the DAO at risk for spam. You know, the community meeting stereotypes played out in sitcoms like Parks and Rec. Meanwhile, accessibility is a core tenet for these communities crafted to thwart traditional monetary power dynamics and hierarchies.
Although Snapshot's new shielded voting won't amend the inequalities between who holds how many tokens in any given DAO, it will at least encourage those with less power to still cast their votes. "Having the results updated with each vote can lead to voting apathy, lowered participation, and information asymmetry," Snapshot ecosystem lead Nathan van der Heyden told Decrypt.
From the backend, their latest work with Shutter Network functions via threshold cryptography, "a technique that enables a group of key holders to provide a cryptographic lock," as Decrypt explained. "A lock can only be opened if a threshold number of members collaborate."
Once turned on via the DAO's admin dashboard, shielded voting will encrypt each ballot case until the process concludes. Then, the big reveal includes not only results but accountability–who voted for what. Van der Heyden also explained that while the vote is in progress, the only information on view will be a general statement of the total voting power that's already engaged. For a beat, he mourned the last of the last-minute excitement these votes often yield.
Even though DAOs can start using the new feature this week, Snapshot has warned that with beta testing so close in the rearview mirror that users should still watch out for bugs.
This qualifier in itself encapsulates the tone of DeFi at this moment, which is still in its own kind of beta to this day. Shielded voting is just a large-scale bug test, an attempt to work out community kinks. Stay tuned to see if it makes a dent in the larger issue at hand–which has little to do with Web3 and more to do with the society in whose image it's being inadvertently built.
Read related posts:
Disclaimer
In line with the Trust Project guidelines, please note that the information provided on this page is not intended to be and should not be interpreted as legal, tax, investment, financial, or any other form of advice. It is important to only invest what you can afford to lose and to seek independent financial advice if you have any doubts. For further information, we suggest referring to the terms and conditions as well as the help and support pages provided by the issuer or advertiser. MetaversePost is committed to accurate, unbiased reporting, but market conditions are subject to change without notice.
About The Author
Vittoria Benzine is a Brooklyn-based art writer and personal essayist covering contemporary art with a focus on human contexts, counterculture, and chaos magic. She contributes to Maxim, Hyperallergic, Brooklyn Magazine, and more.
More articles


Vittoria Benzine is a Brooklyn-based art writer and personal essayist covering contemporary art with a focus on human contexts, counterculture, and chaos magic. She contributes to Maxim, Hyperallergic, Brooklyn Magazine, and more.
Hot Stories
by Victor Dey
November 30, 2023
by Kumar Gandharv
November 30, 2023
by Victor Dey
November 30, 2023
by Nik Asti
November 29, 2023
Latest News
by Alisa Davidson
November 30, 2023
by Victor Dey
November 30, 2023
by Alisa Davidson
November 30, 2023
by Nik Asti
November 30, 2023