Qualcomm announced updates to Snapdragon chips and new AR viewer design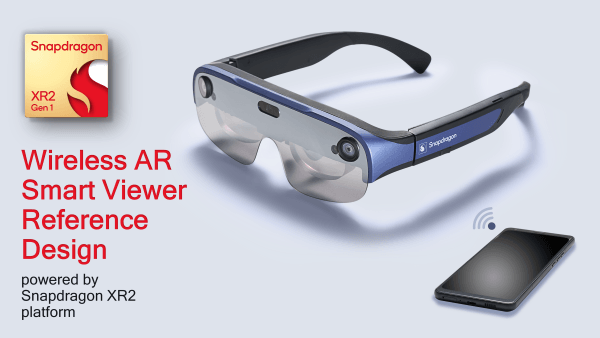 San Diego-based semiconductor company Qualcomm just shared sweeping updates to their Snapdragon chips, which power the likes of Android and Motorola smartphones, along with the release of a wireless AR Smart Viewer reference design that finally connects smartphones with XR–with no cords and less than three seconds' average latency.
A May 20th press release announced a mid-cycle update to their Snapdragon 8+ Gen 1 chip, now "a true powerhouse delivering power and performance enhancements for the ultimate boost across all on-device experiences," and the Snapdragon 7 Gen 1, built for "epic mobile gaming, high-speed connectivity, intelligent entertainment and larger-than-life capture." The release said commercial products built around these updated chips should hit retailers by the end of Q3 2022–or, September 30th.
"According to the latest findings from Counterpoint Research, IDC, and Strategy Analytics, Qualcomm Technologies is the global leader in premium Android smartphone SoC industry share," the release said.
Outside of the industry, it's easy to get swept up in innovation's lofty notions and forget that material advancement actually power progress. Smartphones have changed culture, but they start with building blocks of silicon chips that handle tasks like computing, power management, and memory. It didn't just take bold imagination to invent the smartphone–it took inventions. Developers continually overcome the hurdles of computing power, which makes projects like Otherside impactful.
Armed with an improved Adreno GPU and Kryo CPU, Qualcomm said the Snapdragon 8+ Gen 1 delivers 10% faster speeds, and 30% less power consumption (for 60 extra minutes of gameplay), and color-rich HDR scenes at the highest visual quality. Other interesting features include 8K HDR video, Snapdragon Smart AI capabilities, and most importantly, the Snapdragon X65 Modem-RF System which will allow people to talk with friends and family for at least an additional 5.5 hours.
The new Snapdragon 7 Gen 1 doesn't contain quite as much power. Still, it's specialized for game experiences–its own noble duty, which Qualcomm joins alongside leading global OEMs and brands like HONOR, OPPO, and Xiaomi. The chip's improved Adreno GPU delivers at least 20% faster graphics rendering and hardy features like Adreno Frame Motion Engine, "which can double the framerate to upscale content while maintaining the same power consumption."
"Processor updates are par for the course for Qualcomm, and the company has done this sort of mid-year refresh for its flagship silicon before," Gizmodo wrote of Qualcomm's announcement. "But the elephant hanging out in the room with these latest announcements is Google, Samsung, and Apple's respective chips."
In June 2020, Apple announced their machines would all move to their new proprietary silicon chips, Samsung makes their own Exynos chips and Google has been working with them, employing Samsung's tech since the Pixel 6.
Playing to market fluctuations, some wonder if Qualcomm's AR Smart Viewer Reference Design, powered by the Snapdragon XR2 Platform, signals a new direction for their strategy.
In a separate statement released the same day as news about the Snapdragon chips, Qualcomm said, "The cord-free reference design helps OEMs and ODMs more seamlessly and cost-efficiently prototype and bring to market lightweight, premium AR glasses to enable immersive experiences that unlock the metaverse." With a thinner profile, improved weight distribution, a dual micro-OLED binocular display enabling 1920 x 1080 per eye and frame rates up to 90Hz, and cameras that offer six degrees of freedom (6DoF) we'll see if Qualcomm is still finding new ways to lay the building blocks for tech's future.
Read related posts:
Disclaimer
In line with the Trust Project guidelines, please note that the information provided on this page is not intended to be and should not be interpreted as legal, tax, investment, financial, or any other form of advice. It is important to only invest what you can afford to lose and to seek independent financial advice if you have any doubts. For further information, we suggest referring to the terms and conditions as well as the help and support pages provided by the issuer or advertiser. MetaversePost is committed to accurate, unbiased reporting, but market conditions are subject to change without notice.
About The Author
Vittoria Benzine is a Brooklyn-based art writer and personal essayist covering contemporary art with a focus on human contexts, counterculture, and chaos magic. She contributes to Maxim, Hyperallergic, Brooklyn Magazine, and more.
More articles


Vittoria Benzine is a Brooklyn-based art writer and personal essayist covering contemporary art with a focus on human contexts, counterculture, and chaos magic. She contributes to Maxim, Hyperallergic, Brooklyn Magazine, and more.
Hot Stories
by Victor Dey
December 01, 2023
by Victor Dey
November 30, 2023
by Kumar Gandharv
November 30, 2023
by Victor Dey
November 30, 2023
Latest News
by Victor Dey
December 01, 2023
by Kumar Gandharv
December 01, 2023
by Nik Asti
December 01, 2023
by Alisa Davidson
December 01, 2023