Crypto-curious startup Land Life accidentally torches 35,000 forest acres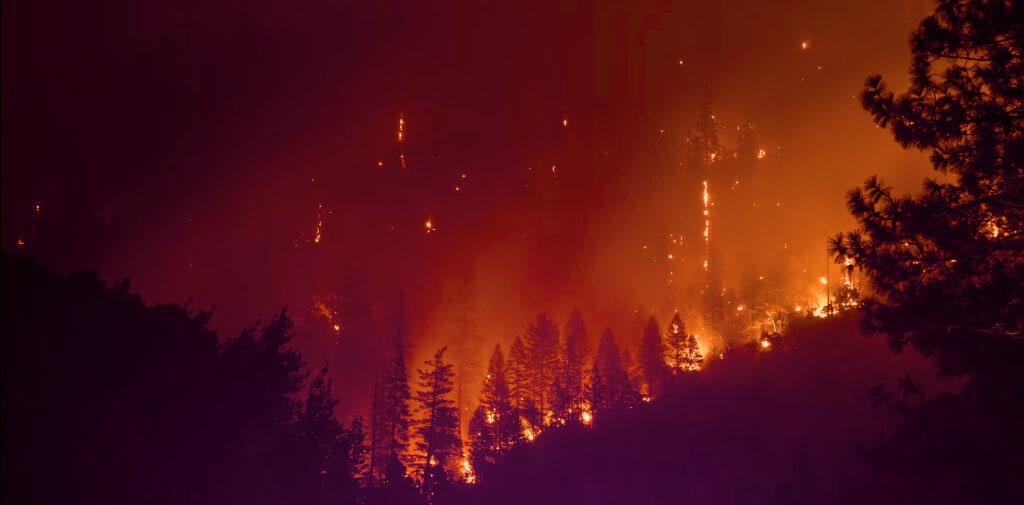 Last week, crypto-curious Dutch reforestation venture Land Life torched 35,000 acres of forest in Bubierca, a province in Aragon, Spain. The story made national news with the likes of Vice, all noting Land Life's blockchain connection.
This is the second fire that Land Life has started, counter to their mission. "On June 20, it sparked another inferno that wiped out 20 hectares. (49 acres)," Vice reported. So far, most reportage has heaped blame on Land Life without questioning the practice of reforestation and how the blockchain could play a part.
First, the facts. Land Life is a tech-savvy startup that replants trees to combat climate change. The company released its latest statement about the recent fire on July 21, after the first sparks started on July 18. Translated from Spanish to English, they said, "The fire occurred during digging work carried out by our contractor, by means of a backhoe excavator, for the subsequent planting during the winter." The contractor immediately contacted emergency services.
An undated Land Life blog post claimed the company once aimed to plant 10,000 hectares (about 25,000 acres) of trees every year by 2020. If that's still the case, they could have wiped out more than a full year's worth of progress with last week's blaze.
"Employees and directors of Land Life are deeply dejected by the effects of this devastating fire," the company's July 21 release said.
Land Life said authorities worked "tirelessly" to control the fire, which "forced authorities to order the evacuation of five neighboring towns, as well as a nursing home," Vice added. "In total, around 2,000 people had to be evacuated."
"We sympathize with the feeling of the local population when they see themselves displaced from their homes and see their environment severely damaged," Land Life's release said, pointing out that their local contractor in charge of replanting this area has a long history with the region, and procured all the necessary permits to carry out this work.
"In addition, at Land Life we ​​require our contractors to follow the preventive measures recommended by the authorities in these extreme conditions of drought and heat," they said.
How does Web3 fit into this picture? Vice cited a 2018 blog post from Land Life announcing a successful round of Series A investment that raised €3.5 million from The Jeremy and Hannelore Grantham Environmental Trust.
"The financing will enable further development of proprietary technology across the nature reforestation value chain," the 2018 blog post said. "Patented planting technologies, autonomous planting, remote monitoring, and blockchain verification will be applied to Land Life Company's planting practices, leveraging internal and external data to ensure efficiency at scale." Three years before blockchain took the mainstream via astronomical NFT auctions, this surely would've been a high-tech talking point that got trusts excited.
What could blockchain do to assist with reforestation? Here in 2022, the idea persists. Derrick Emsley started veritree for this purpose, harnessing blockchain ledgers to verify that companies meet their pledges to plant as many trees as they promise.
"Once a field update gets submitted to say 'we planted 5,000 trees,' backing gets submitted into our system and we're able to audit it, verify it, and make sure that all the correct data has been collected," Emsley told Lx News in May 2022. "From there, those trees that are submitted can effectively tokenize. And starting with this field update, we're able to inform all future data collection on that project."
The Cardano blockchain worked with Veritree to meet its own reforestation aims and counteract its company's energy consumption. In January 2022, CoinDesk reported they'd hit their target of 1 million trees planted. Forestcoin has also touched on the idea of tokenizing trees–rather than traditional token mining, they create coins with proof of an IRL tree being planted.
But is reforestation even the real answer to humanity's current climate woes? The New York Times doesn't think so. Trees can create carbon sinks, soaking up excess emissions and storing them in their leaves and trunks, but they still release that carbon back when they rot or burn. What's worse, current approaches to reforestation overlook the greater ecosystems they're operating in–wrecking biodiversity and even provoking new fires.
"The planet is home to nearly 60,000 tree species, and about a third are threatened with extinction—mainly from agriculture, grazing and exploitation," the NYT reported earlier this year. "Globally, only a tiny fraction of species are widely planted, according to tree planting groups and scientists."
Eucalyptus and teak are two prime examples–favored for replanting by stakeholders in local communities and beyond because they grow quickly and work for commercial wood at this economic moment when demand for wood exceeds supply. Eucalyptus, for instance, nourishes ecosystems in Australia. Still, it doesn't belong in Africa and South America, where it's currently planted in soulless rows under the guise of carbon storage, but also for timber and fuel.
In fact, researchers at University College London and the University of Edinburgh discovered that 45% of reforestation efforts are "planting vast monocultures of trees as profitable enterprises." Like Land Life, this does more harm than good.
"Nonprofit tree planting groups often say they plant nonnative species because local communities ask for them," the NYT continued, "But deeper engagement can yield a different story… When given the chance to consider what they want to accomplish on their land, farmers will recall, for instance, that when they had more trees, they also had streams." Oftentimes, local farmers suggest underrepresented indigenous trees for replanting purposes.
Letting nature run its own course offers the best option, but human beings have a compulsive need to meddle. Blockchain could still play a role. Startups like veritree could take their mission a step further, leveraging the principles of DeFi to redistribute decision-making amongst communities, with each member weighing in with their interests to determine what kinds of trees should be replanted. Accountability is always a good thing, and that could remain. But we're curious to know how Cardano and Forestcoin handled their replanting efforts.
For now, Land Life's release says they've "opened an investigation to clarify what happened and purge responsibilities." After promising to keep the world updated on their findings and subsequent actions, their release closed with "a message of support and solidarity to all those affected and those firefighting teams and state security forces that participate in this emergency."
Is it enough? More than anything, we need the big merge and more to handle Web3's energy consumption on the front end. Until then, these band-aid solutions will keep doing more harm than good.
Read related posts:
Disclaimer
In line with the Trust Project guidelines, please note that the information provided on this page is not intended to be and should not be interpreted as legal, tax, investment, financial, or any other form of advice. It is important to only invest what you can afford to lose and to seek independent financial advice if you have any doubts. For further information, we suggest referring to the terms and conditions as well as the help and support pages provided by the issuer or advertiser. MetaversePost is committed to accurate, unbiased reporting, but market conditions are subject to change without notice.
About The Author
Vittoria Benzine is a Brooklyn-based art writer and personal essayist covering contemporary art with a focus on human contexts, counterculture, and chaos magic. She contributes to Maxim, Hyperallergic, Brooklyn Magazine, and more.
More articles


Vittoria Benzine is a Brooklyn-based art writer and personal essayist covering contemporary art with a focus on human contexts, counterculture, and chaos magic. She contributes to Maxim, Hyperallergic, Brooklyn Magazine, and more.
Hot Stories
by Victor Dey
November 30, 2023
by Kumar Gandharv
November 30, 2023
by Victor Dey
November 30, 2023
by Nik Asti
November 29, 2023
Latest News
by Nik Asti
December 01, 2023
by Alisa Davidson
November 30, 2023
by Victor Dey
November 30, 2023
by Alisa Davidson
November 30, 2023