Top 15 AI-Based Mathematics Learning Platforms for Students and Teachers in 2023

by
Damir Yalalov
Published: November 01, 2023 at 8:29 am Updated: November 01, 2023 at 8:32 am

by
Victor Dey
Edited and fact-checked: November 01, 2023 at 8:29 am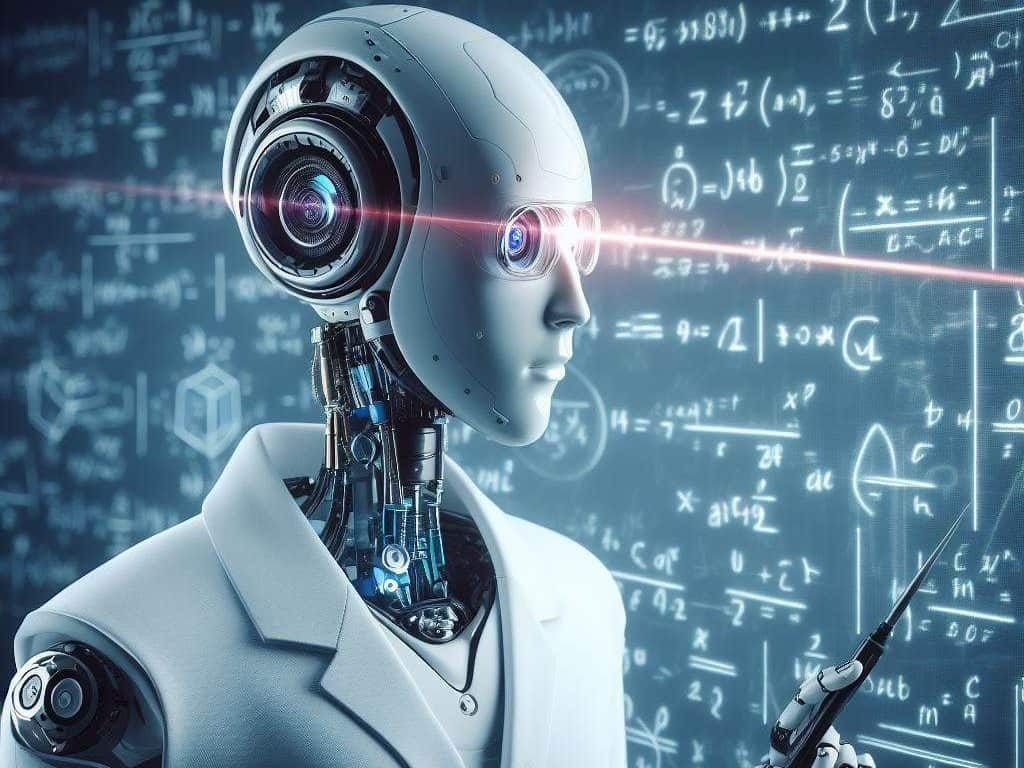 Online education is becoming more and more common, especially in STEM fields like maths. But teaching remotely has its own set of difficulties. Emerging edtech tools driven by AI are able to intelligently support online maths instruction. These resources provide interactive concept visualisation, automated grading, one-on-one counselling, and more. The top 15 AI-enhanced resources for enhancing maths instruction in virtual settings are examined in this guide.
1. Photomath – Scans and Solves Math Problems Using Advanced Computer Vision
Photomath is a renowned mobile app that leverages advanced computer vision technology to scan and automatically recognize handwritten or printed math problems across a broad range of difficulty levels. It then provides step-by-step explanations and full solutions. For educators, this tool can dramatically reduce time spent manually reviewing student work while also providing valuable insight into mistakes commonly made.
Photomath is designed to be an instant math problem solving companion for learners and teachers alike. It aims to eliminate the frustration of getting stuck on a problem by providing learners with on-demand support and guidance right from their smartphone camera. For teachers, it saves immense time otherwise spent deciphering, reviewing, and providing feedback on students' work. The app uses advanced technology to recognize handwritten and typed math expressions on a wide range of topics, from basic math to advanced calculus and trigonometry. It works with both image and text formats.
Key Features:
Uses smartphone camera to scan math problems and solve them almost instantly
Clearly explains each step in the solution process visually
Completely free version available with paid upgrades
Pros:
Massively saves teachers time spent manually reviewing student work
Allows students to independently check their own work and identify errors
Applicable for a wide range of math levels from arithmetic to calculus
Cons:
Can enable students to avoid deeply thinking through problems themselves
Currently provides limited options to customize the learning experience
2. Desmos – Interactive Online Graphing Calculator and Activities
Desmos is a free, powerful online graphing calculator with robust interactive visualization capabilities ideal for promoting conceptual virtual math learning. It also allows teachers to easily create digital math activities and monitor student progress. Desmos aims to help every student learn math and love learning math through interactive exploration and visualization. It was founded by a team including lead developers behind the pioneering GeoGebra math software. The Desmos graphing calculator provides a highly intuitive and responsive digital workspace enabling fast function plotting and manipulation using touch or mouse input.
Students can pan, zoom, and explore graphs fluidly to develop strong intuitions about mathematical concepts and their visual representations. The calculator is also able to handle symbolic math expressions and derived quantities like slopes, tangent lines, integrals, and intersections. This allows tackling more advanced problems. For teachers, Desmos offers a simple activity builder to create engaging standards-aligned math lessons, quizzes, assignments and more. Teachers can distribute activities digitally and view aggregated real-time student responses and work. This allows monitoring engagement and progress during both in-person and remote learning.
Key Features:
Graphing calculator with highly interactive graphs, plots, and geometry
Build and digitally assign interactive online math activities
Teacher dashboard providing class and student analytics.
Pros:
Great for promoting conceptual visual learning and exploration
Very easy for teachers to create engaging standards-aligned math content
Monitor student work and progress in real-time
Cons:
Strong graphing focus limits it for broader conceptual math topics
Student data privacy concerns due to being third-party
3. GeoGebra – Math and STEM Visualization and Exploration
GeoGebra is a free, multi-platform tool that uniquely combines dynamic geometry, algebra, spreadsheets, graphing, statistics, computer algebra, and calculus tools into one cohesive app. This makes it tremendously valuable for interactive STEM visualization, exploration, and remote instruction. GeoGebra was created by mathematics professor Markus Hohenwarter to help students develop a deeper conceptual and visual understanding of mathematics and its connections across various branches like geometry, algebra, and calculus. The software is used by over 100 million users worldwide across 195 countries.
The platform combines the analytic power of computer algebra systems, graphing calculators, spreadsheets and dynamic charts into one easy-to-use tool. This allows students to actively construct, manipulate, visualize, and analyze mathematical objects like equations, geometric constructions, graphs, spreadsheet data, statistics, and more. The results update dynamically in real-time. While GeoGebra does have a significant learning curve, its unmatched depth and breadth combined with intuitive visual interface create an engaging environment for students to gain interactive experience across fields like algebra, geometry, calculus, statistics and more.
Key Features:
Powerful, tightly integrated tools for geometry, algebra, spreadsheets, graphing, 3D math, CAS, etc.
User-friendly apps available across web, tablet, phone
Built-in community platform for content sharing and assignments
Pros:
Highly engaging way for students to actively explore math concepts visually
Cross-platform apps work seamlessly across all student devices
Contains pre-made activities and assessments plus content sharing
Cons:
Significant learning curve to master full breadth of capabilities
More advanced collaboration features require paid version
4. Maplesoft – Symbolic Computation and Course Building Tools
Maplesoft offers a broad suite of mathematical software products purpose-built for STEM education and research. Maple, its flagship product, provides powerful symbolic computation capabilities critical for handling abstract math concepts with ease. It also enables auto-grading of assignments, interactive course content creation, and customizable course delivery. Maplesoft was founded in the 1980s by a team including the creators of the original Maple computer algebra system. Maple today provides one of the world's most robust symbolic computation engines for mathematics. It is used across industries from education to finance to engineering for applications like mathematical modeling, visualization, and simulation.
For education, Maple empowers students to explore advanced mathematical concepts symbolically and visually. It contains tools to support calculus, linear algebra, number theory, differential equations, graph theory, geometry, numerical analysis and more. These tools auto-generate interactive course content such as quizzes, homework, interactive examples, and study guides to engage students. Maplesoft also offers comprehensive course building tools enabling educators to create fully customized interactive math textbooks optimized for online delivery. These include features like interactive widgets, auto-graded assignments, course forums, and customized feedback options.
Key Features:
Robust symbolic and numeric computation math engine
Auto-grading capabilities for assignments and assessments
Intuitive tools for authoring fully interactive courses
Pros:
Allows abstract math concepts to be handled symbolically with ease
Significantly reduces educators' grading workload
Fully customizable course building for any math subject
Cons:
Prohibitively expensive licensing model for some budgets
Leveraging advanced features requires comprehensive training
5. Matific – Game-Based Elementary Math Practice
Matific provides an extensive library of interactive, game-based K-6 math resources designed to build conceptual understanding and fact fluency through intuitive visual lessons sequenced into a coherent curriculum. It also provides automated student progress monitoring tools. Matific aims to make learning math as engaging and enjoyable as playing games by leveraging visual learning and motivational game design techniques. Their curriculum contains over 400 interactive math games and activities spanning essential K-6 math skills – from early counting and shapes to fractions, measurement, algebra basics, and more.
Instead of traditional worksheets, students progress through Matific's activities which use interactive visual models to represent concepts. Students receive immediate feedback on their progress. The order and pacing of activities is personalized based on each student's demonstrated strengths and weaknesses. Reports keep teachers and parents continuously updated on learning progress. From number lines to graph paper to 3D shapes, Matific's games actively simulate math concepts visually and interactively. This experiential learning aims to develop deeper conceptual math understanding. Students are intrinsically motivated to progress through activities, with new games unlocking as they advance.
Key Features:
400+ interactive math games and activities spanning K-6
Adaptive learning path tailored to each student's evolving abilities
Automated student progress monitoring and reporting
Pros:
Highly engaging game-based learning improves motivation
Personalized student math skill progression tracking
Generates actionable analytics reports for teachers
Cons:
Content limited to elementary school level math
Activities prioritize engagement over explicit conceptual instruction
6. Carnegie Learning – Adaptive 1-on-1 Math Tutoring
The MATHia software suite from Carnegie Learning utilizes advanced adaptive tutoring technology to simulate personalized 1-on-1 human math tutoring tailored specifically to each individual student's evolving needs and skills. It provides engaging video lessons combined with aligned practice problems ranging from grades 6-12. For over 30 years, Carnegie Learning has researched how students think mathematically and leveraged those insights combined with cognitive science and AI to develop the adaptive MATHia software. The tutoring system models how an expert human math tutor would assess a student's skills, pinpoint knowledge gaps, and respond with personalized guidance and practice.
Students begin by taking a benchmark assessment diagnosing strengths and weaknesses across math topics. They then receive a personalized learning pathway guiding them through video-based math lessons from expert teachers. Practice problems are strategically sequenced to provide the right level of challenge and build mastery. As students progress, the system continuously updates its student skill models, adjusting instruction accordingly. Dashboard analytics provide teachers insights into class and individual progress. Studies have shown schools using Carnegie Learning perform significantly better on standardized tests.
Key Features:
Highly adaptive tutoring experience continuously tailored to each student
Blends interactive video-based direct instruction with aligned practice
Content developed by math education experts specifically for middle and high school
Pros:
Personalized math instruction optimizing learning and mastery
Regularly updated teacher reports tracking student progress
Proven results in closing achievement gaps from equity issues
Cons:
Realizing full benefits requires comprehensive implementation
Some students may find video lessons less engaging than games
7. Microsoft Math Solver – AI-Powered Math Problem Solving
Microsoft Math Solver is an AI-powered tool that provides step-by-step explanations to math and science problems across grade levels. With an intuitive interface, it can help students better understand concepts and improve problem-solving skills. Microsoft Math Solver uses state-of-the-art AI to break down problems into simple, easy-to-understand steps. It supports natural language queries and can recognize handwritten and printed math equations. The tool covers topics including algebra, calculus, chemistry, biology, physics, and more.
Students can submit problems by text, images, or handwriting and the AI will generate full explanations. Math Solver aims to promote conceptual understanding and growth mindset. It is designed to supplement curriculum and empower student success.
Key Features:
5500+ high-quality video lessons covering comprehensive K-12 math content
Aligned mastery quizzes assessing procedural skills and conceptual checks
Teacher analytics and coaching dashboards monitoring student progress
Pros:
Provides free access to complete math content across all grade levels
Useful teacher tools for coaching and monitoring student growth
Non-profit model focused on maximizing public learning access
Cons:
Lesson quality and format can vary significantly across topics
Currently offers limited customization options for schools
8. ASSISTments – Scaffolded Math Assignments with Tutoring
ASSISTments is an adaptive math learning platform providing scaffolded online assignments that strategically integrate instructional support and tutoring with formative assessments. As students work through assignments, they receive instant tutoring help and teachers receive actionable data to target interventions. ASSISTments was developed over decades by researchers at Worcester Polytechnic Institute to provide students strategically scaffolded math problems offering help and hints as needed. If they struggle, the system tutors them immediately before allowing them to try similar problems until mastery is achieved.
Each student receives a personalized sequence of instruction and practice tailored to their demonstrated understanding. ASSISTments' patented scaffolding aims to minimize student frustration by providing help when they need it most. This helps students persist in learning difficult new math concepts and skills. Teachers are given access to regularly updated reports tracking individual student progress and achievement as well as whole class trends. This provides timely data enabling targeted intervention. Studies have conclusively shown schools using ASSISTments perform better on standardized tests compared to traditional homework.
Key Features:
Assignments seamlessly blend instruction, practice, tutoring, and quick assessment
Real-time scaffolding, hints, and just-in-time micro-explanations
Regular student progress reports with actionable data
Pros:
Strategic scaffolds and help minimize student frustration
Streamlines the homework-feedback-data cycle for teachers
Proven to significantly boost student math achievement
Cons:
Highly structured experience may seem restrictive to some learners
Requires significant upfront configuration and setup
9. Fishtree – Adaptive AI-Driven Math Curriculum
Fishtree provides a full year adaptive K-12 math curriculum complete with supportive instructional resources. Their ELA program is also highly rated. Fishtree uses advanced AI algorithms to tailor instructional experiences, activities, and assessments to each student's unique evolving strengths and needs in order to promote growth.
Fishtree aims to enable continuous personalization at scale using artificial intelligence. Their programs act as digital tutors that provide each student with a personalized learning pathway tailored to their needs. This reduces the overhead required of teachers to manually differentiate instruction.
The math curriculum includes video-based lessons, interactive manipulatives, adaptive practice, formative assessments, and more. Students receive the right content at the right time based on their knowledge, skills, motivation, and goals. The system provides teachers with insights to target small group instruction efficiently. Both the math and ELA curricula are rated as highly aligned to state standards and effective for student growth by independent research groups. The combination of adaptive AI with pedagogical design aims to make differentiated instruction scalable.
Key Features:
Continuously adaptive and personalized student experiences
Integrated formative and summative assessments generating actionable analytics
Comprehensive teacher instructional resources
Pros:
Math content continually tailored to each individual student's level
Reduces workload and overhead for differentiation
Engaging and pedagogically varied student activities
Cons:
Allows limited customization of curriculum content
Requires comprehensive adoption and implementation
10. ALEKS – Adaptive Math Practice and Assessment
ALEKS is a respected adaptive web-based learning system grounded in cognitive science and AI. It leverages adaptive questioning to quickly and accurately determine each student's mathematical abilities. ALEKS then tailors learning content and practice to their personal needs supporting a mastery-based approach. ALEKS stands for Assessment and LEarning in Knowledge Spaces. It is based on decades of research by cognitive scientists and mathematicians at New York University and the University of California, Irvine. The system uses adaptive questioning to map each student's knowledge and skill levels based on their performance.
Based on the generated knowledge map, ALEKS provides each student with a personalized learning path through the math curriculum. The system focuses on mastery by continuously adapting content based on student strengths and weaknesses. Periodic reassessments update the knowledge model. ALEKS offers course products spanning 3rd grade through high school as well as college prep. Courses are aligned to Common Core and state standards. The system is used by millions of K-12 and higher ed students globally. Studies show ALEKS helps improve engagement, confidence and test scores.
Key Features:
Individualized learning and practice utilizing adaptive AI algorithms
Integrated periodic assessments pinpointing evolving student knowledge
Extensive content libraries covering grades 3-12
Pros:
Personalized math practice, learning, and review pace
Provides teachers with incredibly detailed student analytics
Proven to improve math achievement and confidence
Cons:
Behaviorist approach lacks human creativity and nuance
Significant upfront time investment to setup classes
11. Symbolab – Advanced Math Problem Solver
Symbolab is an advanced math problem solving and graphing calculator tool covering topics from basic math to calculus, algebra, trigonometry and more. It provides step-by-step explanations along with graphs, plots and diagrams to enhance understanding. Symbolab uses artificial intelligence to break problems down into logical steps solved at an appropriate level for the student. It acts as an expert math tutor able to explain concepts in an approachable way tailored to the learner.
The tool is web-based with math input recognition capabilities. It accepts natural language questions and can interpret handwritten, printed or LaTeX equations. Symbolab aims to help students gain confidence in math, prevent learning obstacles, and reduce the need for one-on-one tutoring. Symbolab is used by millions of students globally. While the basic graphing calculator is free, unlocking step-by-step solutions and additional features requires a paid subscription starting at $6.99 per month. But this grants access to a powerful AI math tutor.
Key Features:
Detailed step-by-step math problem solving explanations
Intelligent tutoring tailored to each student
Handwriting and natural language input
Pros
Develops deeper conceptual understanding
24/7 help available at the right level
Reduces need for one-on-one tutoring
Cons
Potential overreliance without guidance
Advanced features require paid access
12. Cognii – Virtual Math Tutors Powered by AI
Cognii provides award-winning artificial intelligence technology to power virtual math tutoring applications for any platform. Their conversational dialogue algorithms allow chatbots, virtual avatars, learning apps, and voice assistants to recognize student work, deeply assess understanding, and offer personalized feedback at scale. Cognii's virtual tutoring platforms leverage natural language processing, machine learning and subject matter expertise to simulate personalized human-like tutoring dialogues customized to each student's current skills and knowledge. The aim is to provide each learner with an AI tutor tailored to their needs available anytime.
The virtual tutors automatically engage students in spoken or textual conversations analyzing their work samples, assessing strengths and weakness, providing hints and explanations, and adapting follow-up problems accordingly. This models the interactivity of human expert tutors.
Cognii's technology has demonstrated proven learning gains across applications like chatbots, intelligent virtual practice systems, and conversational skills coaches. While currently focused on foundational math, the personalized dialogues aim to make learning more engaging while increasing retention.
Key Features:
AI-driven conversational dialogue technology
Recognizes handwritten and spoken student work
Simulates personalized 1-on-1 human math tutoring dialogues
Pros:
Always-available math support dynamically tailored to individuals
Models personalized guidance of expert human tutors
Easy integration into any app, device, or platform
Cons:
Currently focused on foundational early math skills only
Interactions lack nuance of human conversation
13. Gradescope – AI-assisted grading and feedback
Gradescope is an AI-assisted grading and feedback platform used by leading universities worldwide. It can automatically grade written math work while still allowing educators to provide personalized qualitative feedback. Gradescope also generates performance analytics at scale to uncover class-wide trends. Gradescope aims to save instructors time spent on the routine and mechanical aspects of grading so they can focus on providing actionable individual feedback. The platform allows auto-grading of math assignments and calculations by digitally recognizing handwritten and formula work.
However, teachers still retain control to augment auto-grading with qualitative feedback through annotations directly on student work. Analytics dashboards also provide a high-level overview of student and class-wide achievement on different learning objectives to help plan further instruction. While the streamlined experience focuses primarily on efficient summative assessment and analytics, Gradescope provides a time-saving AI-powered platform for math assignment grading at scale while still preserving teacher feedback capabilities.
Key Features:
Auto-grading of math assignments using AI handwriting recognition
Platform for teacher qualitative grading and feedback
Dashboard for analyzing student performance trends
Pros:
Saves significant time by automating rote quantitative grading
Allows focus on providing meaningful personalized feedback
Analytics provide macro-level insights into class understanding
Cons:
Handwriting recognition and grading remains imperfect
Can feel impersonal to students desiring connection
14. Acadly – Intelligent tutoring through math games
Acadly offers an artificially intelligent math learning chatbot that provides personalized tutoring support through interactive games, practice problems, and guided lessons. Their beautifully designed app aims to make learning math more engaging and fun. Acadly aims to provide an AI-powered alternative to live 1-on-1 expert human math tutoring. Students converse with a friendly chatbot using natural language to get assistance or request help anytime. The tutoring covers math concepts typically spanning grades 1-8.
Based on specific student needs, the chatbot can recommend interactive games, custom practice problem sets, mini-lessons with scaffolded hints and guidance, and worked examples to solidify concepts. It aims to balance learning with engagement and motivation. By leveraging natural language conversations and simulations of human tutoring strategies, Acadly provides an AI math companion that is accessible anytime. While it cannot fully replace human teachers, the system models the benefits of 1-on-1 tutoring tailored to each learner.
Key Features:
AI-powered conversational chatbot for math education
Math learning through engaging games, practice, and byte-sized lessons
Recognizes student work and provides tailored feedback
Pros:
Blends learning math with fun gameplay for greater engagement
Always-available math support, practice, and motivation
Models natural conversational human math tutoring
Cons:
Content currently limited to foundational math skills
Cannot completely replace human teacher guidance
15. Maple Calculator – Intelligent Online Calculator
Maple Calculator is an intelligent online calculator that uses artificial intelligence to provide step-by-step solutions to mathematical problems. It covers a wide range of subjects including algebra, trigonometry, calculus, derivatives, integrals and more. The tool accepts typed mathematical expressions and returns detailed solution steps along with accompanying plots and diagrams to aid understanding. It is designed to help students visualize concepts.
Maple Calculator uses symbolic AI computation paired with math pedagogy principles to break solutions down into easy-to-grasp steps explained at the student's level. It aims to promote mastery through practice and instantly provide guidance when students struggle or get stuck.
While the basic calculator is free, premium features like additional problem types, customization, and expertly explained steps require affordable paid subscriptions starting at $2.99 per month. Overall, Maple Calculator provides an AI-powered math assistant to supplement learning.
Key Features:
AI-powered math problem step-by-step explanations
Interactive graphs and visualizations
Intuitively focused on user education
Pros:
Helps build conceptual math intuition
Available for self-paced practice anytime
Reduces need for one-on-one tutoring
Cons:
Potential overdependence without guidance
Advanced features require paid access
Best AI Tools for Teaching Math Online Comparison Sheet
| Tool | Key Benefit | Free Version | Paid Version | Ideal For |
| --- | --- | --- | --- | --- |
| Photomath | Instant Math Problem Solving | Limited Usage | Premium Subscription | Homework Help |
| Desmos | Interactive Graphing Calculator | Full Access | Free | Math Visualization |
| GeoGebra | Math and STEM Visualization | Limited Version | Paid Platform | Interactive Math Learning |
| Maplesoft | Symbolic Computation | Trial Version | Paid Licensing | Higher Level Math Courses |
| Matific | Game-Based Elementary Math | Trial Version | School Subscription | Early Math Concept Development |
| Khan Academy | Video Lessons and Practice | Full Library Access | Free | Self-Paced Review |
| ASSISTments | Adaptive Math Assignments | Limited Version | School Subscription | Personalized Math Homework |
| Fishtree | Adaptive AI Curriculum | No | School Licensing | Personalized Math Courses |
| ALEKS | Adaptive Math Practice | Limited Trial | School Licensing | Differentiated Math Practice |
| Microsoft Math Solver | AI-Powered Problem Solving | Free Access | Free | Guided Math Practice |
| Symbolab | Advanced Math Problem Solver | Basic Access | Paid Subscription | Targeted Math Learning |
| Maple Calculator | Intelligent Online Calculator | Basic Access | Paid Subscription | Making Math More Intuitive |
Conclusion
AI has enormous, mostly unrealized potential to significantly improve mathematics teaching and learning in online environments, as these varied tools amply demonstrate. The advantages for teachers and students are enormous, ranging from giving 24/7 individualised adaptive tutoring to automating grading and assessment. Even though they will always be indispensable, human teachers can devote more of their time to creating engaging, high-touch lessons that are customised for each student thanks to AI edtech tools. AI's continued rapid development will undoubtedly open up new avenues for improving global accessibility, engagement, and effectiveness of excellent virtual maths education.
Disclaimer
In line with the Trust Project guidelines, please note that the information provided on this page is not intended to be and should not be interpreted as legal, tax, investment, financial, or any other form of advice. It is important to only invest what you can afford to lose and to seek independent financial advice if you have any doubts. For further information, we suggest referring to the terms and conditions as well as the help and support pages provided by the issuer or advertiser. MetaversePost is committed to accurate, unbiased reporting, but market conditions are subject to change without notice.
About The Author
Damir is the team leader, product manager, and editor at Metaverse Post, covering topics such as AI/ML, AGI, LLMs, Metaverse, and Web3-related fields. His articles attract a massive audience of over a million users every month. He appears to be an expert with 10 years of experience in SEO and digital marketing. Damir has been mentioned in Mashable, Wired, Cointelegraph, The New Yorker, Inside.com, Entrepreneur, BeInCrypto, and other publications. He travels between the UAE, Turkey, Russia, and the CIS as a digital nomad. Damir earned a bachelor's degree in physics, which he believes has given him the critical thinking skills needed to be successful in the ever-changing landscape of the internet. 
More articles


Damir is the team leader, product manager, and editor at Metaverse Post, covering topics such as AI/ML, AGI, LLMs, Metaverse, and Web3-related fields. His articles attract a massive audience of over a million users every month. He appears to be an expert with 10 years of experience in SEO and digital marketing. Damir has been mentioned in Mashable, Wired, Cointelegraph, The New Yorker, Inside.com, Entrepreneur, BeInCrypto, and other publications. He travels between the UAE, Turkey, Russia, and the CIS as a digital nomad. Damir earned a bachelor's degree in physics, which he believes has given him the critical thinking skills needed to be successful in the ever-changing landscape of the internet. 
Hot Stories
by Victor Dey
November 30, 2023
by Kumar Gandharv
November 30, 2023
by Victor Dey
November 30, 2023
by Nik Asti
November 29, 2023
Latest News
by Alisa Davidson
November 30, 2023
by Victor Dey
November 30, 2023
by Alisa Davidson
November 30, 2023
by Nik Asti
November 30, 2023