Nuart Journal highlights AR public art in Cairo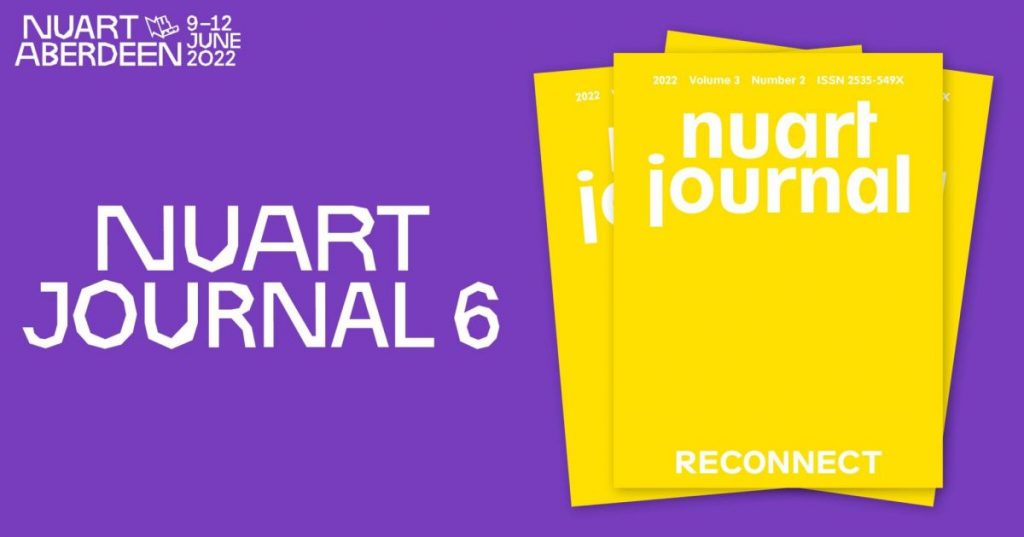 Artists, curators, and counterculture scholars convened in Aberdeen this week to commemorate the fifth edition of NuArt festival's Scottish mural event.
This past week, the annual event, originally headquartered across the North Sea in Stavanger, Norway, has facilitated ten massive new murals throughout the Granite City–accompanied by a two-day symposium celebrating the concurrent drop of Nuart Journal, the fest's academic publication. All the murals and the journal speak to this year's theme, "Reconnect," following NuArt fest's canceled 2020 and abbreviated 2021 editions at the hands of the pandemic.
In conversation with Evan Pricco of Juxtapoz Magazine at the Belmont Filmhouse on Friday evening, Martha Cooper–an internationally acclaimed photographer best known for her work documenting graffiti, street art and murals–flirted aloud with the notion that Nuart Festival, in operation since 2006, might be the best street art fest in the world.
A lot has changed since Nuart started. Though new talents, tastes, and shifting cultural contexts have impacted their murals' aesthetics, the medium has remained by and large the same. Paint on a wall.
But, Nuart Journal's latest issue begins breaking down that metaphorical wall. This edition includes a photo essay called "Crossing the Walls in Cairo: The Augmented Murals of Al Khalifa," by Egyptian artist Agnes Michalczyk. The piece provides research background and findings from Michalczyk's Augmented Walls endeavor, "an independently-produced hybrid street art project created in February 2021 in Al Khalifa, a district in historic Cairo, Egypt."
Michalczyk's urban art practice started in 2013 with illegal wheatpastes depicting women in public life. The same year, she started painting murals with the Al Athar Lina initiative of the MEGAWRA Built Environment Collective.
Augmented Walls adds a new technical and conceptual layer to her murals, pairing painting with AR projected atop the work via mobile device. Augmented Walls intends to "create connections spanning various urban narratives and different groups of people," and "create artworks in a way that shows the connections between the rich history of Al Khalifa and its present."
Michalcyzk says this work "brought together my interest in visual narratives from Cairo's streets, the experience I have gained from different mural projects, and my focus on developing images in conversation with community members and the owners of the houses I paint on." She found that AR "offers novel ways of experiencing the city: it allows for creating virtual artworks that can be released by anchors or geolocation, and offers various possibilities for interaction–from viewing only to playing games or connecting to online content such as videos or sound."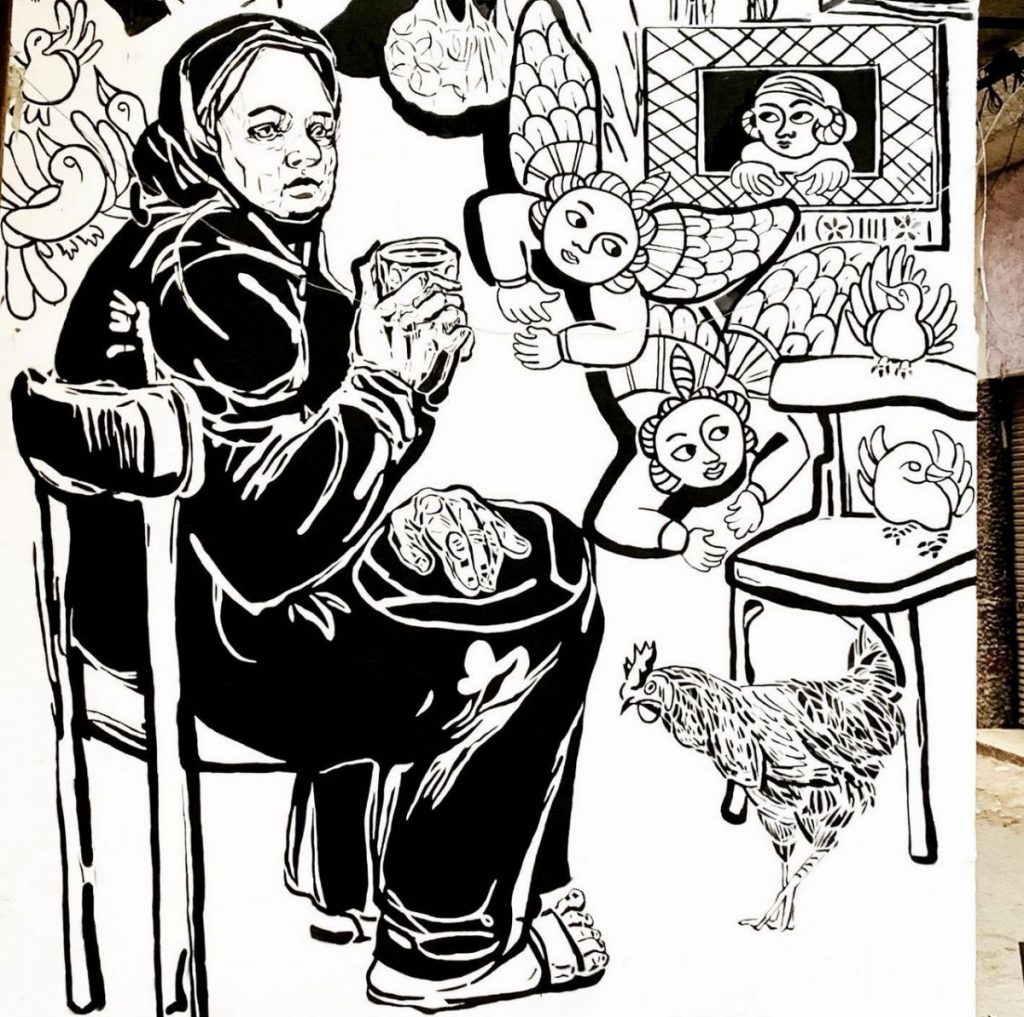 Augmented Walls so far centers around four murals that Michalczyk painted last year near the historic Mosque of Ahmad Bey Kohya. Each black and white stencil work looks kind of like a classic comic, "combining elements from the old drawings in Legends of the House of the Cretan Woman with contemporary scenes from the streets of Al Khalifa." By merging classical stories central to Egyptian identity with progressive modern imagery, Michalczyk's murals already forges the connection between past and future her work seeks. AR adds emphasis.
Michalcyzk employed the "user-friendly" Artvive app to create "a layer of virtual illustration and animation" that activates the work in AR. She's been painting public art in this area for nine years now, and purposefully fields feedback from local residents. Some elderly people "felt the black and white images were depressing," as Michalczyk wrote of this particular project's reception. "A few weeks after the project was finished, however, a woman stopped me in the street telling me how much she liked the 'funny' AR animations I had made in color."
"Augmented reality technologies combined with more traditional urban art may result in work that is artistically relevant and socially impactful at the same time," Michalcyzk's essay finds. In an era where the once-radical medium of muralism now centers discussions about gentrification, Michalcyzk hopes Metaverse tools like these can actually bring people closer with the IRL committees they call home.
This work's just the start. She's already created a tour of the walls on Google Maps, mimicking "a treasure hunt which encourages people to venture into parts of town they might otherwise not go to." Augmented Walls also offers foundational research "into the potential of AR technology in creating a virtual tour guide of the area and the visitors centre." Tourism ideally expands a traveler's perspective, but the growing, ultra-profitable travel industry increasingly hawks commodified experiences lacking the soul necessary to achieve that.
This much proves true: it doesn't take flashy installations for AR, XR, and VR to create a meaningful experience. Just a few heartfelt details. Physical copies of the Nuart Journal are available for sale, but you can also download a digital copy here for free. You can also start following Michalczyk's work harnessing new media to foster reconnection on Instagram here.
Read related posts:
Disclaimer
In line with the Trust Project guidelines, please note that the information provided on this page is not intended to be and should not be interpreted as legal, tax, investment, financial, or any other form of advice. It is important to only invest what you can afford to lose and to seek independent financial advice if you have any doubts. For further information, we suggest referring to the terms and conditions as well as the help and support pages provided by the issuer or advertiser. MetaversePost is committed to accurate, unbiased reporting, but market conditions are subject to change without notice.
About The Author
Vittoria Benzine is a Brooklyn-based art writer and personal essayist covering contemporary art with a focus on human contexts, counterculture, and chaos magic. She contributes to Maxim, Hyperallergic, Brooklyn Magazine, and more.
More articles


Vittoria Benzine is a Brooklyn-based art writer and personal essayist covering contemporary art with a focus on human contexts, counterculture, and chaos magic. She contributes to Maxim, Hyperallergic, Brooklyn Magazine, and more.
Hot Stories
by Victor Dey
November 30, 2023
by Kumar Gandharv
November 30, 2023
by Victor Dey
November 30, 2023
by Nik Asti
November 29, 2023
Latest News
by Nik Asti
December 01, 2023
by Alisa Davidson
December 01, 2023
by Nik Asti
December 01, 2023
by Nik Asti
December 01, 2023