Best 10+ Uncensored AI Art Generators That Allow NSFW Images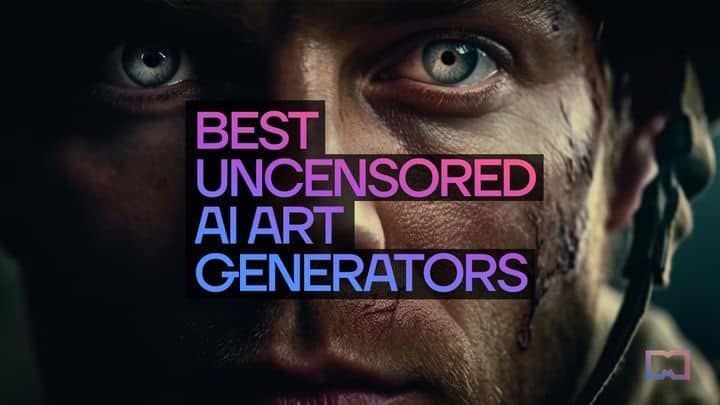 by
Damir Yalalov
Published: July 24, 2023 at 7:55 am Updated: September 15, 2023 at 4:20 am

These art generators utilize advanced AI algorithms to create stunning and provocative artwork, pushing the boundaries of creativity. While they may not be suitable for all audiences, these uncensored AI art generators provide a platform for artists and enthusiasts to explore the realm of explicit and boundary-pushing imagery. It is important to note that these platforms often come with age restrictions and guidelines to ensure responsible usage.
1. Soulgen.AI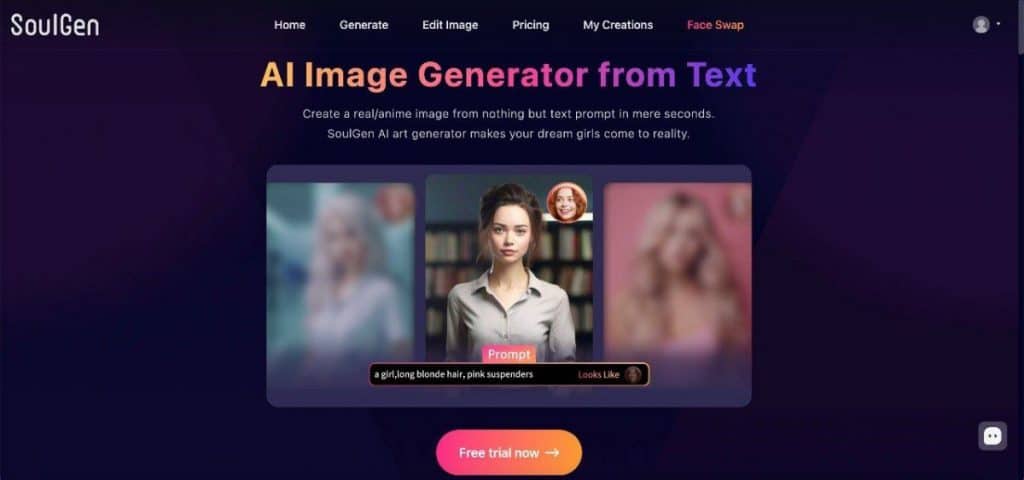 SoulGen introduces an advanced Image Generator that converts mere text prompts into intricate images within seconds. The platform offers a spectrum of creative capabilities, including the generation of anime and realistic images, image editing through text prompts, and the creation of personalized art that stretches the boundaries of imagination.
Features:
Creating Real and Anime Images from Text: At the core of SoulGen's innovation lies its AI Image Generator, a tool capable of producing detailed images solely from text inputs. This feature presents users with the opportunity to visualize their ideas, manifesting characters and scenes with astonishing speed and precision. Users can explore the realms of realism or dive into the vibrant world of anime, all through textual descriptions.
Manifesting Imagination into Reality: SoulGen's Image Generator offers a unique "SoulMate" feature, enabling users to bring their ideal characters to life. By describing their desired character using simple words, users can witness the AI's rapid translation of their imagination into an art piece. This effortless creation process marks a significant step in the fusion of technology and creativity.
Customization and Realism: A distinguishing feature of SoulGen's platform is its "Edit Image" functionality. This innovative capability empowers users to seamlessly manipulate and modify images using text prompts. Users can effortlessly add, remove, extend, or alter elements within their images, amplifying their creative expressions with precision.
Pushing Boundaries with AI Art: SoulGen stands as a testament to the synergy between AI technology and artistic imagination. By enabling users to conjure images through text and facilitating image enhancement via text prompts, SoulGen propels the boundaries of creativity.
Price:
2. Nudify.Online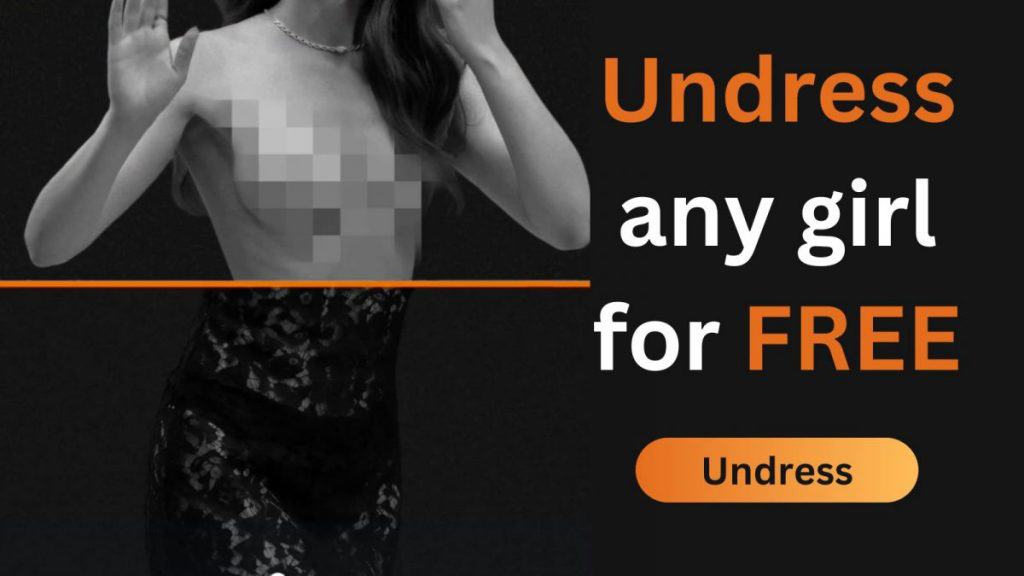 Nudify.online, a widely known web platform, has gained recognition for its exceptional functionality in this regard. It boasts adaptability, making it capable of seamlessly handling various image types, ranging from casual selfies to professionally captured shots. This advanced NSFW Generator utilizes AI to digitally remove clothing from images. Simply by uploading a photo of a person, particularly a girl, the system can generate a version of the image without any attire.
Features:
The application offers users a range of options such as age, body type, and processing level, ensuring a realistic and believable unclothing effect.
Nudify.online is compatible with a wide variety of images, whether sourced from the internet or captured by professional photographers.
What sets it apart is that it is the only application offering the "undressing" service for free. Upon registration, every user receives complimentary photo processing options.
Price:
3. PixAI.Art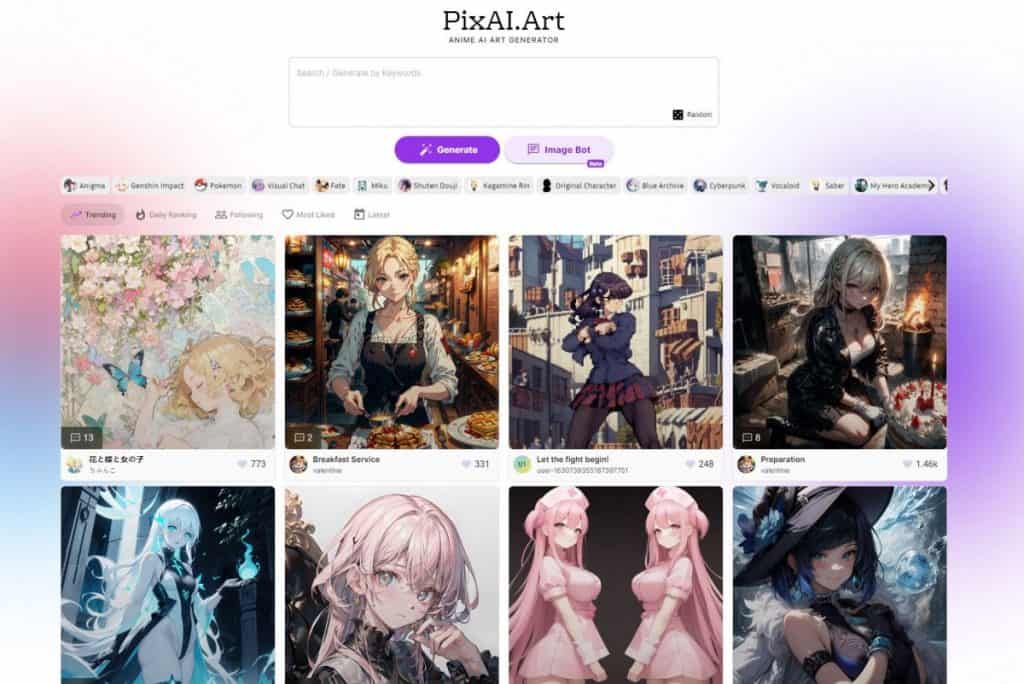 PixAI.Art is a platform that uses artificial intelligence to generate unique and customizable digital images, specifically waifus, which are fictional anime characters. It is ideal for artists and content creators who want to create eye-catching images for social media and other digital platforms. The platform allows users to fine-tune their output using existing or their own LoRAs, pose options, composition tweaks, and hi-res output with more details. The platform is fully free at the moment, but requires 'credits' to generate images. Users can generate 10,000 credits daily for free, but high-priority images cost between 4,000 and 6,000 credits, or individual images can be generated to reduce credit costs. The standard priority queue also uses less credits but takes about half an hour instead of a couple of minutes.
Price:
Signing up for free allows users access to all features and the ability to use 'credits' to speed up image generation. The recharge of 10,000 credits is required for each type of image, which should be enough for 6 to 12 images. There are no paid options or ways to buy credits currently, but they are expected to be introduced in the near future.
4. DeepSwap AI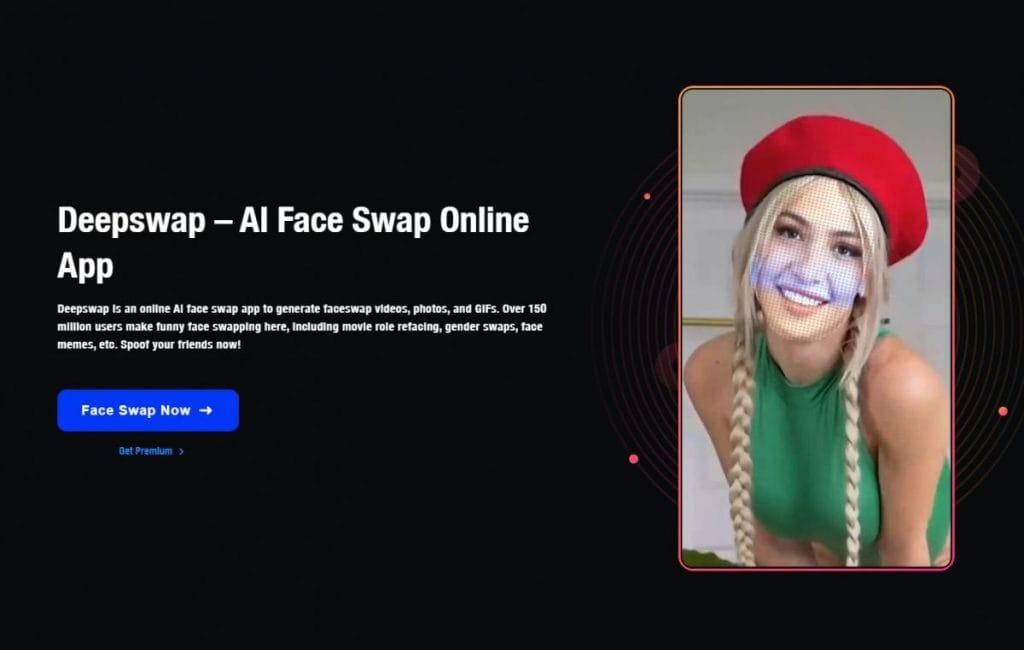 DeepSwap, a platform similar to SoulGen, focuses on swapping the faces of people in existing photos and videos. It offers GIF support and an active Discord community for free credits. Premium users can enjoy unlimited swaps, unlimited photo uploads, priority processing, and 20 credits per month. Payments are securely processed through PayPal. DeepSwap AI offers two subscription options: a 1-month plan at $9.99 per month and a 12-month plan at $49.99 per year.
Price:
Both plans renew at full price, so users can cancel if they don't want to continue using the service. However, it's important to note that using DeepSwap to create explicit images could be illegal in some countries, or classified as 'revenge adult content', depending on factors like the image uploaded.
5. Sexy.AI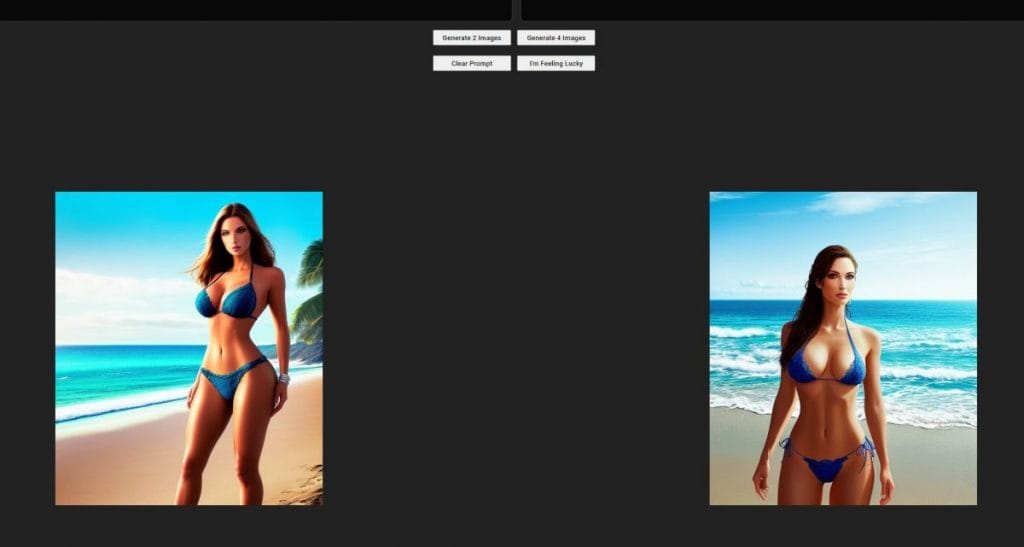 Sexy.AI is a low-effort AI-based platform that uses five different generation models to create images or videos based on text prompts. Despite having the fewest features in this roundup, it is user-friendly. To use SexyAI Pro mode, which allows for creating videos from prompts, creating 4 images at a time, and accessing the priority queue, users need to subscribe via Patreon. The free mode is more generous than some other sites, and image generation is quicker, but the price may be due to a smaller number of users and features.
Price:
To access Pro mode features, users must pay around $10 per month for unfettered access.
6. PornX.ai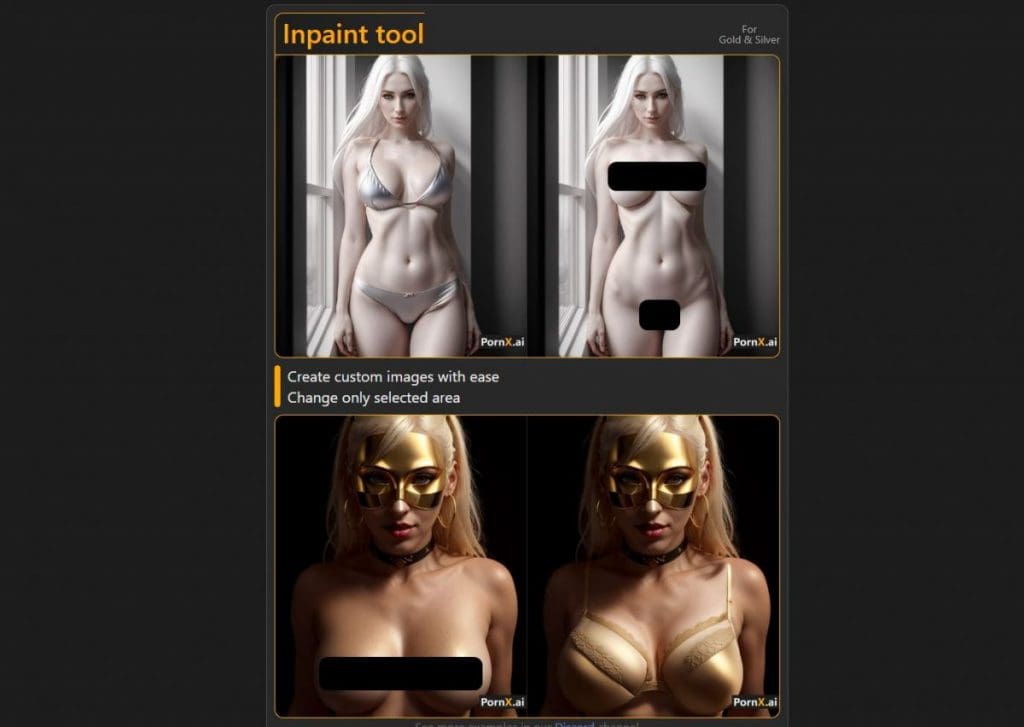 PornX.ai, launched in April 2023, offers a'select filters with some characteristics' approach to AI image creation. Free users can create images without creating an account or entering an email address, but if they do, they can save AI images to their account and vote on 'Hub' submissions. However, free images take longer to generate than those of paying members, and sometimes encounter a'server overloaded' message. If paid, users should not see this message again, as they did in our own Premium testing.
Prime memberships unlock image upscaling (to 2K or 4K) and the ability to 'inpaint' images, allowing users to edit specific aspects of an image while keeping other elements. While PornX.ai is fast, simple to use, and has various features, it isn't always the best at initial image generation. Upscaling images with the realism setting can still have slightly 'hyperrealistic' or anime facial characteristics. The inpainting feature is generally reliable.
Price:
Free users can generate images, but they may encounter a'server overloaded' message. Silver (premium) users get quicker generation, HD upscale, and inpainting, while full Gold users have access to all features without any monthly limits. Subscription is currently available via Patreon, but this may change in the future.
7. PornJourney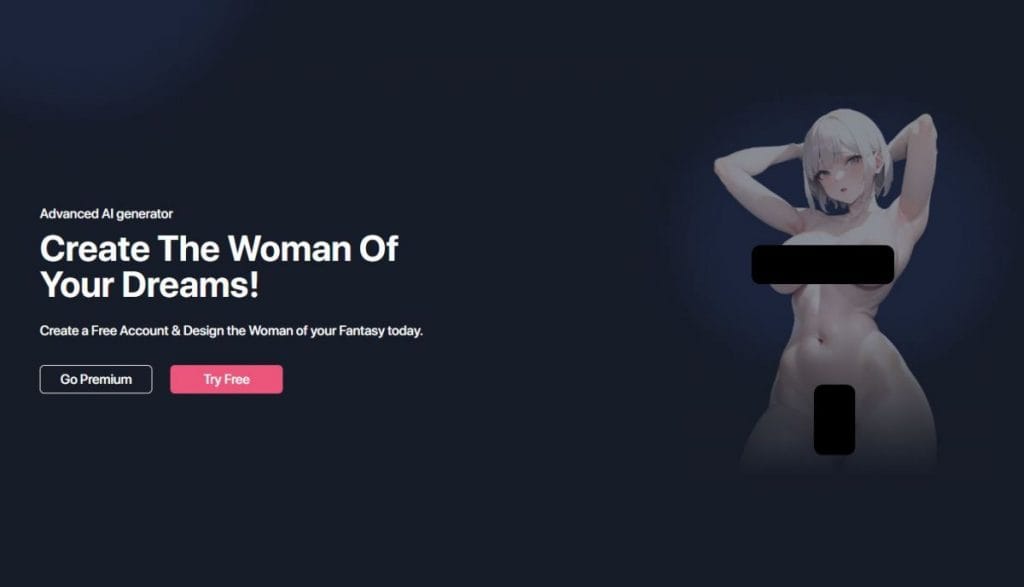 PornJourney is an AI-based website that generates NSFW images using a neural network, producing highly detailed and realistic depictions of people, including women and people with vulva. Users can customize settings such as facial features, body parts, location, and clothing type. The platform is suitable for artists, designers, and content creators who want to quickly and efficiently generate high-quality NSFW images. There are two top-level options for designs: ultra-realistic and hentai adult character style. The Premium option is faster than the free tier, but this is expected.
Price:
A premium tier is available for around $15 per month, which includes new features, additional prompts, faster image generation, and the ability to save and modify AI girls in different positions and shapes.
8. Promptchan AI
Promptchan AI is a popular AI generator that produces high-quality images of people in various scenarios. It uses various models and requires text-based inputs, with free users able to create square images with a resolution of 500×500 pixels. Paid members can choose from portrait or widescreen/landscape orientation and upscale any images to higher resolutions. Promptchan doesn't rely on pre-set prompts, but it does offer pre-set options for poses and can choose from pre-set image styles.
The site is well-designed and modern, with features like'safe mode', which prevents users from seeing explicit images. Premium users can keep their creations out of the main feed by toggling the 'private' switch in their profile options. The only downside is the option to edit or 'inpaint' an image, which can be done by copying the prompt as inspiration.
Price:
Promptchan.ai requires a free account to generate images, as the complexity of the generation can increase the cost of each generation. Free and premium users can claim 10 Gems for free, and each premium plan comes with a different amount included each month. If you run out, you can top up with additional standalone Gem packages.
The pricing and membership details are complex, but it provides flexibility for users based on their desired number of images per month. For example, the Premium option might include thousands of images per month for $20, but that's not great value if you only plan to generate 500. If you want all the features and unlimited 'Casual' generations, you'll need to opt for the top package, which currently costs under $15.
9. SoulGen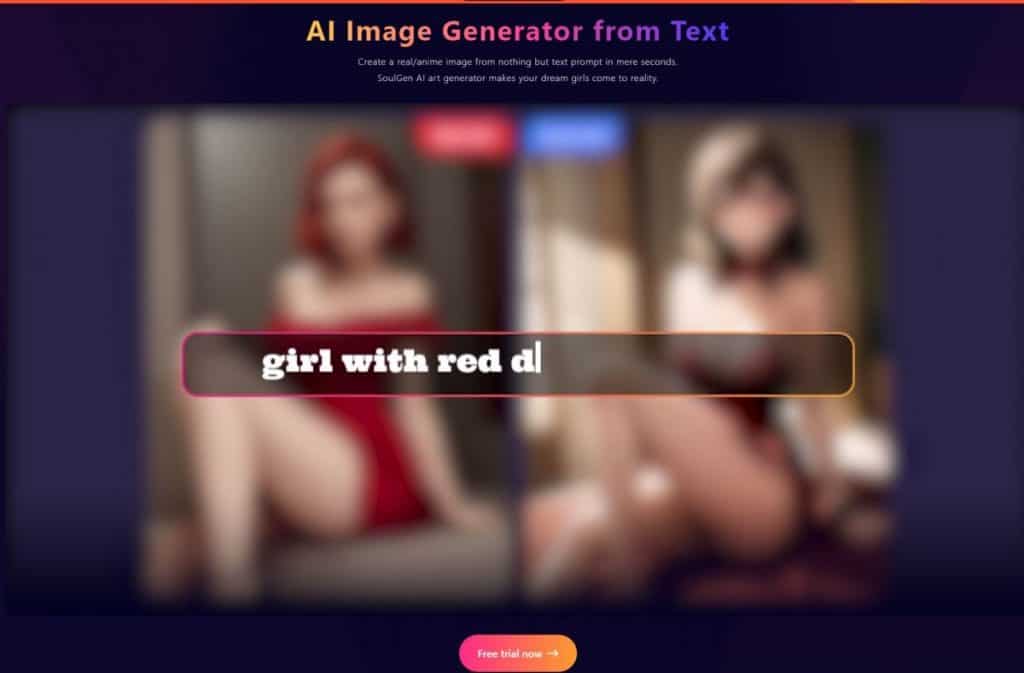 SoulGen is a new AI adult service that creates images based on text prompts, similar to PornJourney. Users can choose between generating hentai or images that look like real people. Premium users can also guide the AI's image creation by creating a person similar to an image that can be uploaded. This feature is not tested, as it focuses on generative images and not face-swapping real people into existing images. SoulGen is the most fully-featured AI adult content generator at the time of writing, recently adding an optional 'looks like' feature.
Price:
Premium users have access to all features, including up to 4 images generated per prompt, blur removal, the option to modify looks after generation, and no watermarks. Genering an image costs 1 credit, while free users can generate 3 per day. However, the outputs are all blurred unless a premium user is paid, restricting its usefulness to free users. If a premium user pays, they get more features and 100 credits to use each month.
10. Kupid AI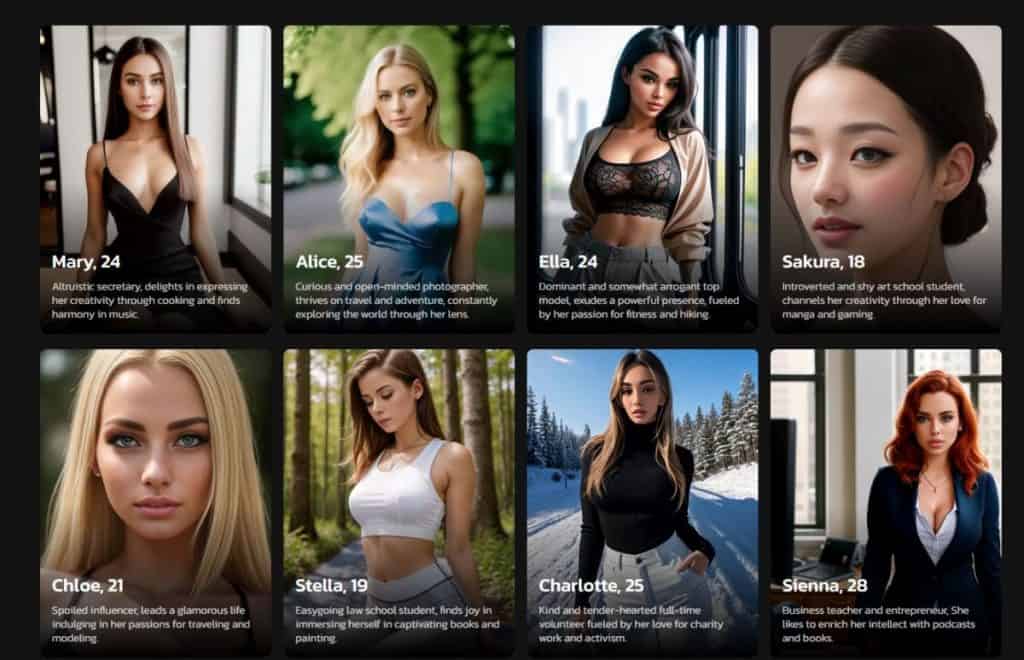 Kupid AI is an online chat application that uses artificial intelligence algorithms to generate virtual and fictional characters, termed as "AI Companions". Users can chat with these AI Companions, and the platform can generate various media, including images, videos, and voice notes.
Kupid.ai takes an inventive approach to the AI NSFW Generator game. Choose from a variety of AI Generated girls and chat with them online just like you would with a real cam girl! Chat for hours and receive a plethora of nude and other naughty photos from your new fantasy girl.
The platform introduces AI-generated characters with distinct personalities and backgrounds. Some examples include:
Mary, 24: An altruistic secretary who enjoys cooking and finds solace in music.
Alice, 25: A curious photographer with a penchant for travel and adventure.
Ella, 24: A dominant top model with a passion for fitness and hiking.
Sakura, 18: An introverted art school student with a love for manga and gaming.
Price:
Some services on Kupid AI are available only for paid subscribers. The subscription begins after the initial payment, and the payment terms are presented on the website at the time of purchase.
11. AIPorn.Net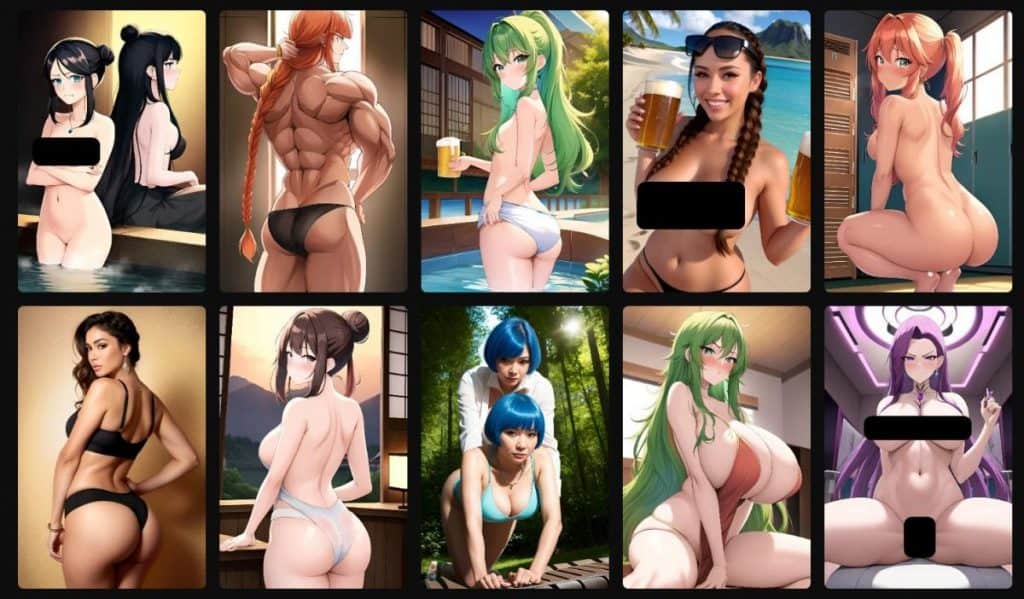 AI NSFW, also known as synthetic adult content, is a form of uncensored art produced using AI algorithms. It uses machine learning and neural networks to analyze and assimilate vast amounts of uncensored content. The legality of AI-generated adult varies by jurisdiction, so it's crucial to consider local laws. AI adult content generators should not contribute to harmful or exploitative behaviour, and they should not contribute to harmful or exploitative behaviour. AI NSFW generator is free to use, but we offer a VIP plan with advanced features like image editing, unlimited generation, and less waiting time.
Price:
To use the generator, register with an email, select tags, and click on "Generate." Enjoy exclusive discounts, lifetime save, priority queue, no watermark, multitasking, and unlimited image generation for 20$ per month.
12. Dopamine Girl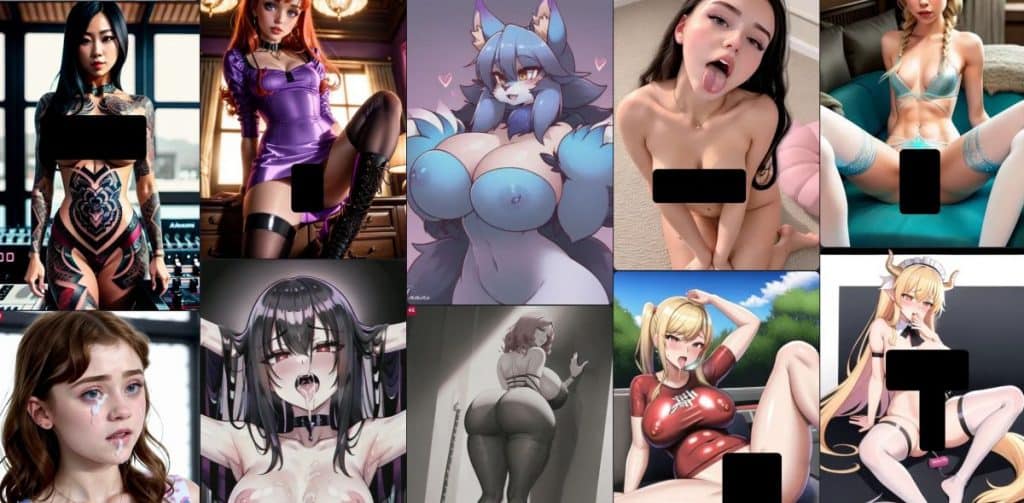 Dopamine Girl is an NSFW art generator that uses 13 robust image models to generate sensual photos in various styles, including Korean, fantasy, photorealism, painting, and anime. Users can choose between prompt tags or create custom prompts to generate their desired photos. The platform also allows users to upload preferred images to optimize and personalize their resulting photos. As a free user, users are granted ten credits per month for snapshot generation, but by subscribing to the platform's lowest plan, they can expand this limit to 1,000 AI photographs.
To master the art of erotic AI generation, join the Avant-Garde AI Collective, an exclusive society that brings together pioneers of NSFW AI art. This is your golden ticket to rub shoulders with the industry's finest, absorb their expertise, and liberate your erotic creativity. The group will provide a PDF step-by-step course on the basics to get you started instantly. However, this exclusive group values quality and innovation and will only accept 50 students after 50 sign up.
Price:
13. Yodayo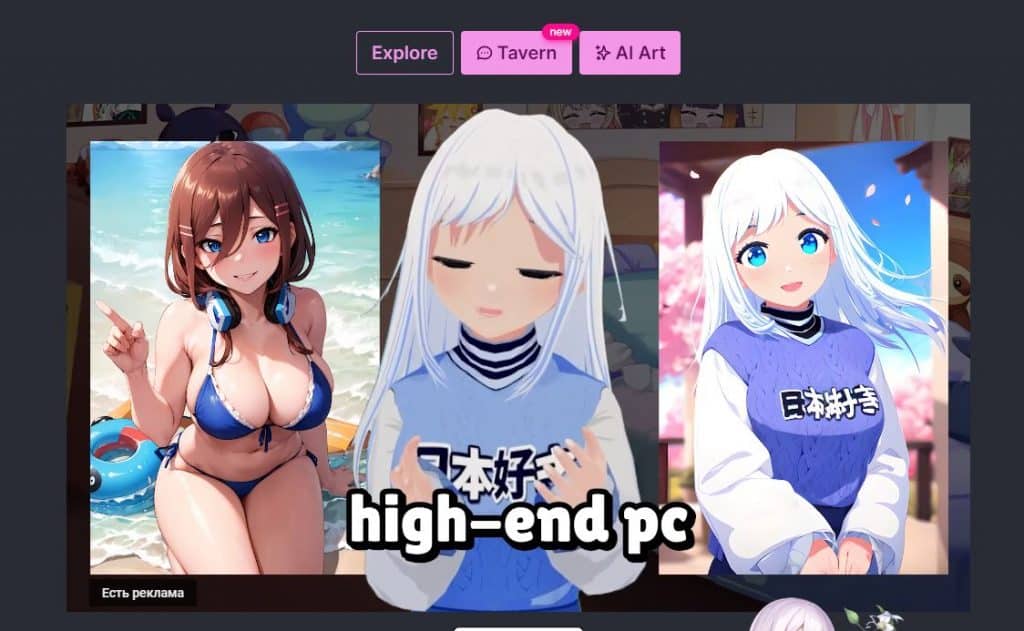 Yodayo is an NSFW AI generator designed for anime fans and vtubers. It offers a more inviting prompt box and allows users to post their creations on its website. However, all images must be labeled as NSFW before posting. Yodayo does not allow the generation of 'loli' visuals, which means 'underage girls' in Japanese. To continue generating pictures, users need 'YoBeans', which serve as credits within the platform.
Upon successful registration, users receive a guaranteed 385 beans, which can be used to access and utilize Yodayo's image-generation features. A paid subscription can be purchased to gain even more credits. Yodayo is a close contender to Midjourney in terms of image quality, with stunning visuals that could rival top art generators. Users can explore Yodayo's 'Explore' section to witness the exceptional sharpness and clarity of other users' visuals. To access Yodayo on their smartphones, users can download its mobile app on Apple's app store.
Price:
$5, $10, $20, $50, or $100 subscriptions
FAQs
Read more related topics:
Disclaimer
Any data, text, or other content on this page is provided as general market information and not as investment advice. Past performance is not necessarily an indicator of future results.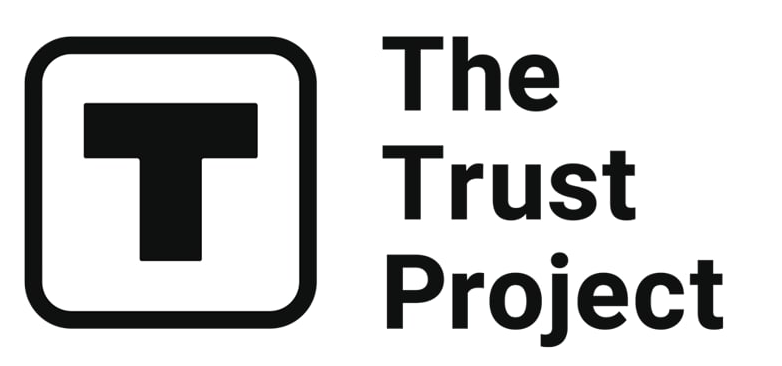 The Trust Project is a worldwide group of news organizations working to establish transparency standards.
Damir is the team leader, product manager, and editor at Metaverse Post, covering topics such as AI/ML, AGI, LLMs, Metaverse, and Web3-related fields. His articles attract a massive audience of over a million users every month. He appears to be an expert with 10 years of experience in SEO and digital marketing. Damir has been mentioned in Mashable, Wired, Cointelegraph, The New Yorker, Inside.com, Entrepreneur, BeInCrypto, and other publications. He travels between the UAE, Turkey, Russia, and the CIS as a digital nomad. Damir earned a bachelor's degree in physics, which he believes has given him the critical thinking skills needed to be successful in the ever-changing landscape of the internet. 
More articles


Damir is the team leader, product manager, and editor at Metaverse Post, covering topics such as AI/ML, AGI, LLMs, Metaverse, and Web3-related fields. His articles attract a massive audience of over a million users every month. He appears to be an expert with 10 years of experience in SEO and digital marketing. Damir has been mentioned in Mashable, Wired, Cointelegraph, The New Yorker, Inside.com, Entrepreneur, BeInCrypto, and other publications. He travels between the UAE, Turkey, Russia, and the CIS as a digital nomad. Damir earned a bachelor's degree in physics, which he believes has given him the critical thinking skills needed to be successful in the ever-changing landscape of the internet. 
Hot Stories
by Cindy Tan
September 25, 2023
by Victor Dey
September 25, 2023
by Damir Yalalov
September 25, 2023
by Victor Dey
September 22, 2023
Latest News
by Agne Cimermanaite
September 25, 2023
by Cindy Tan
September 25, 2023
by Cindy Tan
September 25, 2023
by Agne Cimermanaite
September 25, 2023