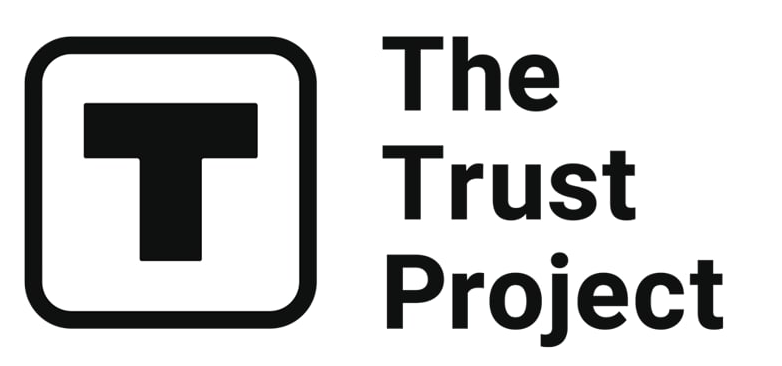 The Trust Project is a worldwide group of news organizations working to establish transparency standards.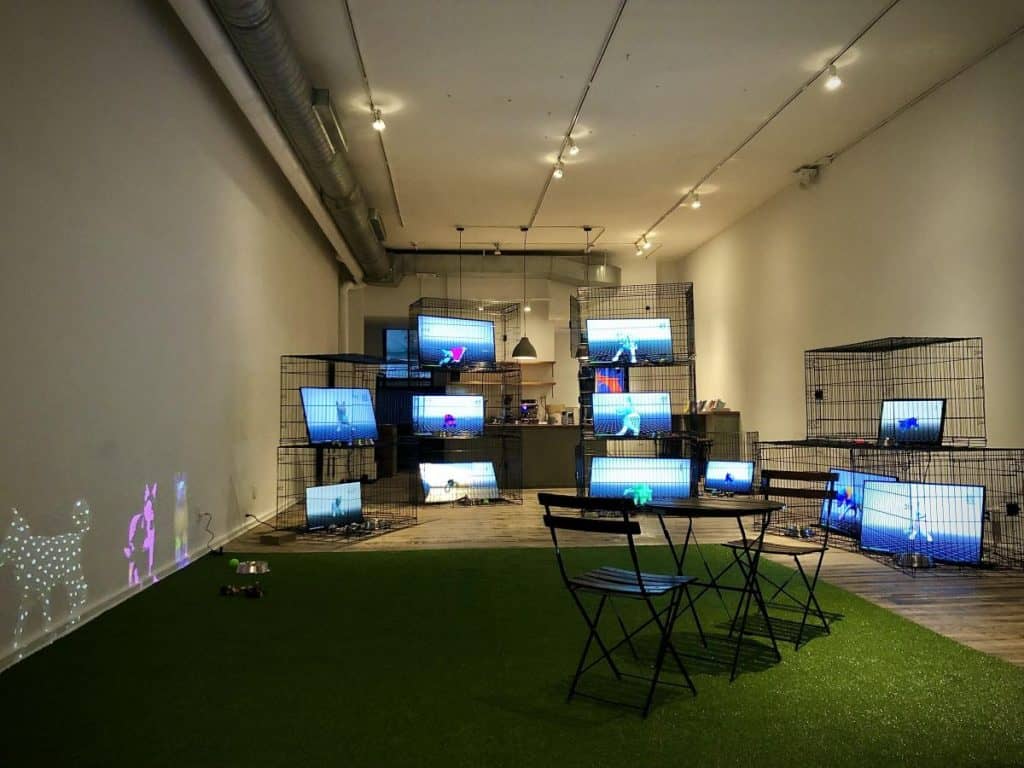 Following their last flash exhibition in tandem with June's NFT.NYC conference, SoHo art gallery NowHere has opened their latest month-long summer show–the next iteration of "Metaverse Petshop."
This version brings new updates since Japanese duo exonemo beta tested "Metaverse Petshop" with the installation's debut at NADA Art Fair in May. Their concept drew crowds to NowHere, a space dedicated to Japanese artists at work across NYC, even with the holiday weekend that kicked off alongside the show's VIP preview on Friday, July 1.
"It might be said that a gallery is a petshop for art," opens the press release. "Stop in, browse, and pick something to come home and live with you." Similar to their much-acclaimed beta booth, the blend in "Metaverse Petshop" of analog and digital elements optimizes human reactions–much like an artist would pull from different colors on their palette to achieve different effects. Here, monitors occupy stacked grids of dog kennels equipped with bowls and balls.
The dogs on each screen randomly generate for ten minutes max. Their species stay the same, but their generative, unique pattern coat changes with each incarnation. It feels to the viewer like each dog's in peril. The low price point from NADA of just $10 to purchase a dog presents virtually no barrier to rescue.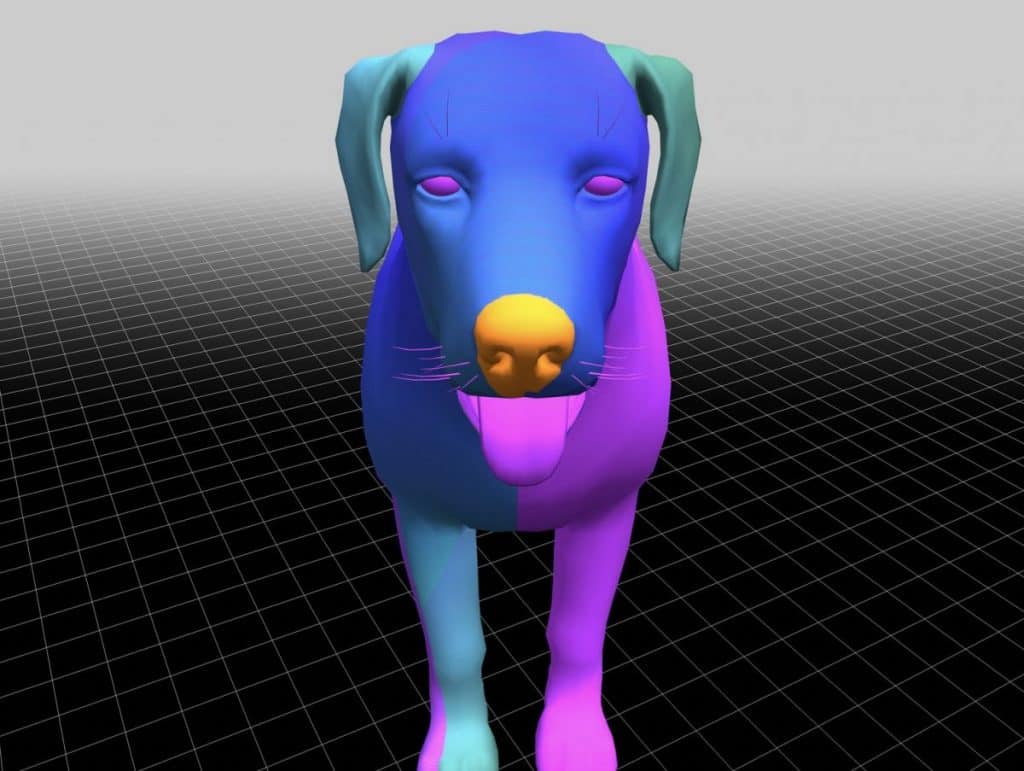 "We made a dog park in the gallery," exonemo told Metaverse Post regarding what's new in this expanded installation. "Artificial turf is laid on the floor, there is a projection video on the wall, and visitors can unleash their dogs into the park instantly from their smartphones."
Though the dogs sold at NADA weren't technically NFTs, they still drew people together like a blue-chip project such as BAYC does. Owners showed up and chatted around their off-leash digital dogs, "same as a usual dog park!"
"We had a great turnout for the opening," Totsuka said of the reception. "Our neighborhood was quieter than usual Friday since it was the 4th of July weekend, but many Metaverse dog owners who bought their dogs at NADA showed up and enjoyed unleashing them to our Metaverse Dog Park," Totsuka said.
Here, however, the artists did offer the option to turn the dogs into NFTs with advice from Toshi, aka wildmouse–but not without relinquishing the dogs' original form. "Owners can remove the skin (texture) from their dog and convert it to NFT as a 2D image," exonemo said. "This is the same way that skins are made from real animals."
At NowHere, samples hang in sheets of synthetic leather from the ceiling, affixed with the image of its corresponding dog. Unsurprisingly, this approach to presentation did not inspire many people to mint their dogs' pelts. Still, you can see the NFTs that have been minted on OpenSea.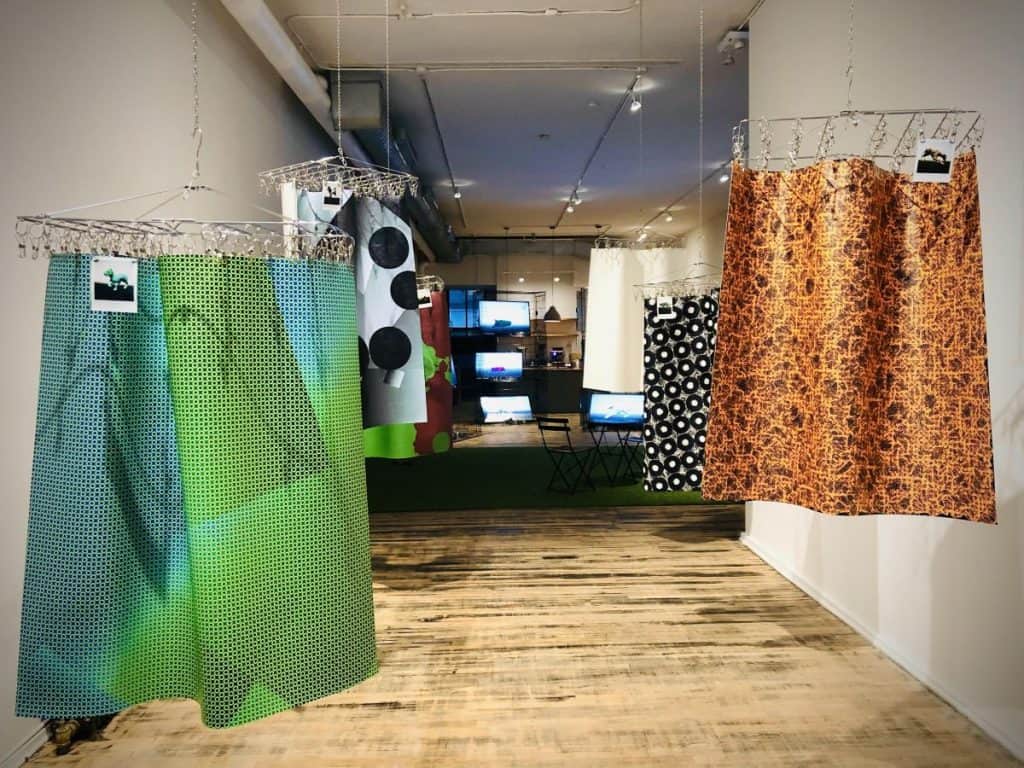 Both the artists and the curator felt that this exhibition suited this moment. "Metaverse and NFTs are hot topics right now," exonemo said. "We are not just demonstrating these in a simple way, but we are questioning them with a little twist, based on various issues and feelings related to these topics. We believe that is the role of art."
In place of the recent events surrounding potentially sentient AI LaMDA, this work seeks answers about ownership and control. "Is it ethical to kill and skin a virtual pet for its fur—however attractive the pattern might be?" the release asks. "These digital dogs, they act like real ones. They sit, their tongues loll, they dig. They are experiencing a kind of life. But on the other hand, are we giving these animals eternal life by converting them to NFTs, which will outlive us all?"
"Web3, blockchain and metaverse became buzz words but not many of us understand what it is exactly," added Totsuka. "exonemo has always questioned the boundary between virtual and real, digital and analog. Metaverse Petshop contains various aspects to questioning the meaning of virtual, real, digital, physical, and even the meaning of existence. I thought it's the right time to show exonemo's layers of questions through this installation."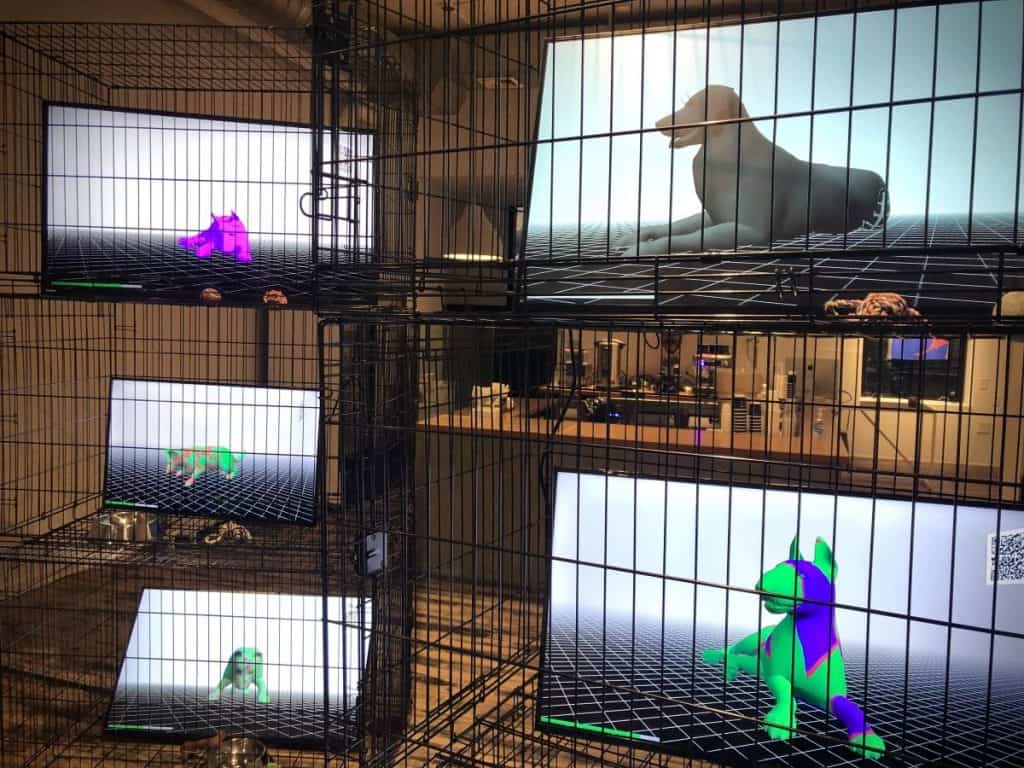 And they're not done yet. exonemo still sees the project as an ongoing, evolving, and living endeavor. "We are excited to get the next idea from these responses," the duo said. "Ideas come to us unexpectedly, and we are excitedly waiting for them now."
"NowHere encourages us to experiment," they concluded. "This is great for artists, because we can do it in front of a real audience and get more genuine feedback." Situated around complementary spaces like SuperRare, Chase Gallery, and Jeffrey Deitch, SoHo seems to be pulling ahead of other art locales like the Lower East Side for NYC's favorite NFT exhibitions. Again, it is a matter of critical community that creates art movements.
Check out "Metaverse Petshop" at NowHere (40 Wooster Street) through July 31.
Read related posts:
Disclaimer
Any data, text, or other content on this page is provided as general market information and not as investment advice. Past performance is not necessarily an indicator of future results.