NowHere hosts "Women Of The World" NFT art show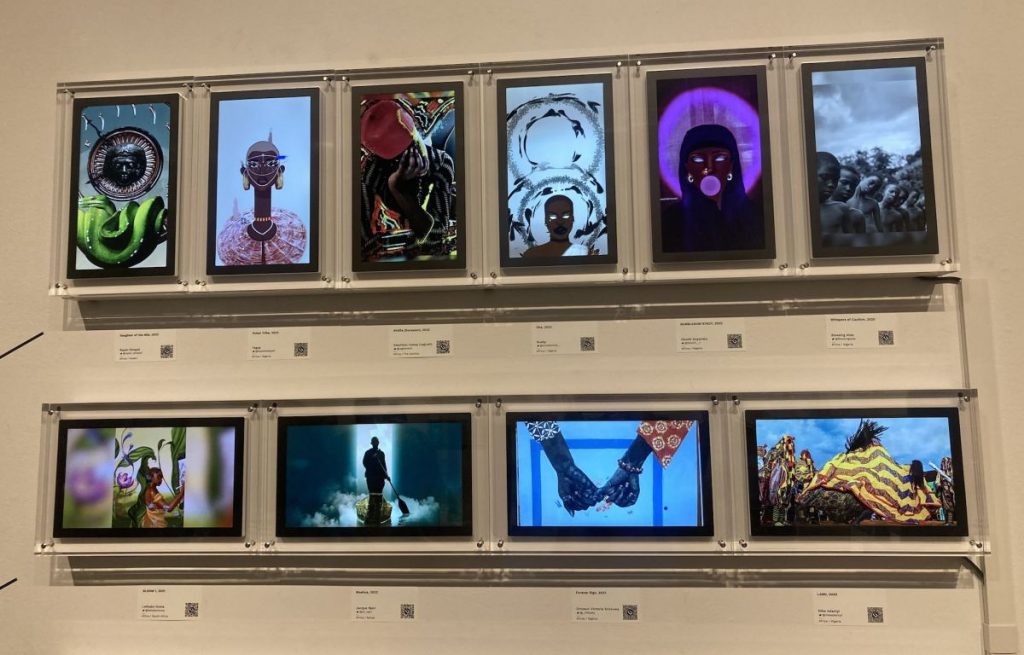 As NFT.NYC draws to a close here in the Big Apple, a few spectacles still remain on view–like "Women Of The World," an NFT art show supporting a robust feminine presence in Web3. Presented by Infinite Objects and STARTBAHN with curation from Studio As We Are, the exhibition highlights 130 emerging and established female-identifying artists from around the world.
Studio As We Are apparently took outside input when choosing which artists to include. "As the roster of participating artists grew, so did the nominations," the exhibition's press release says. "The showcase uncovers a deeply shared mission of celebrating and uplifting women from all pockets of the world that resulted in a community curated exhibition."
"Women Of The World" opened to bustling crowds on Thursday, June 23 as part of a greater gallery crawl through SoHo in harmony with this week's conference. The group show remains on view through Saturday, June 25 at NowHere, "a multipurpose hub for New York City-based Japanese creators across all disciplines," as the gallery's own description states. NowHere exists "to help emerging talent explore their maximum potential by providing them with the means to showcase their practice and expand their network."
If the name NowHere sounds familiar, that's probably because the cutting-edge gallery's creative explorations have already intersected with Web3, like their much-lauded presentation of exonemo's "Metaverse Petshop" at NADA New York last May.
Although NowHere typically focuses entirely on Japanese artists based in New York, "Women Of The World" bursts outwards beyond the borders of a single origin story, presenting artists from all seven continents. The show's organized as such–artworks shine on Infinite Object's elegant displays all arranged according to continent. Accompany wall texts list the proportionate amount of the world population living in each place, along with further details about selected artworks and quotes from selected artists.
This strategy marks an interesting manner of organizing an exhibition. It creates tension between the desire to find the stylistic motifs that unite a region while appreciating the diverse perspectives and tastes that exist within it.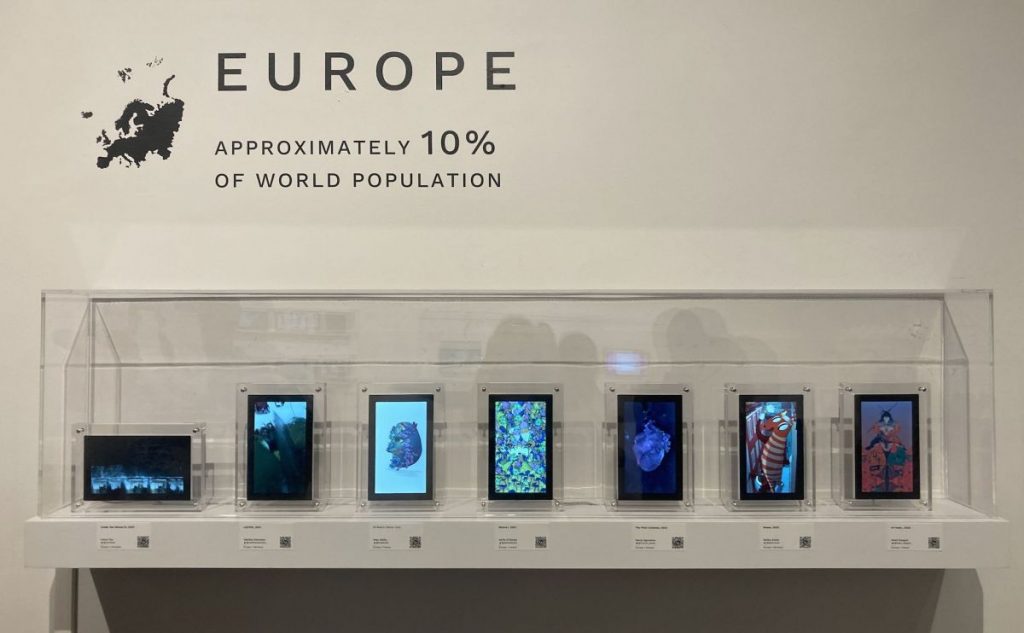 The show's press release offers more insight into this curatorial approach, which "highlights that there are strengths in numbers globally." For example, it says, "Asia makes up 60% of the world's population equated to roughly 76 featured artists in the show, followed by Africa making up 18% of the world's population which equates to 26 featured artists, and then Europe is 10% and so on and so forth." The organizers hope this show inspires collectors "to come and discover the limitless, curious and creative women of the world who make NFTs."
The jury's still out on what exactly it means to "make NFTs," which are often artistically comprised of the kind of digital media artists have already been working in for decades. Sometimes, like with "Metaverse Petshop," blockchain tech factors into the work's execution such that it becomes part of the medium. But here, "NFT art" is more an aesthetic–vivid visual soundbites scintillating across screens. Sleek frames by Infinite Objects package these artworks with respect for the care that goes into them.
Every piece makes a strong case for the artistic integrity of this moment's aesthetic, but Metaverse Post particularly loved contributions from Rayan Elnayal, Dead Seagull, and Johannah Bird. Let us know yours.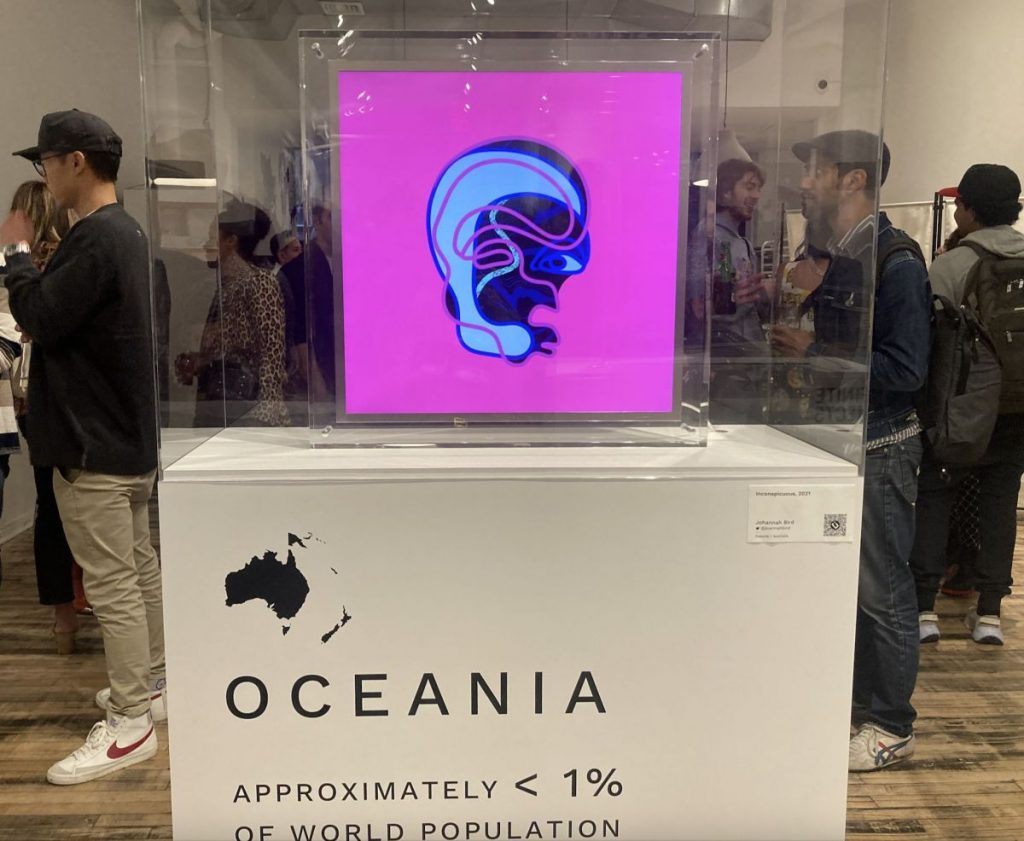 "We are thrilled to be collaborating with STARTBAHN, Studio As We Are, NowHere Gallery NYC, and Indie Village to shine a light on the incredible community of women-identifying NFT artists from all around the world," said Roxy Fata, COO of Infinite Objects. "Valuing diverse perspectives is at the core of our culture at Infinite Objects, so this has been a joy for us to bring to life. It's so important to recognize the women ushering in the new wave of digital art and we couldn't be happier to be giving them a platform to do so."
STARTBAHN has made a name for themselves by offering blockchain art collection management for the fine art world. Their description says they're "a leading Japanese art tech company aiming to enrich society by providing the technology needed by artists and those involved in art and creative industries around the world." They also operate Startrail, "a sustainable and scalable blockchain infrastructure that assures the reliability, authenticity, and traceability of artworks—from physical works such as paintings, sculptures, and installations, to digital works based on data such as images, video, and audio."
Close out this week's conference festivities at 40 Wooster Street in SoHo–a neighborhood potentially growing into NYC's crypto art capitol alongside big names like SuperRare. Remote fans can also find the show on display at the Indie Village Metaverse.
Read related posts:
Disclaimer
Any data, text, or other content on this page is provided as general market information and not as investment advice. Past performance is not necessarily an indicator of future results.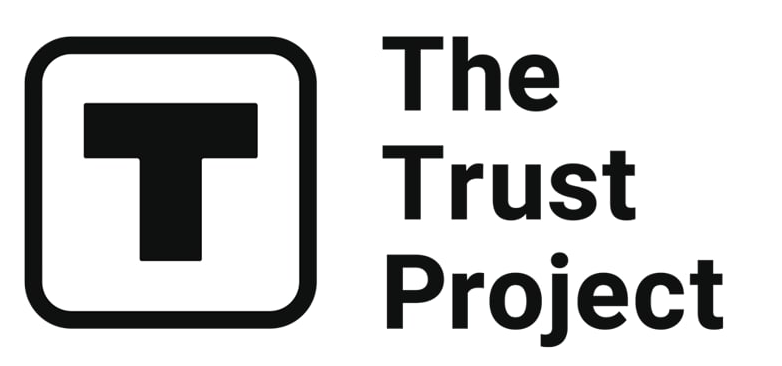 The Trust Project is a worldwide group of news organizations working to establish transparency standards.
Vittoria Benzine is a Brooklyn-based art writer and personal essayist covering contemporary art with a focus on human contexts, counterculture, and chaos magic. She contributes to Maxim, Hyperallergic, Brooklyn Magazine, and more.
More articles


Vittoria Benzine is a Brooklyn-based art writer and personal essayist covering contemporary art with a focus on human contexts, counterculture, and chaos magic. She contributes to Maxim, Hyperallergic, Brooklyn Magazine, and more.
Hot Stories
by Nik Asti
October 02, 2023
by Cindy Tan
September 29, 2023
by Nik Asti
September 28, 2023
by Damir Yalalov
September 27, 2023
Latest News
by Agne Cimermanaite
October 02, 2023
by Victor Dey
October 02, 2023
by Agne Cimermanaite
October 02, 2023
by Nik Asti
October 02, 2023