In Brooklyn, NFT show turns the art world upside down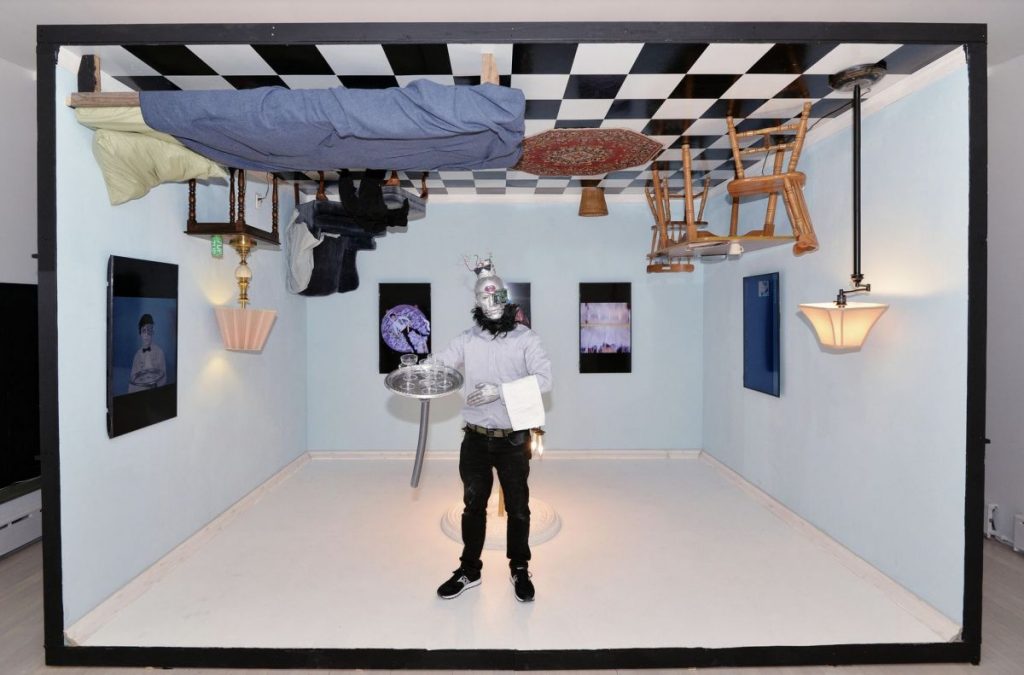 Brooklyn-based performance, video, and NFT artist David Henry Nobody Jr. turned the gallery world on its head last Friday, opening a joint solo exhibition at 11 Newel Gallery in Williamsburg alongside 3D visual artist Nicole Ruggiero. Metaverse Post caught up with the counterculture creative to learn more about his immersive, inverted installation titled "Upside Down World."
"Upside Down World" envisions the burnt-out servants' quarters of Nobody's latest avatar, a cybernetic butler. Nobody arrived at 11 Newel on the opening night dressed as this character; he also put on this costume while attending the recent opening of SuperRare's pop-up space in SoHo.
Nobody's latest installation is literally upside down–he worked with longtime friend and acclaimed set designer Jesse Kauffman for 48 labor-intensive hours to fabricate the environment. The setting is also used to showcase five new NFT performance art videos.
"I wanted to show the videos on flat screens in the room," Nobody told Metaverse post, but "trying to figure out how the videos would co-exist with the illusion of the room was super maddening to foresee. It became clear that the upside-down room was the Butler's actual life, with the videos showing his subconscious fantasies and dreams." The show's press release adds that "the set is also intended as a dark playground for the phone, the audience can take pictures of themselves immersed in the Inverted reality."
Obviously, this isn't Nobody's first rodeo. He's participated in several seminal NFT exhibitions so far, including "NFTism" at Unit London, curated by Kenny Schachter. "Upside Down World" does, however, mark Nobody's most elaborate and ambitious hybrid exhibition to date.
"I have evolved into the technology of NFT and Web 3," he said. Over his thirty-year career as an "immersionist performance artist, sculptor, and reality hacker," the artist has shown videos, prints, sculptures, and provocative behavioral performance actions across gallery exhibitions.
The artist began recording his performances in the persona of David Nobody in 2015, posting them to Instagram "as a response to social media and the weird American society I'm embedded in," he said. "Faced with the existential dilemmas of my modern world and a bizarre and invasive technology, I physically wear the detritus and propaganda that I'm force-fed for the viewer to consider and react to."
He calls the sums of his practice's parts "Resemblagè," a portmanteau of 'resemble' and 'collage.' As Nobody explained, "I collage upon my body or others' physically and record the action so that real life looks like CGI. I don't see why I should make a collage or painting when you can just step into the picture and share it in the collective digital mural of humanity: the internet! I think my interest in simulated reality, recordings, and ephemeral performance actions was a kind of intuitive preamble that has now arced into NFT."
By March 2021, Nobody found his IG inbox inundated with DMs entreating him to start minting his videos. "In previous years, my videos went super viral on social media, but I could not really monetize the work," he said. "Little did I know that my recordings would be the revolutionary digital canvases of the future. I started minting 1/1s on Foundation and quickly found a solid collector base, with the price floor growing to 3 Ethereum over the year."
The concept for "Upside Down World" started percolating in Nobody's back pocket well before the blockchain went mainstream. When NYC-based curator Coco Dolle approached him to organize his second show with 11 Newel this June, this "perennial idea" sprang back to life.
"I have made a few previous upside-down self-portraits and performances, so I knew a bit about how to make the pieces," Nobody said. "I have always wanted to make the gallery into something of a fun house, as opposed to a stuffy dead white looking vacuum."
"For the performance videos, I chose to build a massive wheel in my studio made of wood and steel that performers, sets, props, and liquids could be attached to and rotated/inverted," Nobody continued. "It was a very risky and tough to figure out the idea–but after some attempts I got it working really well. I could see that I wanted to feel gravity while performing; I was upside down so much that it became meditative. I liken it to going back to the womb, being born, and cycling through life as the wheel turns, to be in a world, turning. I had to google 'blood in the ears' which turned out is not abnormal for excessive inversions!"
And why work until blood poured from his ears at this particular moment? "I wanted to do this show now because my world feels upside down as hell," Nobody said. "Putin Invaded Ukraine, the market imploded, and we just went through a pandemic and Trump, every week there is some kind of crazy shooting–so I just make work about the reality that presents itself and my work is how I figure out what the fuck reality is, before, like water, it again eludes my grasp."
The artist dropped all four of the Cycle/Wheel NFTs on Foundation as 1/1 editions the day the show opened. They're still available at a price of 2.50 ETH. Nobody's also planning a live, affordable, editioned drop next week on OpenSea.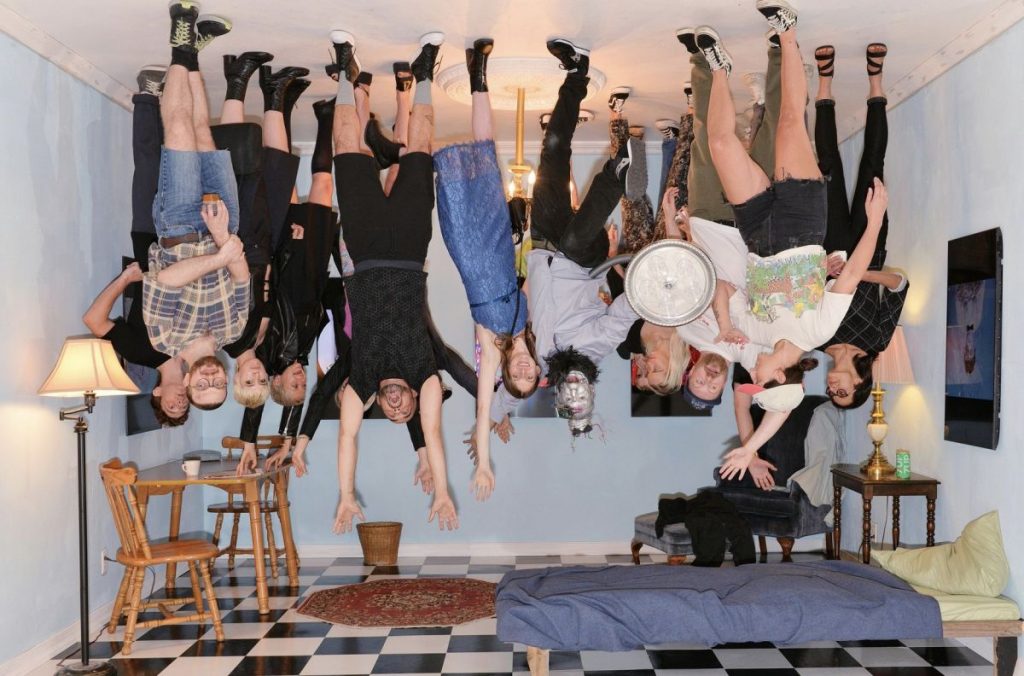 If you're in town for the conference, make sure to stop by 11 Newel to see "Upside Down World" along with "How the Internet Changed My Life," a participatory documentary by Nobody's gallery cohort Nicole Ruggiero. "I really enjoy Nicole's work quite a bit and although we are of different generations, with different points of reference I saw the commonality of our interest in how the internet is shaping our lives and perception of reality," Nobody said. "I enjoy the sense of humor in Nicole's work but can relate to her seriousness, drive, and ambition."
The two-part show remains on view through July 3, but the artists will host a brunch and artist talk on Thursday, June 23 from 12 pm to 5 pm for NFT.NYC. So far, the event allegedly has over 500 RSVPs. "It seems like the community recognizes the leadership in our exhibition for NFT at a time of crossroads and some reckoning," Nobody concluded. The societal situation is dire. We no longer need a parallel reality, but a perpendicular one. Find it in Brooklyn.
Read related posts:
Disclaimer
In line with the Trust Project guidelines, please note that the information provided on this page is not intended to be and should not be interpreted as legal, tax, investment, financial, or any other form of advice. It is important to only invest what you can afford to lose and to seek independent financial advice if you have any doubts. For further information, we suggest referring to the terms and conditions as well as the help and support pages provided by the issuer or advertiser. MetaversePost is committed to accurate, unbiased reporting, but market conditions are subject to change without notice.
About The Author
Vittoria Benzine is a Brooklyn-based art writer and personal essayist covering contemporary art with a focus on human contexts, counterculture, and chaos magic. She contributes to Maxim, Hyperallergic, Brooklyn Magazine, and more.
More articles


Vittoria Benzine is a Brooklyn-based art writer and personal essayist covering contemporary art with a focus on human contexts, counterculture, and chaos magic. She contributes to Maxim, Hyperallergic, Brooklyn Magazine, and more.
Hot Stories
by Victor Dey
December 01, 2023
by Victor Dey
November 30, 2023
by Kumar Gandharv
November 30, 2023
by Victor Dey
November 30, 2023
Latest News
by Alisa Davidson
December 01, 2023
by Nik Asti
December 01, 2023
by Kumar Gandharv
December 01, 2023
by Nik Asti
December 01, 2023