Web3 Gaming Summit 2023 Sets New Industry Standards, Wraps on a High Note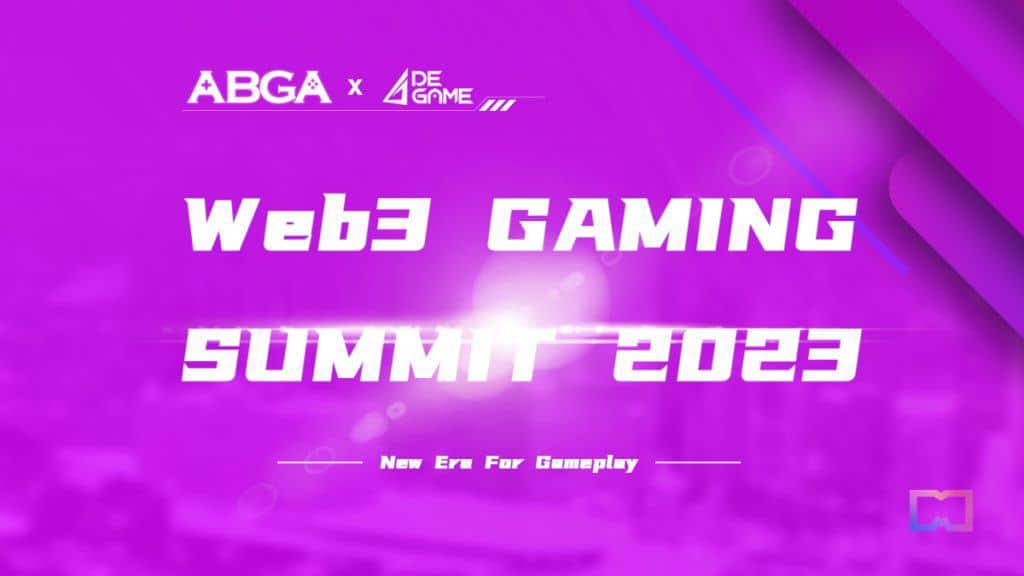 by
Victor Dey
Published: September 18, 2023 at 5:29 am Updated: September 18, 2023 at 5:32 am

In Brief
The Web3 Gaming Summit 2023 provided a platform for Web3 gaming enthusiasts, industry leaders, developers, investors and global gaming communities to converge and explore the future of the Web3 gaming ecosystem.
The Web3 Gaming Summit 2023, held from September 11th to 12th in Singapore, marked a pivotal moment in the Web3 gaming revolution. Co-organized by ABGA and DeGame, this official gaming sub-event of Token2049 attracted over 4,000 registered participants, surpassing expectations with an actual attendance of over 4,300 attendees.

The summit provided a platform for Web3 gaming enthusiasts, industry leaders, developers, investors and global gaming communities to converge and explore the future of the Web3 gaming ecosystem.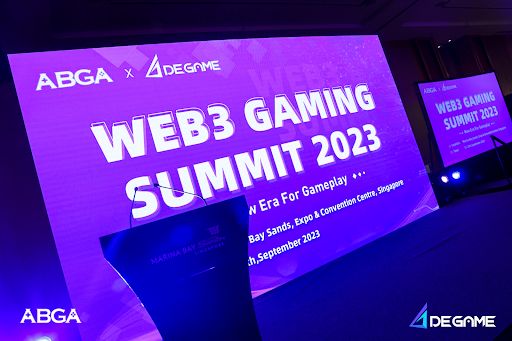 The opening day witnessed The Web3 Gaming Hackathon 2023 finals and award ceremony, jointly hosted by ABGA, Klaytn, Iskra and CESS, concluded successfully on September 11, 2023, at the Sands Convention Center in Singapore.
The primary objective of this hackathon was to harness the potential of the gaming industry through blockchain technology, bridging the gap between Web2 and Web3, and promoting the growth of the gaming ecosystem.
Over a hundred game projects competed fiercely throughout the hackathon, with the top 10 games presenting their outstanding project results on the final day. The competition determined the ultimate winner, who received an $80,000 USD reward, along with additional support from hackathon partners Google Cloud and Slowmist.
The esteemed panel of judges comprised notable leaders from the Web3 industry, including Uno Lee (VP of Business & Governance at Klaytn Foundation), Jessie Dai (Co-founder & COO of CESS), Blue (CTO of SlowMist), Min Xue (Partner at Foresight X), JT Law (Partner at IVC), Aria Zhang (Investment Partner at Zonff Partners), Evans Huangfu (Partner & CIO at Arcane Group), Kiwi (Head of Research at OKX Ventures), Pawn (CTO of NuLink), Alex Cooper (Community Manager at Footprint Analytics), Bill Byun (CEO of Encoding Labs), Simon Lee (Game Centre Executive Director at Iskra) and Junyoung Park (Game Business Director at Iskra).
Exploring the Future of Web3 Gaming
With the theme "New Era For Gameplay," the summit aimed to chart the course for the Web3 gaming industry's future by discussing innovative directions, strategies, and tools. The event commenced at the Marina Bay Sands Hotel in Singapore on September 11th, with morning sessions featuring presentations and panels about the Linea gaming ecosystem, organized by Linea, DeGame, and Particle Network.
In the afternoon, ABGA and collaborators Klaytn, Iskra, and CESS hosted the hackathon finals, showcasing top-tier gaming products from the Top 10 teams. Concurrently, industry leaders from both Web2 and Web3 sectors shared their perspectives on Web3 gaming. Following engaging presentations, the summit culminated in the announcement of winners and a grand award ceremony.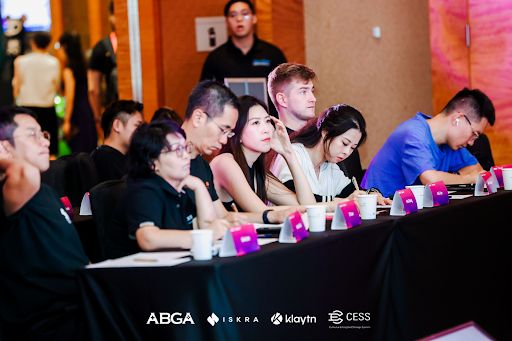 In addition to the intense competition, the event featured insightful speeches from experts in various fields:
Astin Han, Business Manager of the Klaytn ecosystem, discussed Klaytn's commitment to supporting Web3 developers and introduced the Ignite on Klaytn (IOK) program, designed to enhance the Klaytn ecosystem's one-stop solution.
Ben Colayco, CFO of Iskra, highlighted Iskra's role in expanding the global Web3 gaming market by launching an integrated Web3 gaming community platform.
Jessie, Co-founder and COO of CESS, explained how CESS empowers Web3 games to achieve "digital immortality," ensuring the longevity of Web3 games.
Eefy Lin, Customer Solution Architect of Google Cloud APAC, unveiled Google Cloud's initiatives in building a blockchain node engine and BigQuery public datasets for multi-chain meta-analysis.
Blue, CTO of SlowMist, showcased SlowMist's services, including blockchain security audit, consulting, monitoring, and AML/CFT compliance solutions.
Pawn, CTO of NuLink, shared NuLink's collaboration with GameFi partners to provide secure privacy protection solutions for Web3 games.
Paul Solntsev, Head of Cointelegraph Accelerator, discussed the theme of accelerating GameFi adoption and provided guidance for Web3 startups, emphasizing Cointelegraph Accelerator's support for Web3 startups.
Following these insightful speeches and impressive demonstrations by the top 10 teams, the winners of the 2023 Web3 Gaming Hackathon were announced:
First Prize –
Legend of Arcadia: A multi-chain, free-to-play card game combining a sleek gaming experience with the GameFi 2.0 concept.
Second Prize (x2) –
SERAPH: Integrates blockchain features while prioritizing gameplay and the fun of looting nonfungible tokens (NFTs).
Planet Hares: A metaverse ecosystem platform based on entertainment culture that empowers Web3 projects.
Third Prize (x3) –
Tearing Space: Aiming to balance traditional Web2 and Web3 gaming with high financial attributes.
Arena of Faith (AOF): A cutting-edge MOBA game centered around a tournament-centric ecosystem.
Mirror Planet: An immersive, location-based Web3 Metaverse game that integrates blockchain technology.
ABGA's Choice –
Lumiterra: A multiplayer, open-world survival crafting game with a vast world to explore and conquer.
Klaytn's Choice –
Mhaya: Shaping the future of GameFi by offering unprecedented value to gamers and investors.
Iskra's Choice –
TownStory: A Web3 social simulation game that allows players to build their towns and trade NFTs in an open world.
CESS's Choice –
Sui Game: A revolutionary gaming ecosystem powered by blockchain, aiming to become the STEAM of Web3.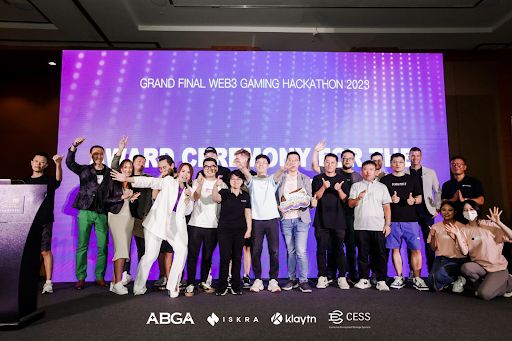 With the conclusion of this two-month-long hackathon, heartfelt congratulations were extended to the top 10 competition winners. The event was also enriched by the profound insights shared by industry leaders, making it a professional and in-depth gathering that further fueled the growth of Web3 gaming.
Insights from Industry Luminaries
The summit's second day commenced with an enlightening speech by ABGA's CEO, Kevin Shao. He provided valuable insights into the Web3 gaming market, emphasizing the rise of cross-chain games and the potential benefits of AIGC for game development. Kevin highlighted the role of AI in enhancing game development efficiency and discussed the challenges of creating AAA games in the current market.
The conference featured a series of speeches by prominent figures in the Web3 gaming arena:
Sébastien, COO of The Sandbox, discussed NFTs and digital asset ownership among Generation Z, emphasizing community support for creators. To support this growing creator culture, The Sandbox continuously launches new creations, games, tools, and fully backs the community. He also provided multiple avenues and directions for community growth in the creator domain.

Aloysius Chan, CEO of AI Meta Club (AMC), examined the need for security measures against hackers in game development. He pointed out that beyond a certain profitability point, game companies need to decide whether it's worth implementing expensive detection and encryption tools to thwart hackers. He added that with the help of AI, blockchain technology in Web3 games can be realized without integrating GameFi.

Hugo Church, Head of Business Development at Brilliantcrypto, presented the gaming world of Brilliantcrypto and introduced the concept of "Proof of Gaming." He predicted that apart from gamers, NFT enthusiasts would also be interested in owning a gem or jewel on Brilliantcrypto.
Kordan Ou, CEO of KryptoGO, discussed challenges and solutions in transitioning from Web2 to Web3 gaming. He proposed viable solutions like enhanced blockchain integration, improved user experience and accessibility, a robust financial ecosystem, and continuous community and societal engagement to enhance the gaming experience and user retention.
Steve Good, CEO and Co-founder of Dreams Quest, showcased the upcoming open-world action-adventure RPG game "Origins: The Fall of Azoria." He also revealed that to better support the gaming community, Dreams Quest has established a new NFT infrastructure compatible with multiple chains and a new dynamic market.
Carol Wang, Co-founder and CFO of MarsProtocol, addressed centralization issues in Ethereum and potential solutions. She noted that liquidity staking currently accounts for 43% of the Ethereum staking market, with Lido dominating with a 74.2% market share. Amazon holds nearly 60% of Ethereum node distribution, making node centralization one of the biggest challenges Ethereum faces.
Lester Li, founder of DeGame, discussed growth strategies and the evolving Web3 gaming infrastructure. He pointed out that due to the emergence of dedicated blockchain game engines, increased blockchain efficiency, reduced on-chain transaction costs, and the deployment of key technologies like account abstraction and related EIPs, the Web3 gaming infrastructure is continuously evolving. He also stated the Web3 gaming market is rapidly growing, and in the next two years, more traditional games will turn to blockchain games.
Hara, CEO of Jasmy Labs, introduced the Jasmy platform and its objectives. He also revealed that Jasmy has launched a grant program to support the construction of new community projects. Currently, Jasmy is building the Ethereum-based Layer 2 Jasmy Chain to further enhance scalability and continuously provide quality services.
Jake Liu, CFO of Planet Hares, explored extending game lifecycles through Web3 mechanisms. He suggested that through well-designed token economics (Play to Earn and decentralized governance), developers can build a Web3 gaming metaverse to enhance the game's lifecycle. He also recommended designing a dual-token model to prevent the dilution of governance tokens while maintaining the stability of utility token prices.
Henry Ferr, CMO of MetaCene, highlighted the importance of fun in Web3 games and introduced MetaCene's innovative gaming platform. He introduced MetaCene and mentioned that the product is dedicated to integrating Web2 and Web3 features to create an innovative gaming platform that caters to the mass market.
Karen Kao, CMO of BoxTradEx, introduced BoxTradEx, a one-stop Web3 gaming portal. The company asserted that its Guild ToolBox is a comprehensive solution for game guilds to manage crypto tokens, NFT assets, add members, and create guild events.
Jae Kim, BD Director of Luniverse, discussed the benefits of multi-chain infrastructure for blockchain games. He introduced that as a node service provider, Luniverse's multi-chain Web3 API allows developers to easily build decentralized applications and deploy them across multiple blockchain networks through a unified interface.
Yawn, Co-founder of STEPN, shared insights on building hyper-socialized Web3 games. He noted that the next phase of Web3 is built on hyper-socialization, and the next "holy grail" for games will need to address the infinite lifecycle of NFTs and reduce the entry barriers to zero.
Shukyee, CMO of Polyhedra, presented the advantages of zkBridge in powering Web3 games. She highlighted the advantages of zkBridge, including trustlessness, security, efficiency, decentralization, scalability, and universality. It will also be able to connect various Web2 and Web3 systems.
Sami CHLAGOU, the co-founder and CEO of Cross the Ages, discussed continuously offering value to players in the collectible card game "Cross the Ages." He highlighted that the transition from Web2 to Web3 in the gaming domain would pose significant challenges. Game developers must prioritize user experience, keep the gameplay simple, and craft immersive gaming experiences for their audience.
Roundtable Discussions and Future of Web3 Gaming
The summit also featured four roundtable discussions with industry leaders, addressing crucial topics in Web3 gaming:
Navigating the Future of Web3 Gaming: Infrastructure to Community
Hassan Ahemd, Coinbase's Singapore Country Director, observed that we presently reside in Web3 gaming's inaugural phase. He anticipates the succeeding phase will revolve around dedicated game wallets and novel NFT standards. Nevertheless, games must attain playability as a prerequisite before contemplating tokenization and monetization.
Lennix Lai, OKX's Chief Business Officer, supplemented this perspective by emphasizing that the ensuing developmental stage will concentrate on crafting infrastructure conducive to the widespread enjoyment of casual and hyper-casual games. The foundational layer must prioritize game-friendliness.
Minh Ho, Coin98's BD Director, underscored that blockchain represents merely one facet of game infrastructure. While Rollups may be trending, the crux lies in the seamless integration of elements like NFTs into games, as not every component necessitates an on-chain presence.
Sanjay Popli, Co-founder of Cryptomind, added to the discussion saying that the imminent gaming phase won't pivot around tokens but rather, around NFT-related products and other gaming initiatives. However, he said these undertakings must address three pivotal challenges: rectifying inefficiencies in game economics, navigating short-term value expansion (characterized by an influx of users but an unsustainable trajectory), and surmounting revenue generation hurdles.
Which Game Genre is The Best Fit for Blockchain Gaming?
Experts explored the complexities and entry barriers of blockchain games, emphasizing the importance of user understanding and experience.
Vera, a special council member at Apecoin DAO, stressed the paramount importance, from a developer's perspective, of comprehending the audience and crafting a token economy tailored to the Web3 gaming community. However, an even greater emphasis should be placed on maintaining focus and deepening user insights.
Dreamer, Co-founder of Defi Kingdom, highlighted the intricate nature of blockchain games, which poses formidable entry barriers for newcomers to the world of Web3 gaming. He envisions the burgeoning worth of digital collectibles as a potential catalyst for enticing players into the realm of Web3 games.
Lucaz Lee, CEO and Co-founder of Affyn, contended that Web3 games have wrought substantial transformations upon the industry landscape. To foster adoption, game design must prioritize the enhancement of the customer experience.
William Guo, CEO and Co-founder of PlayEstates, acknowledged the enduring presence of card collection games and their play-to-earn (P2E) mechanisms in the market. However, collaborative efforts are imperative to address the scalability challenges inherent to Web3.
Mary Ma, Co-founder and CSO of MixMarvel, shared an optimistic perspective on Web3 games. She asserts that numerous emerging Web3 technologies permit users to partake in Web3 gaming through their social or email credentials, expressing confidence in the eventual embrace of Web3 games by a broader Web2 user base.
Is There Still Demand From VCs for Web3 Gaming?
Panelists discussed the potential for exponential growth in Web3 gaming and the challenges of customer acquisition and valuation.
Kelvin Koh, Co-founder and CIO of The Spartan Group, contends that developers can anticipate exponential user growth by employing tokens effectively. Nonetheless, he perceives prevailing market sentiment as pessimistic and advocates for a realistic approach.
Jason, Founder of Folius Ventures, underscorec the escalating customer acquisition costs within the gaming domain. He notes that certain Web2 games have erroneously integrated random Web3 elements, a strategy he deems unsustainable from an investment standpoint.
James, Venture Capital Director at Animoca Ventures, observed an influx of highly skilled game developers venturing into the Web3 arena. His counsel for Web3 game projects seeking funding is to avoid overvaluation and gain a comprehensive understanding of the ecosystem.
Wesley, Founder of Rootz Labs, placed substantial emphasis on the ecosystem and stack layers. He shared insights into Rootz Lab's recent investment in a novel reputation system and advises crypto game projects seeking funding to exhibit patience, flexibility, and a nuanced comprehension of the distinctions between the crypto community and the gaming industry.
How Public Chains Build and Support Gaming Ecosystems?
The discussion centered on enhancing user-friendly experiences in Web3 games, the role of DAOs, and venture capital support.
Alvin Kan, Asia Regional Director of Sei Foundation, advocated for a more user-friendly approach to the Web3 gaming experience. He anticipates a future where games seamlessly share assets such as NFTs and possess a centralized marketplace, bolstering interoperability among them.
Mr. Walter, Web3 Gaming Director at BNB Chain, underscored the potential of DAOs in shaping games, particularly within the realm of esports, regarding governance. However, he urges caution, pointing out that the complete transparency of DAOs renders projects entirely public. He suggests contemplating a hybrid model that allows for some developer decisions to remain internal.
Hazel Zhang, Investment and Financing Director at AELF, shared an optimistic outlook on games and extends venture capital and project funding opportunities. Nevertheless, she asserts that not all games are suitable candidates for implementing a DAO.
John Cho, Vice President of Development at Klaytn Foundation, stressed the importance of supporting user acquisition for developers. He envisions a transition of traditional 3A game studios and conventional game enthusiasts into the Web3 domain, while players and developers with a heightened focus on crypto elements will explore the realm of GameFi.
ThreeDAO Announced Creator Training Camp
During the summit, ThreeDAO launched its Creator Training Camp, with over 50 creators set to receive guidance from Web3 industry leaders. This initiative aims to foster the growth of Web3 creators and further enrich the Web3 gaming landscape.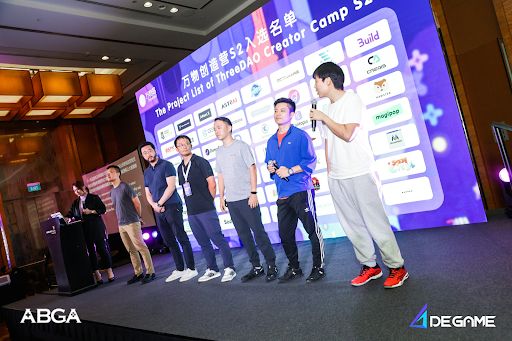 The Web3 Gaming Summit 2023, co-hosted by ABGA and DeGame, concluded successfully, leaving a profound impact on the industry.

The event provided invaluable insights and guidance, reaffirming the boundless potential of the Web3 gaming industry. ABGA and DeGame said the companies are optimistic about the industry's future and look forward to continued innovation in Web3 gaming.
Disclaimer
Any data, text, or other content on this page is provided as general market information and not as investment advice. Past performance is not necessarily an indicator of future results.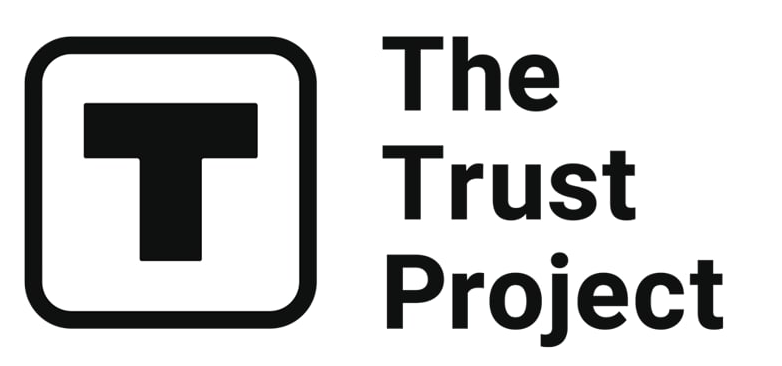 The Trust Project is a worldwide group of news organizations working to establish transparency standards.
Tech Editor at Metaverse Post | Data Scientist / Analyst | Speaker & Media Mentor
More articles


Tech Editor at Metaverse Post | Data Scientist / Analyst | Speaker & Media Mentor
Hot Stories
by Victor Dey
September 21, 2023
by Damir Yalalov
September 21, 2023
by Agne Cimermanaite
September 21, 2023
by Damir Yalalov
September 21, 2023
Latest News
by Cindy Tan
September 21, 2023
by Agne Cimermanaite
September 21, 2023
by Cindy Tan
September 21, 2023
by Cindy Tan
September 21, 2023