In Brief
Cryptocurrencies are decentralized, meaning they are not subject to government or financial institution control.
The bear market and specific events are likely to continue to cause cryptocurrencies to lose value in the coming year.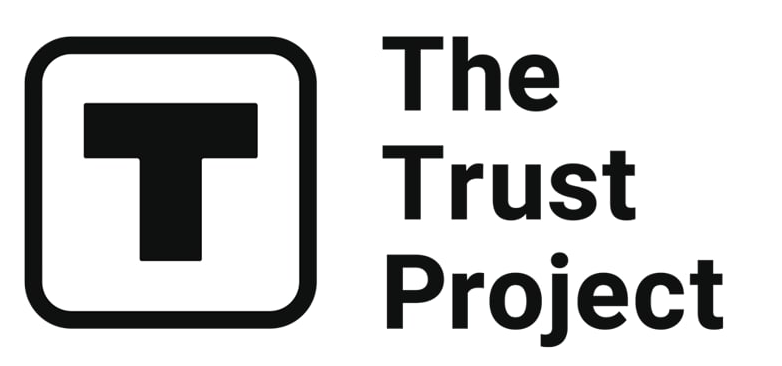 The Trust Project is a worldwide group of news organizations working to establish transparency standards.
We often hear about cryptocurrencies rising to incredible heights, yet many digital assets behave in the other way. In 2023, several of the best-performing cryptocurrencies from 2022 aren't doing as well. This could be due to a variety of factors, such as increased regulation or market saturation, and it highlights the volatility and unpredictability of the cryptocurrency market. It's important for investors to do their research and diversify their portfolios to mitigate risk.
A comparison sheet of the worst-performing cryptocurrencies
| Coin | 1Y change |
| --- | --- |
| Bitcoin SV (BSV) | -52% |
| Ethereum Classic (ETC) | -21% |
| NEO | -49% |
| Bitcoin Gold (BTG) | -48% |
| IOTA | -78% |
| Cardano (ADA) | -72% |
| Flow | -89% |
| DOGE | -39% |
| Algorand (ALGO) | -69% |
| Solana (SOL) | -75% |
Pro Tips
These exchanges are gaining popularity among crypto traders who value privacy and anonymity. However, it is important to note that they may not be regulated and may carry higher risks compared to KYC-compliant exchanges.
These DApps have the potential to revolutionize industries such as finance, gaming, and social media by offering increased security, transparency, and user control. As blockchain technology continues to evolve, we can expect even more innovative DApps to emerge in the coming years.
These crypto affiliate programs offer various incentives for promoting cryptocurrency-related products and services, including commission-based earnings, referral bonuses, and exclusive discounts. By joining these programs, individuals can earn passive income while contributing to the growth of the crypto industry.
These DAO tokens have gained immense popularity in recent years due to their decentralized nature and the ability to govern the decision-making process of a project. Some of the top DAO tokens to watch out for in 2023 include MakerDAO, Compound, Uniswap, and Aave.
What is cryptocurrency?
A cryptocurrency is an item that is digital or virtual and is intended to be used as a medium of trade. Since cryptocurrencies are decentralized, neither a government nor a financial institution can control them. The earliest and best-known cryptocurrency, Bitcoin, was developed in 2009. Since then, countless unique cryptocurrencies have been developed. While some are fresh and original, others are copies of other cryptocurrencies already in use. The popularity of cryptocurrencies has increased in recent years, with many people investing in them as an alternative to traditional forms of currency. However, their lack of regulation and volatile nature make them a risky investment for some.
In decentralized exchanges, cryptocurrency is frequently traded, and it can also be used to make purchases of goods and services. Cryptocurrency values are extremely erratic and subject to sharp swings. Many variables, such as governmental control and market speculation, are to blame for this. This unpredictability has made it difficult for some businesses to accept cryptocurrency as a form of payment. However, with the increasing popularity and adoption of cryptocurrencies, some companies are beginning to accept them as a viable payment option.
While some cryptocurrencies saw good performance in 2023, some did not have the same luck. Based on our investigation and analysis, here are the ten worst-performing digital assets for 2023. These cryptocurrencies experienced significant losses ranging from 50% to 90%, with some facing challenges such as regulatory scrutiny, lack of adoption, and competition from other projects.
1. Bitcoin SV (BSV)
A cryptocurrency called BSV split off from Bitcoin Cash in 2018. The fork proved divisive, and the new BSV coin has had trouble competing in the market ever since. By market value, BSV is currently the tenth-largest cryptocurrency, but in 2023, it is anticipated to decline even further. BSV's struggle to gain traction in the market is due to its controversial founder, Craig Wright, who claims to be the creator of Bitcoin but has been unable to provide sufficient evidence. As a result, many investors are skeptical of BSV's legitimacy and long-term potential.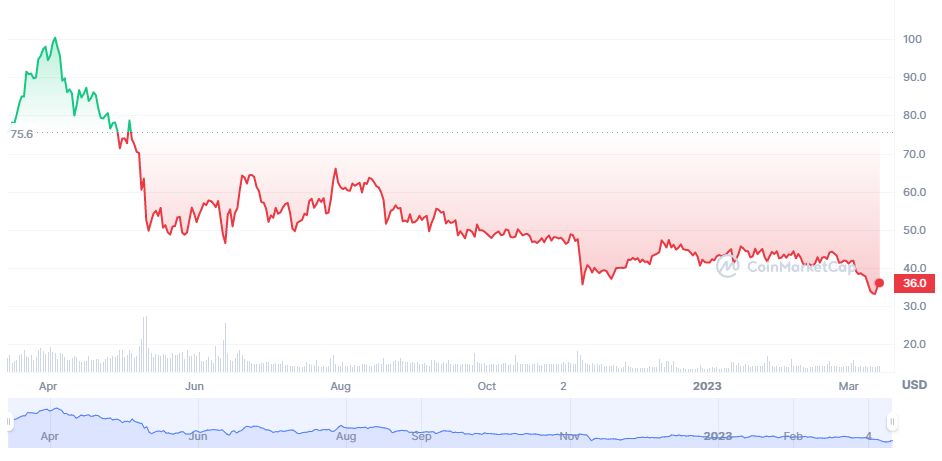 2. Ethereum Classic (ETC)
The Ethereum blockchain underwent a fork in 2016 called ETC. A debate within the Ethereum community about how to respond to the DAO hack led to the fork. Since that time, ETC has experienced a lack of growth and is currently the seventeenth-largest company by market capitalization. In 2023, it's anticipated to decline even further. The lack of growth of ETC can be attributed to the fact that most developers and users migrated to the new Ethereum chain, leaving ETC with a smaller community and less support. Additionally, the increasing competition from other blockchain projects may also contribute to its further decline in market capitalization.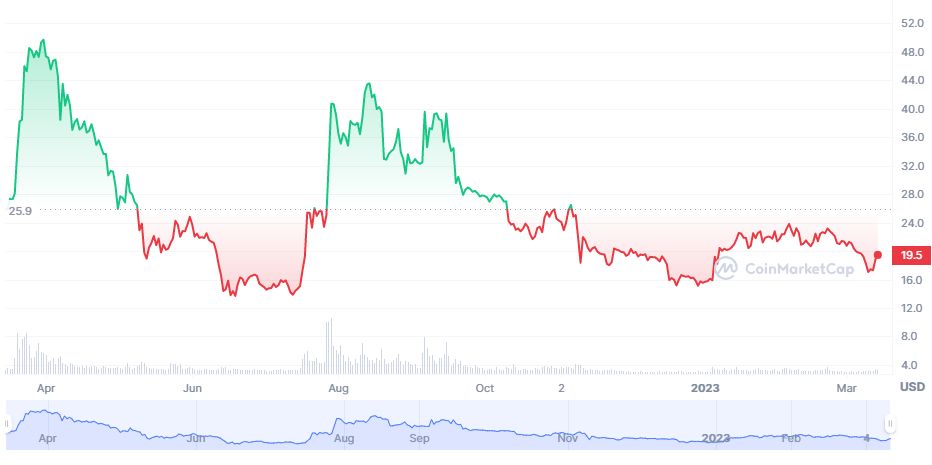 3. NEO (NEO)
This particular cryptocurrency was developed in China in 2014. Due to its resemblance to the Ethereum blockchain, it is frequently referred to as the Chinese Ethereum. NEO, on the other hand, is now ranked seventeenth by market capitalization as a result of its inability to compete with Ethereum. In 2023, it's anticipated to decline even further. NEO, also known as Antshares, is designed to digitize assets using smart contracts and aims to create a smart economy by integrating digital assets, digital identity, and smart contracts. Despite its current ranking and projected decline, some investors still believe in the potential of NEO's technology and its role in the future of blockchain.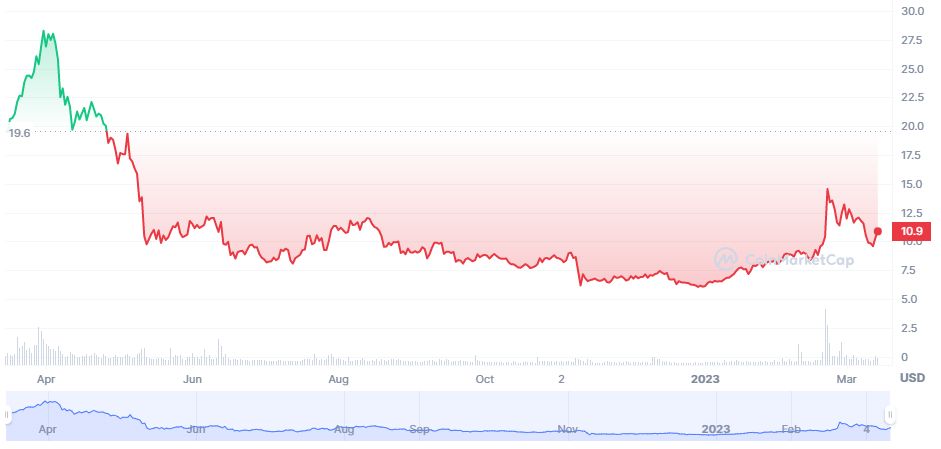 4. Bitcoin Gold (BTG)
The Bitcoin blockchain underwent a fork in 2017 called BTG. Although the fork was meant to produce a more decentralized form of Bitcoin, it has not been successful. By market capitalization, BTG is presently placed twenty-fifth and is probably going to drop even worse in 2023. BTG was created to address the issue of mining centralization in Bitcoin, but it has not been able to achieve its goal due to the emergence of specialized mining hardware. As a result, BTG's market capitalization has been declining steadily since its inception.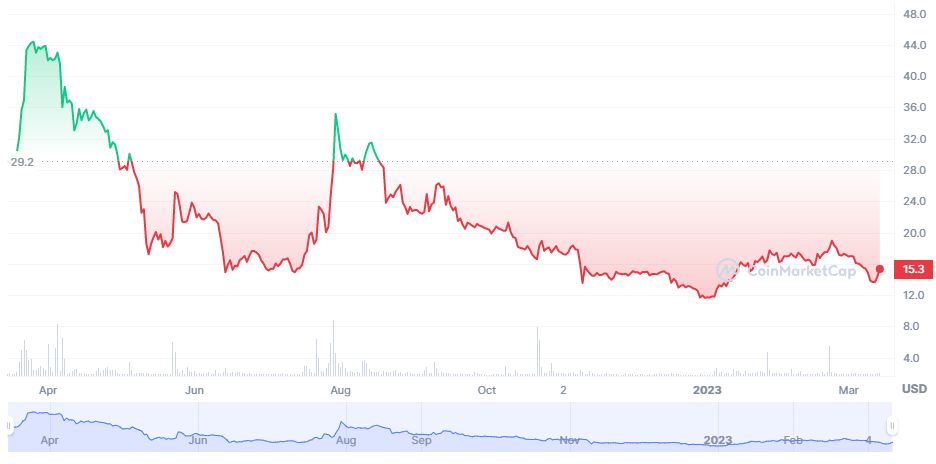 5. IOTA (IOTA)
It is a digital currency that was established in that year. It is made with Internet of Things applications in mind. IOTA, on the other hand, has had difficulty gaining traction and is now ranked 26th by market capitalization. In 2023, it's anticipated to decline even further. IOTA's unique technology, which uses a Tangle instead of a traditional blockchain, has faced challenges in gaining widespread adoption. However, some experts believe that as the Internet of Things continues to grow, IOTA's potential to facilitate machine-to-machine transactions could lead to increased demand and adoption in the future.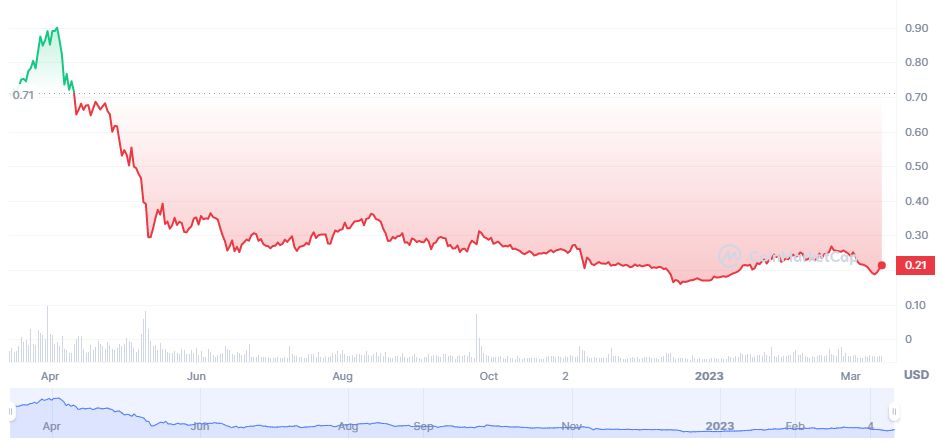 6. Cardano (ADA)
It is a platform for smart contracts and decentralized apps, just as Ethereum. Cardano, on the other hand, has had trouble gaining traction and is presently placed 12th by market capitalization. In 2023, it's anticipated to decline even further. Despite its current position, Cardano has a strong community and development team that is constantly working on improving the platform's scalability and interoperability. Additionally, the implementation of new features such as smart contract functionality and the recent partnership with Ethiopia could potentially increase its adoption and market value in the future.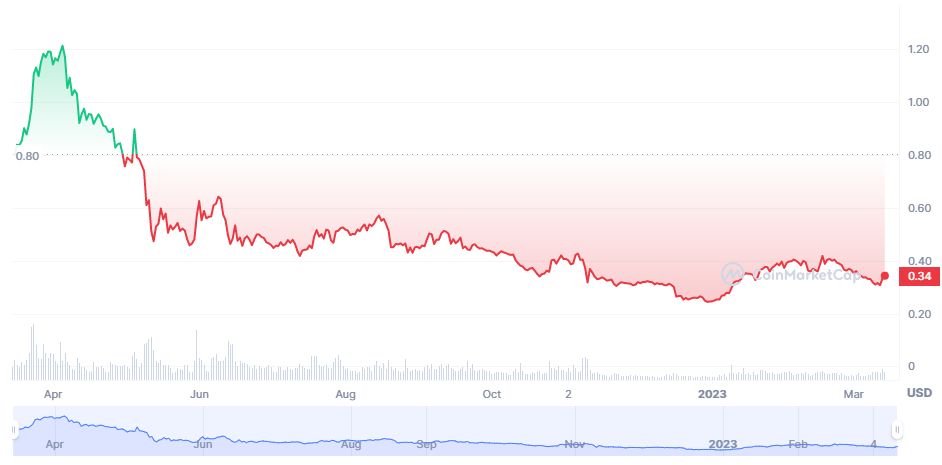 7. Flow (FLOW)
The 83 percent reduction in flow thus far in 2023 may be due to the bear market, even though there are no evident reasons why investors opt to sell. The coin is now at forty-first place. This decrease in flow may also be a result of increased regulation and scrutiny from governments and financial institutions towards cryptocurrencies, causing investors to be more cautious with their investments. It remains to be seen if the coin will regain its previous position or continue to decline in popularity.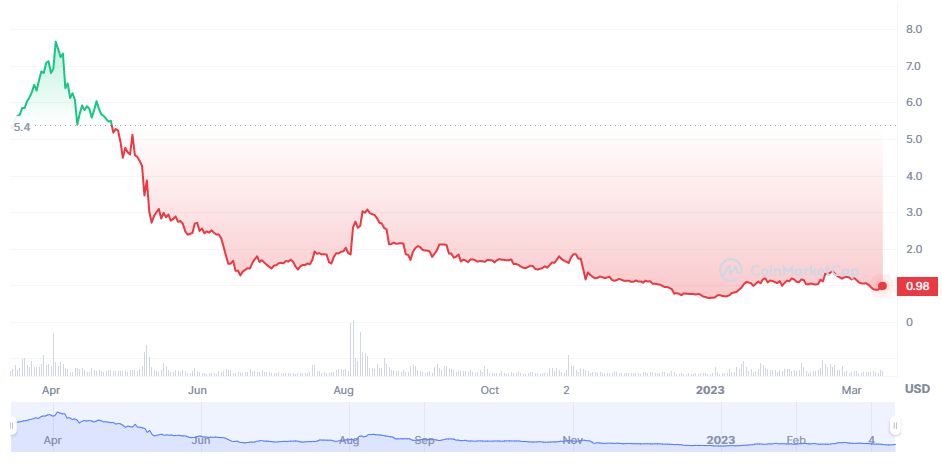 8. DOGE (DOGE)
This 2013 invention is a meme cryptocurrency. It started out as a joke but has since grown very popular. It is now rated 41st by market capitalization, but hasn't really taken off as a serious investment. In 2023, it's anticipated to decline even further. The meme cryptocurrency referred to is Dogecoin, which was created by Billy Markus and Jackson Palmer. Despite its popularity and widespread use, experts predict that it will continue to lose value due to its lack of practical applications and the increasing competition in the cryptocurrency market.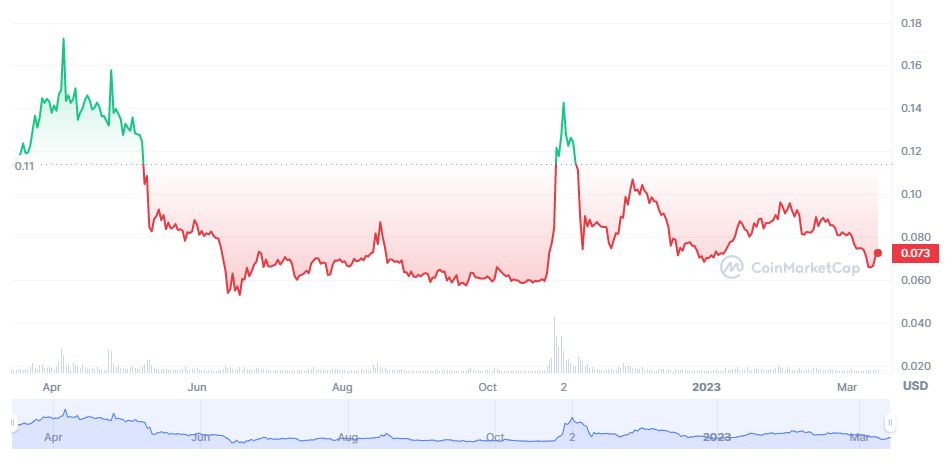 9. Algorand (ALGO)
With a record number of users in 2022, it is a proof-of-stake network that can handle a million daily transactions and up to 1,000 per second. Moreover, Tinyman and Algodex, which each have over 1,000 users, are hosted by Algorand. Even with this achievement, the coin's value has decreased by more than 83 percent from January 1, 2023. This decrease in value may be due to market fluctuations or other factors, but it does not necessarily reflect the success of the Algorand network or its hosted applications. It will be important to monitor the performance of Algorand and its associated coins over time to determine their long-term viability and potential for growth.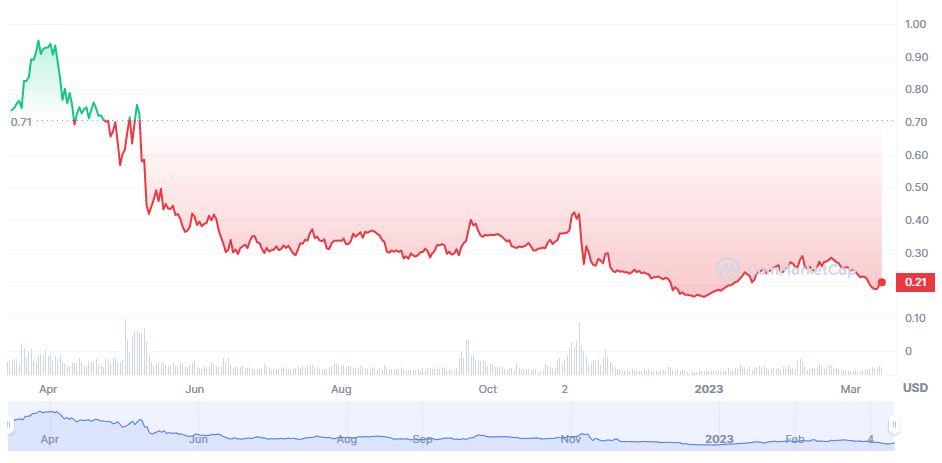 10. Solana (SOL)
This blockchain protocol seeks to address the scalability problems of current blockchains. It does this utilizing the up to 710 transactions per second Proof of History technique. A token, though, has struggled to acquire traction and is now the thirty-third-ranked cryptocurrency by market valuation. In 2023, it's anticipated to decline even further. Despite its innovative approach to scalability, the token's lack of adoption and market interest has hindered its success. Unless significant improvements are made to increase its utility and attract more users, it is likely that the token will continue to decline in value.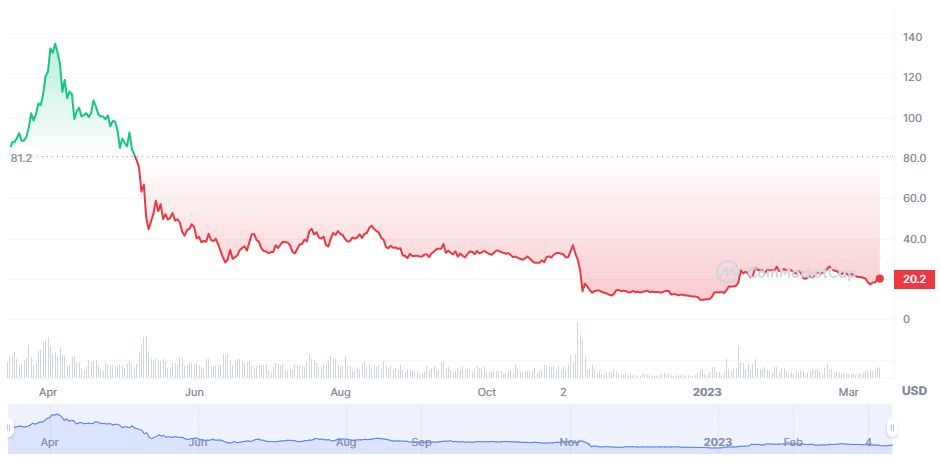 Why did so many cryptocurrencies lose value in 2023?
This question has a two-part answer. First off, since the start of 2018, the entire crypto market has been in a downward trend. This indicates that since then, the majority of digital assets have decreased in value.
Second, in 2023, a number of exceptional occasions led to the value of some cryptocurrencies declining. They include the splits between Bitcoin and Ethereum, NEO's struggle to compete with Ethereum, and IOTA and Cardano's lackluster acceptance. Overall, these elements have caused the value of many digital assets to decrease. However, it is important to note that the cryptocurrency market is highly volatile and unpredictable, and there may be fluctuations in value in the future. Investors should exercise caution and do their own research before investing in any digital assets.
Cryptocurrencies are anticipated to continue losing value in the upcoming year as a result of the weak market and certain circumstances. As a result, investors who are thinking about buying digital assets should exercise caution. They should conduct their due diligence and limit their investments to ventures they think have long-term promise. It is important to note that the cryptocurrency market is highly volatile and unpredictable, which can result in significant losses. Therefore, investors should only invest what they can afford to lose and diversify their portfolio to mitigate risks.
Related articles:
Disclaimer
Any data, text, or other content on this page is provided as general market information and not as investment advice. Past performance is not necessarily an indicator of future results.