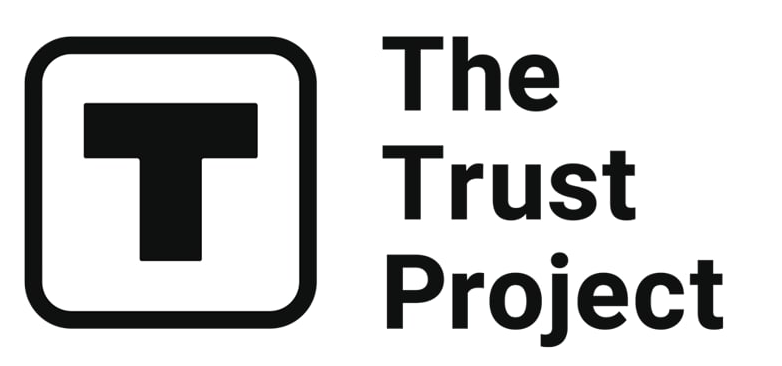 The Trust Project is a worldwide group of news organizations working to establish transparency standards.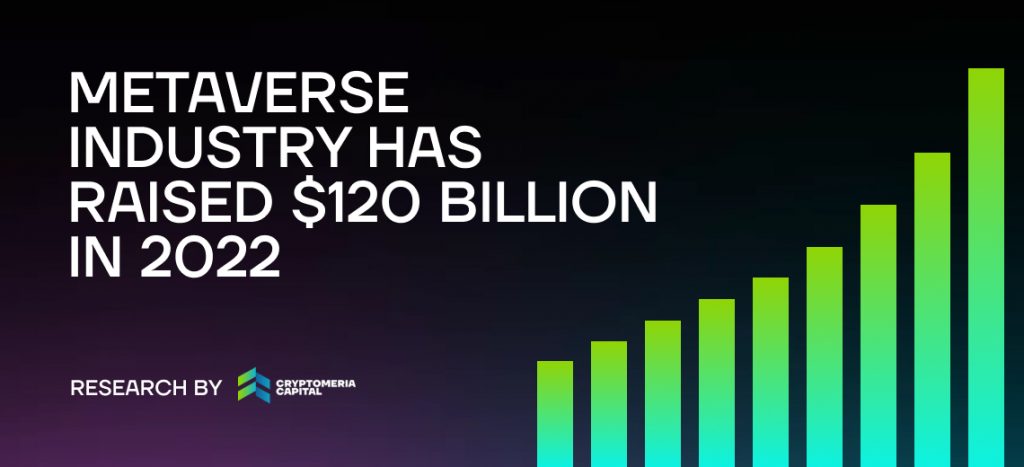 Web3 investment firm Cryptomeria Capital released "The Metaverse Overview," which reports the current status of the metaverse industry and future prospects.
The report shares data regarding metaverse-related investments. In 2020, venture capital investment funds invested a total of $29 billion, and in 2021, $57 billion. In the first five months of 2022, the value of metaverse investments has already reached approximately $95–$105 billion. The most considerable investments from 2020 to 2022 came through mergers and acquisitions (M&A).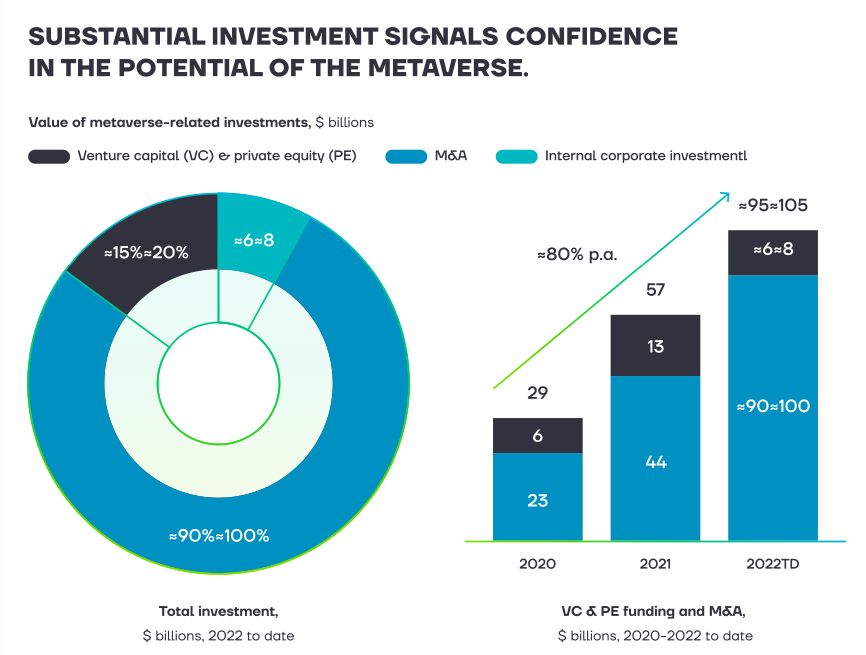 In 2021, metaverse project funding by private equity and venture capital firms reached $13 billion, while metaverse companies raised nearly $10.4 billion in 612 funding rounds. The funds were targeted at four categories: gaming ($7.5 billion), online games ($2.5 billion), augmented reality ($2.1 billion), and virtual world: ($62.8 million).
The Future of the Metaverse
According to the McKinsey analysis, by 2030, the metaverse could be valued at around $5 trillion. Recent observations back this: as we enter the ninth month of 2022, metaverse investments have already more than doubled all the investments in 2021.
The most potential use cases of the metaverse are predicted in e-commerce, retail, banking, discrete and process manufacturing, professional services, telecommunications, and media.
Alex Mukhin, the co-founder and managing partner at Cryptomeria Capital, said the metaverse would become the futuristic way of life:
"But, for now, it can be used for business, entertainment (i.e., sports and games), and fashion. Those who plan to use the metaverse extensively should consider that this phenomenon still needs to be studied in more depth so that corporations can understand how to use this technology most rationally, studying the cost of development and research to find their link in this industry. Already, big tech companies, including Meta, Microsoft, Nvidia, Apple, and Alphabet, for example, have joined in shaping VR spaces and investing in meta startups."
Notable investments in the metaverse and metaverse-related industries
In recent years, the metaverse industry has witnessed significant investments:
NFT marketplace OpenSea raised $300 million at a $13.3 billion valuation;
Tech metaverse company Improbable closed a $150 million funding round;
Yuga Labs, the creator of BAYC, raised $450 million at a $4 billion valuation;
The Sandbox received $93 million and later raised an additional $300 million;
Optic, an AI-powered NFT verification startup, has raised $11 million;
Metaverse e-commerce firm Yuanjing Shengsheng received $1.6 million.
Global tech companies have made large-scale investments in the metaverse, including Google's investment of $39.5 million in a private equity fund for meta-universe projects. Another tech giant, Meta, has already invested $10 billion to power its metaverse.
Governments also see the potential and invest in the virtual world. Seoul's government is building a 3.9 billion won (more than $3 million) platform that allows citizens to use public services virtually. The South Korean government has also invested $177 million in the country's metaverse industry.
However, South Korea is not the only country making metaverse investments. Dubai has launched a metaverse strategy to add $4 billion to the national economy in five years and create 40,000 virtual jobs. Whereas Miami, Florida's blockchain hotspot, will become the Sister City to Wilder World's virtual city of Wiami.
Metaverse mergers and acquisitions since January 2021 totaled $77 billion. The largest acquisition in the industry so far was initiated by Microsoft—the tech giant acquired game developer Activision Blizzard for $69 billion. Following this, Match Group acquired AR solutions company Hyperconnect for $2 billion, and Unity Technologies acquired animation company Weta Digital for $2 billion.
Investments in the virtual land
One of the main tools of monetization for metaverses is virtual real estate. Buying land in the digital world started trending among celebrities and investors, and sales have ramped quickly, especially on platforms such as Decentraland and The Sandbox.
Famous rapper and crypto advocate Snoop Dogg released a land sale on his Snoopverse lot in The Sandbox. One collector purchased a plot of land in Snoop Dogg's metaverse for $450,000. In The Sandbox, virtual earth developer Republic Realm bought land from video game company Atari in a record-breaking $4.3 million deal. Italian luxury brand Gucci followed the same path by purchasing a plot of land to expand the firm's venture into the metaverse with their Gucci Vault division.
As for financial institutions, HSBC has joined the metaverse through a partnership with The Sandbox. The Hong-Kong based bank plans to buy digital land and create sports, e-sports, and gaming ecosystems. JP Morgan's Onyx blockchain division released a report stating that average virtual land prices increased from $6,000 in June 2021 to $12,000 in December 2021. The investment bank also acquired a virtual property in Decentraland to open an Onyx Lounge.
Even though some people are still skeptical about the virtual world, there's no doubt that the metaverse industry is rapidly growing, and we will continue to see notable investments in the rest of 2022.
Read related posts:
Disclaimer
Any data, text, or other content on this page is provided as general market information and not as investment advice. Past performance is not necessarily an indicator of future results.