Logan Paul mints Pikachu worth $5 million as NFT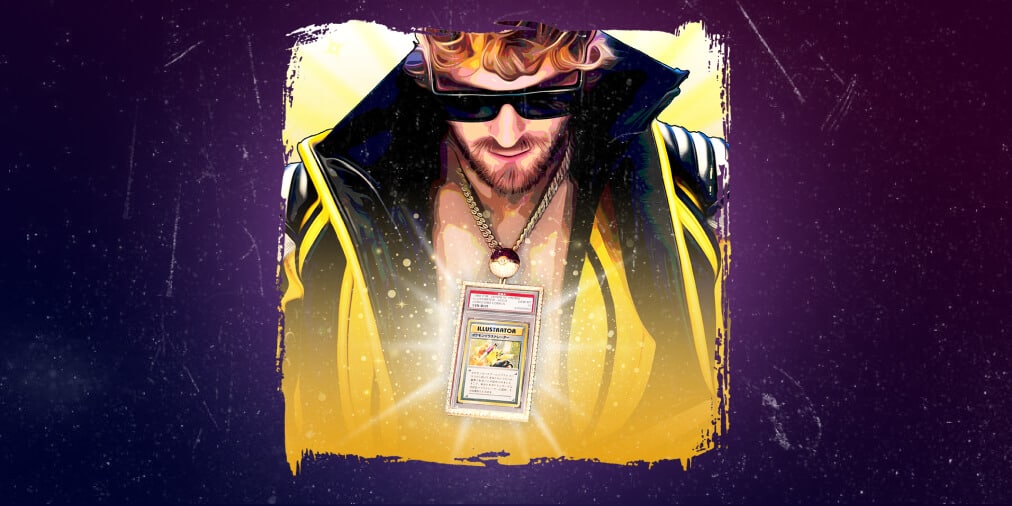 Last week, Logan Paul updated us all on the saga of his most storied collectible. Back in April, the internet sensation turned into a crypto boy, and then the pro-wrestler bought the rarest Pokemon card known to humankind–a mint-condition Illustrator Pikachu. Only 39 of these cards were ever issued throughout the late 1990s as awards for people who won manga drawing competitions.
In a cinematic YouTube video posted July 7, Paul announced that he's turning the card into an NFT and opening it up for community ownership through Liquid Marketplace, the platform he co-founded for fractionalized participation in otherwise unaccessible collectibles. Paul also announced the project in early April, raising $8 million in funding.
However many remain out there today, Paul's new Pikachu is the only known edition mint-certified by the PSA–a governing body that standardizes ratings. Paul immediately wore the treasure to his first appearance at WrestleMania, and he's since been signed by the WWE.
This latest YouTube video on the Pikachu topic opened with the saga of how Paul acquired the card in the first place. It had allegedly been an aspiration for some time. After he'd all but relinquished hope, Paul received a message out of the blue from an associate who'd heard a reputable story about the mythical card's owner looking to sell this piece at last.
Following nail-biting phone calls back and forth, they settled on the infamous deal–$5 million and a rated-9 edition of the same card. Paul's video shows snippets from the deal.
The YouTuber takes a lot of flack for being himself, and not without good reason. Time and again, Paul has embodied the archetype of an entitled American male–a caricature of the NFT community currently. He's made fun of suicide victims in a Japanese forest and mocked a wrestling opponent by mentioning abortion.
However, Paul's smart enough to show contrition, and one has to hope that belies potential for dynamism and change. His story also has interesting parts, like the Vine creator commune where he lived on Hollywood and Vine.
Kotaku vehemently wrote off Paul's authentic passion for Pikachu, but his YouTube video shows he knows his stuff. Though Paul has since admitted to embellishing stunts like his first time donning glasses that could correct his color blindness on camera, he at least played at wonderment while regarding the card finally.
"What was thought to once only be a myth is now sitting in front of me," Paul gaped. Tender piano music in the background. Who couldn't relate to at least wishing for this moment?
I wondered if my first Logan Paul video ever might make me cry.
That piano kept going, but the scene melted into a montage of Paul wearing the card around his neck and then rocking the WWE ring. Bleacher Report recently postulated that Paul, the versatile performer, might inject just the lifeblood the WWE needs to revive.
The video closed with a Hallmark end–an official from the Guinness Book of World Records congratulated Paul, still sweaty from wrestling, on executing the most expensive private sale of a Pokemon trading card ever. "You're officially amazing," he said.
"This is the coolest thing ever," Paul responded, "but it's even cooler that you, yes, you at home, can own this card with me." Now that he's had his thrills, Paul has listed majority ownership of the card as an NFT on Liquid Marketplace. He'll keep a minority ownership of 49%; everyone else can clamor for the rest.
Though Liquid Market has an interesting premise in the concept of community-owned collectibles, Paul's a known crypto scammer. In this instance, one has to take the research.
Regardless, it's hard to blame Paul without taking credit for participating in the culture that created him–one which gives world records for ostentatious shows of wealth, fame for six-second videos, and million-dollar contracts for tearing other people apart.
Pokemon, a pivotal relic of innocence past, fits into this story as a phenomenon of its own–maybe what Paul and us, his peers, really want deep down. Would you settle for a fractionalized share of that?
Read related posts:
Disclaimer
In line with the Trust Project guidelines, please note that the information provided on this page is not intended to be and should not be interpreted as legal, tax, investment, financial, or any other form of advice. It is important to only invest what you can afford to lose and to seek independent financial advice if you have any doubts. For further information, we suggest referring to the terms and conditions as well as the help and support pages provided by the issuer or advertiser. MetaversePost is committed to accurate, unbiased reporting, but market conditions are subject to change without notice.
About The Author
Vittoria Benzine is a Brooklyn-based art writer and personal essayist covering contemporary art with a focus on human contexts, counterculture, and chaos magic. She contributes to Maxim, Hyperallergic, Brooklyn Magazine, and more.
More articles


Vittoria Benzine is a Brooklyn-based art writer and personal essayist covering contemporary art with a focus on human contexts, counterculture, and chaos magic. She contributes to Maxim, Hyperallergic, Brooklyn Magazine, and more.
Hot Stories
by Victor Dey
December 05, 2023
by Victor Dey
December 05, 2023
by Victor Dey
December 04, 2023
by Victor Dey
December 01, 2023
Latest News
by Alisa Davidson
December 05, 2023
by Kumar Gandharv
December 05, 2023
by Victor Dey
December 05, 2023
by Kumar Gandharv
December 05, 2023