y00ts week recap: DeGods' DUST Labs raised $7 million during Sept. 5 mint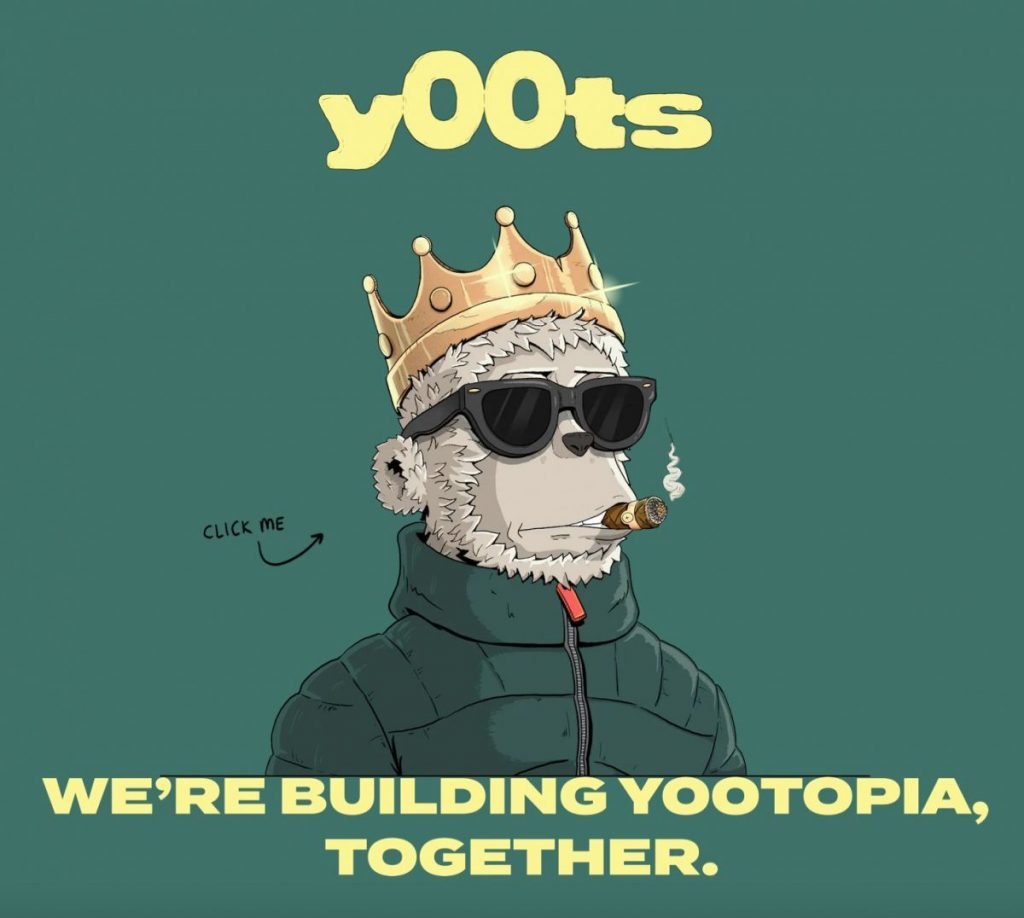 The DeGods squad might dabble in chaos, but don't think they don't know what they're doing. After apparently breezing through the hack of their much-awaited Duppies NFT project in June, the team rebranded that endeavor as y00ts, another Solana-based drop of 15,000 yeti avatars.
Following delays that pushed their projected September 2 mint date to September 4 and then September 5, the y00ts have at long last all gone live using only the DeGods ecosystem's proprietary token for 375 DUST. That's about $743, a slight dip in valuation from last month.
"It's not uncommon for tokens purchased to qualify for an NFT release to lose valuing following its mint," CoinDesk pointed out.
Users can acquire DUST either through exchanges or by staking DeGods NFTs. DeadGod #270 sold for 7033.3 SOL ($221,177.31) on September 1, though, so good luck with that. They are the top-selling NFT project on Solana, after all.
Ever lucrative, DUST Labs—an NFT project one DeGods founder called a spin-off more than a parent company—even managed to raise $7 million during the y00ts mint.
Although so many are doubting the NFT market, y00ts has managed to generate a whole lot of hype. Their own version of a white paper says IP rights drive the y00ts collection—though not by the same methodology as other big names like CryptoPunks.
"Right now, we're usually offered IP rights on just our individual NFT (like BAYC/Yuga Labs) or CC0 where our NFTs are literally owned by the public domain," the 'ⓨpaper' reads. "Each collection would have [its] own ⓨ registry, where it's easy to track who's approved to be using the NFT's IP. This allows projects to approve & reject usage requests at Web3 speed."
The collection is the governing body—not the creators or the individual owners. y00ts is their beta test for this idea, which comes with all kinds of cool corollaries like a y00ts store where artists can submit new traits. Owners can apply one new customizable trait to their NFT each month.
Their launch strategy surely assisted these utilities in sparking fires during a difficult crypto winter. The y00ts team opted for a public whitelist and called it a 'y00tlist' or 'y00t scholarship.' In order to get on the list, applicants had to hold enough DUST in their coffers to mint an NFT—along with a certain amount of clout. Celebrities, including Howie Mandel and Gary Vaynerchuk, were shown joining the movement on the y00ts (once upon a time Duppies) Twitter feed. Scores more were seen begging for their shot.
So the DeGods recovered from early summer's madness, as they always do—though they couldn't cross the finish line without some last-minute suspense.
On September 4, the big mint day, the y00ts team tweeted, "We are running into a blocker bug at the last minute. Due to the nature of this bug, we do not feel comfortable bringing the mint live right now. The mint will likely be around 24 hours from now. We'll keep you updated along the way."
Many reacted with outrage and suspicion, but scores more seized the opportunity to push their y00tlist applications through. There are some really emotional journeys available for perusal on Twitter. Bring tissues. We're serious. Many failed, but some succeeded. Love to see it!
Since then, Decrypt reported that secondary sales on y00ts have exceeded well over $6 million. As if crossing this finish line and creating value weren't victories enough, news dropped afterward that DUST Labs also raised a whopping $7 million during the y00ts mint from venture capital firms including FTX Ventures, Solana Ventures, Magic Eden, and Metaplex. They're hosting an AMA on Twitter on September 8 to share more details.
In the meantime, the y00ts ball is now rolling. Technically, this week's minters didn't actually receive their y00ts–they received t00bs and starting September 9 until the foreseeable future, users can burn those in exchange for their completely randomized, official y00t. No word whether that timeline, published September 2, is still entirely up to date, but that day the price of these NFTs will also increase to 500 DUST.
They've promised some more mystery announcements too. Stay tuned for the September 8 AMA, perhaps, to learn more. Congrats to everyone who made it to y00topia—after a long year, leave it to DeGods to give the space a great week for the books.
Read related posts:
Disclaimer
In line with the Trust Project guidelines, please note that the information provided on this page is not intended to be and should not be interpreted as legal, tax, investment, financial, or any other form of advice. It is important to only invest what you can afford to lose and to seek independent financial advice if you have any doubts. For further information, we suggest referring to the terms and conditions as well as the help and support pages provided by the issuer or advertiser. MetaversePost is committed to accurate, unbiased reporting, but market conditions are subject to change without notice.
About The Author
Vittoria Benzine is a Brooklyn-based art writer and personal essayist covering contemporary art with a focus on human contexts, counterculture, and chaos magic. She contributes to Maxim, Hyperallergic, Brooklyn Magazine, and more.
More articles


Vittoria Benzine is a Brooklyn-based art writer and personal essayist covering contemporary art with a focus on human contexts, counterculture, and chaos magic. She contributes to Maxim, Hyperallergic, Brooklyn Magazine, and more.
Hot Stories
by Victor Dey
December 01, 2023
by Victor Dey
November 30, 2023
by Kumar Gandharv
November 30, 2023
by Victor Dey
November 30, 2023
Latest News
by Kumar Gandharv
December 01, 2023
by Alisa Davidson
December 01, 2023
by Nik Asti
December 01, 2023
by Kumar Gandharv
December 01, 2023