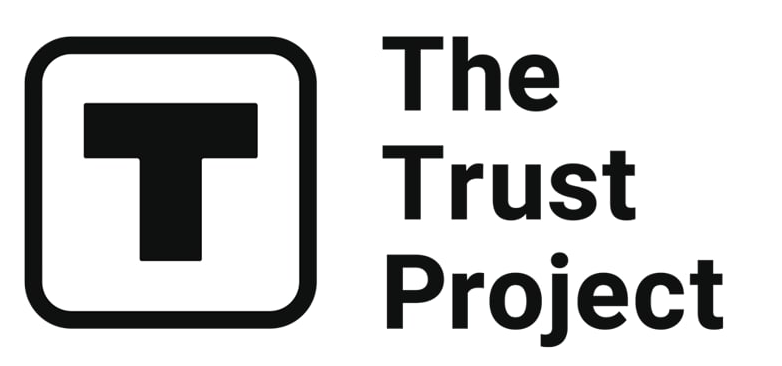 The Trust Project is a worldwide group of news organizations working to establish transparency standards.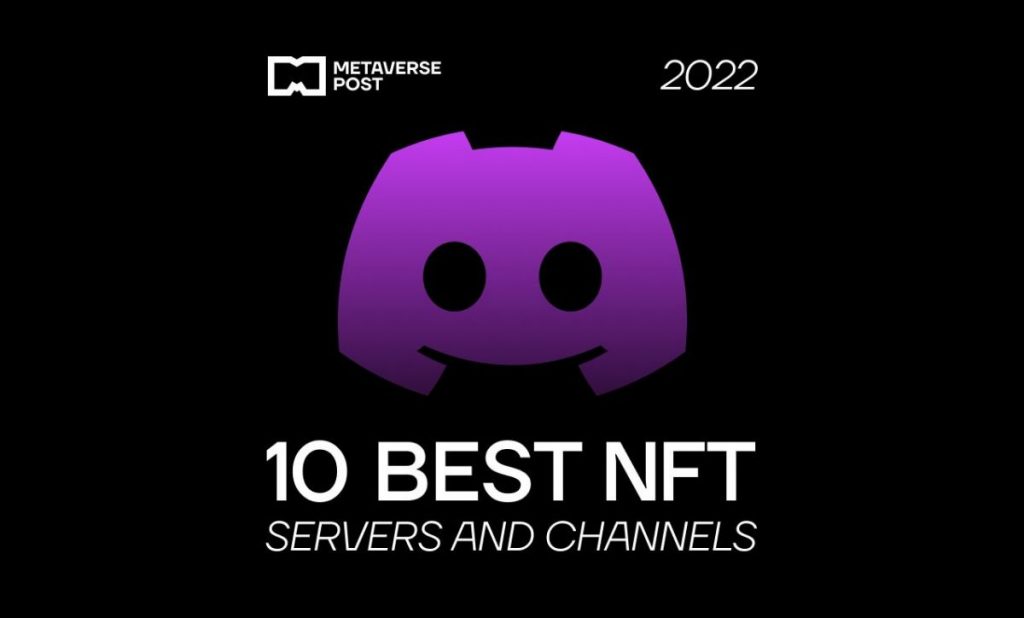 As NFTs are often very community-oriented, the majority of interactions happen on Reddit and Discord servers. That's where people discuss the current trends, hot NFTS, and what tokens to buy. That's where you can find the most up-to-date project announcements, get insider knowledge, and generally, find other NFT enthusiasts.
If you're looking for the best Discord servers to get the latest NFT announcements and form ties with other crypto-enthusiasts, look no further. Here's the list of the ten best NFT Discord servers and channels.
Bored Ape Yacht Club
With Bored Apes being one of the most recognizable NFT projects to date, it's no surprise the BAYC Discord server is also huge, with more than 170k members. If you're a Bored Ape holder, like the project, or are simply interested in the NFT scene, the BAYC Discord server might be a place for you.
Crypto Baristas
Crypto Baristas is the first NFT-funded café located in NYC. The project offers real-world utility, and 15% of all proceeds from NFT sales goes towards the "Barista Bank" designated for coffee-related upgrades.
The Crypto Baristas Discord server is relatively small and provides the latest information about project updates and announcements. You can learn about token sales on OpenSea, season two Crypto Baristas tokens, as well as find out about local meetups and talk to others that are into the project. If you're a fan of coffee, it's definitely an NFT Discord server for you.
NFT
If you're taking your first steps in the NFT space, the NFT Discord may be a great starting point for you. You can learn all the latest NFT projects, while creators can promote their collections there to get more recognition.
Meta Generation
Meta Generation is a new tool that offers educational opportunities for Metaverse newbies as well as networking opportunities for more knowledgeable metaverse dwellers. People just learning about web3 and metaverse will find educational tools to broaden their knowledge. On the other hand, those who do not need further metaverse-related education can meet possible collaborators and like-minded people.
Enter
NFT marketplace Enter.art is another project with a bustling Discord server. You won't find any educational materials there, however—enter.art puts all of those on its website. The Discord server, on the other hand, has been created for artists that list their NFTs on this marketplace. Besides reaching out to artists, you can also learn about the latest NFT news.
r/NFT
r/NFT is a large NFT community on Reddit, and so its Discord server is also rather numerous, with more than 150k members. The server is dedicated both to newbies and pros of the NFT scene, so o matter whether you're starting out or have a vast NFT portfolio, you'll find something for yourself here. If you're taking your first steps in the NFT space, the r/NFT Discord may be a great starting point for you. You can learn all the latest NFT projects, while creators can promote their collections there to get more recognition. If you need any help with your investments, people will also lend a helping hand.
Rarible
Marketplace Discord servers are great for NFT enthusiasts. There's another one on the list, this time belonging to one of the most popular NFT marketplaces—Rarible. Unlike the Enter server, this one is suitable for everyone showing an interest in NFTs. Besides hanging out with other NFT enthusiasts, you can learn about Rarible updates and special features.
OpenSea
OpenSea is one of the oldest as well as the largest NFT marketplace, with a robust Discord community of nearly 240k members. It's definitely a go-to place if you're looking into using OpenSea or need OpenSea resources. The OpenSea Discord is the number one place to get information regarding the marketplace.
Nouns
A Discord server that is definitely on a smaller side than others on this list but still worth a visit.
"Nouns are an experimental attempt to improve the formation of on-chain avatar communities. While projects such as Cryptopunks have attempted to bootstrap digital community and identity, Nouns attempt to bootstrap identity, community, governance, and a treasury that can be used by the community," the project's description reads. Every day, a new Noun is on sale for 24 hours, and the top bidder pockets the token.
While you may not necessarily be interested in buying the NFT, the Nouns Discord is still interesting source of information on the Noun DAO and its innovative governance concept.
Decentraland
If you're into NFT gaming, the Decentraland Discord may be just for you. Decentraland remains the most popular metaverse out there. You can learn about the project, meet up with other gamers, and learn about NFT gaming in general. The channel is huge, with 175k people on it, it's multilingual, making it very easy to meet your own crowd and make the most of it.
VeeFriends
VeeFriends is "a Gary Vaynerchuk NFT project around meaningful intellectual property and an extraordinary community," the project's description reads. The NFTs double as tickets to Vaynerchuk's VeeCon. What about the Discord server? It's more than just a space dedicated to the VeeCon; it's a space where you can chat with crypto enthusiasts and learn more about the NFT space. Even if you're not planning to go to the VeeCon, you can join the Discord channel and learn lots.
Frequently asked questions
What is an NFT Discord server?
Basically, servers are dedicated spaces for various communities where they can stay in touch. They can be small and intimate, or they can grow to hundreds of thousands of members (which is usually the case when it comes to NFT projects).
Discord puts it that way: "Server: Servers are the spaces on Discord. They are made by specific communities and friend groups. The vast majority of servers are small and invitation-only. Some larger servers are public. Any user can start a new server for free and invite their friends to it."
How to make an NFT Discord server?
Creating a Discord server is pretty straightforward. All you need to do is sign up, and if you've never used Discord, you'll be asked whether you want to create or join a server. If you've been using Discord, all you need is to click the large plus at the bottom of your server list and click "create my own" server.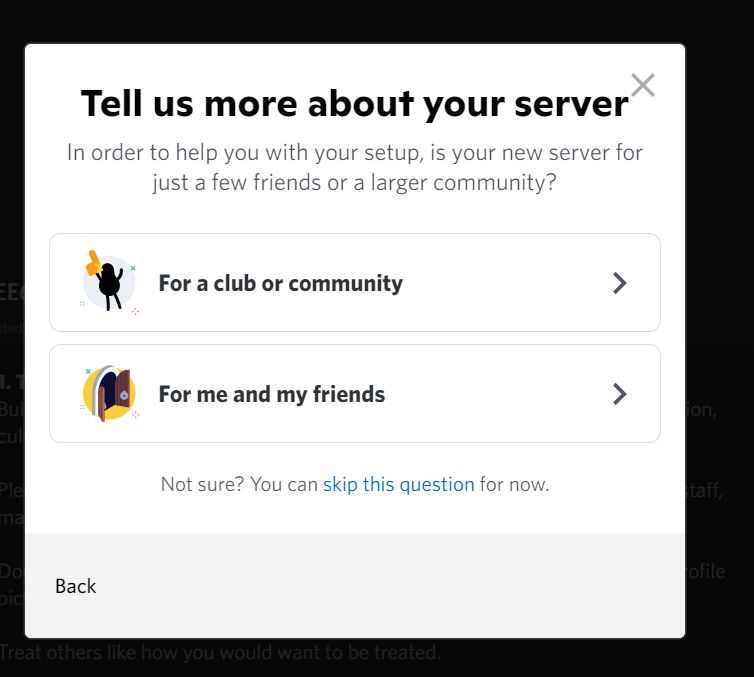 You can choose whether you wish to set up a larger community server or just a small space, then slap the name on it and add an icon, and you're good to go.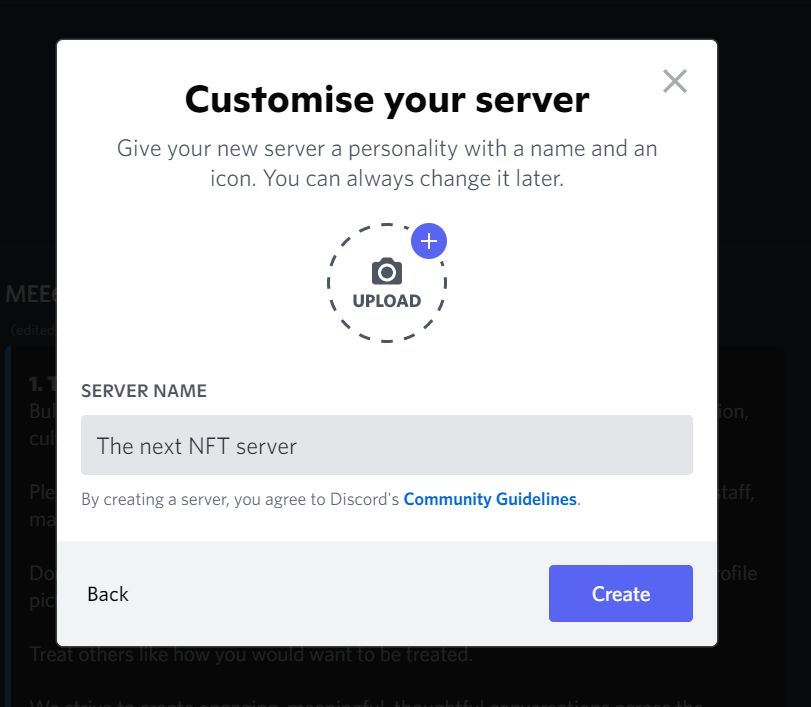 How to promote an NFT Discord server?
Share the link to your NFT Discord server with your friends and like-minded people and add it to your website and social media. You can look for NFT-themed social media channels on Facebook, Twitter, and YouTube and promote it there. But whatever you do, remember that growth takes time, and shilling your NFT Discord server can do more harm than good if it's done too aggressively.
How to find NFT Discord servers?
Pretty much every NFT project has a Discord server. If there's any project you particularly enjoy or follow closely, all you need to do is check out its website and click the link to its Discord channel. This way, you can follow the project you love and meet like-minded people. If there is any marketplace you consider using or any NFT collection or project you think of investing in, you can also check those up and join their communities.
However, if there is no project you wish to follow and you haven't found any cool Discord channel on our list, a good ol' Google search should help you find dozens of NFT Discord channels.
What is the biggest NFT Discord server?
With more than 365k members, VeeFriends is currently the largest NFT Discord server.
Can Discord delete NFT servers?
Yes, however, it happens rarely. If members break the Terms of Service multiple times, Discord can choose to delete any Discord server. However, this doesn't have anything to do with the fact that the server is NFT-themed, so as long as you have read Discord ToS and are obeying Discord rules, you're safe.
Read related posts:
Disclaimer
Any data, text, or other content on this page is provided as general market information and not as investment advice. Past performance is not necessarily an indicator of future results.