Potatoz NFTs make $5 million on mint day

Memeland teased their Potatoz NFT project earlier this month, a series of 9,999 utility-enabled PFP artworks. They've stayed pretty cryptic about how this project fits into their bigger picture, but one lone FAQ section on the collection site offers hints, promising a mint "sometime in July."
Well, "sometime in July" came yesterday. So the 8-bit sprouting spuds have officially hit OpenSea.
Although that FAQ also promised the Potatoz would be free (and limited to one per wallet), their mint generated $3 million within hours of going live. Considering that pieces from the team's mainstage Memeland Captains NFT project go for 7 ETH a piece on OpenSea, it's no surprise that fans gladly forked over the peak Potatoz floor price of 0.6 ETH to join the endeavor.
But, what exactly is a Potatoz? How do they relate to Memeland?
"A long time ago in a memetaverse far, far away… Memeland was a deserted land unsuitable for life," the collection's site says, by way of answering this precise question. "Until [redacted] years ago, early lifeforms started to appear. Memeland's first residents, it turns out, were a bunch of Potatoz. Who left the Potatoz there?"
"They make for a great sidekick, although some feel a calling to go solo," the page continues. "Rumour has it they are secretly related to the Memelist, $MEME, MVP, and more!"
And that's that. To put the picture together, let's start from the foundation. Memeland is 9GAG's moniker in the world of Web3. 9GAG is a Hong Kong-based social media platform, "the largest meme community on the internet," by their own claim. Their name comes from a Cantonese slang term that means to crack jokes.
Memeland's site shows a luscious island rendered in their signature 8-bit style. Their Captain NFTs are trophies, but they also unlock the collection's proprietary $MEME token along with "private club membership, exclusive access to creator NFT marketplace, IRL events, upcoming Memeland & 9GAG drops, and more."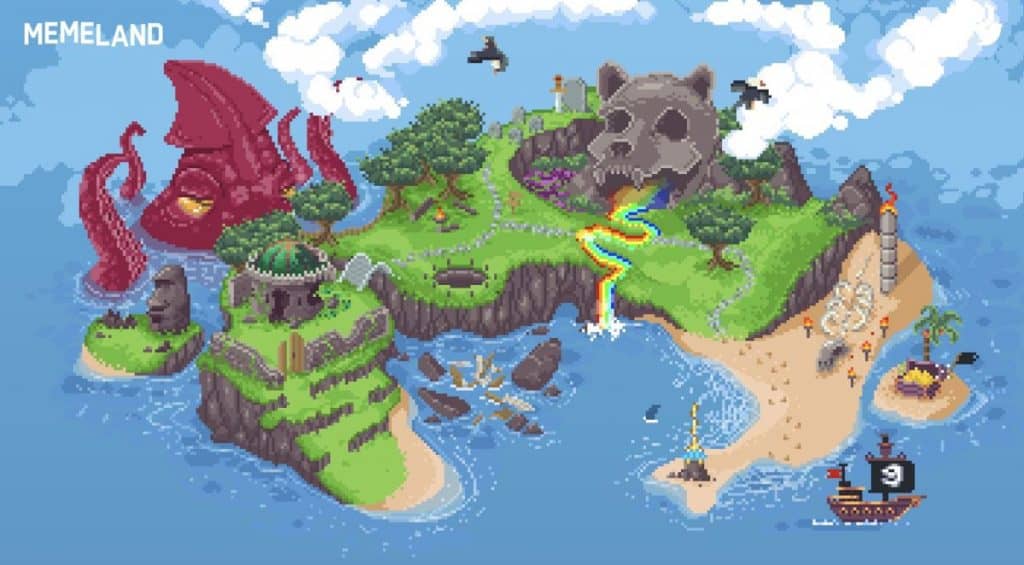 Ultimately, the main stage Memeland Captains collection constitutes the forest floor of their greater ecosystem–where things are heating up.
In tandem with yesterday's surprise Potatoz drop, Memeland announced they're partnering with NFT creative suite Refinable to bring an IRL, eight-week art exhibition to Hong Kong's Times Square starting July 30th. Their NFT wall will also highlight other projects, including InBetweeners, HAPEs, and Monkey Kingdom.
Cointelegraph reported that the show promises thrills like "a pirate adventure packed with games, the metaverse, NFTs and what 9GAG is most known for—memes." Refinable will apparently even drop 100 of their own pirate-themed NFTs for the occasion.
Based on the teaser materials available, it seems that the adorable little Potatoz–saplings, right now–are the first signs of life that will activate the storyline taking shape. There are not many details, but maybe that's also why Memeland didn't require much payment on the front end to get involved. While they have a 'Memelist' for special folks participating in their Captains collection, that list doesn't translate to the Potatoz collection.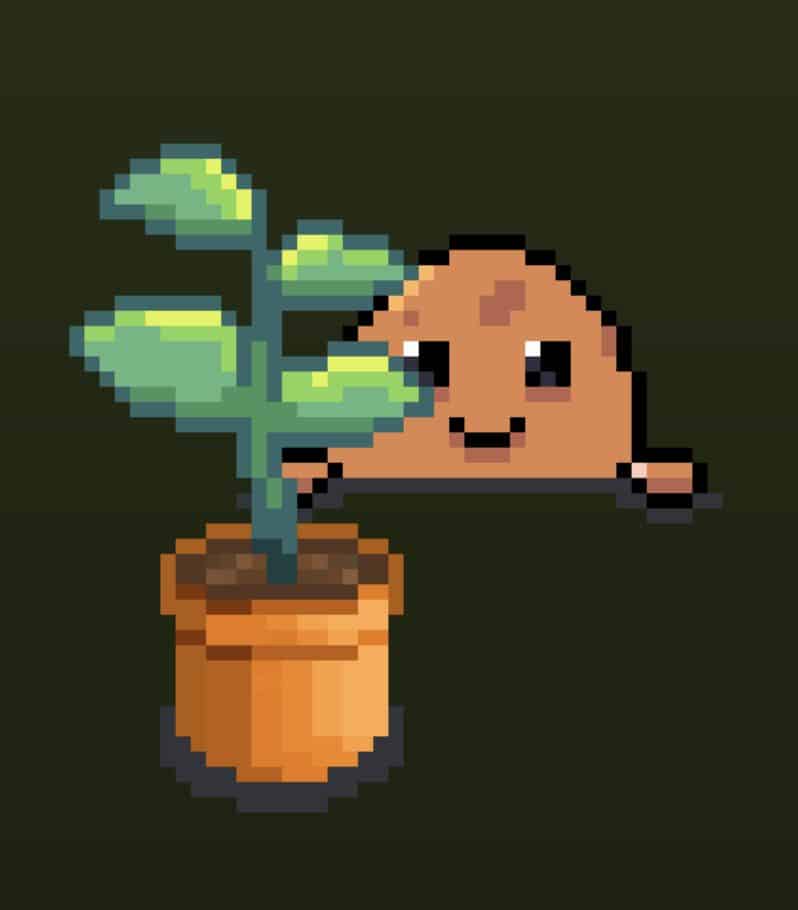 In fact, they gave out Potatoz "allow list" spots through raffles, partners, and MVPs–those who own a piece of Memeland's "YOU THE REAL MVP" NFT series — like a loyalty program. MVPs were even allowed to score more than one baby spud. The collection was free for them.
Here, 24 hours after the mint, the Potatoz collection site now opens with, "Sorry, we're out of Potatoz. Try and get some from some flippers." OpenSea says all 10,000 have been minted, listing 5,300 owners and 3,400 ETH total trading volume–now more than $5 million in cold hard fiat cash. The floor price has fallen just a bit to 0.53 ETH. Relative to other PFP collections dropping this week, that's nothing for diehard fans.
Fans of what? Well, an idea or possibility for now. Seems like these spuds are gonna sprout soon though. Stay tuned for further harvest news.
Read related posts:
Disclaimer
In line with the Trust Project guidelines, please note that the information provided on this page is not intended to be and should not be interpreted as legal, tax, investment, financial, or any other form of advice. It is important to only invest what you can afford to lose and to seek independent financial advice if you have any doubts. For further information, we suggest referring to the terms and conditions as well as the help and support pages provided by the issuer or advertiser. MetaversePost is committed to accurate, unbiased reporting, but market conditions are subject to change without notice.
About The Author
Vittoria Benzine is a Brooklyn-based art writer and personal essayist covering contemporary art with a focus on human contexts, counterculture, and chaos magic. She contributes to Maxim, Hyperallergic, Brooklyn Magazine, and more.
More articles


Vittoria Benzine is a Brooklyn-based art writer and personal essayist covering contemporary art with a focus on human contexts, counterculture, and chaos magic. She contributes to Maxim, Hyperallergic, Brooklyn Magazine, and more.
Hot Stories
by Victor Dey
November 30, 2023
by Kumar Gandharv
November 30, 2023
by Victor Dey
November 30, 2023
by Nik Asti
November 29, 2023
Latest News
by Nik Asti
December 01, 2023
by Alisa Davidson
November 30, 2023
by Victor Dey
November 30, 2023
by Alisa Davidson
November 30, 2023