Alec Monopoly and Sandbox partner on 'RAGS to RICHIE'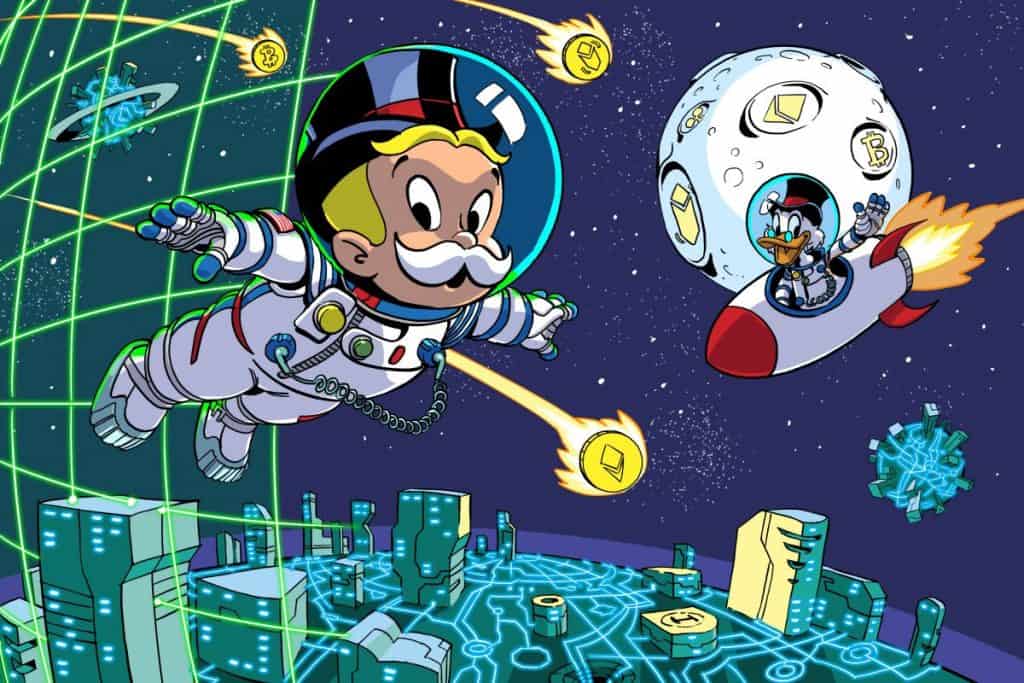 Today, the street artist turned blue chip darling Alec Monopoly officially announces his partnership with Sandbox, further hyping the leadup to his first major NFT project, "RAGS to RICHIE." The forthcoming PFP collection offers fans 6,500 illustrated artworks generated from traits and backgrounds hand drawn by the artist's signature board game-inspired style.
It all drops on July 24, inaugurating MoonPay's new Hypermint platform.
If you know Alec Monopoly, then you have an opinion about him. That's part of how his practice works, ripping archetypal capitalist imagery from the collective consciousness with the alleged counterintuitive intention to comment on it, all the while adding more allure through brand names like Hermes and TAG Heuer that stand for something more than flash–the good life itself.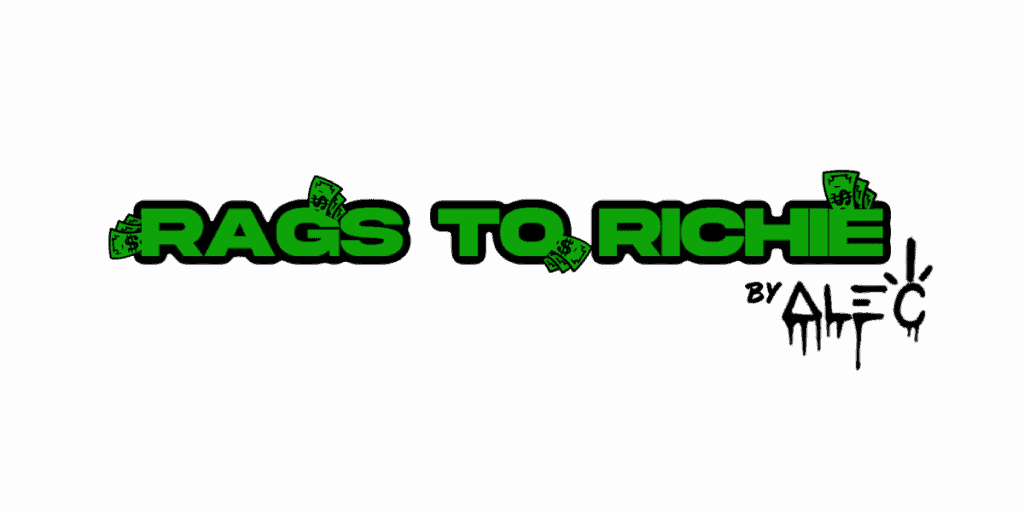 He's clearly struck a nerve, counting Khloe Kardashian and DJ Khaled as friends–and keyboard warriors of all slants and shades as critics. But as I once saw Al Diaz tag on Wilson Avenue in Bushwick, "if you don't have haters then you're not popping!"
Most of Monopoly's work centers around the iconic protagonist of Parker Brothers fame, but he's built "RAGS to RICHIE" around an original character named "Little Richie." New guy dropped–this one looks suspiciously like Snap, Crackle, or Pop with faux facial hair.
Priced at 0.5 ETH, a veritable steal for Monopoly's original art, each randomized iteration of Little Richie also promises a whole slate of utilities. A July 1 release by partner NFT Grails teased "a play-to-earn NFT game, a metaverse club and Digital Art Gallery, in-person exclusive events, and more than $1 million in giveaways and prizes to holders."
"I have always felt that Alec has done an incredible job building his persona into a lifestyle brand, more than just a painter creating art," Avery Andon–collection co-founder, NFT Grails CEO, and brother/manager to Monopoly–told Metaverse Post. "Look at his collectors and fans, they really do buy into the entire lifestyle."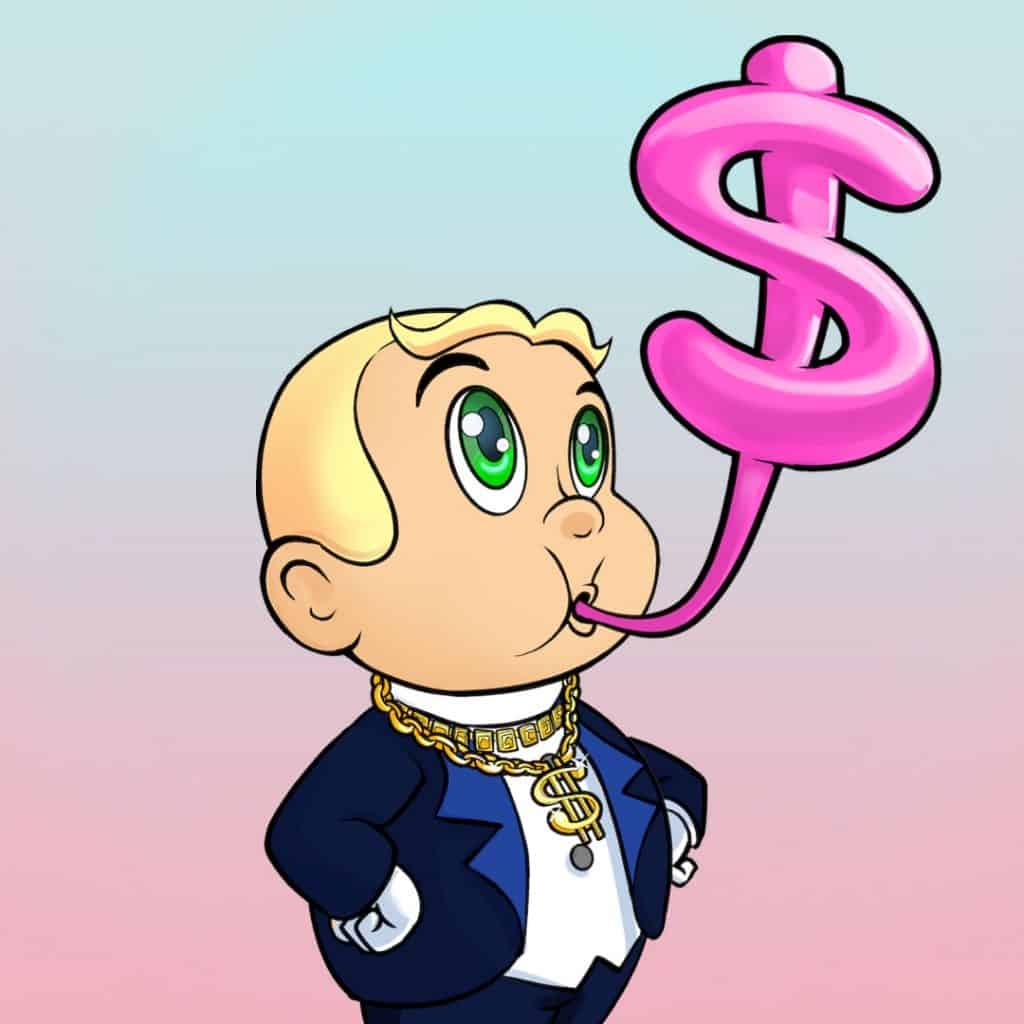 Andon emphasized that this project marks Monopoly's first major foray into Web3, following smaller projects like donating a digital artwork to support Leonardo DiCaprio's Ocean Foundation and a collaboration with reggaeton artist Ozuna.
The team kicked off their commitment by partnering with a digital director from Balenciaga to create a Times Square billboard during NFT.NYC. Though the team originally set out to include 10,000 pieces, they've tailored that number down to suit the exclusivity of Monopoly's clientele.
Monopoly himself participated in the crypto space for some time, collecting NFTs like World of Women and Cool Cats and even calling blockchain "the future of art" in one interview last year. The space specifically suits his background working in the streets, where minor variations on repeated characters allow an artist to establish recognition with the community. Elements of avid competition and hype also unite illegal art with the newer NFT world.
Both faced steady opposition from the art world's intellectual elite, as well.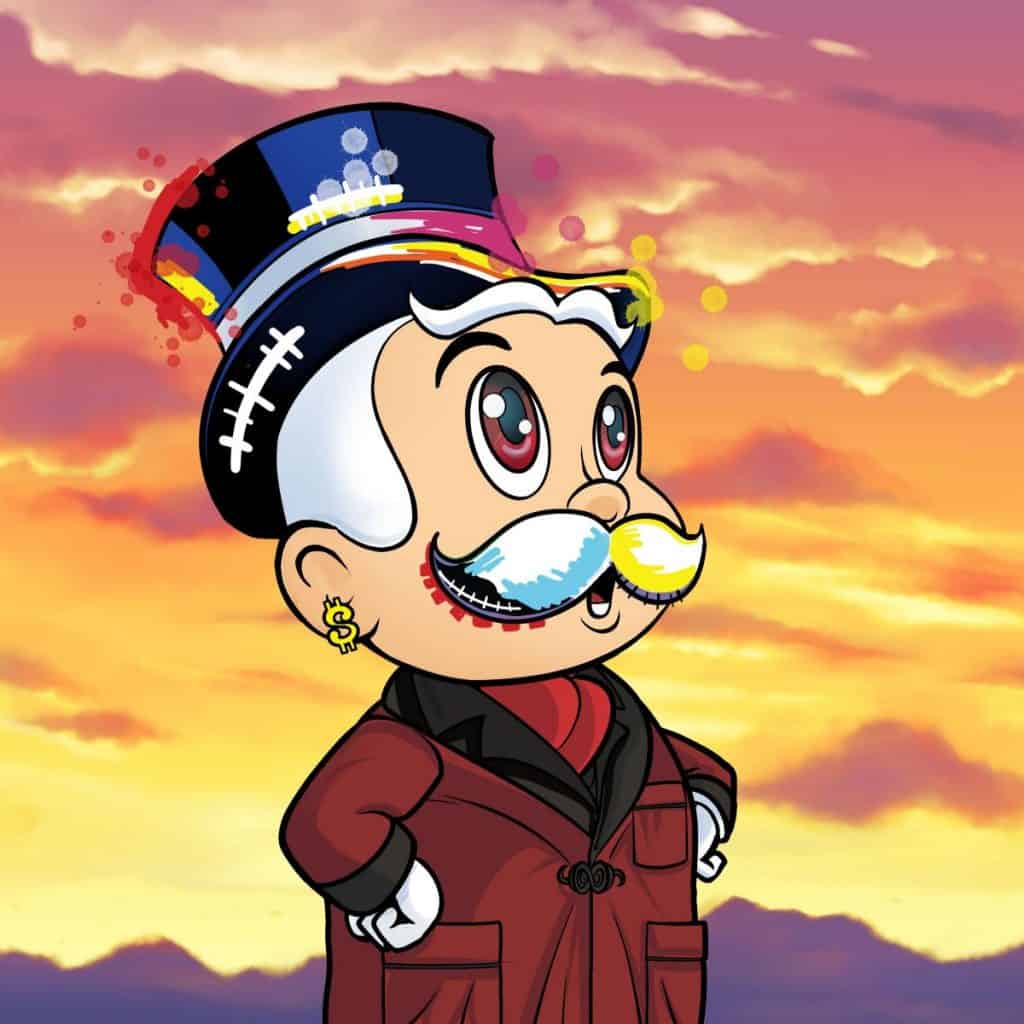 "When I'm making a graffiti piece, I can plan it out," Monopoly himself told Metaverse Post, "But when you're creating generative art, it's randomly putting it together–it's fun to see all the different things combined into different pieces."
Not only did Monopoly manage to parlay his illegal beginnings into international art stardom, he's even grown beyond the category–making music, live painting during concerts, and performing DJ sets from his recent home in Mykonos.
"We can build on that rock star persona and lifestyle, really nurture it into its own official community," Andon said. "We can throw events now that Alec has really become such a multi-dimensional creative force."
The Sandbox partnership marks their first major announcement related to the "RAGS to RICHIE" utilities. "I believe it's the first time that Sandbox has ever announced and launched a partnership pre-mint for an NFT collection," Andon said. Together, they're building out a parcel of land that will host live DJ sets by Monopoly, an art gallery of his work, and other special events predominantly accessible for collection holders. "We're already in talks with them about doing a big collaboration for NFT.London," Andon added.
While the collection's partnership with MoonPay arises from a close friendship with CEO Ivan Soto-Wright, it also ensures that everyone interested can get on board with "RAGS to RICHIE."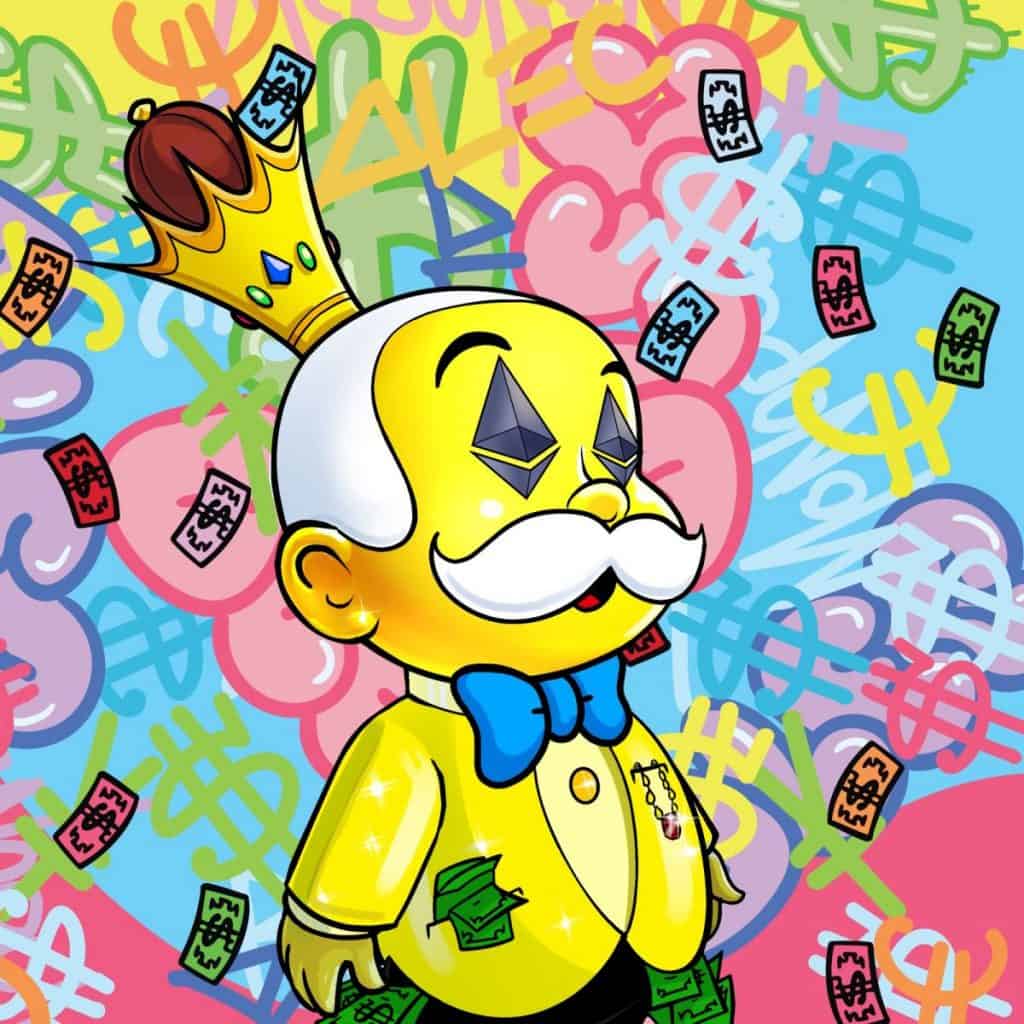 "MoonPay's integrated NFT checkout will allow users to purchase the collection with ease, using their credit and debit cards and apple pay," their press release states. "The new collection will leverage HyperMint's concurrent minting to facilitate crypto payments allowing the drop to target both crypto native and crypto curious customers."
Although NFTs have gotten a bad reputation as cash grabs since hitting the mainstream, a new phase is afoot, and this squad's in it for the long haul. "I look at it like our ability to prove ourselves in this downward bear market," Andon said of the project. "Everyone that shows loyalty and hangs on is going to get greatly rewarded when the next bull market comes."
And that's the real 'rags to riches' of it. Join the "RAGS to RICHIE" Discord and follow them on Twitter to get in on the action before it goes live.
Read related posts:
Disclaimer
Any data, text, or other content on this page is provided as general market information and not as investment advice. Past performance is not necessarily an indicator of future results.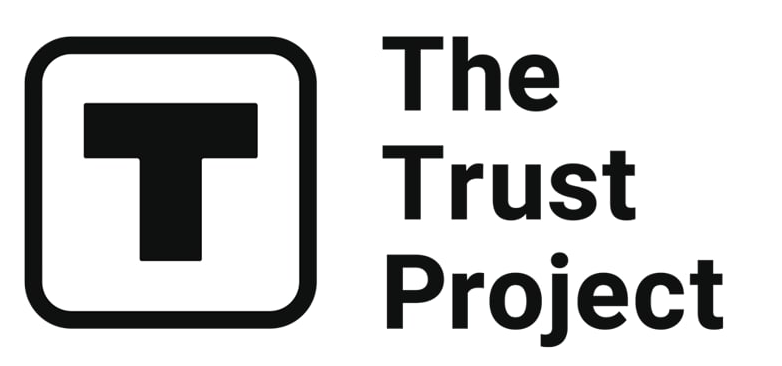 The Trust Project is a worldwide group of news organizations working to establish transparency standards.
Vittoria Benzine is a Brooklyn-based art writer and personal essayist covering contemporary art with a focus on human contexts, counterculture, and chaos magic. She contributes to Maxim, Hyperallergic, Brooklyn Magazine, and more.
More articles


Vittoria Benzine is a Brooklyn-based art writer and personal essayist covering contemporary art with a focus on human contexts, counterculture, and chaos magic. She contributes to Maxim, Hyperallergic, Brooklyn Magazine, and more.
Hot Stories
by Nik Asti
October 02, 2023
by Cindy Tan
September 29, 2023
by Nik Asti
September 28, 2023
by Damir Yalalov
September 27, 2023
Latest News
by Nik Asti
October 03, 2023
by Nik Asti
October 03, 2023
by Agne Cimermanaite
October 02, 2023
by Victor Dey
October 02, 2023