In Brief
The Latest Dating Trend: ChatGPT vs. Tinder
How ChatGPT's AI replies are flooding dating apps like Tinder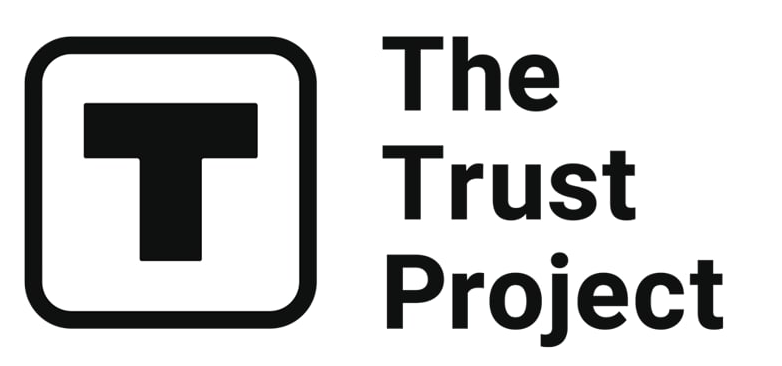 The Trust Project is a worldwide group of news organizations working to establish transparency standards.
If you want to take your Tinder conversations to the next level, you should definitely try ChatGPT. This artificial intelligence (AI) platform can help you keep your conversations interesting and engaging. ChatGPT can also help you come up with new ideas and topics to keep the conversation going.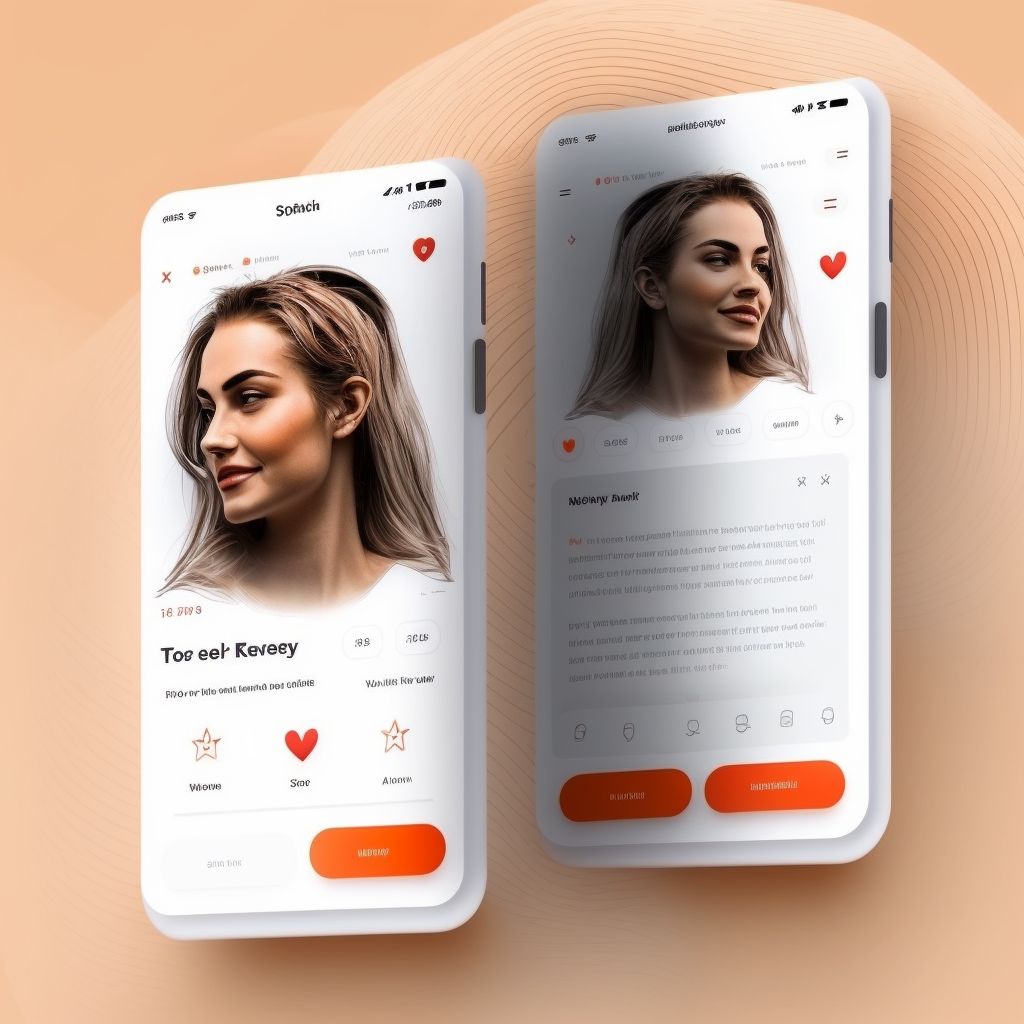 Have you ever felt like you're stuck in a rut when it comes to finding love? You've probably downloaded, deleted, and then re-downloaded every dating app under the sun, but you're still not having much luck. If you're looking for a new way to find love, you may want to consider trying ChatGPT.
ChatGPT vs. Tinder
ChatGPT is a new artificial intelligence AI tool that can help you find love on Tinder. Here's how it works: Once you've found someone to talk to, you ask ChatGPT to compose an introductory message based on your interests. Then you copy and paste the received message and send it to your interlocutor. This works great because it allows you to break the ice and start a conversation without having to worry about what to say.
So far, ChatGPT has been successful in helping people find love on Tinder. In fact, one user reported that after using ChatGPT, she had the best date of her life. If you're looking for a new way to find love, ChatGPT may be worth a try. In addition, ChatGPT can help you avoid common mistakes that people make when chatting on Tinder. For example, ChatGPT can help you avoid saying things that are too forward or that might turn the other person off.
How does ChatGPT work for Tinder?
If you've ever used a chatbot on Tinder, you may have noticed that the conversation can sometimes feel a bit stilted and unnatural. That's because most chatbots rely on pre-written responses that are selected based on the user's input. However, ChatGPT is different. ChatGPT is a chatbot that uses AI to generate responses in real-time. This means that the conversations you have with ChatGPT are more natural and fluid.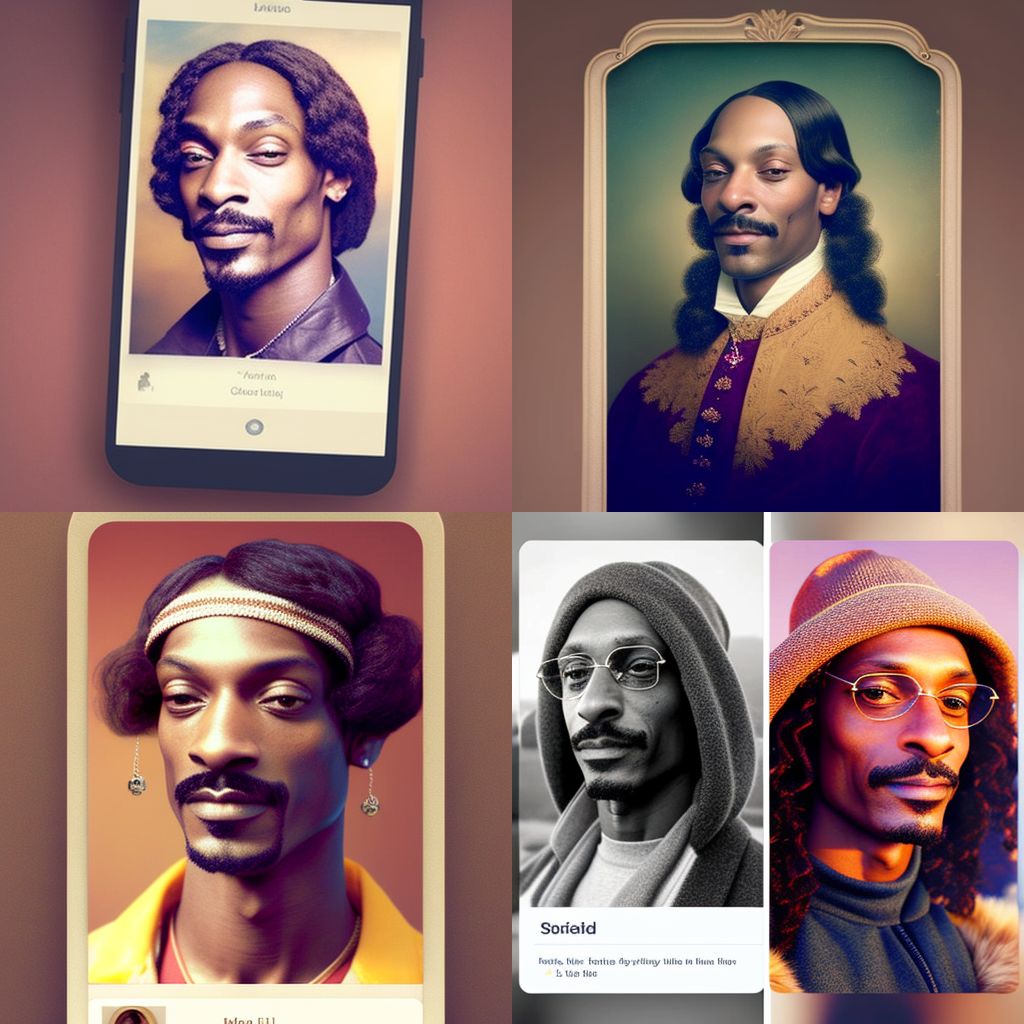 To do this, ChatGPT relies on a few different things. First, it takes into account the user's input. Based on this, it will generate a response. Then, it will look at the context of the conversation. This includes things like the user's location, the time of day, and their history. With this information, ChatGPT can generate a more relevant response. Finally, ChatGPT uses a learning algorithm. This means that the more you talk to ChatGPT, the better it will get at understanding you. As a result, the conversations you have with ChatGPT will become more and more natural over time.
#1 ChatGPT for pick-up lines
What do smart guys do? Once they have found someone to talk to, they ask ChatGPT to compose an introductory message based on their interests, copy and paste the received message and send it on Tinder. This works great.
Tiktok is full of funny stories. One "Tinder veteran" used ChatGPT to create a poem for a woman he was texting. She liked it, and she said that no guy had ever written poetry for her before. The caption to the video claims that this is "the future of Tinder."
Here's another example, this time, a TikTok user asked for a weightlifting postcard. ChatGPT spat, "Do you mind if I squat? Because the way you do those hip lunges makes my legs a little weak."
#2 ChatGPT for your Tinder profile
As anyone who has used dating apps knows, crafting the perfect profile is vital to getting matches. But it can be tough to figure out what to write, especially if you don't have much experience with online dating. ChatGPT can help you create the perfect profile for Tinder and any other dating app.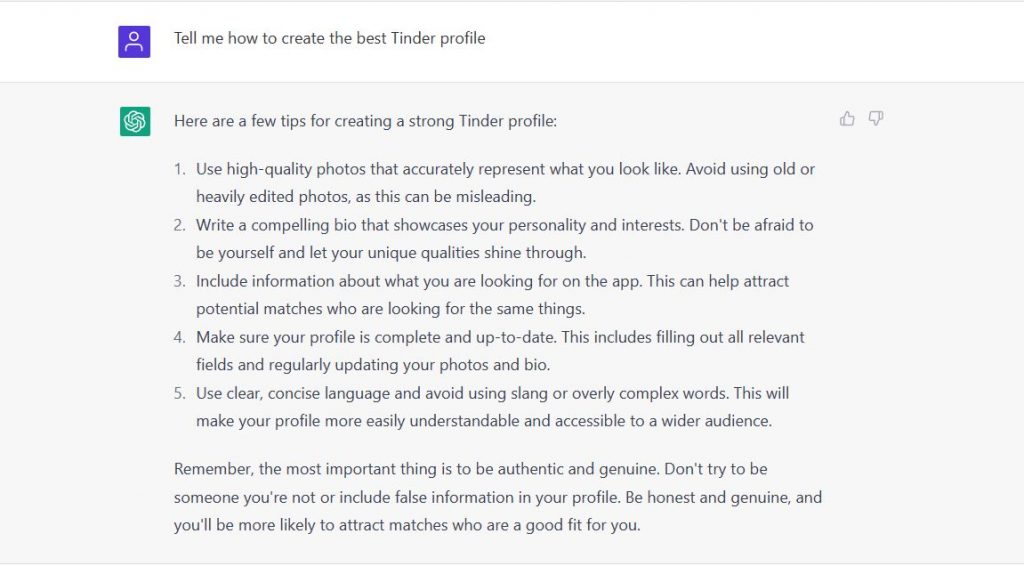 #3 ChatGPT for your introduction video
ChatGPT chatbot can help you to come up with ideas for an introductory video for dating apps. The bot works by asking you a series of questions about what you are looking for in a partner and then providing you with a range of possible video scenarios that you could film as your intro.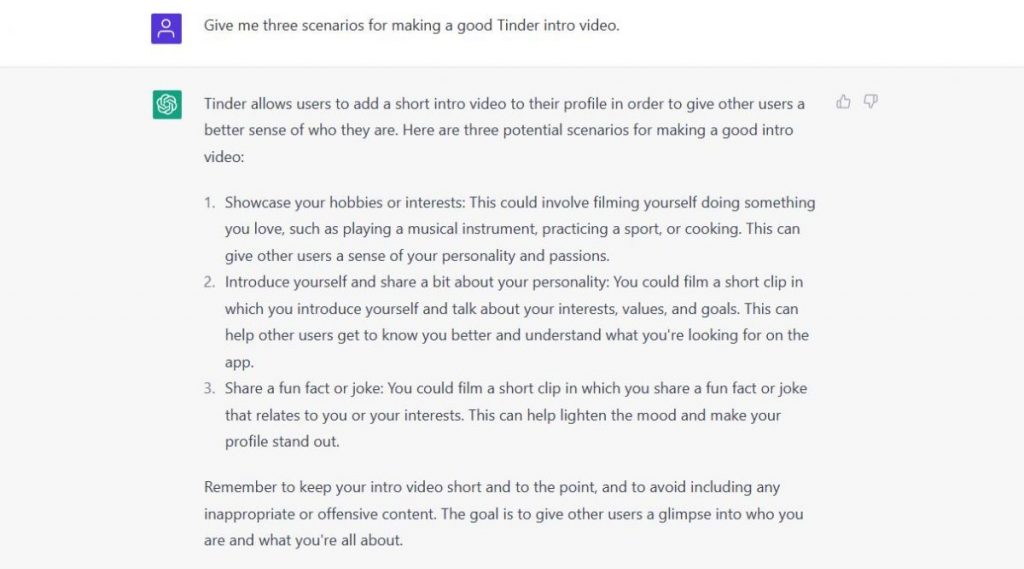 #4 ChatGPT for fun ideas for dates
If you're stumped on what to do for your next date night, consider ChatGPT. This bot can help you find fun ideas for dates, whether you're looking for something active, creative, or just a bit out of the ordinary.
ChatGPT takes over the hassle of date planning. Simply enter a few details about what you're looking for, and the ChatGPT algorithm will provide a list of date ideas tailored to your specific preferences. And if you're still not sure what to do, you can always chat with a ChatGPT representative for additional help.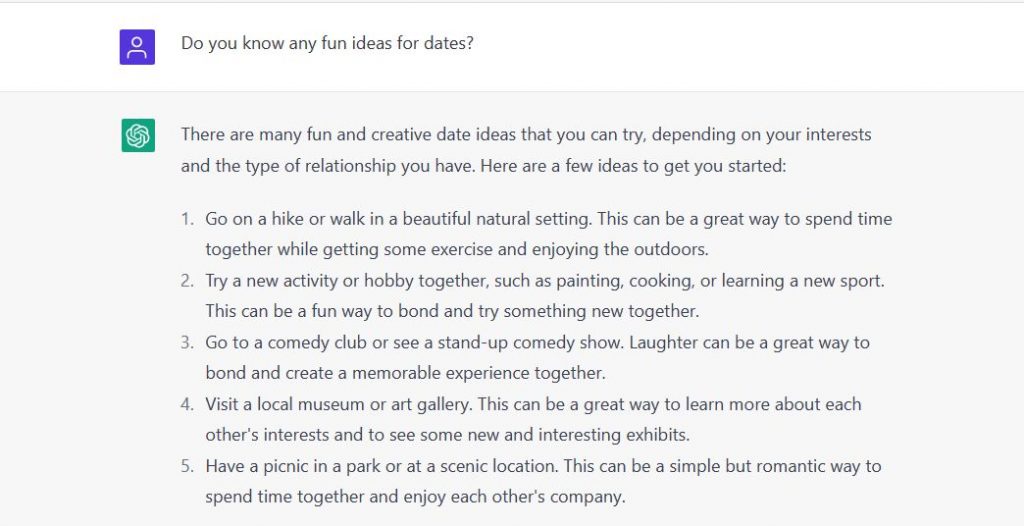 #5 ChatGPT for understanding women better
If you find yourself stuck trying to understand your potential partners, you may want to consider using ChatGPT. The bot can help explain how to interact with the opposite sex. If you need help with understanding women, who are often seen by men as complex creatures and are difficult to figure out, ChatGPT can help. This chatbot is designed to help explain some of the basics about women's (and other people's) thoughts and feelings.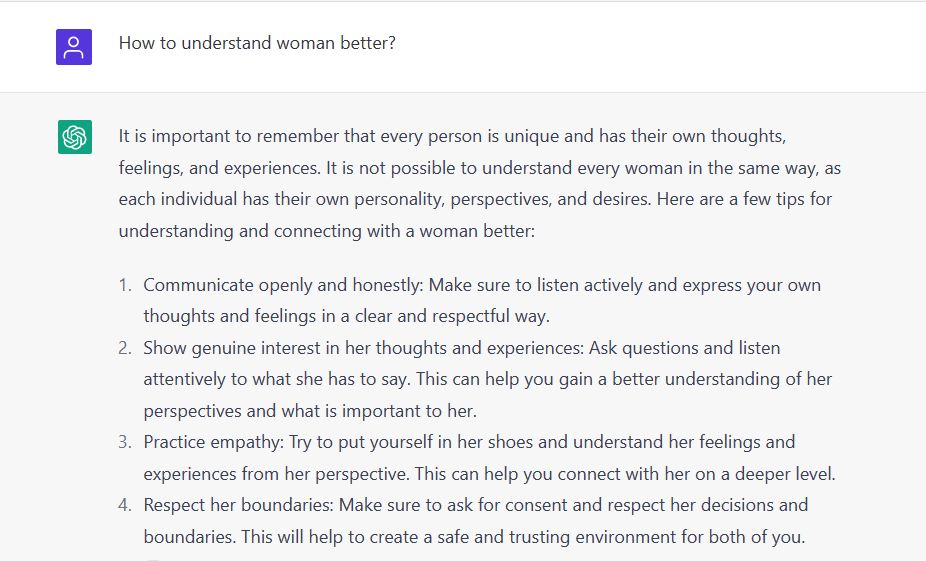 With ChatGPT, you can ask questions about women's emotions and thought processes. The chatbot will then provide explanations in plain language. This can be a valuable resource if you're struggling to understand women. It is not a replacement for actually talking to women, but it can be a helpful tool if you're struggling. So if you find yourself stuck, consider using ChatGPT to help you out.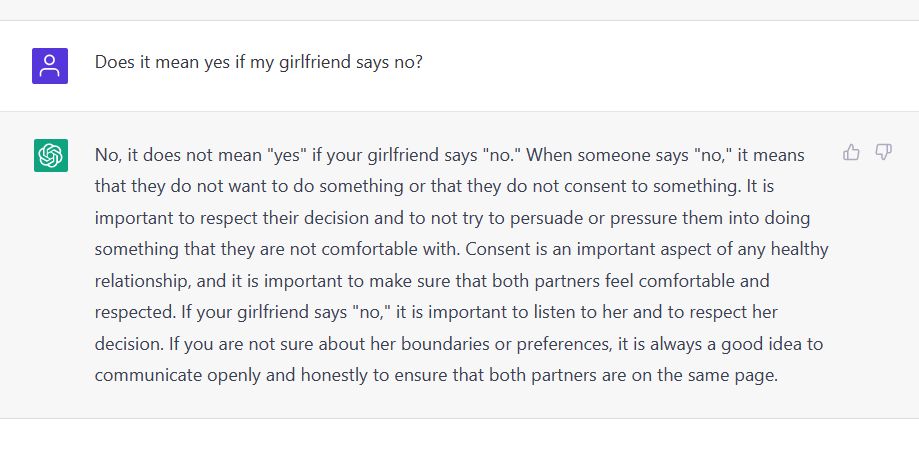 Read more related topics about ChatGPT:
Disclaimer
Any data, text, or other content on this page is provided as general market information and not as investment advice. Past performance is not necessarily an indicator of future results.