by
Zoltan Vardai
Published: March 23, 2022 at 4:59 am Updated: October 10, 2022 at 6:42 am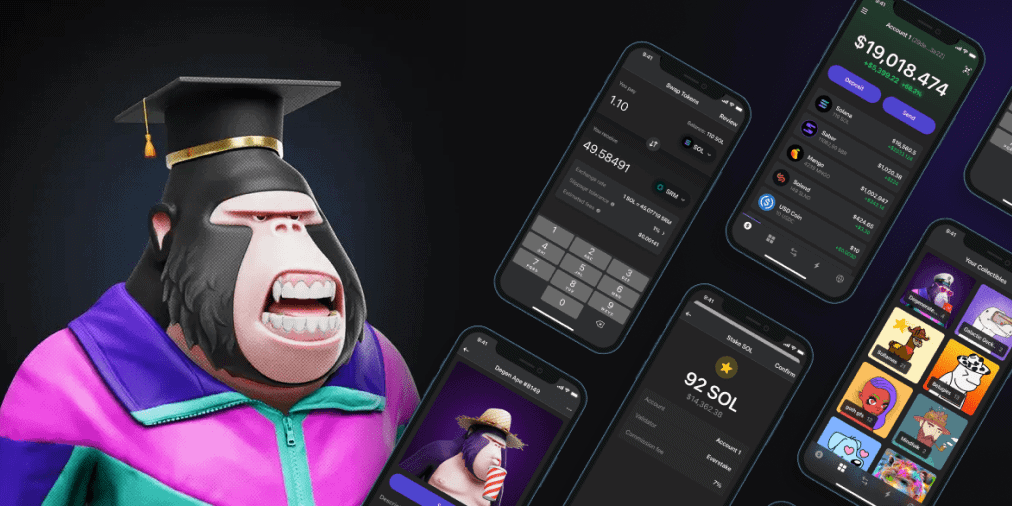 You probably heard about digital artist Beeple selling his first NFT for a staggering $69 million. Or about payment giant Visa purchasing a CryptoPunk NFT for a mind-bending $150,000. Either way, you want to jump on the NFT bandwagon and buy your first digital collectible, or simply gain exposure to this emerging market.
In case you've missed the memo, NFTs, short for non-fungible tokens, are unique, non-interchangeable digital assets that live on the decentralized blockchain ledger. Since NFTs are minted directly on the blockchain, they share the inherent safety and censorship resistance of the technology. And since blockchain networks are publicly traceable, NFTs are the first tamper-proof digital ownership certificates of the digital age.
Anything can be tokenized, both physical assets like cars, clothes, and real estate, to digital assets like research papers, digital paintings, and music. Regardless of the type of NFT you're looking for, you can find it on an NFT marketplace on Solana — which is one of the cheapest and fastest blockchain networks.
This guide will cover everything you need to know about Solana, what you need to get started, and how to seamlessly purchase your first NFT.
Table of Contents:
What Is Solana?
What You Need Before Buying Your First Solana NFT

Step 1: How to Set Up a Phantom Wallet
Step 2: How to Buy SOL — Solana's Native Token
Step 3: Choosing an NFT Marketplace on Solana
Step 4: Buying Your First NFT Step-by-Step

Closing Thoughts: Why Solana?
What Is Solana?
Solana is one of the world's first web-scale blockchains and fastest networks, thanks to its speed and claimed throughput of 50,000 TPS (transactions per second). Solana brands itself as a "high-performance" blockchain, capitalizing on its high throughput, scalability, and cost-efficiency — since transaction fees average $0.00025.
The layer 1 blockchain protocol's white paper was published in 2017 by Anatoly Yakovenko, who previously worked at Qualcomm and Dropbox. Yakovenko teamed up with his former colleague Greg Fitzgerald and released the first Solana testnet in February 2018.
Solana's decentralized blockchain network employs a combination of proof-of-stake (PoS) and proof of history (PoH) consensus mechanisms, which is quite a unique scalability-focused approach that enables Solana to reach transaction finality in just 2.5 seconds and 50,000 TPS — which is around 10,000 times faster than Bitcoin, 3,800 times faster than Ethereum, and over twice as fast than Visa's alleged theoretical throughput of 24,000 TPS.
Developers can leverage Solana's open and permissionless blockchain ecosystem to build highly-scalable decentralized applications (dApps), like cryptocurrency exchanges or NFT marketplaces. Cryptocurrency users can use the network to send payments in just a few seconds, with some of the lowest fees in the blockchain industry. These low transaction fees also benefit people who are minting and buying NFTs.
Solana's industry-leading throughput and sub-penny fees are made possible by its 8 core innovations, which make the protocol's decentralized, permissionless network of nodes match the performance of a single node. To put it briefly, the computational innovations developed by the Solana team are the following:
Proof of History (POH) — a clock before consensus;
Tower BFT — a PoH-optimized version of PBFT;
Turbine — a block propagation protocol;
Gulf Stream — Mempool-less transaction forwarding protocol;
Sealevel — Parallel smart contracts run-time;
Pipelining — a Transaction Processing Unit for validation optimization
Cloudbreak — Horizontally-Scaled Accounts Database
Archivers — Distributed ledger storage
Now that we've defined the protocol's underlying architecture and benefits, let's take a look at what you need before buying your first NFTs on Solana.
What You Need Before Buying Your First Solana NFT
This may look like a tedious process with multiple steps, but in reality, there are just 4 steps necessary to start buying NFTs, namely: setting up a Phantom wallet, buying some SOL tokens, choosing an NFT marketplace, and finally buying your first NFT.
Step 1: How to Set Up a Phantom Wallet
While most NFT marketplaces on Solana support 3 main wallets — Phantom, Solflare, and Sollet — Phantom is by far the most popular one, and likely the best in terms of user experience. Here are the 3 quick steps to follow to easily set up your Phantom wallet:
Visit the Phantom App's page and download Phantom for Desktop.
Once you click on your browser, the Phantom web extension's page will pop up, where you need to add the extension to your browser.
After installing the extension, click on "Create New Wallet" and follow the steps.
Important notice: Make sure to physically write down your secret crypto recovery phrase and store it in a safe place. Losing your recovery phrase means losing access to your funds, and there's no way of recovery.
For additional details, kindly refer to the Solana community's guide on how to create a new wallet. Now that you have your Phantom wallet ready, we'll walk you through how to buy your first SOL tokens.
Step 2: How to Buy SOL — Solana's Native Token
SOL is Solana's native token, used to pay for on-chain transactions, smart contract fees, and for earning passive income via staking. At press time, SOL is the 8th biggest cryptocurrency by market cap, trading at $85.87, with a market capitalization of $27.4 billion.
56 crypto exchanges are selling the SOL token, but for the sake of simplicity, we'll use a popular centralized exchange as an example. The ones with the best user experience are:
While the process is quite similar on all these exchanges, we'll use Binance as an example. Here's what you need to do:
Create an account on Binance by following the prompts. Keep in mind that you'll need to go through a Know Your Customer verification process to prove your identity. This might take up to a few days for the platform to verify.
Once you created an account, submitted your identity documents, and connected your preferred payment method, it's time to finally buy some SOL.
On the Binance homepage, click on the "Buy Crypto" tab at the top left of the screen. You have 3 main purchasing options here:
Deposit fiat currency from your bank account into your Binance account and use it to buy cryptocurrencies. This is typically the cheaper option since you only need to pay your bank's transaction fees, but it may take up to 2 days for your funds to arrive.
You can also buy crypto with a credit/debit card instantly. This is the faster and easier option but will cost you an additional 2.5% in exchange fees.
Third-party payment solutions like Simplex, Banxa, and Paxos are also available but they generally require higher fees.
Whichever option you chose, you can use your fiat currency to directly buy SOL, or wait for a price correction to get the most bang for your buck.
Once you have your SOL, it's time to transfer it into your Solana-native Phantom wallet. Visit your Binance wallet and then click on the "Withdraw Crypto" prompt.
Select SOL as the coin, Solana as the network, and withdraw to a new address.
Log in to your Phantom wallet and copy your public address from the top of the extension. Your address should look something like this: 13rckdUMUtwhQbTdq8Utfp4CibhMBW3TcAs8ErTDeqC7. Paste it into the Binance withdrawal page and select the number of tokens you wish to send through.
Once you've double-checked all your information, click withdraw at the bottom of the screen to finalize the transaction. Your funds should arrive in your Phantom wallet in the next 5 minutes, which you can use to buy and mint NFTs on Solana.
If you'd like to have further clarity on the process, kindly refer to Binance's video tutorial or print tutorial on how to withdraw your cryptocurrency from the exchange.
Step 3: Choosing an NFT Marketplace On Solana
Now that the hard part is over, all that's left to do is select an NFT marketplace on Solana. These are considered the most popular alternatives:
While all NFT marketplaces in the Solana ecosystem have low transaction and NFT minting fees, we'll go with Solanart, for the sake of simplicity.
Step 4: Buying Your First NFT Step-by-Step
Now to the nitty-gritty — buying your first NFTs on Solanart. Here are the steps you need to follow:
Visit Solanart and click on "Connect Wallet" at the top right of the screen and follow the prompts to connect your Phantom wallet.
Click on collections to start browsing the most popular ones, or search for a collection directly in the search tab if you have one in mind.
Once you've settled on a collection, like the popular SolPunks, select an NFT by clicking on it to see their attributes.
Here you can either place an offer by clicking on "Make Offer" or opt for "Buy now" and pay for the asking price of the NFT.
After clicking "Buy now", the Phantom wallet extension will pop up with the transaction. The transaction will go forward if you click on "Approve" in the wallet.
Wait around 2.5 seconds for the transaction to finalize and the NFT to transfer in your wallet and voila! Now you're a proud owner of your first NFT.
In case you're thinking about creating your own collection and minting your first NFT, Solana-native marketplaces are a great place to start. You can find more information on how to mint your first NFT on Solanart in their help center.
Here is the list of best Solana NFT marketplaces that you should know about.
Closing Thoughts: Why Solana?
Now, I know what you must be thinking: why pick Solana, out of the thousands of blockchain networks out there? To put it simply, Solana has some of the lowest transaction fees and fastest transaction times in the blockchain industry. Whereas on Ethereum-native marketplaces, your NFT purchase may cost you upwards of $14 in gas fees, depending on network congestion.
Another advantage of the Solana ecosystem is that it's easy to use, as it's built for mainstream adoption. Setting up a Phantom wallet and buying your first NFT on Solanart is a straightforward process, which only takes a few minutes at most. Solana's 8 computational innovations and underlying technology also make it one of the fastest-growing blockchain ecosystems, having the total value locked (TVL) of $6.9 billion, up from $148.99 million a year ago.
Since ETH 2.0 keeps being delayed, the high gas fees and network congestion are still a significant problem for the world's second-largest blockchain network. Solana's sub-penny fees and high scalability will keep attracting more projects, future-proofing the growth of the ecosystem.
To better understand how to mint NFTs on Solana read Metaverse beginners guide.
Read related posts: