Top 5 NFT Marketplaces on Solana — The Ultimate Guide 2022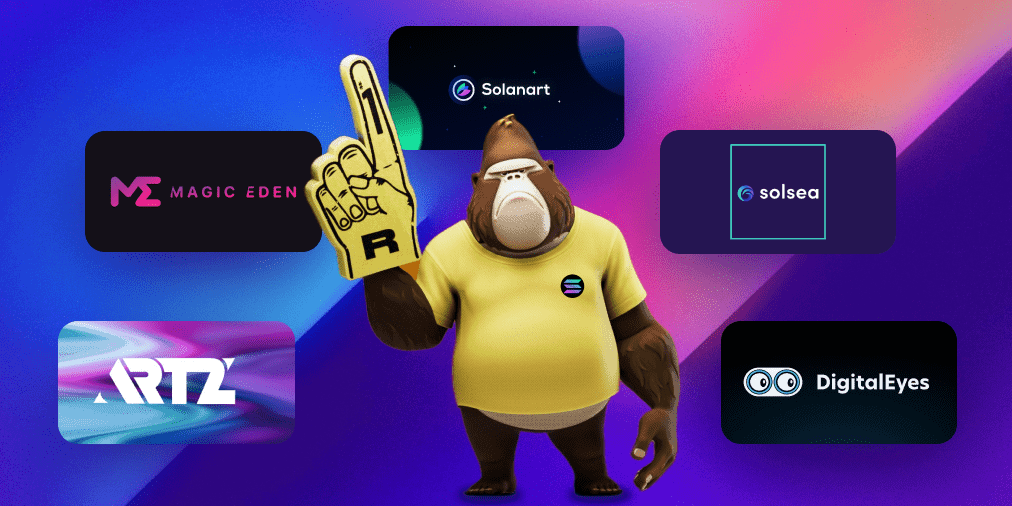 The NFT space has received a lot of attention lately, as Ukraine is relying increasingly more on NFT fundraising, and platforms like Instagram and Twitter are adopting the technology — which likely got you thinking about buying your first NFT.
In case you're new to the cryptocurrency space, non-fungible tokens (NFTs) are unique, tamper-proof digital collectibles that live on the blockchain. NFTs promise significant real-world utility as the first tamper-proof digital ownership certificates that can transparently track asset ownership, for both physical and digital items.
Solana is one of the best networks to start your NFT collector journey, as it has some of the lowest fees and fastest transactions in the blockchain space. Our guide will explore the best Solana-native NFT marketplaces, to help you kickstart your NFT collection.
Table of Contents:
Solana: Brief Overview
Solana is a decentralized, open-source, layer 1 blockchain protocol built on a combination of proof-of-stake (PoS) and proof of history (PoH) consensus mechanisms — which promote the speed and scalability of the network. Solana is among the world's first web-scale blockchains and one of the fastest, with a throughput of 50,000 TPS (transactions per second), which makes the network twice as fast as Visa.
Solana stands out in the blockchain space thanks to its industry-leading speed, scalability, and sub-penny fees that average $0.00025 — which also applies to NFT minting and purchasing. This makes Solana-native NFT marketplaces some of the fastest and cheapest in the industry.
Solana's native token, $SOL, is the 9th largest cryptocurrency, trading at $102.51, with a market capitalization of $33,1 billion, at press time. SOL is used to pay transaction and smart contract fees on the network, as well as for staking and purchasing NFTs on Solana-native marketplaces.
Before we dive deep into each of the marketplaces, here is a chart with their respective trading volume and traders number.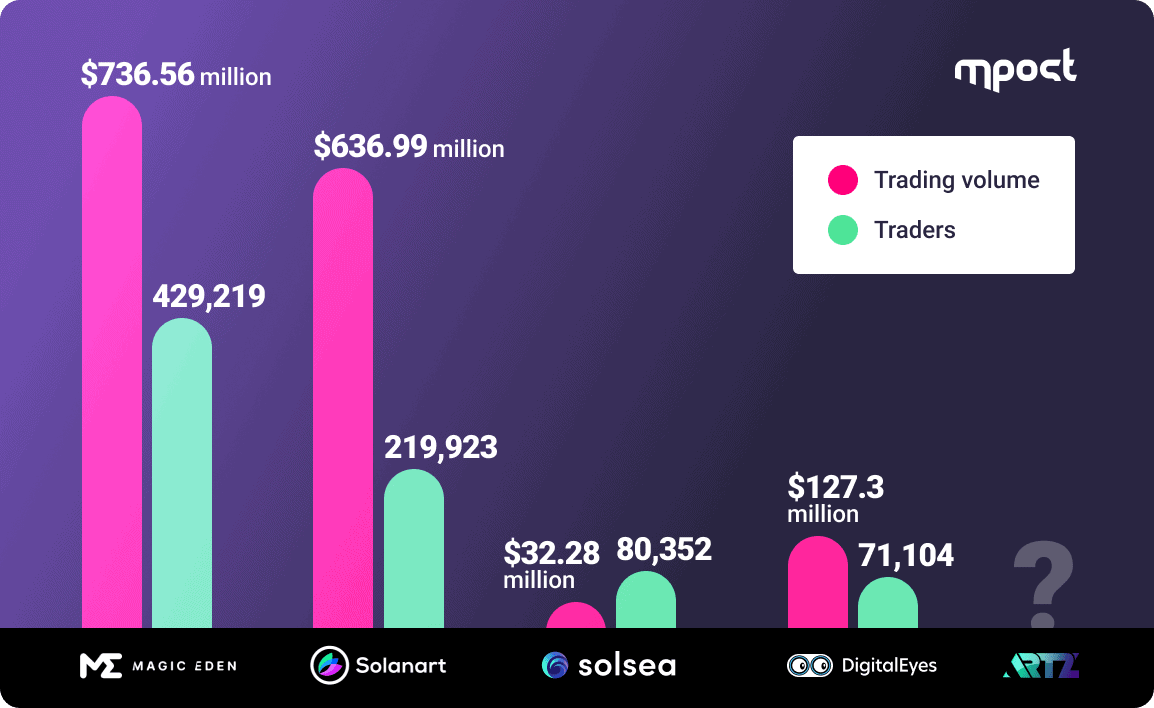 Best NFT Marketplaces on Solana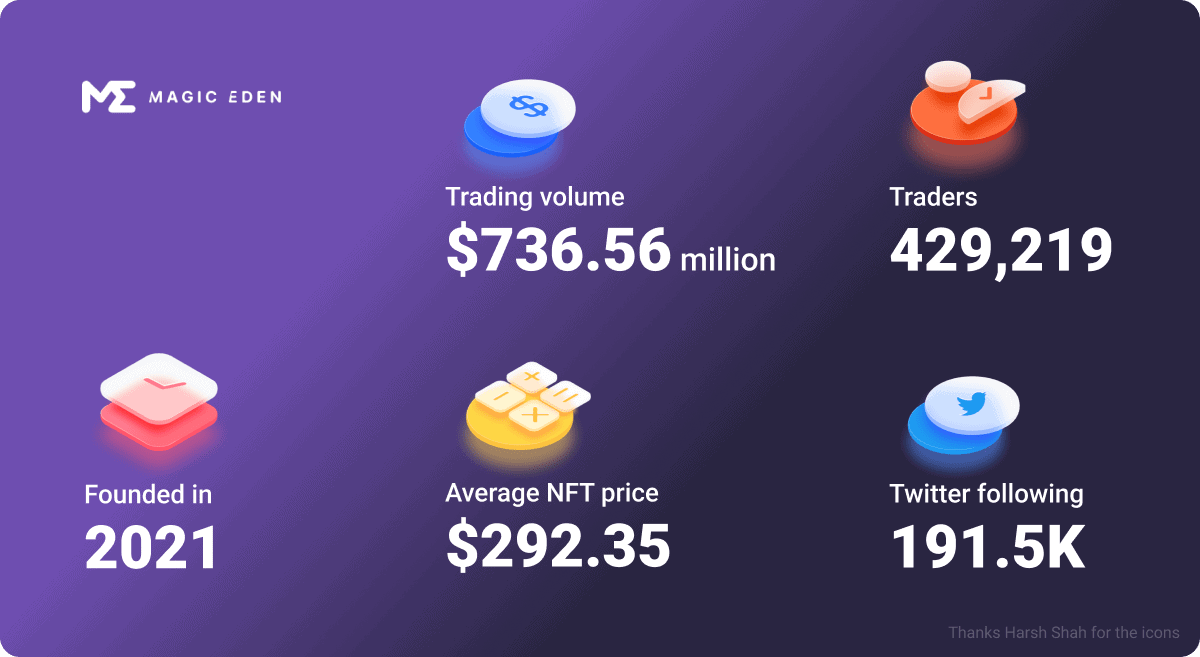 Key Stats:
Trading volume: $736.56 million
Traders: 429,219
Average NFT price: $292.35
Twitter following: 191.5K
Founded in: 2021
Best for: Solana-based NFT games and avant-garde art collections.
Supported wallets: Phantom, Sollet, Torus, Ledger, Slope, Clover, Coin98, Solong, MathWallet.
Magic Eden is by far the largest Solana-based marketplace by trading volume, and the most popular one, having almost twice as many unique traders as Solanart. Leveraging Solana's blazing fast and cost-efficient blockchain protocol, the marketplace offers 0% NFT listing fees and 2% transaction fees.
Magic Eden brands itself as a community-centric, "web3 first" marketplace, which the platform also proved by airdropping Magic Ticket NFTs to over 30,000 users — giving holders access to the platform's discord-based DAO, MagicDAO.
One of the most notable features of Magic Eden is that it verifies its collections, adding a "verified" checkmark that proves the authenticity of the collection and its owner. Thus, artists have to submit their collections for approval, which can take up to two days. This is a great initiative to reduce the rising number of scams on NFT platforms.
Besides having the lowest fees on Solana, Magic Eden offers a smooth and user-friendly experience for both NFT buyers and creators. Creators can leverage the platform's NFT launchpad, which helps them navigate the technicalities of releasing their first collection. Buyers benefit from an array of search features that help them find interesting NFTs they can bid on or buy out, depending on the type of auction.
Magic Eden was founded by Sidney Zhang, Jack Lu, Zhuoxun Yin, and Zhuojie Zhou — four friends with diverse technical backgrounds across crypto, DeFi, consumer internet companies, and management consulting.
Top 5 NFT collections: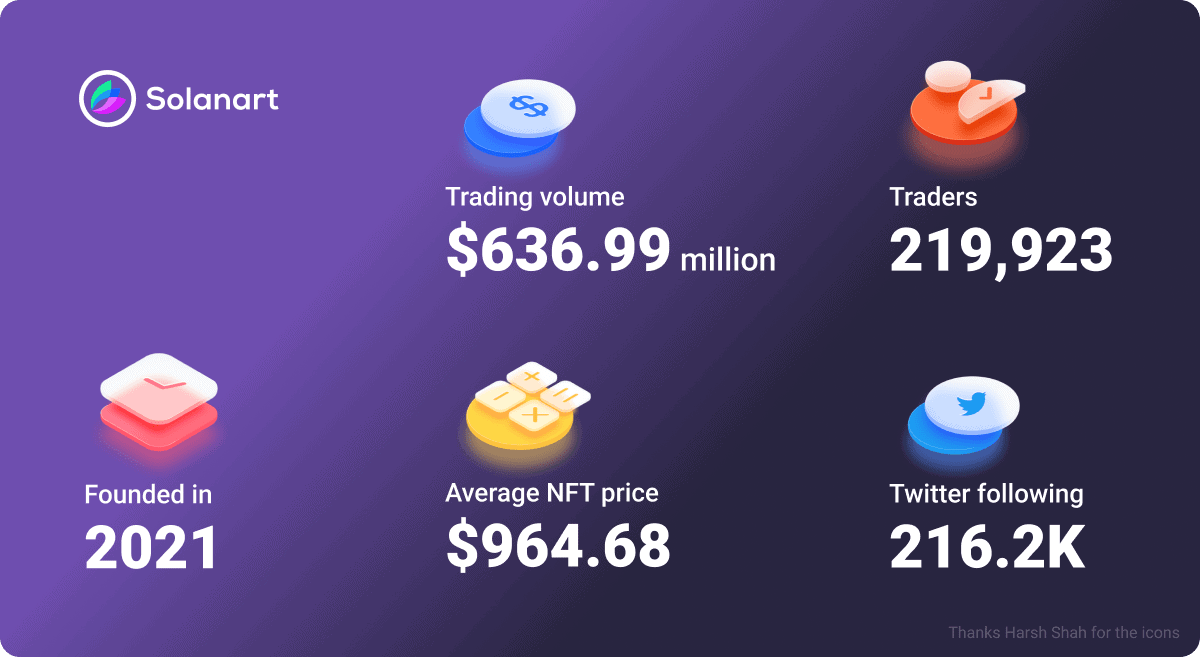 Key Stats:
Trading volume: $636.99 million
Traders: 219,923
Average NFT price: $964.68
Twitter following: 216.2K
Founded in: 2021
Best for: Popular Solana-native collections like Degenerate Ape Academy and Aurory.
Supported wallets: Phantom, Sollet, Torus, Ledger, Slope, Clover, Coin98, Glow, Solong, MathWallet.
Solanart, also known as the original Solana NFT marketplace, is the second-most-popular NFT marketplace on the network, with the second-largest all-time trading volume after Magic Eden. Solanart has no minting fees but charges a 3% transaction fee on every NFT sale — which is 1% more expensive than its above competitor.
Solanart is the first Solana-native NFT marketplace that enabled the buying and selling of Solana-based NFTs. The trustless marketplace aims to promote artists and upcoming creators. To offer artists more exposure, Solanart conveniently places the trending collections, recently listed NFTs, as well as upcoming releases directly on their homepage.
NFT creators can take advantage of the platform's programmability and set their own royalty fees, which will be included in the price of their tokens. Users will also benefit from the same lightning-fast transactions and sub-penny fees, as with other Solana-native marketplaces.
In terms of user experience, Solanart is a fierce rival to Magic Eden, offering most of the same cutting-edge features for its users. Buyers can easily browse through the most popular NFT collections, and filter digital collectives by asking price, bid price, age, and different attributes. The platform's stats page offers a comprehensive overview of the most popular NFT collection and their recent market performance.
As per a Solanart blog post, the platform was founded by "4 crypto/NFT enthusiasts who all agreed that Solana was the future of NFTs," but there's no further reference to the identity of the founding four.
Top 5 NFT collections: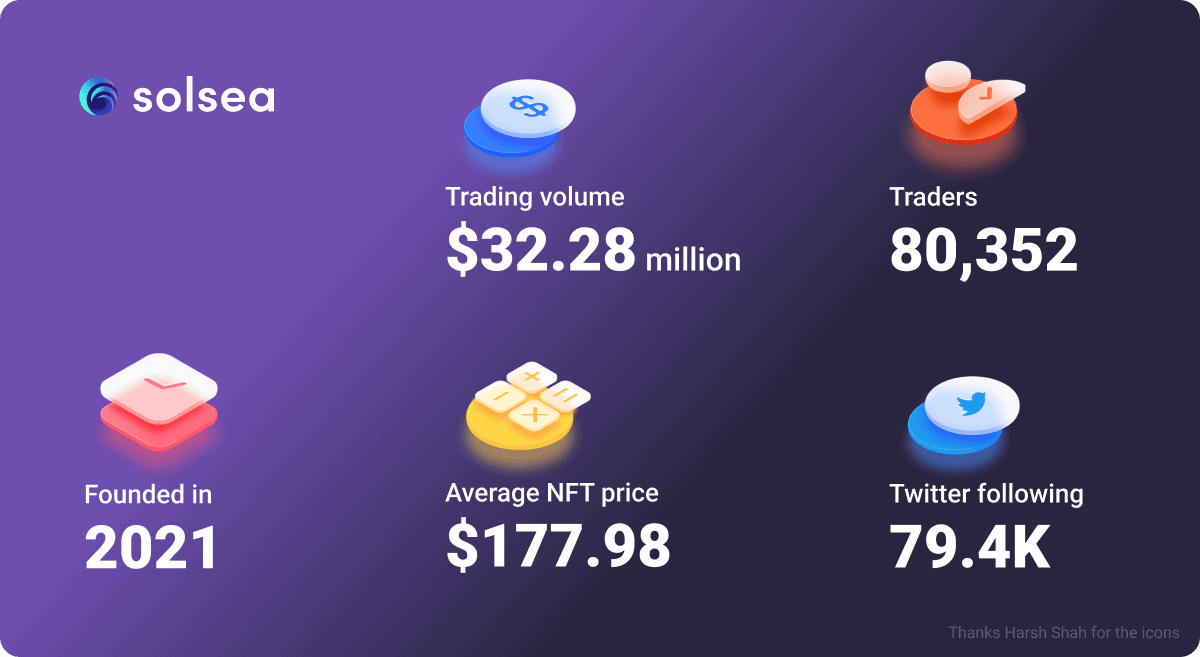 Key Stats:
Trading volume: $32.28 million
Traders: 80,352
Average NFT price: $177.98
Twitter following: 79.4K
Founded in: 2021
Best for: Embedding copyright licenses directly in NFTs.
Supported wallets: Sollet, Torus, Phantom, Slope, Coin98, Solflare, and Ledger.
SolSea is the fifth-largest Solana-based NFT platform by total trading volume, and the third-largest in terms of users, having over 80,000 traders at press time. SolSea brands itself as the first open NFT marketplace on Solana, which enables creators to choose and embed licenses when minting NFTs.
Beyond its low-cost and fast transaction speeds, enabling creators to embed copyright licenses into their NFTs is one of the platform's most outstanding features. The platform also enables users to pay for transactions in USDC, and USDT, not just SOL.
Similar to Solanart, SolSea also charges a 3% transaction fee on all NFT sales and enables creators to program automatic royalty payments for subsequent sales. However, the downside of SolSea is that it charges for listing and delisting NFTs based on the transaction costs on Solana — which are generally low, even at peak times.
Another unique feature for SolSea is that it enables users to generate passive income by staking AART tokens — the native token of the ALL.ART Protocol — in exchange for a discount in transaction fees, based on the number of staked coins.
In an effort to make the NFT space safer, the platform requires creators to submit proof of authorship for newly minted NFT collections, which will be verified before being listed on the marketplace. SolSea also introduced its NFT launchpad known as THE VOLCANO at the end of January.
SolSea was developed by the team behind All.Art Protocol — a platform aiming to empower artists in the NFT space — led by founder Vitomir Jevremovic, and co-founders Alexander Fuerer and Jovan Tisma.
Top 5 NFT collections: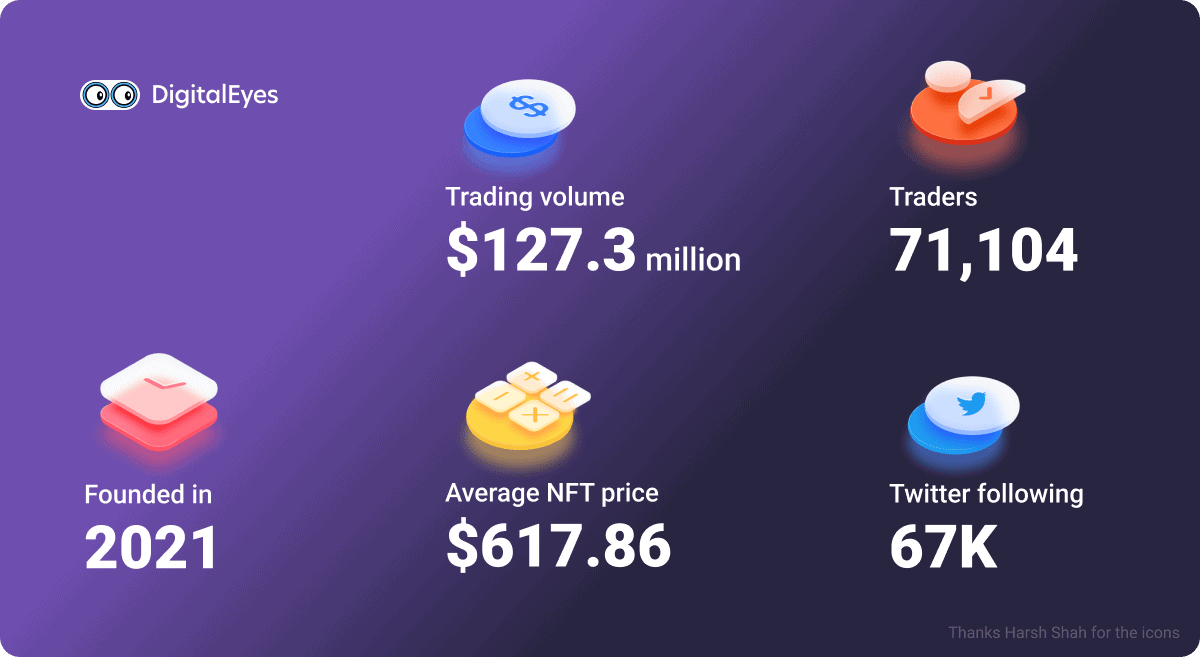 Key Stats:
Trading volume: $127.3 million
Traders: 71,104
Average NFT price: $617.86
Twitter following: 67K
Founded in: 2021
Best for: Tracking upcoming NFT releases.
Supported wallets: Phantom, Sollet, Solflare, Solong, Slope, Clover, MathWallet.
Digitaleyes.Market is the third largest NFT marketplace on Solana by total trading volume. The platform offers the next-best fee structure after Magic Eden and Artz.ai, charging a 2.5% marketplace fee for all transactions and no minting fees, beyond the network gas fees. Digitaleyes also offers limited-time promotions, reducing transaction fees to 0.99% for the respective period — with the latest one ending on April 30, 2022.
Beyond offering all the usual features for both buyers and sellers, the platform also offers a mint calendar to conveniently track all upcoming NFT launches in one place. Digitaleyes is also working on releasing a new launchpad experience, but there were no additional details communicated about the initiative.
Digitaleyes offers the same lightning-fast, cost-efficient transactions as one would expect from a Solana-native marketplace. The marketplace also offers collection certification, adding a "Verifeyed" label to the NFT collections authenticated by the platform. And despite having an easily usable API, Digitaleyes published a list of helpful guides for both NFT collectors and creators.
A minor downside in terms of user experience is that the platform doesn't offer a statistics page of its top NFT collection, in comparison to other NFT marketplaces, so finding the collections with the most trading volume takes a little more effort from the user. To date, the founding team behind Digitaleyes is still unknown.
Top 5 NFT collections: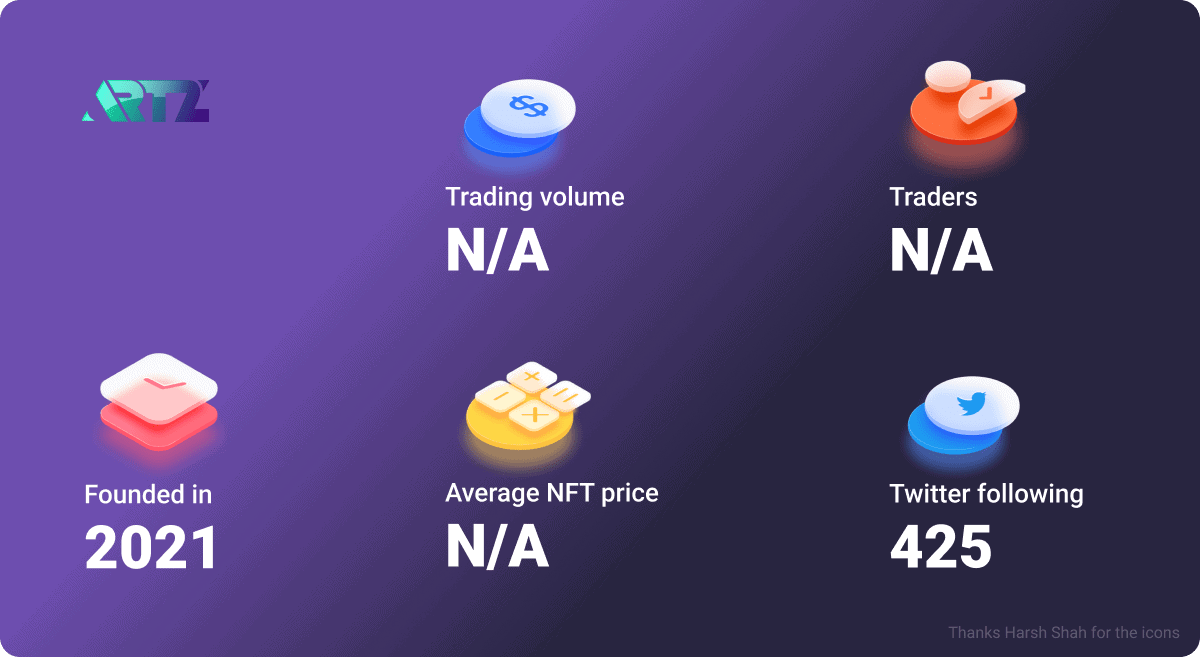 Key Stats:
Trading volume: N/A
Traders: N/A
Average NFT price: N/A
Twitter following: 425
Founded in: 2021
Best for: Decentralized NFT transactions and non-custodial NFT listings.
Supported wallets: Phantom.
Artz.ai has a unique position in the hierarchy of Solana-based marketplaces, as the first truly decentralized Solana-native NFT marketplace. Meaning that instead of storing your NFTs on the marketplace, the artwork and metadata will be safely stored on Arweave, with a copy being displayed on the platform. This makes Artz stand out as the only non-custodial marketplace on Solana since all minted NFTs are truly owned by their creators.
In terms of fee structure, Artz.ai is on par with Magic Eden, charging a 2% marketplace fee on all NFT transactions, while offering free listing and minting on the platform. Thanks to the Solana network's 550-millisecond average block finality, NFT transactions on Artz only take about 20 to 30 seconds to be confirmed, depending on the network congestion.
Artz.ai offers profile verification within 48 hours to NFT creators, as well as verification for newly-minted collections. The platform offers a smooth and beginner-friendly user experience, with browsing features that are similar to the ones on Magic Eden or Solanart.
On the downside, the navigability of the site and its collections is less convenient, as there is no statistics page to find the largest NFT collections or filter them according to the most trader activity. This makes the overall user experience feel more like the one offered by Digitaleyes. It's also important to mention that Artz is an emerging project, carving out its own niche as a decentralized marketplace and its trading volumes are negligible, at best, compared to the above marketplaces in our guide.
While the founding members of the platform are unknown, Artz is planning on creating a DAO (decentralized autonomous government), to decentralize the governance and decision-making process of the marketplace.
Top 5 NFT collections:
Should You Invest in Solana-Native NFTs?
Despite most NFT-related activity happening on the Ethereum blockchain, Solana is becoming a competitive alternative, offering faster and more cost-efficient transactions. While Solana-native marketplaces charge $0.00025 per transaction, NFT purchases on Ethereum-based Opensea currently average $13.97, and this number can triple during high network congestion.
Consequently, more NFT creators and developers are opting for Solana, making it one of the fastest-growing ecosystems in the blockchain space, with $6.27 billion in Total Value Locked (TVL) across its dApps. Solana's daily active users also spiked 300% since the last network upgrade in September, showing increasing interest from dApp users.
Global NFT sales reached $18.5 billion in 2021, which is a 570x increase from 2020, partly thanks to global giants like Gucci, Coca-Cola, Vogue, and Facebook dabbling with the technology. As the digital collectibles sector keeps growing, Solana-native NFTs are likely some of the best investment options in the space, as the cost-efficiency, scalability, and developer activity on the network will keep driving interest in its non-fungible tokens.
To better understand how to mint NFTs on Solana read Metaverse beginners guide.
The following articles might be of interest to you:
Disclaimer
In line with the Trust Project guidelines, please note that the information provided on this page is not intended to be and should not be interpreted as legal, tax, investment, financial, or any other form of advice. It is important to only invest what you can afford to lose and to seek independent financial advice if you have any doubts. For further information, we suggest referring to the terms and conditions as well as the help and support pages provided by the issuer or advertiser. MetaversePost is committed to accurate, unbiased reporting, but market conditions are subject to change without notice.
Hot Stories
by Victor Dey
November 30, 2023
by Kumar Gandharv
November 30, 2023
by Victor Dey
November 30, 2023
by Nik Asti
November 29, 2023
Latest News
by Alisa Davidson
November 30, 2023
by Victor Dey
November 30, 2023
by Alisa Davidson
November 30, 2023
by Nik Asti
November 30, 2023