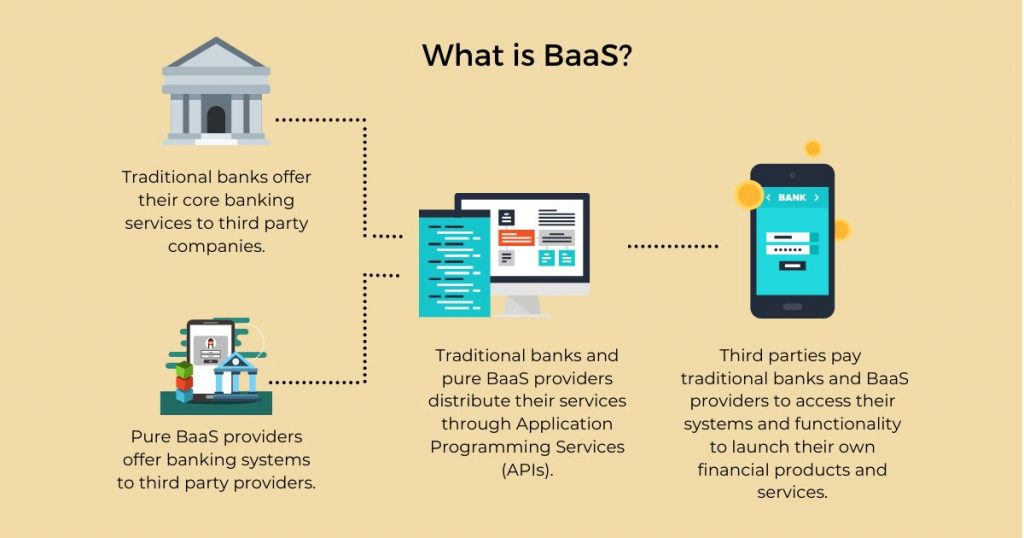 What is Banking as a Service (baas)?
Banking as a Service (BaaS) is a procedure that digital banks and third parties utilize to connect their own business infrastructure to a bank's system via APIs, allowing the digital banks or third parties to offer full-service banking directly through their own non-bank business offerings. When purchasing a product or service, the brand's end client can easily acquire financial services from the same source. FinTech payments including obtaining product finance, loans, and credit cards through a seller's website are examples of embedded bank services.
Understanding Banking as a Service (baas)
BaaS is built on a software API link between banks and non-banks, including FinTech firms. Financial services are seamlessly embedded in the online interactions of brands and their customers by BaaS providers. In a BaaS system, authentication and online security are critical.
The incorporated BaaS financial services can be co-branded or deployed as white label banking (where the bank's branding is not visible).
The banking industry's financial institutions are licensed and regulated. Know Your Customer (KYC), anti-money laundering (AML), OFAC sanctions lists, and data privacy and security are all part of these requirements. RegTech should be included in the Banking as a Service process for it to function properly and for banks to remain in regulatory compliance. RegTech can also aid in the detection of online fraud.
Read related articles: