Veсhain CEO Sunny Lu Reflects on a Decade in Blockchain,Twin Token Model's Impact and VeChain's Future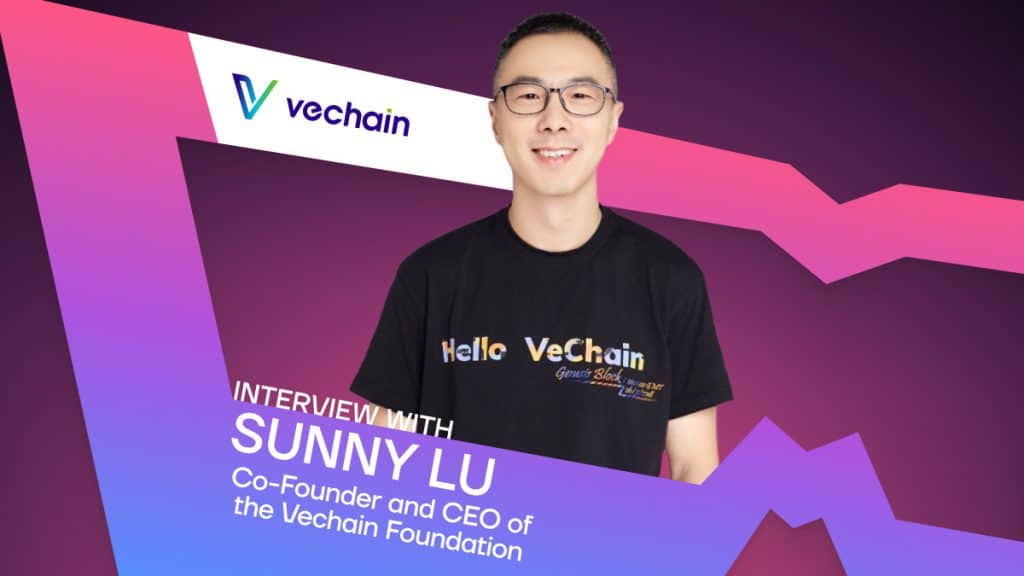 by
Victor Dey
Published: September 12, 2023 at 3:21 am Updated: September 12, 2023 at 3:26 am

by
Danil Myakin
Edited and fact-checked: September 12, 2023 at 3:26 am
In Brief
In an exclusive interview with Metaverse Post — Sunny Lu, co-founder and CEO of Vechain Foundation, discussed the challenges, innovation and the driving force behind vechain's success.
Sunny Lu, the co-founder and CEO of the Vechain Foundation, recently provided insights into his ten-year journey in the blockchain industry and the pivotal role of vechain's Twin Token model. Vechain, a prominent blockchain platform known for its innovative approach, has undergone significant evolution since its inception.

In an exclusive interview with Metaverse Post — Sunny Lu discussed the challenges, innovations and the driving force behind vechain's success.
Sunny Lu's immersion into the blockchain realm commenced following a distinguished career in multinational corporations, culminating in his role as Chief Information Officer (CIO) for Louis Vuitton China.

His transition from the fashion industry to blockchain technology may seem unconventional, yet his background was firmly rooted in bridging the gap between business and technology. In 2013, he ventured into the world of crypto and blockchain, marking a decade in the industry this year.
During the nascent days of blockchain, Mr. Lu observed the prevalence of tech enthusiasts in the field. He vividly recounted an encounter in San Francisco where an individual enthusiastically displayed a green screen filled with code, highlighting the industry's technical-centric focus at the time.

He underscored the importance of conveying the value of blockchain in a more accessible manner for non-technical stakeholders.
"I find myself in a sweet spot in this industry because my previous roles involved bridging technology to the business side or aiding businesses in finding the right technology," Sunny Lu told Metaverse Post.
Mr. Lu said that vechain initially explored private blockchains but transitioned to a public blockchain model in early 2017 due to the shifting landscape of the industry and the emergence of network congestion and high gas fees. Mr. Lu revealed that, as a CIO, he had never encountered such exorbitant gas fees and recognized the imperative need for a solution.
This realization gave birth to the inception of vechain's Twin Token model, designed to address issues such as fluctuating gas fees and regulatory uncertainties. Mr. Lu convened executives from his network to solicit feedback and concerns, ultimately leading to the development of features like fee delegation, which enables one user to pay for another's smart contract execution. This innovative approach became an integral part of vechain's business model when serving enterprises.
While the Twin Token model sought to mitigate the impact of gas fees as blockchain popularity surged, it did not entirely eliminate them. The model also featured flexible burning, allowing adjustments to token generation rates and revenue distribution to node holders. Vechain's community plays a pivotal role in voting on such adjustments, ensuring decentralized governance.
Stabilization Mechanisms and Vechain's UFC Partnership
Vechain, the renowned blockchain platform distinguished for its innovative "Twin Token" model, has been generating significant buzz not only within the cryptocurrency realm but also in the domain of sports partnerships.
In an era where blockchain technology is often associated with volatility and rapid price fluctuations, vechain has been diligently working to instill stability within the ecosystem. Sunny Lu elucidated how the company's approach aims to maintain relatively stable and cost-effective transactions.
Delving into the significance of gas fees in blockchain transactions, Mr. Lu emphasized the need to address issues where users faced obstacles in transferring tokens due to insufficient gas in their wallets. He said that vechain's approach ensures users have the requisite gas for transactions, streamlining the process.
"Vechain's twin-coin design offers flexibility to users, particularly in small countries, facilitating transactions while keeping costs relatively low. Our ease of access helps users initiate transactions with minimal effort," said vechain's Sunny Lu.
Shifting the discussion towards community engagement and decision-making, Mr. Lu acknowledged that adjusting the vechain platform often entails debates within the community.

He stressed the importance of striking a balance between the interests of different stakeholders, encompassing developers seeking reduced costs and investors anticipating price appreciation. vechain's community voting system plays a pivotal role in decision-making, yet Mr. Lu recognized that meeting everyone's expectations remains an ongoing challenge.
Notwithstanding the challenges, Mr. Lu expressed the necessity for compromise in the landscape of crypto startups.

Delving into vechain's strategic partnerships such as the prominent collaboration with mixed martial arts organization UFC, Mr. Lu added that discussions regarding the partnership commenced in early 2022 when vechain proposed a technology solution involving authentication chips for UFC merchandise.
"Our technology garnered positive feedback, and the partnership evolved to encompass sponsorship agreements," explained Sunny Lu. "UFC's professionalism and their ability to provide valuable data and customized assets is commendable. I feel there's common ground between crypto and UFC, as both communities share a similar demographic profile of youthful and passionate enthusiasts. That's where we found success."
The UFC partnership transcends mere sponsorship; vechain perceives it as a valuable instrument for community engagement. Through events organized in conjunction with UFC fights, vechain endeavors to cultivate intimate interactions between community members, developers, and crypto enthusiasts. These events encompass technical master classes and opportunities for face-to-face conversations.
"Such engagements yield cumulative effects, fortifying the bonds between the vechain community and UFC aficionados," said Sunny Lu. "As vechain continues to innovate and expand, the partnership with the UFC represents a strategic maneuver to broaden its reach and engage with a broader audience."
Sustainability, Blockchain and Vechain's Future Initiatives
During the conversation, Sunny Lu underscored vechain's distinctive approach of releasing multiple iterations of its whitepaper, a rare practice in the cryptocurrency realm. Mr. Lu revealed the company's new sustainability initiative, which is outlined in their latest whitepaper, "web3 for better" – co-developed with Boston Consulting Group (BCG).

He said that vechain's vision is to create a platform where users can engage in various sustainability-related activities, from driving electric vehicles to purchasing sustainable products. The initiative aims to leverage Web3 technology and mindset to address sustainability challenges. The focus is on using tokens to incentivize individuals to participate in initiatives that promote sustainability.

Over the years, vechain has diligently concentrated on fostering enterprise adoption, collaborating with esteemed partners such as PwC, DNV, Walmart China, and H&M. Lu accentuated the necessity of sustainability and how tokenization can play an instrumental role in incentivizing individuals to partake in sustainability endeavors.
"Blockchain technology has the power to coordinate and motivate individuals globally to contribute to sustainability efforts. By tracking and incentivizing actions, blockchain can play a vital role in making sustainability a part of people's daily lives," said Sunny Lu.
Mr. Lu also expounded upon vechain's recent technological endeavors, including the introduction of VORJ — a "Web3 as a Service" platform. He said the tool empowers both technical developers and non-technical users to easily construct smart contracts and issue tokens on the vechain blockchain.

Its objective is to streamline blockchain adoption, providing a complimentary starting point with transaction fees covered by vechain.
Additionally, vechain is poised to unveil a new mobile wallet "VeWorld" for Android and iOS platforms alike. The wallet will integrate seamlessly with enterprise applications, simplifying users' interactions with blockchain technology.
"These initiatives have been meticulously crafted to empower both individuals and enterprises to partake in blockchain activities with ease. Vechain aspires to lower entry barriers and champion the widespread adoption of blockchain technology," added Sunny Lu.
What's Next For Vechain?
Sunny Lu told Metaverse Post that vechain's ultimate aspiration is to engender the participation of everyone in sustainability endeavors. He believes that sustainability should become an intrinsic facet of daily existence, and blockchain technology can expedite this transition by incentivizing and motivating individuals to wield a constructive impact on the world.
"By harnessing blockchain and Web3 technology, we endeavor to catalyze a global movement wherein everyone can contribute to a more sustainable future," said Sunny Lu. "Our unwavering commitment to innovative technological initiatives positions vechain as a substantial player in both the blockchain and sustainability arenas, bridging the chasm between technology and tangible impact."
Disclaimer
Any data, text, or other content on this page is provided as general market information and not as investment advice. Past performance is not necessarily an indicator of future results.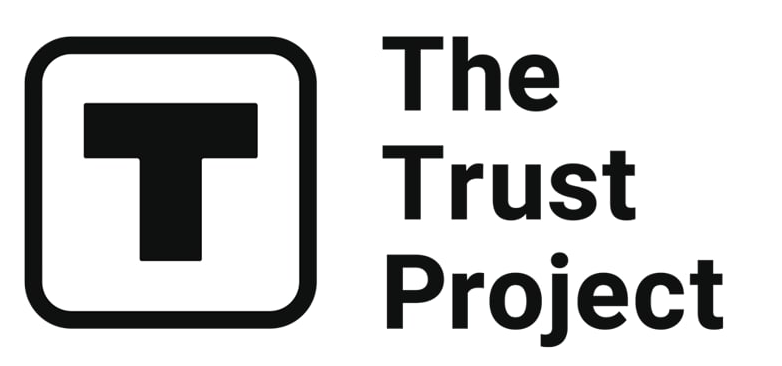 The Trust Project is a worldwide group of news organizations working to establish transparency standards.
Tech Editor at Metaverse Post | Data Scientist / Analyst | Speaker & Media Mentor
More articles


Tech Editor at Metaverse Post | Data Scientist / Analyst | Speaker & Media Mentor
Hot Stories
by Victor Dey
September 21, 2023
by Damir Yalalov
September 21, 2023
by Agne Cimermanaite
September 21, 2023
by Damir Yalalov
September 21, 2023
Latest News
by Cindy Tan
September 21, 2023
by Agne Cimermanaite
September 21, 2023
by Cindy Tan
September 21, 2023
by Cindy Tan
September 21, 2023