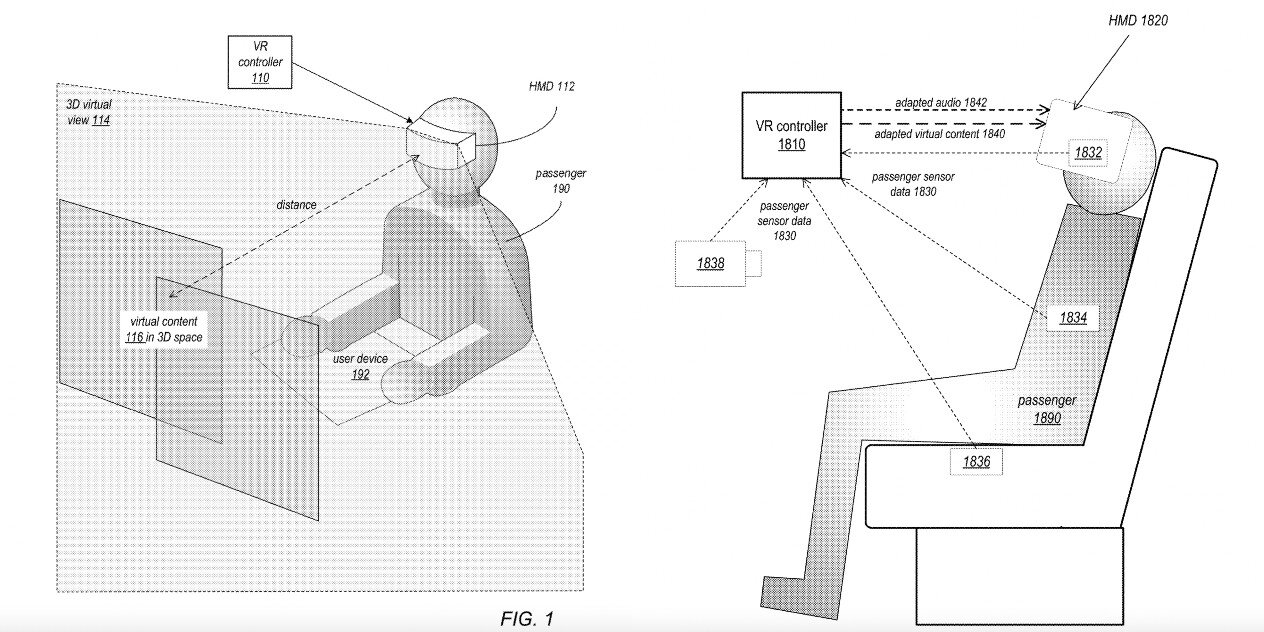 Apple filed a patent filed this month suggesting the company is diving into both autonomous vehicles and VR at the same time. So if you've ever dreamed of playing your favorite VR game while riding down the freeway, it looks like Apple wants to help you out with an in-car headset.
One broad concern about self-driving transportation is motion sickness, and the headgear included in Apple's patent (first noted by Patently Apple) is meant to stave that off. However, as described, the VR system also appears intended for windowless, driverless vehicles with an option for viewing the road through virtual reality headsets. In theory, users could hold work meetings, game, or do whatever else they like to entertain themselves while in motion.
Language in patent documents can make dense academic writing look simple. This is especially true with the Apple Car plus VR doc, which is almost 40 pages long with various simple images illustrating how the system would work. Fortunately, Patently Apple broke down some of the more interesting features, such as the ability for passengers to "have the virtual experience of riding through another real location, such as the streets of London, or through fictional cities or landscapes."
For travelers, their "virtual experiences may be educational and interactive … allowing the passenger to discover history or other information about landmarks" wherever they are.
This might sound amazing and improbable to some, but the technology needed for the key elements — Apple's patent mentions internal and external sensors and LiDAR — is already available. In addition, both Volkswagen and Audi are well on their way to fully incorporating Augmented Reality (AR) elements into their products, meaning there's a new marketing sector for Apple to try and dominate.
The big hurdle will be in convincing anyone that windowless vehicles full of goggle-wearing passengers participating in a virtual world are genuinely safe. Tesla's full self-driving function (FSD) assumes a human at the wheel can see the road even if the car is entirely on autopilot, and it's still an extremely controversial feature. Additionally, the team developing an Apple Car is in flux, so don't look for a VR-goggle-wearing Tim Cook rolling onstage inside a futuristic vehicle at the next Apple event on June 6 — or for years to come.
Read related posts: