Metaverse Fundraising Report for 2022: Trends in NFT, Gaming, Infrastructure, AI

by
Valeria Goncharenko
Published: December 30, 2022 at 8:44 pm Updated: January 01, 2023 at 10:41 am
In Brief
In 2022, web3 startups raised a total of $7,164,997,888 in investments
Investors paid attention to NFTs in the first half of the year, to gaming, metaverse, and infrastructure in Q2 and Q3, and switched to Artificial Intelligence in Q4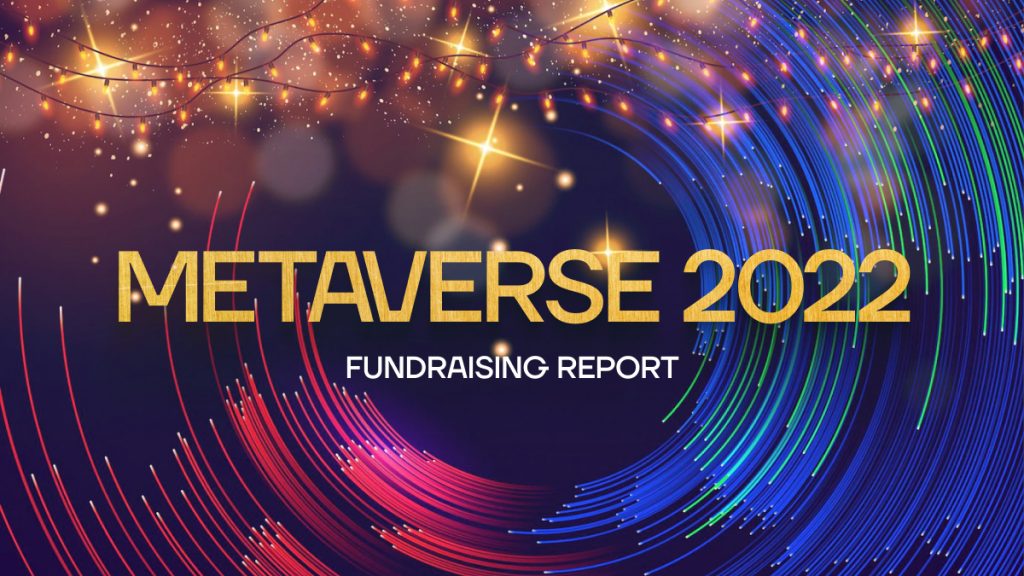 Metaverse Post introduces the Fundraising Report for 2022.
The bear market of 2022 was not easy for the industry as it saw several major blockchain network hacks and major projects bankrupt. However, web3 was still of venture capitalists' interest, and entrepreneurs managed to raise significant sums for their startups. So, this year, 348 companies specializing in NFT, metaverse, gaming, AI, VR, and AR, raised a total of $7,164,997,888—$4.8 billion more than in the previous year.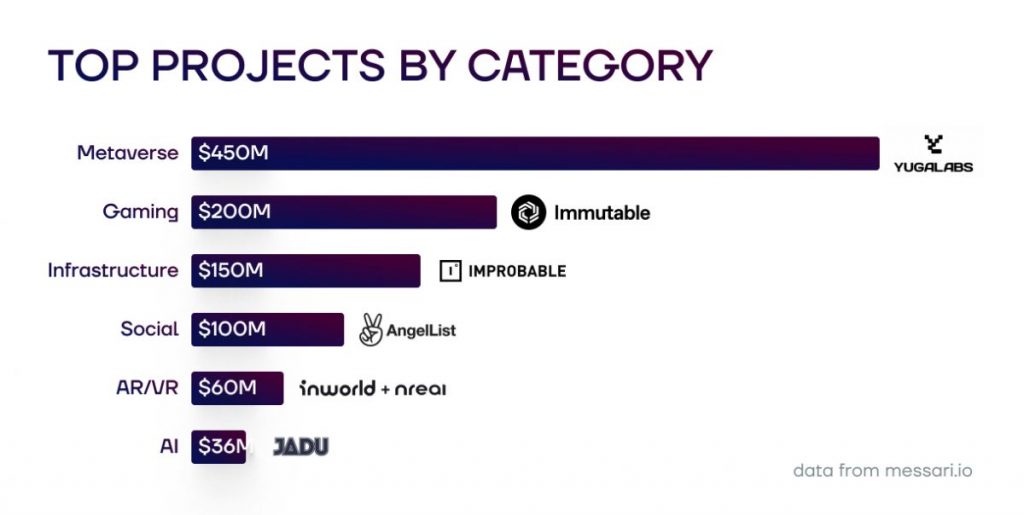 Different categories gained investors' attention throughout 2022. The NFT bubble of 2021 burst in mid-2022, but non-fungible token projects remained of interest. The second half of 2022 saw metaverse and gaming projects attract significant investments. VCs were focused on play-to-earn projects, paying special attention to blockchain casinos, collectibles, loot boxes, and football-themed games.
Following several major exploits, venture capitalists understood the necessity and importance of security in web3 and started investing more in infrastructure startups.
In Q4, investors shifted their attention to augmented, virtual, and mixed-reality startups. Artificial intelligence, which has blown users' minds thanks to the AI chatbot ChatGPT, also received much interest from VC firms. For instance, Inworld AI raised $50 million in a Series A round, followed by SEED with a $41 million result, SingularityDAO with $25 million, and MarqVision with $20 million raised in a Series A round. VCs are unlikely to lose interest in Artificial Intelligence in 2023, and more AI startups will likely get funding.
In general, in 2022, metaverse projects began trending, having raised a total of $1,828.9 million throughout the year. Metaverse became a "thing" among various groups after Mark Zuckerberg renamed Facebook to Meta. More than that, the word itself won second place in Oxford's Word of the Year 2022 contest.
Gaming is the second-trending sector, having raised $4,487.3 million in 2022. Infrastructure projects received $200.8 million, while web3-based social networks attracted $259.1 million in investments. AR and VR startups raised $178.6 million, and Artificial Intelligence projects received $136.5 million.
Most active funds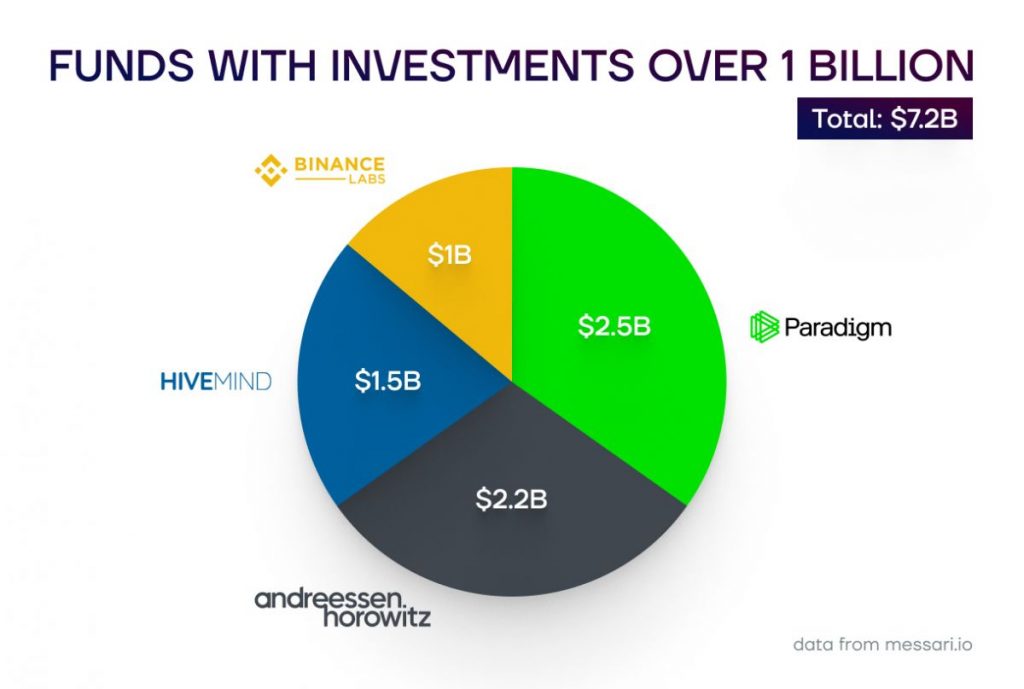 In 2022, Paradigm became the most active investor in web3. The collaborative San Francisco-based investment firm focuses on early to late-stage crypto companies, and its portfolio features Coinbase, Optimism, MoonPay, Chainalanysis, Uniswap, and Magic Eden. The fund raised $2.5 billion for blockchain-backed projects throughout the year, adding 31 web3 startups to its portfolio. This year's investments include Uniswap, Fractional, Blur, Magic Eden, and Optimism.
Andreessen Horowitz follows Paradigm Ventures with a total of $2.2 billion invested in web3 companies. Also known as a16z for short, the venture capital firm was founded by Marc Andreessen and Ben Horowitz in 2009 in Silicon Valley. The fund specializes in seed to late-stage crypto, fintech, bio and healthcare, consumer, and gaming companies.
It's worth noting that in October 2022, the firm launched its Crypto Startup School, which offers a $500,000 investment to every participant. Andreessen Horowitz exchanges the grant for a 7% equity and other standard rights.
Hivemind Capital Partners, a multi-stage crypto native investment platform, is the third most active investor of the year. In 2022, it invested $1.5 billion in web3 startups. While relatively new, as the company was founded just a year prior, Hivemind's portfolio already includes such notable startups as music-oriented LimeWire and Napster.
Binance Labs, Binance's venture fund, invested $1 billion in blockchain-backed companies in 2022. In the years to come, Binance Labs will most probably invest smaller sums in a bigger number of startups.
Overall, the four most active funds raised $22,485,600,000 this year. They are followed by 10T Fund, Initialized Capital, Pantera Capital, Borderless Capital, and Craft Ventures.
Most active metaverse investors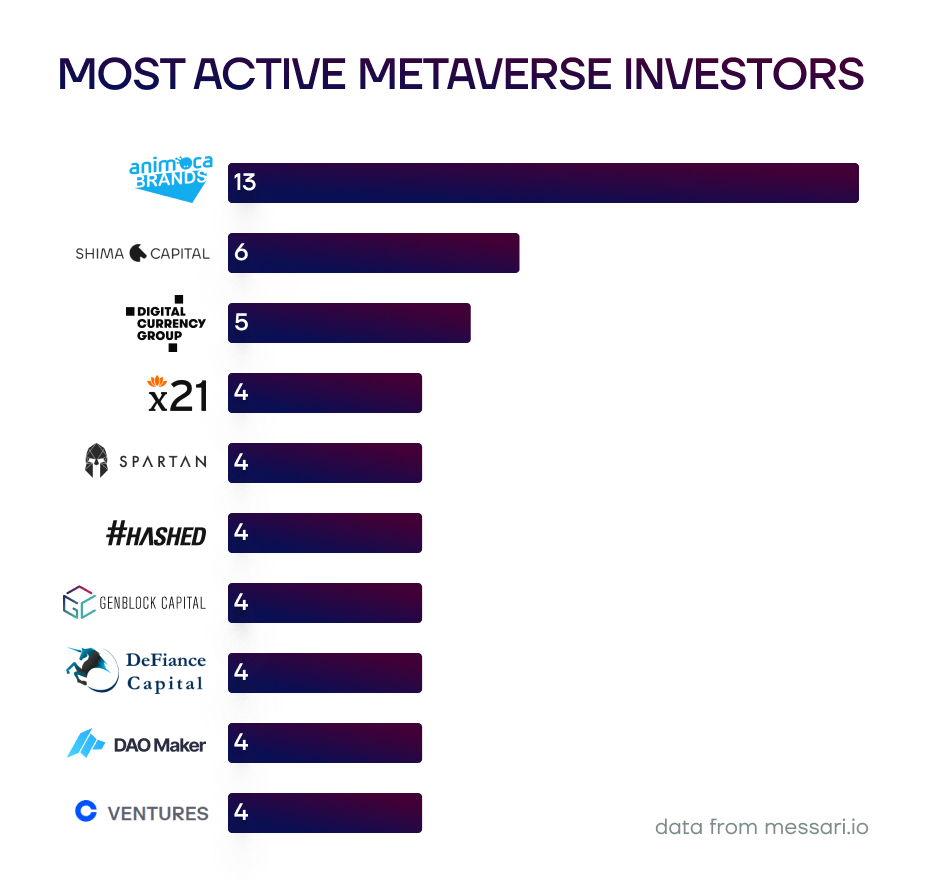 Animoca Brands is the leader when it comes to metaverse-focused startups. The Hong Kong-based company invested in 13 projects throughout the year.
Next comes Shima Capital, which has closed six investment rounds, and DigitalCurrencyGroup, which has invested in five metaverse startups. X21Digital, SpartanGroup, Hashed, GenblockCapital, DeFianceCapital, DAOMaker, and CoinbaseVentures invested in four metaverse startups each.
NGCVentures, Metapurse, MechanismCapital, MagnusCapital, Liberty, LDCapital, Kyros, KingswayCapital, InfinityVenturesCrypto, GBV, BitscaleCapital, and Alameda each invested in three metaverse projects.
Altogether, in 2022, the metaverse category saw the participation of 340 unique investors, with a total result of $776.58 million in investments.
Most active new funds
2022 saw the creation of many new investment organizations. The most active in terms of investments was Israelian Sheva, which invested in Limit Break and Dynamic, with the companies receiving $207.5 million in funding.
Portal, which invested in Satori, Boba Network, GalleonDAO, and Job Protocol, places second. The companies raised a total of $57 million.
Mulana invested approximately $50 million in MARA, Ready Games Network, Joyride, Decry Protocol, and peaq.
It is followed by Arriba Studio, which participated in the round of YGG Hapan, Oasys Games, and double jump.tokyo. The startups received $47.8 million.
House Capital participated in the rounds of SuperTeam Games, Venly, and Bitmama—the startups raised $35 million.
It's worth noting that among the 47 investment funds established in 2022, none have invested in metaverse startups.
Startups that attracted the most investments in 2022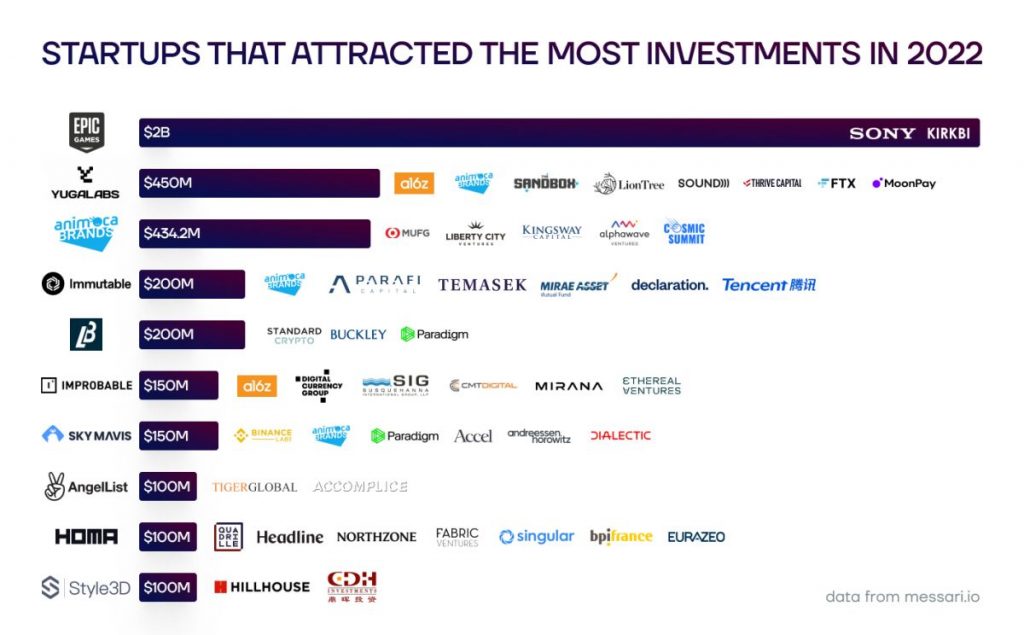 Global entertainment giant Epic Games attracted $2 billion of investment money from Sony and LEGO owner KIRKBI. The creator of Fortnite is using the funds to advance its vision of the metaverse and support its continued growth. The company is currently valued at $31.5 billion.
Yuga Labs takes second place. In March 2022, the studio behind the Bored Ape Yacht Club NFT collection raised $450 million to develop the Otherside metaverse. As of today, Yuga Labs released the "First Trip" of the Otherside experience and is teasing BAYC fans with the upcoming Second Trip.
Venture capital fund Animoca Brands raised $434.2 million in 2022. The company, which is valued at roughly $5.9 billion, is using the funds to develop the open metaverse. Notably, Animoca actively invests in web3 startups. Its name was on numerous metaverse and NFT projects released in the past couple of years, including Sky Mavis's Axis Infinity and NFT marketplace OpenSea.
Animoca Brands also invested in Sydney-based Layer2 NFT startup Immutable, which has received a total of $200 million from ParaFi Capital, Temasek, Mirae Asset, Declaration Partners, Tencent Holdings, and other noted investors. Immutable is most known as the developer of play-to-earn NFT games "Guild of Guardians," "Illuvium Land," and "Gods Unchained." The company is now valued at $2.5 billion.
Limit Break received $200 million in a round backed by Standard Crypto, Buckley Ventures, and Paradigm Ventures. The founders of Limit Break, Gabriel Leydon and Halbert Nakagawa believe that their company will replace play-to-earn and free-to-play gaming by introducing its free-to-own model.
Metaverse technology company Improbable raised $150 million to develop a network of interoperable web3 metaverses dubbed "M²." A16z, Digital Currency Group, Susquehanna International Group, CMT Digital, Mirana Ventures, and Ethereal Ventures invested in the British startup.
Singapore-based technology-focused game studio Sky Mavis received $150 million from Binance Labs, Animoca Brands, Paradigm, Accel, Andreessen Horowitz, and Dialectic Capital. The funds were used to reimburse users affected by the Ronin Validator Hack, which took place on March 23.
AngelList, which creates innovative tools for startups and investors, raised $100 million at a $4.1 billion valuation. The Series C round was led by Tiger Global, with participation from Accomplice and others.
Gaming-focused tech developer Homa received $100 million in a Series B round led by Quadrille Capital and Headline. Northzone, Fabric Ventures, Singular, Bpifrance, and Eurazeo backed the round. The studio used the funds to scale the business through investments in data and tech products, hire international experts, and execute new partnerships.
Chinese fashion-oriented digital platform Style3D raised $100 million in an extended Series B round led by Hillhouse and CDH Investments. The startup provides technical services for the creation of virtual samples.
Largest web3 Seed rounds of 2022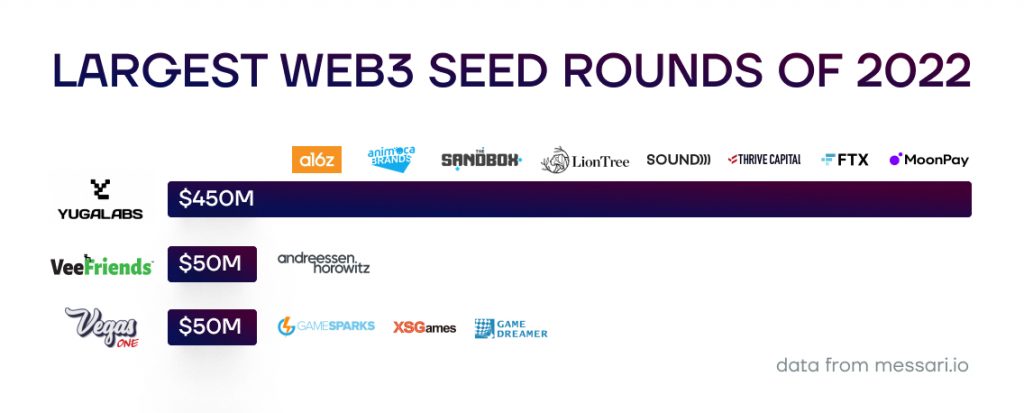 In 2022, BAYC creators Yuga Labs raised $450 million in a seed round led by a16z. Animoca Brands, The Sandbox, MoonPay, and strategic partners Sound Ventures, LionTree, Thrive Capital, and others backed the round, along with the now-bankrupt cryptocurrency exchange FTX. Yuga Labs used the funds to develop Otherside and grow the team by hiring engineers, creatives, and operation experts.
Yuga Labs is currently valued at $4 billion.
NFT project VeeFriends, established by Gary Vaynerchuk's agency Vayner3, raised $50 million from Andreessen Horowitz. The company used the funds to expand its team. In addition to the NFT collection, in 2022, VeeFriends hosted VeeCon, a conference in Indianapolis, and dropped physical garments in collaboration with web2 companies.
Vegas One, a web3 casino game distribution platform headquartered in Singapore, also raised $50 million. The seed round was led by Game Sparcs and XSGames, with participation from Game Dreamer. The company aims to re-plan the blockchain casino industry.
Fails
This year, the industry faced several major failures, which made the community and investors doubt the value of blockchain-based projects. The incidents also caused rejections from investors' side, making it even more difficult for startups to raise money during the crypto winter.
In March, Ronin Bridge, which powered the NFT game Axis Infinity, was hacked. The attacker managed to hack five private keys out of nine and took $625 million in two transactions.
The same month saw the Singapore-based cryptocurrency hedge fund Three Arrows Capital, also known as 3AC, cause a $270 million loss for crypto exchange blockchain.com. Before that, 3AC invested in two metaverse startups, Solice and Imperium Empires.
Following this, in July, crypto investment firm Voyager Digital filed for bankruptcy due to the exposure to a total of $661 million. On a side note, FTX and Alameda Research CEO Sam Bankman-Fried contributed $75 million to Voyager when it started facing problems. Voyager Digital did not invest in any metaverse projects before the failure.
In early May, Terraform's token Luna and stablecoin Terra dropped significantly. Following the incident, South Korean authorities issued a warrant for Terraform co-founders Do Kwon, Nicholas Platias, and five other individuals.
In November this year, the ex-second-largest cryptocurrency exchange FTX filed for bankruptcy. Its venture fund, FTX Ventures, invested large sums of clients' deposits into web3 projects. The VC fund became the most active investor this September, having raised over $300 million for nine companies.
Sam Bankman-Fried's Hong Kong-based defunct Alameda Research went under together with FTX. The company was also an active investor in web3 startups. The trading firm participated in the rounds of Render Network, which raised a total of $30 million; GuildFi, with a $6 million investment; and Solice, which received $4.360 million. Alameda also invested in Polygon, Anchorage Digital, Solana, Voyager Digital, and Immutable.
The year concludes with FTX's collapse and its ex-CEO Sam Bankman-Fried's arrest in the Bahamas. The crypto exchange's bankruptcy and SBF's fraud have already affected the opinion of many VCs and institutions on crypto and web3. Investors are now even less secure about the safety of crypto-related startups. However, individuals and companies continue adopting crypto. Blockchain technology affected various spheres of our lives this year, from fashion to security, as numerous companies introduced crypto-backed solutions.
In Q4 of this year, Artificial intelligence became of VCs' interest, along with augmented, virtual, and mixed reality. Time will show what 2023 will bring to web3.
Disclaimer
In line with the Trust Project guidelines, please note that the information provided on this page is not intended to be and should not be interpreted as legal, tax, investment, financial, or any other form of advice. It is important to only invest what you can afford to lose and to seek independent financial advice if you have any doubts. For further information, we suggest referring to the terms and conditions as well as the help and support pages provided by the issuer or advertiser. MetaversePost is committed to accurate, unbiased reporting, but market conditions are subject to change without notice.
About The Author
Valeria is a reporter for Metaverse Post. She focuses on fundraises, AI, metaverse, digital fashion, NFTs, and everything web3-related.Valeria has a Master's degree in Public Communications and is getting her second Major in International Business Management. She dedicates her free time to photography and fashion styling. At the age of 13, Valeria created her first fashion-focused blog, which developed her passion for journalism and style. She is based in northern Italy and often works remotely from different European cities.You can contact her at [email protected]
More articles


Valeria is a reporter for Metaverse Post. She focuses on fundraises, AI, metaverse, digital fashion, NFTs, and everything web3-related.Valeria has a Master's degree in Public Communications and is getting her second Major in International Business Management. She dedicates her free time to photography and fashion styling. At the age of 13, Valeria created her first fashion-focused blog, which developed her passion for journalism and style. She is based in northern Italy and often works remotely from different European cities.You can contact her at [email protected]
Hot Stories
by Victor Dey
November 30, 2023
by Kumar Gandharv
November 30, 2023
by Victor Dey
November 30, 2023
by Nik Asti
November 29, 2023
Latest News
by Alisa Davidson
November 30, 2023
by Victor Dey
November 30, 2023
by Alisa Davidson
November 30, 2023
by Nik Asti
November 30, 2023