Magic Eden's Tiffany Huang & Chris Akhavan Shed Light on Solana's Current State and Web3 Gaming Challenges

by
Cindy Tan
Published: May 22, 2023 at 9:00 am Updated: May 31, 2023 at 4:48 am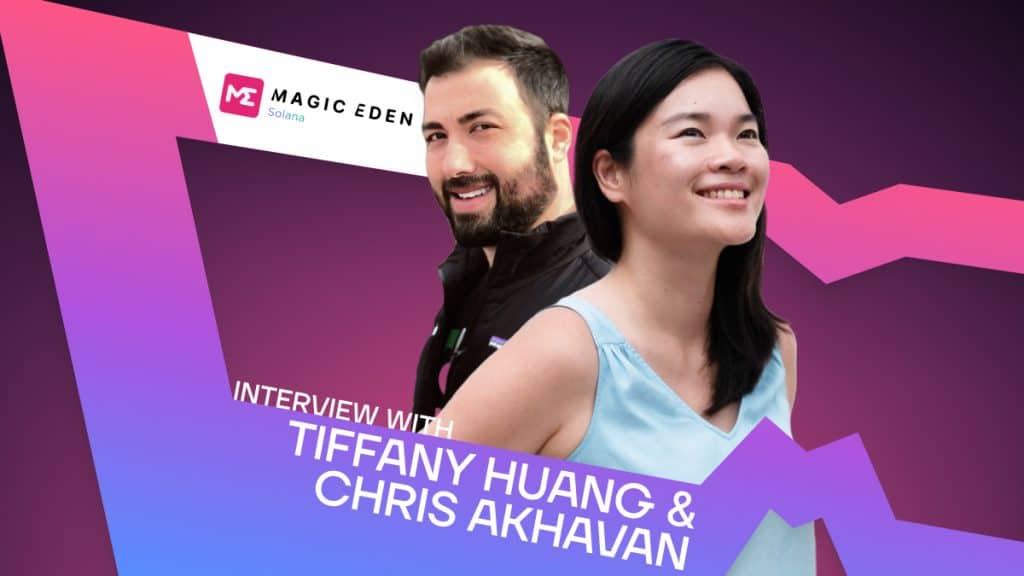 In a whirlwind journey since its launch in September 2021 as a Solana-focused NFT marketplace, Magic Eden has gone from strength to strength. Its momentum surged further after securing a remarkable $120 million in a Series B funding round in June 2022. Building on this momentum, Magic Eden expanded into the world of web3 gaming, while also embracing a multichain approach, supporting Polygon, Ethereum, and recently, Bitcoin.
Its recent venture into the Bitcoin Ordinals space, with the launch of a marketplace and launchpad, proved to be a much-welcomed layer of infrastructure that the nascent Ordinals space badly needed. Shortly after launching its Bitcoin Ordinals marketplace on Mar 21, Magic Eden swiftly claimed the lion's share of the marketplace volume, surpassing 71% by the end of March.
Of course, like any marketplace in the web3 space, Magic Eden has encountered its fair share of twists and turns along the way. The company had to make the tough decision to part ways with 22 employees in February. In yet another blow, it briefly surrendered its Solana marketplace dominance to a fresh competitor named Tensor earlier this month, though it reclaimed its position as the Solana NFT market leader a few days later. Aiming to maintain that position, Magic Eden has resolved to refocus their efforts on Solana.
Following the launch of Magic Eden's Bitcoin launchpad, we spoke to Tiffany Huang, the Head of Marketing at Magic Eden, and Chris Akhavan, the Chief Gaming Officer, to discuss Magic Eden's focus on Solana, its expansion into the Bitcoin Ordinals space, and its role in the web3 gaming industry. With their insider perspectives and insights, Huang and Akhavan shed light on the current state and future prospects of Solana's ecosystem, Magic Eden's strategies to maintain market dominance, their approach to curating Ordinals projects, and the challenges facing web3 gaming.
Even though Magic Eden is now a multi-chain platform, why did it initially focus on Solana? Now that Magic Eden is refocusing on Solana, what do you think of the current state and the future of Solana's ecosystem?
Tiffany Huang: Our team started on Solana for many reasons – technology, scalability, speed – but perhaps nothing was more impactful than the Solana community in that decision process. The current state of Solana is that we need more and new types of creators to drive ecosystem growth. For 18 months, we have supported Solana creators entering the space and collaborated with hundreds of projects through the Magic Eden platform. We see ourselves playing a pivotal role in challenging the bounds of how NFTs are used and by whom.
What will Magic Eden be doing to maintain its market dominance in Solana?
TH: We are committed to refining our core product experience, developing programs to onboard new creators, and launching partnerships across the ecosystem. We've already launched five partnerships in the last two weeks, including Elixir, Dialect, Atlas3, and more. We are committed to Solana and its growth and look forward to what the months ahead will bring to the community.
Magic Eden has recently announced its expansion into Bitcoin Ordinals with a marketplace and launchpad. Besides the aim to be a first mover in the Ordinals market, how do you see the platform impacting the broader NFT ecosystem?
TH: We obviously have a strong conviction in Bitcoin Ordinals and the value it offers web3 enthusiasts. We are focused on spreading awareness of that value, reducing friction by building high-quality infrastructure and assisting creators in producing quality content within the ecosystem. We expect our impact and brand to help to grow the pie of Bitcoin Ordinals from both a user and a creator angle, unlocking even more power on Bitcoin than many expected.
Even though infrastructure for inscriptions is still in its early stages with only just a few marketplaces and wallets, how does Magic Eden plan to differentiate itself from other newly launched Ordinals marketplaces in the Bitcoin Ordinals space?
TH: When Magic Eden announced entering the Bitcoin Ordinals ecosystem, there was extreme excitement from those already involved because of our time-tested brand and product reputation. We plan to be the top driving force behind Bitcoin Ordinals' momentum and growth in ways that we know work to build a healthy ecosystem. That should excite everyone, even those focused on healthy competing on a platform level.
What is your strategy for attracting buyers, sellers, and creators to Magic Eden's Ordinals marketplace and launchpad, and how do you plan to expand your user and creator base over time?
TH: Naturally, there is excitement over Bitcoin Ordinals. The main blocker before our entry has historically been friction in entering and operating within Ordinals due to a lack of infrastructure and high-quality products. We plan to expand the user and creator base by building products that are familiar to creators and users and also tackle all the friction points that we see as blockers for both alike. We want to invite existing creators and users while jumpstarting new creators and Bitcoin native users. Ordinals carry strong value, but there is still much work to be done on improving the experience.
How did Magic Eden approach the curation of Ordinals projects for the launchpad? What criteria do you use when selecting partners for the platform?
TH: Launchpad is deeply rooted in our business, existing for over a year across three other chains, so we already had a strong line of expertise and vetting processes. Most of our initial launches were existing solid creators that have had proof of concept and communities already existing on other chains that were itching to get onto Bitcoin early. These are quite simple in curating and beneficial as we help to onboard more users into Ordinals while also offering more quality content to existing Ordinal native users.
For net new Bitcoin creators, this will vary a bit more as many do not have proof of concept yet and there are a few different forms of high value on Ordinals. This requires a tweaked criteria process, but we do understand what's important to Bitcoin Ordinals native users. For example, low inscriptions and uncommon sats are often held in high regard by the Ordinals community. For someone coming over from a totally different chain, they may not understand this until they learn more about Ordinals, but we pride ourselves on being dialed in enough into the Bitcoin Ordinals community to understand what is of high value to users.
On the gaming side, Magic Eden recently launched a hub for web3 games and formed the Web3 Gaming Collective (W3GC). Besides driving further adoption, what kind of role do you see the gaming hub and the W3GC playing in the web3 gaming space? How do the other members in the W3GC each play a part?
Chris Akhavan: We are highly focused on driving discovery for web3 games. The gaming hub and W3GC are both efforts to support game developers in finding and growing audiences for their games. In these early stages, web3 games need as much user acquisition support as possible, given a lot of the traditional channels (major app stores and ad networks) are either closed off or hard to leverage for web3 games currently. The other members of W3CG (Fenix Games, YGG, and Game7) also contribute towards this in addition to arming game developers with various support services ranging from analytics to economy design.
Why did Magic Eden choose to branch out of NFTs and focus on the web3 gaming space? What do you see as the potential for growth and innovation in this area?
CA: We believe gaming is the perfect fit for web3 technology. There is already $200B+/year being spent in games, most of which is spent on in-game items that give players very limited property rights. Web3 technology will not only give players property rights but will also create powerful economic loops that align incentives between game developers, gamers, and content creators. We believe this incentive alignment will create tremendous value across the gaming ecosystem.
How does Magic Eden balance both its NFT and web3 gaming businesses and maintain synergy between the two?
CA: There is a lot of overlap between gaming and NFTs. Fundamentally, we are a marketplace product, and many of the tools and features people need to be able to trade NFTs are the same as what they need to trade game assets. In addition to that, games are also building on top of the same blockchains that NFT creators are building on. While we do a lot of custom work specifically to support games, most of the products we build serve the full range of use cases across the NFT and gaming ecosystems.
What are some of the biggest challenges facing the NFT and web3 gaming industry right now, and how do you see them being addressed over the next few years?
CA: The biggest challenges are regulatory ambiguity, UX friction, and distribution challenges. To keep it brief, I think the regulatory side of things will work itself out in the coming years. On the UX side, there are tons of teams focused on making web3 technology more mainstream-friendly, so I think we'll make enormous strides over the next five years. Lastly, on distribution challenges, the major app/game stores have laid out frameworks that aren't ideal for web3 but still provide enough wiggle room. I think we'll see games and other types of content figure out the best ways to deploy onto these app stores in a compliant but effective way over the next 12-24 months through a lot of iteration.
Any other NFT/web3 gaming-related industry issue you would like to talk about?
CA: The pipeline of web3 games looks very promising. At least 50 high-potential games are being developed around the world, including marquee titles like Wildcard, Shrapnel, Overworld, MapleStory Universe, Eve Online, Symbiogenesis from Square Enix, Legions & Legends, and Champions Ascension. We are incredibly optimistic that we'll see some breakout hits coming from this cohort of games that will lead to a period of serious growth for web3 gaming.
Read more:
Disclaimer
In line with the Trust Project guidelines, please note that the information provided on this page is not intended to be and should not be interpreted as legal, tax, investment, financial, or any other form of advice. It is important to only invest what you can afford to lose and to seek independent financial advice if you have any doubts. For further information, we suggest referring to the terms and conditions as well as the help and support pages provided by the issuer or advertiser. MetaversePost is committed to accurate, unbiased reporting, but market conditions are subject to change without notice.
About The Author
Cindy is a journalist at Metaverse Post, covering topics related to web3, NFT, metaverse and AI, with a focus on interviews with Web3 industry players. She has spoken to over 30 C-level execs and counting, bringing their valuable insights to readers. Originally from Singapore, Cindy is now based in Tbilisi, Georgia. She holds a Bachelor's degree in Communications & Media Studies from the University of South Australia and has a decade of experience in journalism and writing.Get in touch with her via [email protected] with press pitches, announcements and interview opportunities.
More articles


Cindy is a journalist at Metaverse Post, covering topics related to web3, NFT, metaverse and AI, with a focus on interviews with Web3 industry players. She has spoken to over 30 C-level execs and counting, bringing their valuable insights to readers. Originally from Singapore, Cindy is now based in Tbilisi, Georgia. She holds a Bachelor's degree in Communications & Media Studies from the University of South Australia and has a decade of experience in journalism and writing.Get in touch with her via [email protected] with press pitches, announcements and interview opportunities.
Hot Stories
by Victor Dey
November 30, 2023
by Kumar Gandharv
November 30, 2023
by Victor Dey
November 30, 2023
by Nik Asti
November 29, 2023
Latest News
by Alisa Davidson
November 30, 2023
by Victor Dey
November 30, 2023
by Alisa Davidson
November 30, 2023
by Nik Asti
November 30, 2023