ICRAVE and TSXE talk world's first Web3 building at NYC Design Week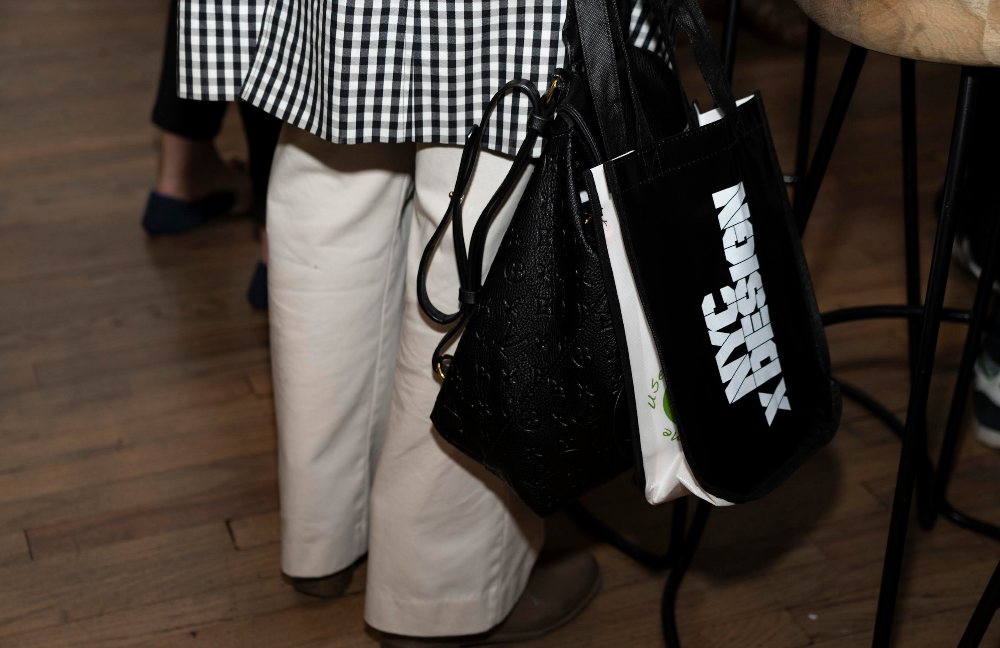 As part of this week's NYCxDESIGN festival, Lionel Ohayon of ICRAVE Design and Nick Holmstén of TSX Entertainment met at ICRAVE's Flatiron, Manhattan offices for a fireside panel discussion last night. The meeting was about ICRAVE's and TSX's latest joint project, TSX Broadway, which joins the entertainment capitol of Times Square with the rising Metaverse.
Ohayon called this endeavor the first of its kind to create both physical and digital components concurrently. From Design Week to SuperRare, the cultural events unfolding around New York City this week have focused on the space where Web3 and the real world meet.
ICRAVE's clients include Lavo Nightclub, Exhale Spa, and the Dallas Cowboys. TSX Co-Founder and CEO Holmstén most recently served as Global Head of Music at Spotify, calling himself the "grandfather of playlists" during last night's talk. Together they've got the gumption and knowhow to make big moves–and the resources necessary to pull them off.
TSX Broadway's physical building is already overtaking Times Square's iconic Palace Theater, where superstars like Judy Garland and Frank Sinatra got their starts. Though the endeavor's slated to finish in 2023, construction is only in its first stages. Earlier this month, the project made headlines by lifting the entire Palace Theater 30 feet from its original resting place to set new foundations. In addition to TSX Broadway's open-air stage, 100-square foot first-floor gallery, and an 8K screen set to become the area's largest, the location will also host a new Palace Hotel, offering 660+ guest rooms with floor-to-ceiling windows and maximum amenities.
Ohayon and Holmstén have also poured resources into a big web development team on the front end to create a 100% app-integrated experience in the building. In addition, their Metaverse will allow fans worldwide to partake in the TSX Broadway experience–no matter how far they are from the Big Apple.
Details on the exact experiences that TSX Broadway will offer are scant so far, but during their conversation Ohayon and Holmstén both specified they're reaching higher than Web2's "broadcast model." Once upon an era, MTV dominated the collective consciousness with shows like the Times Square-based TRL, turning their cameras on the audience and inviting participation in reality TV.
The future of Web3, we hear repeatedly, is about ownership. Fans don't want to just watch, they demand to partake. Culture still comes from the top down, but it undeniably relies on people. "I think that is what we're starting to see in every medium," Holmstén said, citing the K-pop model best exemplified by BTS, who had a million fans before their first album dropped. "Build the army, then cast the band," he quipped. Inclusion goes both ways–they're also interested in how the Metaverse can enrich the experiences of producers and songwriters– staff working behind the scenes who often eventually become stars in their own right.
After 12 months of work, Ohayan and Holmstén said they'd completed a 3D model of all the towers, stores, and screens in Times Square–an intensive start for facilitating full remote immersion. They've also mastered screen-sound coordination so viewers can tune into the projected performances at TSX Broadway with zero latency.
Even though Times Square draws 400,000 visitors per day–more than Coachella, Lollapalooza, and the Super Bowl, Ohayon said–the only notable outdoor event that takes place there is New Year's Eve's annual ball drop. Focusing on the "theater of the place itself," TSX Broadway hopes to prove the Metaverse is not a fake world or paltry consolation prize but a parallel dimension of at least equal value. Moreover, by helping to build it, they're reinventing what it means to launch music–for both fans and producers.
"The design world is the best-suited group of thinkers to lead society and culture," Ohayon said, closing the conversation. Designers are architects and sociologists, studying sources of cultural significance to create meaning through new technologies. "More people need to understand the importance of this end-to-end thinking," Ohayon said. If not their team, then who?
Disclaimer
In line with the Trust Project guidelines, please note that the information provided on this page is not intended to be and should not be interpreted as legal, tax, investment, financial, or any other form of advice. It is important to only invest what you can afford to lose and to seek independent financial advice if you have any doubts. For further information, we suggest referring to the terms and conditions as well as the help and support pages provided by the issuer or advertiser. MetaversePost is committed to accurate, unbiased reporting, but market conditions are subject to change without notice.
About The Author
Vittoria Benzine is a Brooklyn-based art writer and personal essayist covering contemporary art with a focus on human contexts, counterculture, and chaos magic. She contributes to Maxim, Hyperallergic, Brooklyn Magazine, and more.
More articles


Vittoria Benzine is a Brooklyn-based art writer and personal essayist covering contemporary art with a focus on human contexts, counterculture, and chaos magic. She contributes to Maxim, Hyperallergic, Brooklyn Magazine, and more.
Hot Stories
by Victor Dey
December 01, 2023
by Victor Dey
November 30, 2023
by Kumar Gandharv
November 30, 2023
by Victor Dey
November 30, 2023
Latest News
by Victor Dey
December 01, 2023
by Alisa Davidson
December 01, 2023
by Kumar Gandharv
December 01, 2023
by Alisa Davidson
December 01, 2023