Cheetos announces the Halloween Chesterville experience in Horizon Worlds

by
Valeria Goncharenko
Published: October 21, 2022 at 6:02 am Updated: October 22, 2022 at 2:01 am
In Brief
Cheetos announces the launch of "Chesterville" in the Meta's Horizon Worlds
Players can earn points and receive access to virtual locations that host unique experiences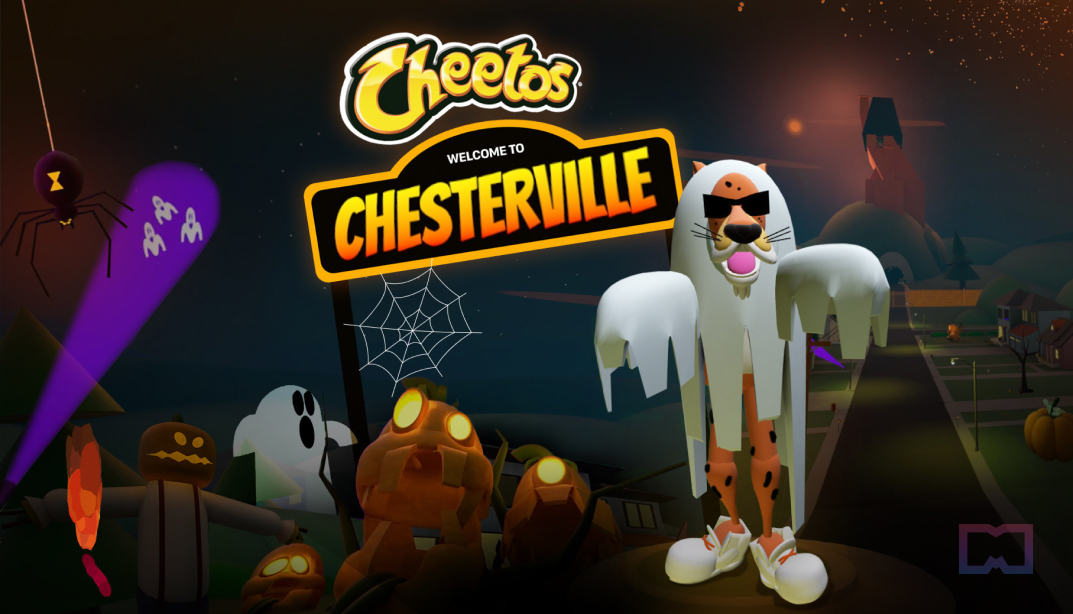 PepsiCo subsidiary Cheetos announces the launch of "Chesterville" in the metaverse. The snack brand has partnered with Gary Vaynerchuk's Web3 agency Vayner3 to develop this Halloween-themed experience.
Chesterville is a digital suburban neighborhood based in Meta's Horizon Worlds. The game features a variety of virtual locations that host different gamified tasks, where players can earn points for their "mischief meters." The points grant users access to the exclusive virtual mansion located on "Cheetos Hill." Once unlocked the location, players can decide whether to bring back a special Cheetos flavor from the "dead" or not.
In addition to earning the in-game points, Cheetos fans can also unlock gaming experiences via the Cheetle Codes, available on the brand's social media.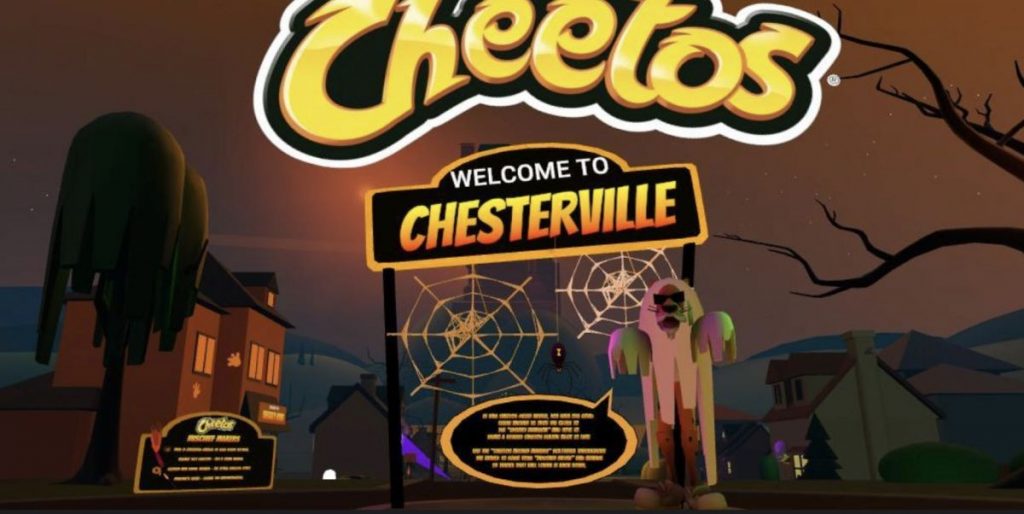 "Forward-thinking brands are beginning to build immersive experiences and we're thrilled that Cheetos is leading the pack with their launch of Chesterville, their first-ever virtual reality experience in Meta Horizon Worlds. It's exciting to see such an iconic brand use our platforms to experiment and connect with consumers in new, innovative ways. We can't wait to see how users everywhere embrace their inner Chester Cheetah this Halloween and beyond,"

said the vice president of the global business group at Meta, Nada Stirratt.
Unfortunately, Zuckerberg's Meta has limited access to the gamified experience, allowing only Meta Quest 2 virtual reality headset owners to visit Chesterville.
The social media giant has not been performing well in the past months. The initial goal for the Metaverse platform was to reach 500,000 monthly active users by the end of this year, and the company has invested $15 billion in its development. However, as of October 17, Horizon Worlds featured less than 200,000 monthly active users, which is below the new target of 280,000 players. According to industry experts, underperforming might be the result of high VR headset costs and the lack of players to share experiences with.
Read related posts:
Disclaimer
In line with the Trust Project guidelines, please note that the information provided on this page is not intended to be and should not be interpreted as legal, tax, investment, financial, or any other form of advice. It is important to only invest what you can afford to lose and to seek independent financial advice if you have any doubts. For further information, we suggest referring to the terms and conditions as well as the help and support pages provided by the issuer or advertiser. MetaversePost is committed to accurate, unbiased reporting, but market conditions are subject to change without notice.
About The Author
Valeria is a reporter for Metaverse Post. She focuses on fundraises, AI, metaverse, digital fashion, NFTs, and everything web3-related.Valeria has a Master's degree in Public Communications and is getting her second Major in International Business Management. She dedicates her free time to photography and fashion styling. At the age of 13, Valeria created her first fashion-focused blog, which developed her passion for journalism and style. She is based in northern Italy and often works remotely from different European cities.You can contact her at [email protected]
More articles


Valeria is a reporter for Metaverse Post. She focuses on fundraises, AI, metaverse, digital fashion, NFTs, and everything web3-related.Valeria has a Master's degree in Public Communications and is getting her second Major in International Business Management. She dedicates her free time to photography and fashion styling. At the age of 13, Valeria created her first fashion-focused blog, which developed her passion for journalism and style. She is based in northern Italy and often works remotely from different European cities.You can contact her at [email protected]
Hot Stories
by Victor Dey
December 01, 2023
by Victor Dey
November 30, 2023
by Kumar Gandharv
November 30, 2023
by Victor Dey
November 30, 2023
Latest News
by Victor Dey
December 01, 2023
by Kumar Gandharv
December 01, 2023
by Nik Asti
December 01, 2023
by Alisa Davidson
December 01, 2023