Babylons: Introducing a Community Focused NFT, GameFi Marketplace and Launchpad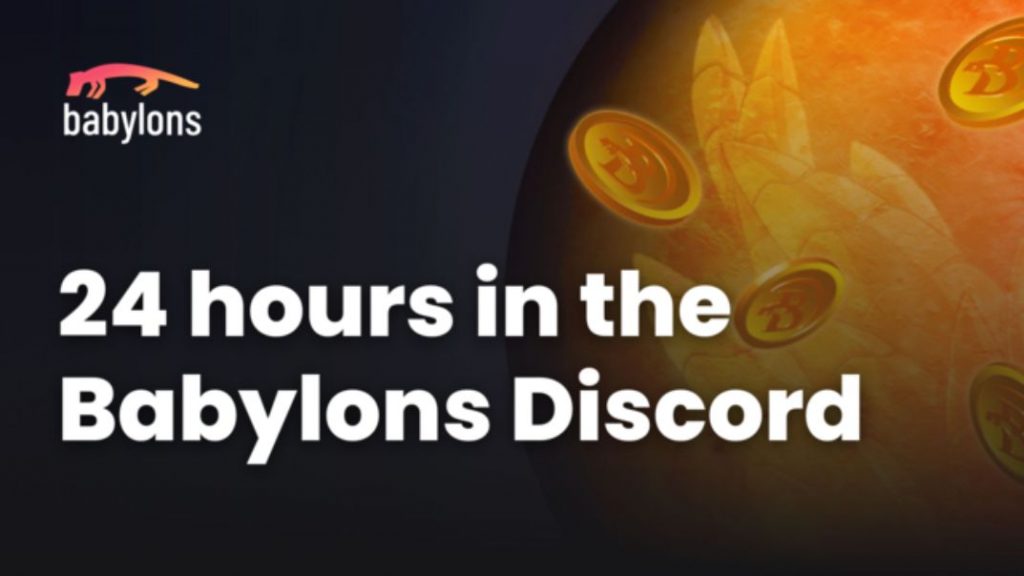 Babylons.io is a premiere GameFi destination, Web3 Solutions Provider, NFT marketplace, launchpad, and DAO governed by its token, $BABI. The multi-chain platform hosts multiple channels with a clear vision of becoming the leading NFT and GameFi platform for creators, collectors, investors, and entrepreneurs. The essence of the BABI Army is evident in their Discord server.
Ask any Babylonian what it is like to be a member of the BABI Army Discord community, and their answer will look something like this;
"The Babylons Discord server oozes authenticity as a digital space where community members can come together and mingle, network, discuss, organize, and get support from the founding team."
From channels catering to various international languages to meme-sharing and channels where members can strategize and profit together, Babylons created a community-centric oasis for anyone looking to tap into the authentic and active community of a moonshot project.
Here is what users can expect after spending 24 hours in the Babylons Discord server to experience the community.
Community Culture: The Dutiful BABI Army
As with any Web3 native project, community support is crucial to the future and continued success of Babylons. The Discord server is one of the most popular places to be a part of their community, hosting over 16 000 users and offering a safe space where members can respectfully interact with one another and the internal team.
Babylons innovated a multi-tiered approach to Web3 solutions, and their online community is a refelction thereof. The Discord culture is centered around core supporters and community members who want to be a part of the journey and grow with the project. Anyone can join the BABI Army, and faithful supporters qualify for constant rewards.
The launch of the new BABI Army comes with a Rewards Program that will increase engagement and ultimately facilitate community growth. Most importantly, they want to give back to their community, so the Rewards Program will prepare their valued community for the contests and reward mechanisms that are now available as part of the ecosystem.
24 Hours On The Babylons Discord
Upon entering the Discord server, members must complete a verification process before they are allowed to see the channels on the server. After that, they can proceed to a rules-n-roles channel to choose a Chamber and tag, potentially share a proposal, and customize communication preferences regarding Babylons Raid events. Members are encouraged to be active and contribute to the community to level up and get access to perks like Whitelisting.
The server is an expertly curated hub for community members to stay abreast of all recent and past Babylons news, as well as interact with the community and get support if needed.
Response
The Babylons team is very timeous and optimistic in interacting with their community members. There are practical channels dedicated to creating a support ticket, asking for help, and leaving feedback– the ultimate method of giving a voice to their community members.
The Babylons moderators never discourage members from asking questions, no matter how basic they may be. In addition, they are always responsive and ready to offer support and guidance. They make it a priority to answer all queries raised by members.
Accessibility
Considering the inherent accessibility of the Discord platform, the Babylons Discord server is user-friendly, organized, fairly compact, and populated with vibrant, engaged, and curious community members representing the international community.
Server Categories
International Chats
The server has an International Chat channel that caters to twelve languages, including English (the primary language), Turkish, Japanese, Portuguese, Arabic, Chinese, German, and more.
Babylons Alpha
Babylons Alpha is a designated channel where hardcore supporters come together to discuss NFT alphas, mint strategies, and make profit together, adding an edge to the value that members get from joining the server.
The server's accessibility and the helpfulness of the mods and other members are impressive and contribute to an overall feeling of community.
A favorite part of the Babylons Discord is having access to a communication channel with some founding team members. They are regularly active and supportive in the chat. Not often can anyone access such a high caliber of team members in Web3 projects, making community members feel valued and part of a transparent network.
Conclusion
True soldiers of the BABI Army will join Babylons on their journey to becoming the leading Web3 hub, and reap the rewards as a result. Babylons have promised many exciting events and constant rewards in the future to ensure their community stays engaged and pumped for everything they have planned.
Making waves in the GameFi and NFT space with innovative Web3 solutions, Babylons is not an ecosystem you want to miss out on.
Jump on the frontier of innovation and join the Babylons Discord to be part of the journey.
Read related posts:
Disclaimer
In line with the Trust Project guidelines, please note that the information provided on this page is not intended to be and should not be interpreted as legal, tax, investment, financial, or any other form of advice. It is important to only invest what you can afford to lose and to seek independent financial advice if you have any doubts. For further information, we suggest referring to the terms and conditions as well as the help and support pages provided by the issuer or advertiser. MetaversePost is committed to accurate, unbiased reporting, but market conditions are subject to change without notice.
About The Author
Serial crypto entrepreneur, VC fund partner, and CEO of the Metaverse Post.
More articles


Serial crypto entrepreneur, VC fund partner, and CEO of the Metaverse Post.
Hot Stories
by Victor Dey
November 30, 2023
by Kumar Gandharv
November 30, 2023
by Victor Dey
November 30, 2023
by Nik Asti
November 29, 2023
Latest News
by Alisa Davidson
November 30, 2023
by Victor Dey
November 30, 2023
by Alisa Davidson
November 30, 2023
by Nik Asti
November 30, 2023