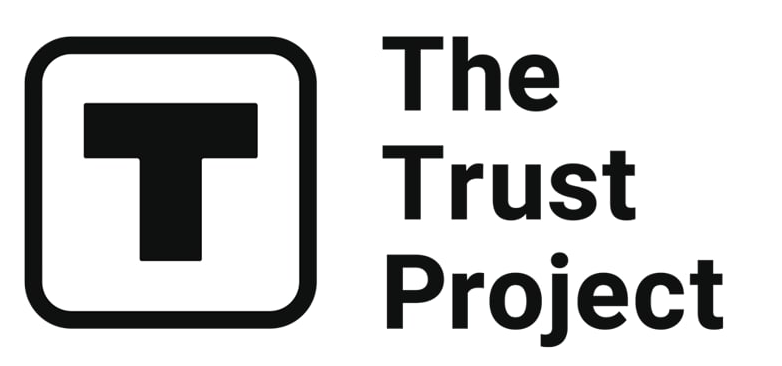 The Trust Project is a worldwide group of news organizations working to establish transparency standards.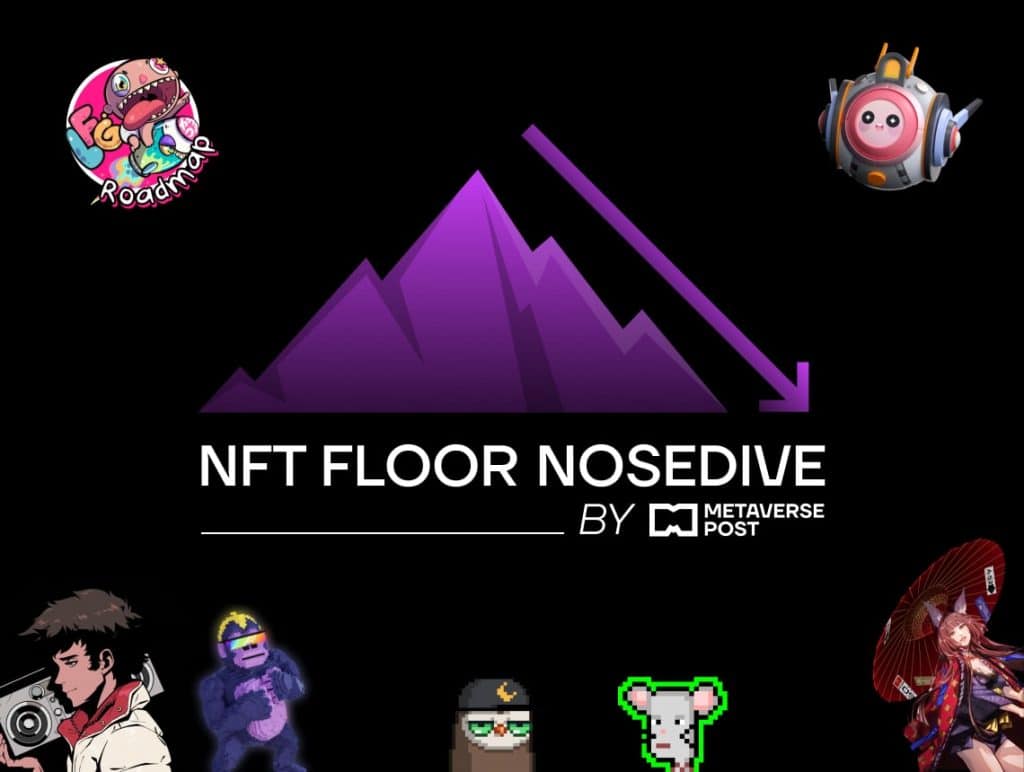 The crypto bear market is taking on NFTs. Many collections have seen floor prices drop by over 90%, while high-priced collections have declined in popularity. Are the following NFT collections money grabs, failed projects, or are they only trying to survive the bear market and eventually rise from the grounds? We analyzed the floor price differences on OpenSea to see which collections had major price meltdowns.
10. PXN Phantom Network: from 4.45 ETH to 0.19 ETH
Phantom Network's 10,000 Ghost Division NFTs had their breakthrough in May, the same month it launched. The mint price was high – 2 ETH – and, after the release, the price quickly reached over 4 ETH. Two weeks after the launch, the floor dropped below the mint price and is now merely at 0.19 ETH.
The project was criticized for being too similar to well-known anime characters. Perhaps due to plagiarism, the popularity of Ghost Division NFTs began to fall and probably won't go up. Yet the collection achieved a milestone: 45.2K in total sales volume.
9. Karafuru: from 5.8 ETH to 0.34 ETH
The collection of 5,555 generative artsy NFTs was created by the Museum of Toys in Jakarta and had physical toys tied to the NFTs and a well-constructed roadmap. Holders of the NFTs also had a nice benefit – an invitation to the Karafuru carnival in Indonesia. The event ended in April, and most of the holders possibly received their physical toys, and since then, the price has been decreasing.
During peaks, NFTs cost over 5 ETH on average, with sales reaching 11 ETH. Currently, the floor price is 0.34 ETH.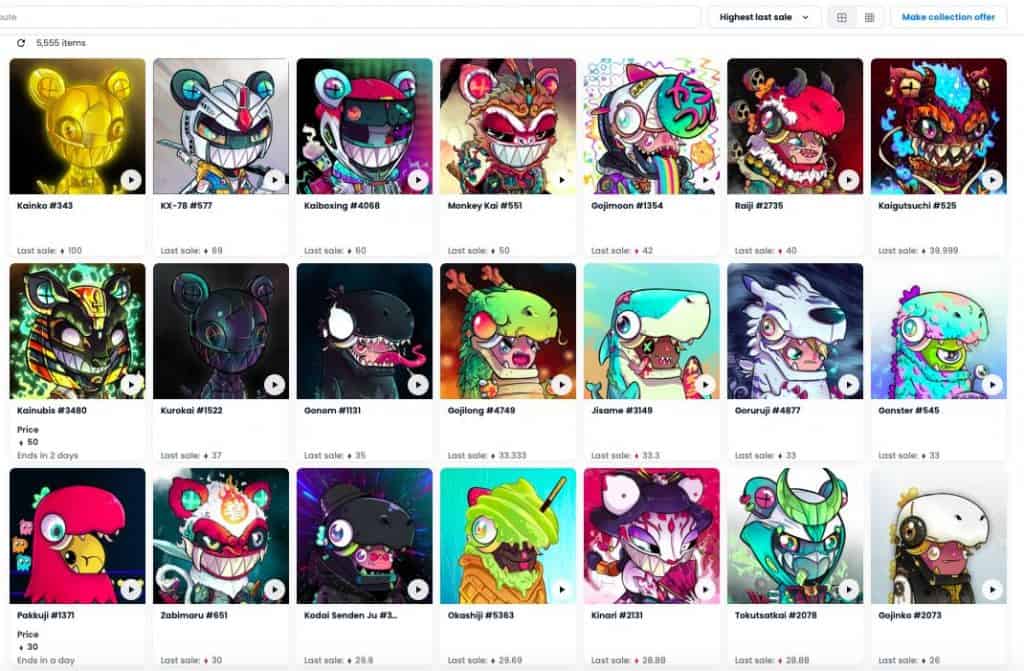 8. MekaVerse: from 7.87 ETH to 0.38 ETH
MekaVerse is a series of 8,888 generative Japan-inspired NFTs called "Meka." In November last year, the collection was considered one of the most hyped NFT projects. It still has over 258,800 followers on Twitter and 13,347 Discord members. The mint price was 0.2 ETH, which quickly grew to 6.4 ETH, and eventually reached 7.87 ETH. Holders sold several Meka NFTs for around 40 ETH and more for approximately 20 ETH.
However, from "buying the hype," the project went down. The floor price went down by 95% from its high and is currently at 0.38 ETH.
The community seems active, so perhaps the project will ultimately be revived to at least over 1 ETH.
7. Hape Prime: from 9 ETH to 0.86 ETH
The next-generation apes have been trading low for a while now. From reaching the peak in January and trading for 8–9 ETH, in March, the Hape NFT floor price was below 2 ETH, and since mid-July, it has been below 1 ETH. The initial mint price was 0.2 ETH per NFT.
The NFT collection of 8192 unique 3D PFP apes was designed by London-based Digimental Studio and had the mission to "redefine the digital fashion landscape." Hape Prime project was once promoted as "one of the hottest NFTs of the year," but it has been sinking for the last several months.
6. Anonymice: from 9.89 ETH to 0.3 ETH
Anonymice (MICE) NFT collection was flourishing at the beginning of October 2021, after steadily going down, and by 2022, the floor price was 2 ETH or less. Since May 2022, the collection of pixelated PFP mice has been trading below 1 ETH. According to the creators, 6,450 collectibles have been burned, with only 3,550 NFTs remaining, making the collectibles rarer.
At first sight, Anonymice seems like a strong project—100% on-chain, not needing API or IPFS, and supporting NFT staking. The project brought innovation into the NFT market and was one of the relatively early projects that launched in September 2021. However, the bubble has burst, and the floor price has fallen by almost 97%.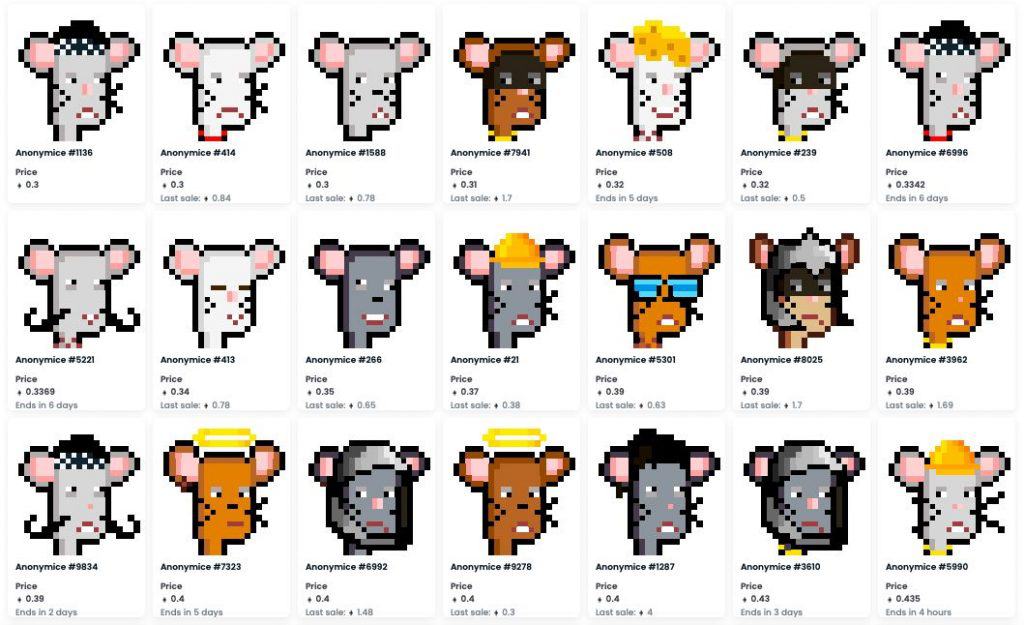 5. VeeFriends: from 16.98 ETH to 6.96 ETH
Crypto influencer Gary Vaynerchuk's NFT project VeeFriends, which consists of over 10,000 NFTs, is focused on intellectual property and has a robust community. It's one of the most popular NFT projects in the market, with a total volume of 55.7K ETH.
VeeFriends were trading well in March, with a floor price of 14–16 ETH. Yet since May, the price has been going down and it is now at the lowest it's ever been—6.96 ETH.
The VeeFriends Mini Drops collection has also been sinking. After trading for 3–4 ETH, the collection's floor price is 0.19 ETH.
We have seen many NFT projects hyped up by influencers or celebrities eventually disappearing. Only time will show if the entrepreneur's collection was a market manipulation scheme.
However, VeeFriends has just received a seed investment from a16z, so we might see prices increase in the next few weeks.
4. Blitmap: from 15 ETH to 3.65 ETH
Blitmap is a collection of sci-fi-themed, community-crafted NFTs that went from 15 ETH to less than 4 ETH. A drop of 1,700 pixelated digital collectibles exploded last fall but is now trading for a relatively low price. The roadmap consists of at least ten plans, yet only three have been completed. The NFTs launched over a year ago, on May 30, 2021.
Blitmap is planning to launch a second collection, which might eventually raise the floor price. However, it's unlikely for the NFTs to reach 15 ETH again.
3. Moonbirds: from 38.5 ETH to 19.5 ETH
Moonbirds were created by crypto entrepreneurs from the PROOF team, including Kevin Rose. Even though it's not entirely correct to call this famous collection "an NFT loser," the floor price of Moonbirds has been falling. Some users suggest this might be due to the lack of utilities and benefits, but the case is debatable.
There have been several Moonbirds sold for excruciatingly high prices: 350 ETH, 305 ETH, 300 ETH, 299 ETH, 205 ETH, and 15 Moonbirds for over 100 ETH. Now, the floor price of the NFTs is 19.5 ETH, which is 50% lower than its 38.5 ETH high. Nevertheless, the current price is significantly higher compared to the collection's mint price of 2.5 ETH.
After PROOF released another collection called Oddities, highly anticipated by the Moonbirds' holders, the floor price of the main collection was still down. Oddities NFTs have also seen a decrease in the floor price, from its high of 3.95 ETH on July 6 to the current 1.13 ETH.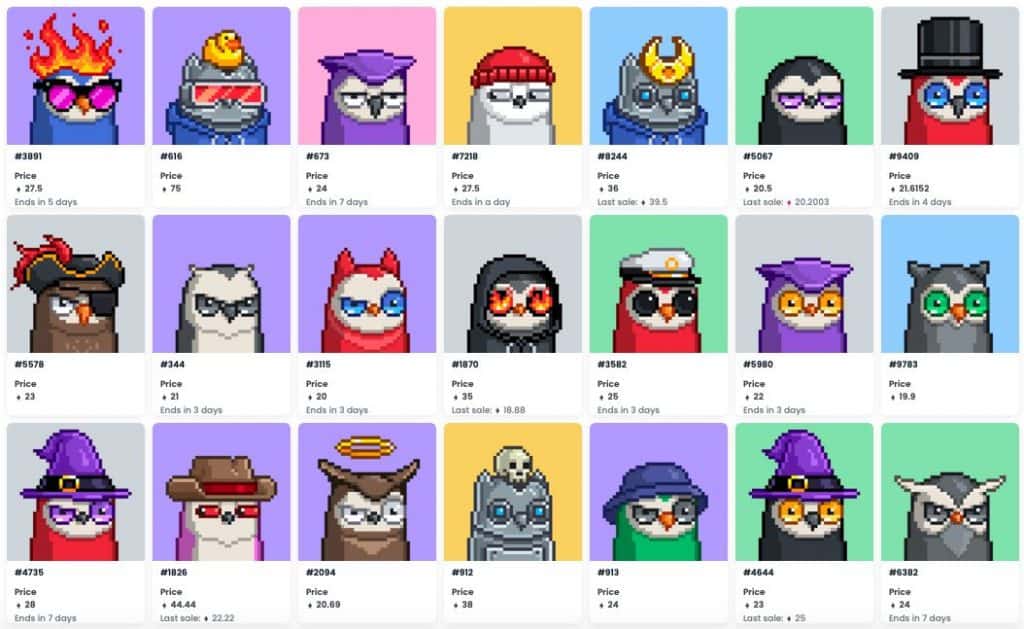 2. Azuki: from 31.8 ETH to 9.8 ETH
Azuki is a collection of 10,000 NFT avatars that provide membership to The Garden, a decentralized interactive space for Web3 enthusiasts. April and May were the most successful months for the popular collection, where the NFTs traded for 20–30 ETH—until the recent scandal concerning the Azuki founder caused the project to go down. The founder was accused of alleged past rug pulls, and since then, the collection has never gone above 15 ETH.
Azuki isn't considered a fraud scheme yet, but due to the founder's shady background, the project could be one of the biggest NFT rug pulls in the industry.
1. Cyberkongz: from 116 ETH to 18 ETH
Cyberkongz collection consists of 8,888 generated avatars created by digital artist Myoo. The project is very community-focused, which at some point rewarded holders with over $900 in daily yields.
Cyberkongz was an early player in the NFT market, yet the collection's floor price has fallen by almost 100 ETH from its high on January 31, 2022, to the current 18 ETH. On March 5, 2021, the mint price of Cyberkongz was low – 0.07 ETH.
Cyberkongz might have been the project that attracted many early investors, but as NFT projects expanded, newer and improved NFTs took over.
The falling floor prices of NFT collections don't necessarily mean rug pulls or failed projects are to blame. NFT prices often fluctuate regarding the market situation and the project's recent activity, including the artist's fame, collaborations, and more.
Lots of NFT projects promised to deliver Play-to-Earn games or their own Metaverses, so the are closely linked to Web3 gaming, an industry that is still growing and, unfortunately, faces lots of problems. Michael Arnold, Web3 Lead at Mighty Bear Games who recently raised $10M for Mighty Action Heroes Web3 game, elaborated on how blockchain gaming is affecting NFTs:
I think it's critical for NFT communities to build around the essence of their community. Unfortunately, too often I see projects promise a game or a "metaverse" as a quick-fix to please holders. In reality though, investors are now catching up to the fact that it is incredible hard to build a game that is fun and sustainable.

2021 was the year of price discovery for NFTs where storytelling, hype, and marketing mattered most. From now on though, execution and fundamentals matter. Solid projects will continue to build. I'm extremely bullish on the bear market because this is where real innovation happens.

Michael Arnold
He agrees that the bull market led to lots of speculation and hype. Blockchain gaming, along with NFTs, is still new and most investors underestimated how long it takes to build good Web3 projects. Similar to DeFi tokens, there was a phase of extreme hype, which comes down eventually.
2021 was the year NFTs took off. With the excitement came record sales and high trading volumes for many projects. The NFT scene is maturing in the current market, resetting general values and testing the overall competition.
Read related posts:
Disclaimer
Any data, text, or other content on this page is provided as general market information and not as investment advice. Past performance is not necessarily an indicator of future results.