OKX Ventures Partner Jeff Ren Hints at Future Metaverse-Related Announcements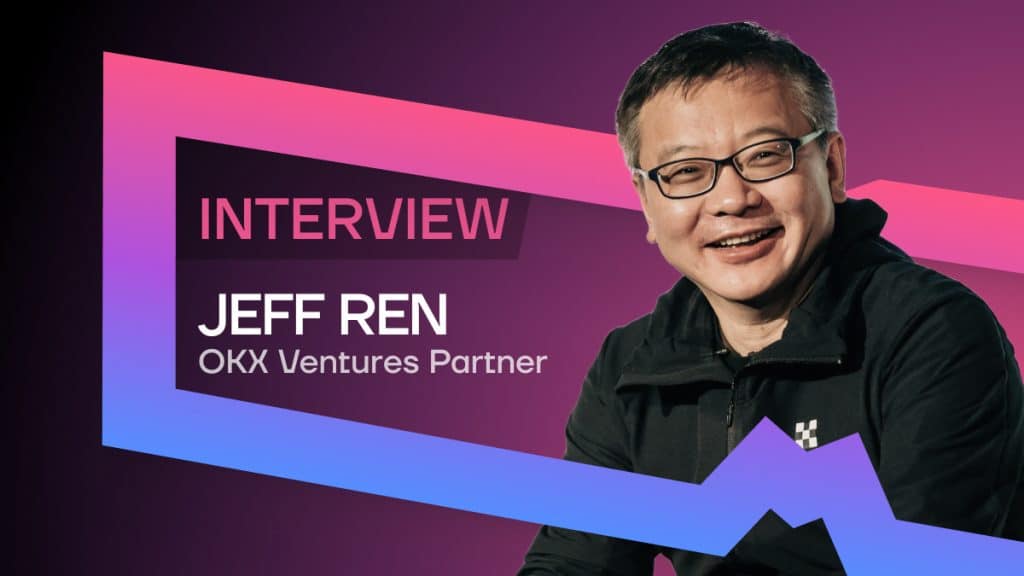 Metaverse Post CEO Danil Myakin recently caught up with Jeff Ren, a partner at OKX Ventures, during the Hong Kong Web3 Festival. Ren's professional background is diverse, having trained as a lawyer and worked in investment banking and asset management. Currently, he runs OKX Ventures, the investment arm of OKX, and is responsible for driving the company's web3-related strategic initiatives.
OKX is undergoing a consolidation process, with all its exchange brands being brought together under one umbrella: OKX. Ren explains that OKX represents the exchange marketplace for everything, with plans to build a digital marketplace for digital goods, assets, and art. In this interview, Myakin and Ren discuss a variety of topics related to the web3 space, including crypto market regulations, Ren's perspective on the metaverse, and his hopes for how AI can help humanity improve.
Danil Myakin: Can you tell me a bit more about yourself and about OKX Group?
Jeff Ren: OKX group is widely known as one of the crypto exchanges with the longest history and most trusted crypto exchange. We have very recently launched a highly acclaimed MPC wallet. After users connect to our wallet, they would be able to use different cross-chain bridges. We have this very simple-to-use, one-click cross-chain, a gateway to different dApps and NFTs. And for the OKG Group, we have OKlink.com, the on-chain data product. It's very easy to use.
Now, we try to consolidate everything under OKX, X being, you know, X.com, the first startup that Musk started, meaning the exchange marketplace for everything.
There's one thing we can't ignore in this conversation, and that's the market developments. The financial markets overall are experiencing a pretty high degree of turbulence, even in the banking sector. But at the same time, Bitcoin and Ethereum prices are moving in an upward direction, and they're showing pretty strong action. What do you expect from the market? How do you expect it to unfold?
Of course, price is a key indicator. This is a 24/7 global market. It's very hard to find other common indicators other than the pricing itself. But the key is in crypto; we should also be mindful of whether we see new entrants, new builders, new innovations, and market participants with active wallets. We should look at different statistics to form a view. Otherwise, it's pretty simple yet too dangerous, just judging from the price movement alone.
The financial wraps of digital assets are inevitable. We have GBTC; we have other ETFs built on top of that. The good thing about financial products and the effect of financial markets is always to provide the most honest reflection of how the underlying assets have been performing and try to extract the real value of it and obtain the speculation, but unfortunately, I think because of the current stage, there's a lack of trust among regulators and issuers of the financial products.
When we discuss topics like this, I want to make sure that the "investors" or other traders have either crypto assets in tokens, coins, and other financial products built on top of that, make a distinction between the risks and rewards in between. We also welcome regulation, but we want the regulators to understand what we're really talking about.
At the panel, I responded to one question saying certain regulators said that they want to regulate DeFi. But are you regulating the DeFi protocol itself, the developers, the users, or the tokens that govern the operation or deliver value? I want people to be more specific so that the real builders and the real investors can react to that.
For as long as I've been working in crypto. I've always heard that institutionalists are coming. Every year, the same thing. But I would say this year, due to different financial and world political processes, we notice a real change in it, and more people are coming into crypto; even some institutionalists are more eager to take some risks. So what do you think about the adoption of crypto? And what do you think are the most important milestones right now to make sure we achieve it?
In every new cycle or with new, disruptive innovations, you always have visionaries, builders, speculators, and the ones that encourage people to speculate. I think it's very important to have enough incentives, tokens being the incentives for the blockchains. I think people threw out some of the ideas for mass adoption. So that's probably why you have heard it for so many years.
We always talk about the use case, but what's missing in those conversations is, whether we have very usable tools. There is also another thing about migrating from web2 to web3. We've seen more and more platforms where instead of letting people choose A versus B, they're actually doing things that are frictionless. People don't see the difference, but they will be able to choose. I think you have to let the blockchain win by people not having to make the choice. They have to see the result. They have to feel that this is something that addresses their pain points.
A couple of things, for example, security and custody. There's this point of view that whoever stands out to regulate needs to protect you when things go wrong. The regulation gives the general public a misconception that because you regulate, so, therefore, it's safe. When anything goes wrong, it's not your problem; it's the bad actors' problem. But sometimes you feel it's actually your incompetence letting the hackers and these bad actors actually succeed. I always ask the question, who needs to shoulder responsibility for the fallout? FTX? Who will shoulder the responsibility of the bad actors like SBF and his little team? Why does the blame go back to the crypto industry in general? I think that's very unfair.
I have friends asking me whether they can send their teenage kids or even college students coming for summer positions or internships. They want to understand it. In the past, they will try to say, oh, play around with it, but treat this like a computer game. Good to know, but don't touch it. Now they even want to understand more. That's a long way to answer a question about mass adoption. But nowadays, the hottest clubs in colleges are blockchain clubs. That is mass adoption — how people see it and how people react to it.
Being at OKX ventures, I guess you have access to a lot of startups and a lot of trends. So what do you think are the hottest topics, trends, and niches for web3 startups?
Web3 topics have always been how to make all these on-chain activities more cost-efficient and give more users protection, and that hasn't changed. But what I like about the innovation and the builders here is that people react to the hot chains very quickly. We had that talk about SDK at a Dragonfly conference back in Beijing in 2019. The early guys were trying very hard to explain it, but now all these builders are coming out and talking about it. I think that's healthy.
There are these "hot projects," and they have so many participants. Unfortunately, in life, you don't get more successful if you're early, but you get more successful if you are lucky. So we're picking the winners, and we're talking to everyone as a friend. We don't need our portfolio to take sides one way or the other. We continue to do what we do well, which is, building web3 products and technologies and making them more accessible to the builders.
In the old days, all the projects wanted to get listed, so the only thing they cared about was the liquidity, the heat that they generated. The exchange wants the users in the very early days. But now the narrative's really changed.
You ought to think differently about how you react to the exchanges and how you play around with the new projects. We see OKX ventures as the connectors to these factors. As an exchange business, it's very transparent. It's very competitive, right? No clear winners. Instead of telling people you have to generate so many active users and transactions to be qualified, why not tell them that you have this tool you can try to use and prove not to us but to your community members that you are worthy for them to continue working with you. I think that's sort of a more positive way of building, and we're still learning.
Yeah, definitely, the exchange business is tough. As you said, the clear winner is tough to choose, but the losers are very clear. Since we're Metaverse Post, so I can't just skip this question: What's your understanding of the metaverse?
In the early days, when we talked about metaverse, we actually talked about different terminals, like how you get into it. So we don't talk about what it is because everybody can describe that or describe the path to that. So VR was one, and blockchain was the other. We talked about gaming and other things.
The first thing that we thought about the metaverse is the communication tools: access to new spaces. And lately, big companies have started crowding the space and trying to set the tone. Meta and other gigantic players are trying to monopolize the term and make it something that is more for their business development purposes, launch their new products, and rebrand. But that didn't really work out. Then later, they phased out, they acknowledged the failure, and they want to do something else.
I will say if the metaverse becomes successful, it becomes a terminology used interchangeably for the virtual world. So anything that is digital, anything that is creative, and anything that has its own autonomy versus the actual physical world. The metaverse almost becomes a parallel existence of human activities.
Unless we really recreate ourselves and start building chips and react motionlessly with our device or see and think and communicate with your human body into the metaverse, the next thing to worry about is how we revolutionize our device. We're no chip developers, but we try to communicate our perspectives with those startups or projects. Hopefully, in the coming months, you will see announcements from us investing in this space. I think crypto would be an integral part of metaverse.
Crypto and web3 are really like the base layer for it because you can't have the real metaverse without the real value exchange in it. And unless you have blockchain, you're not going to get there anyhow. AI is another hot topic. We do write a lot about it as well, and we use it a lot. So I'm really curious about how you think AI will be influenced by web3 and your business.
A couple of perspectives. AI is not a new thing. I personally invested in some of the AI companies; one of them is listed in China, and it's not been performing very well. I think that AI is just one of the coolest things that attract a lot of attention and talent and a lot of building activities. And I'm glad that they work. I think ChatGPT certainly came out at the right time, and maybe it's a Microsoft thing, but I think they presented it well. It's a very cool product, a very cool marketing initiative, and certainly, it gets people's attention.
But I never liked questions like, "How would this impact that?" I don't think AI and the metaverse necessarily have to interact with each other. What I do want to see is AI training in certain product offerings. We're not aware of anyone that has been using blockchain on-chain data to train their protocols so we're working with some of the household names in the AI space. We're feeding them the on-chain data that we've accumulated and organized. You will see announcements of certain development products probably coming out first.
The other thing is that we support a lot of NFT projects, and AIGC projects are certainly very popular. And we know a few projects in the form of DAOs that are supporting other AIGC projects, and some of them have become widely acclaimed projects. So we are learning and monitoring how human organizations like DAOs would react to AI-generated content.
I think AI helps not just to generate content and wealth. It also helps to realize your emotions and human factors. Hopefully, AI will become more of an enabler for us as humans to be better selves and won't replace us.
Read more:
Disclaimer
In line with the Trust Project guidelines, please note that the information provided on this page is not intended to be and should not be interpreted as legal, tax, investment, financial, or any other form of advice. It is important to only invest what you can afford to lose and to seek independent financial advice if you have any doubts. For further information, we suggest referring to the terms and conditions as well as the help and support pages provided by the issuer or advertiser. MetaversePost is committed to accurate, unbiased reporting, but market conditions are subject to change without notice.
About The Author
Serial crypto entrepreneur, VC fund partner, and CEO of the Metaverse Post.
More articles


Serial crypto entrepreneur, VC fund partner, and CEO of the Metaverse Post.
Hot Stories
by Victor Dey
December 01, 2023
by Victor Dey
November 30, 2023
by Kumar Gandharv
November 30, 2023
by Victor Dey
November 30, 2023
Latest News
by Victor Dey
December 01, 2023
by Alisa Davidson
December 01, 2023
by Kumar Gandharv
December 01, 2023
by Alisa Davidson
December 01, 2023