A Conversation on the Future of Crypto, the Metaverse, and AI with HashKey Capital's Partner Xiao Xiao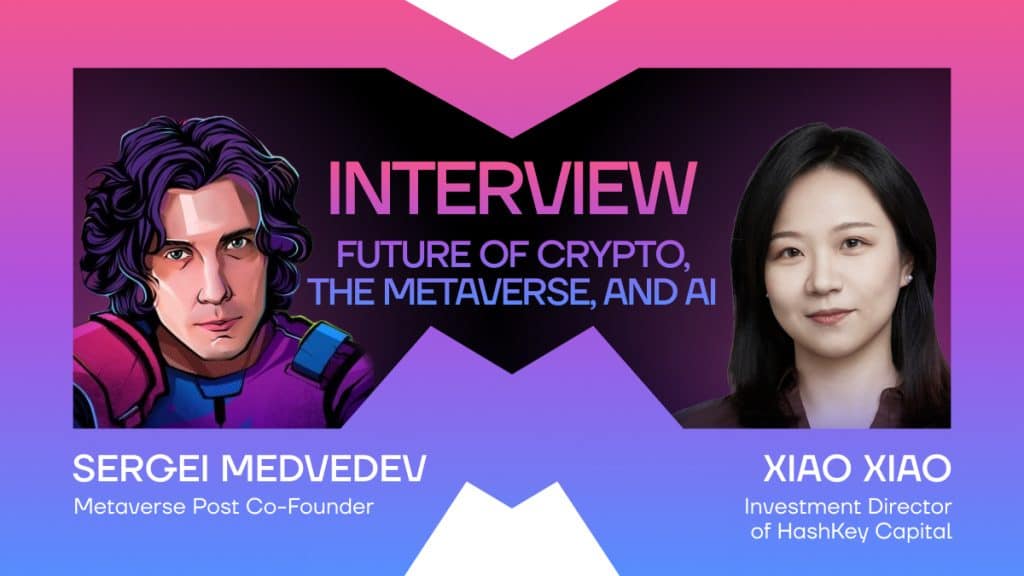 Launched in 2018, HashKey Capital has quickly established itself as a leading player in the crypto and blockchain investment space. With over $1 billion in assets under management, the firm operates in Hong Kong and Singapore, with a growing presence in the U.S. and Japan.
Recently, HashKey Capital announced the closure of its third fund with $500 million in capital. Backed by institutional investors such as sovereign-wealth funds, businesses, and family offices, the HashKey FinTech Investment Fund III will focus on investing in emerging markets and web3 initiatives around the world.
The fund will target infrastructure, tools, and applications that can help drive the mass adoption of blockchain technologies. In this discussion with Metaverse Post co-founder Sergei Medvedev, HashKey Capital's Partner Xiao Xiao shares insights into the current crypto market, the web3 renaissance in Hong Kong, the metaverse, and AI.
Sergei Medvedev: Despite the Bitcoin price increase, the global financial market doesn't look good. Do you think we are in a bear market, or we are facing a bull market? Should we expect some turbulence in the future?
Apparently, we're still in a bear market, but I do think that maybe we are at the bottom already. After the bankruptcy of SVB or FTX, people started believing more in decentralization, and the interest rate hikes have slowed down. After the SVB issue, we actually saw a big increase in Bitcoin's price, and the prices of mainstream tokens surged in a short time. I do think the macro situation will improve as well.
At the same time, the Shanghai upgrade of Ethereum has just been completed, so we do think more institutional or big capital will flow into the Ethereum ecosystem, at least for staking, because it's almost like a risk-free rate on chain. Plus, currently, the price of Ethereum is pretty low, so I do think more and more capital will flow into that.
All things considered, I really think we're already at the bottom in the near future. Most of the signals are positive.
Sergei Medvedev: In this market, we talk about adoption a lot. But can we say that during this world crisis, we had real adoption, and do you think institutions started using crypto? Do they see the exposure of cryptocurrency as normal?
The short answer is yes. Some big companies are established institutions that will have at least some allocation in crypto because Bitcoin or Ethereum are already becoming an alternative asset class. So for institutions, it will help them to diversify their risk and their respective portfolios.
On the other hand, crypto is not always about the token or the price. They really bring some blockchain technology innovations, and I do think those banks or those centralized exchanges need this kind of technology. For example, the centralized exchange needs to give more transparency to all the investors, so why not let smart contracts do the exchange, and the transactions will all be recorded on-chain automatically. There are a lot of hybrid exchanges coming out. They list assets in a permissioned way, but the users can trade the assets on blockchain on top of the smart contract so that nobody can do malicious things. The cost of wash trading might be higher than before. In this way, blockchain technology can help solve the trust problem or some of the regulation problems for institutions or traditional companies.
Sergei Medvedev: Why are we seeing a new renaissance of the web3 scene in Hong Kong now?
I do see some changes, but since I came from Singapore, I've already experienced the changes there. There is a slight difference between the two markets. In Singapore, we can see a lot of token funds or blockchain VCs, but in Hong Kong, there are a lot of financial institutions and entertainment companies. A lot of movie stars and producers are here. So I think the NFT and metaverse industry can benefit from Hong Kong a lot. I don't see those two markets as competitors to each other, but they can be complementary to each other. They added up to be a core part of the Asia market.
Besides, a lot of people think very highly of the Asia market, especially because the regulatory environment here is a little bit more friendly than in Europe and in the US. So I do think more attention will be paid to this market.
Sergei Medvedev: How do you see the development of the metaverse market in general?
I have to say the user experience of the metaverse is still pretty bad for most of the platforms. But we did see a lot of big brands spending money in this sector, for example, LVMH or some e-commerce platform. They're all making trials in the metaverse.
What I got is that the metaverse can create another level of user experience, especially in 3D; you can visualize things in the metaverse beyond just a simple web page. Well, theoretically, they can bring a better user experience, but it's still in the early stage and still needs more infrastructure. But with all this scalability for Ethereum and all this layer two, decentralized rendering coming out, I do think it's possible to improve the user experience in the near and maybe mid-term.
Sergei Medvedev: There's a huge interest in the buzzword: consumer AI solutions. Do you think it will change the work process? Do you see your company and maybe your portfolio companies implementing AI?
Yeah, I see a lot of portfolio companies or a lot of startups integrating AI technology. For example, AI can be a virtual assistant, which can be integrated into community management, or they can bring AI into data analysis or anything related to data. So I think it's a good trend. And AI can be combined with blockchain in a perfect way.
AI can bring more labor resources. And blockchain can change the relations between producer and consumer. It's kind of like the gig economy. Everybody contributes to the same ecosystem and shares the ecosystem's value together. So they can reduce the computing costs of machine learning or feeds data to AI models more efficiently. I think these two technologies can be perfect partners for each other, and we do think the combination is coming.
Read more:
Disclaimer
In line with the Trust Project guidelines, please note that the information provided on this page is not intended to be and should not be interpreted as legal, tax, investment, financial, or any other form of advice. It is important to only invest what you can afford to lose and to seek independent financial advice if you have any doubts. For further information, we suggest referring to the terms and conditions as well as the help and support pages provided by the issuer or advertiser. MetaversePost is committed to accurate, unbiased reporting, but market conditions are subject to change without notice.
About The Author
Serial entrepreneur with 14+ years experience. Transformed Cointelegraph from 1M to 19M MAU and launched 8 local branches. Now helping corporates make the shift to web3.
More articles


Serial entrepreneur with 14+ years experience. Transformed Cointelegraph from 1M to 19M MAU and launched 8 local branches. Now helping corporates make the shift to web3.
Hot Stories
by Victor Dey
November 30, 2023
by Kumar Gandharv
November 30, 2023
by Victor Dey
November 30, 2023
by Nik Asti
November 29, 2023
Latest News
by Alisa Davidson
November 30, 2023
by Victor Dey
November 30, 2023
by Alisa Davidson
November 30, 2023
by Nik Asti
November 30, 2023