Marieke Flament On Leading NEAR Foundation's Mission Towards an Open Web Future

by
Cindy Tan
Published: May 26, 2023 at 9:42 am Updated: May 30, 2023 at 12:15 pm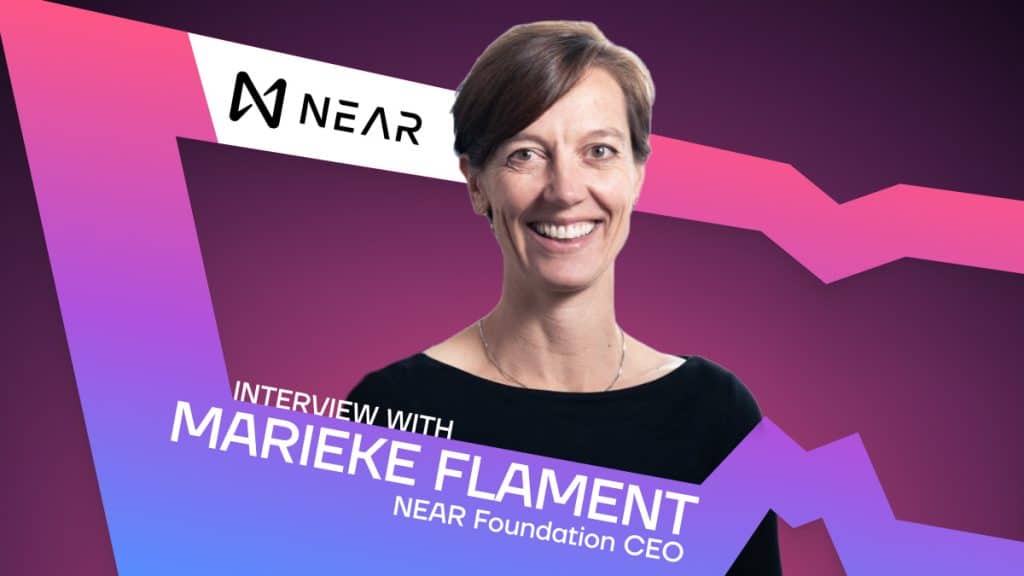 Born in France, NEAR Foundation CEO Marieke Flement is a computer engineer whose illustrious career has spanned renowned companies and industries worldwide. Her journey has taken her from being a financial analyst at luxury giant LVMH, a senior consultant with Boston Consulting Group, to marketing director at Expedia's Hotels.com, followed by a role as the Managing Director of Europe and Global CMO for Circle, a leading player in the crypto industry.
It was during her tenure at Circle that Marieke firmly established herself as a pioneer in the consumer application of blockchain technology. At Circle, Flement successfully took several products to market, built a user base of over 2 million from scratch in less than two years, and helped to advance the blockchain agenda.
Her pivot from fashion and hospitality to web3 has taught her invaluable lessons in adaptability and resilience. She understands that personal growth often arises from embracing challenges and believes that leadership, regardless of industry, stems from aligning one's deepest values with their business pursuits.
As CEO of NEAR Foundation, Flement is leading the organization towards an "open web" future where web3 can be more accessible to the masses. To achieve that, the Near Foundation has announced a number of initiatives, including its Blockchain Operating System and a Base Camp Accelerator Program recently launched in partnership with Outlier Ventures. In this interview, Flement lets us in on her vision for an open web and the kind of teams NEAR Foundation is backing in the NEAR Base Camp Accelerator Program.
How did your education in computer science inform your work in the web3 space and your role as CEO at NEAR Foundation?
My computer science background provided me with the technical literacy and problem-solving skills to navigate the complexities of the blockchain world – everything from cryptography to network architecture. It's made it a lot easier to wrap my head around the ins and outs of blockchain technology and contribute meaningfully to our technical strategy.
But fundamentally, it helps me understand the thinking behind our technical team's work and the hurdles we need to jump. It keeps me grounded in what's possible and what's not, and that's key when you're trying to lead an organization in a field that's changing so quickly. It is enormously helpful to be able to speak the same language as our technical leaders and understand the core concepts behind major technical decisions.
NEAR has built a Blockchain Operating System for the open web. Could you tell us more about how the idea for the BOS came about and how it was developed?
The NEAR ecosystem is rapidly evolving and expanding beyond a mere Layer-1 blockchain. The catchphrase for this development is "Near is the Blockchain Operating System (BOS)." So, what exactly is a blockchain operating system? Essentially, it serves as the front end that allows any blockchain to join and become user-friendly. Over the years, NEAR has not only built a high-speed and cost-effective layer one protocol but also developed various essential applications to advance up the technology stack.
During our recent announcement of BOS in Denver, we received an overwhelmingly positive response. Our vision for the future of Web3 involves treating it as a multi-chain construction, where a decentralized front end enables the integration of different chains, moving towards greater decentralization. We believe BOS will help achieve the goal of making Web 3.0 more accessible to everyone.
What does the open web look like for you and your team at NEAR Foundation, and what else does it take to achieve that besides NEAR's BOS?
At NEAR, the open web represents a future where technology is more inclusive, accessible, and user-friendly and where power and control over data are democratically distributed. We envision a world where applications are permissionless and censorship-resistant and where users retain full control over their own data. We aim to provide the tools developers need to build this future, fostering an ecosystem of innovation and mutual growth – and BOS is just the beginning.
What sets NEAR apart from other L1 blockchains platforms, and how do you see it evolving in the next few years?
Our approach lies in our unwavering focus on addressing the needs of developers themselves. We aim to provide a simple-to-build platform that accommodates any programming language, enabling developers to start building immediately. Simultaneously, we prioritize user-friendliness, ensuring users can seamlessly interact with our platform without navigating complex processes such as purchasing cryptocurrency or installing extensions.
We also focus on scalability, creating a singular environment where users don't need to know about different chains or cross-shared messaging. We want users to use it, and more shards are added as more capacity is required. Our philosophical focus is fundamentally different, and this results in different decisions on the protocol.
For example, we are excited about FastAuth, which lets users quickly and easily create accounts for any website or app that integrates with the Blockchain Operating System (BOS). Putting user experience at the center, FastAuth creates a familiar, web2-style onboarding experience where users can create a free account using biometrics, phone prompts, and an email address. This allows users to quickly interact with an app, making the web3 space more accessible to everyone.
The NEAR Foundation focuses on building dApps that are easy for the masses to access. Which dApps on NEAR have seen the biggest adoption and why? What kind of dApps do you hope to see more of?
One of the dApps with the most considerable adoption is the global phenomenon Sweatcoin, a free app that rewards your daily steps with a new-generation currency you can spend on cool products or donate to charity. Last year, we partnered with the firm to launch SWEAT, a radical new token. Designed to truly unlock the power of movement, this revolutionary cryptocurrency is minted purely by steps. With more than 100 million users and 600 brand partners, SWEAT represents one of the most significant steps in mobilizing the new movement economy.
dApps, in general, have enormous potential when it comes to revolutionizing healthcare, education, among other areas. In the future, I'm personally excited about how dApps can help mitigate climate change and environmental issues. dApps that incentivize or facilitate sustainable practices, carbon trading, or environmental conservation have the potential to be very impactful.
Why did NEAR Foundation decide to partner with Outlier Ventures for the NEAR Base Camp Accelerator Program? What kind of projects building real-world, utility-based use cases are you looking to support through the Base Camp program, and what are the criteria for acceptance?
We decided to partner with Outlier Ventures to support the best top-notch talent in the ecosystem by giving them the tools they need to scale up their startups sustainably while also helping to set the pace of Web3 innovation in an open, diverse, and socially impactful way.
In our search for projects, we are particularly interested in a few key areas including usability and application/infrastructure for scalability, as well as real-world use cases. We are keen to explore novel use cases of blockchain technology, ranging from tokenizing physical assets to asset distribution, incentivization, and asset management solutions. We're also intrigued by the concept of web 2.5 and its role as a bridge between web2 and web3. We are seeking projects that delve into loyalty, rewards, and social platforms within this web2.5 context.
Finally, we are excited about the potential intersection between blockchain and AI. We are looking for projects that uncover new and transformative use cases in industries such as finance, healthcare, and supply chain management, harnessing the power of AI to leverage blockchain technology.
The NEAR ecosystem includes a number of different projects and partners. How does the foundation decide which projects to support and partner with?
The NEAR Foundation looks for initiatives that align with our mission to accelerate the world's transition to a more open web. Firstly, we look for projects that share our values and vision. This means that the project should be focused on promoting decentralization, user empowerment, and transparency. If a project doesn't align with these values, it's probably not the right fit for our ecosystem.
Secondly, technical viability is critical. We assess whether the project has a solid technical framework and a team to execute it. We must know they have the expertise and resources to bring their vision to life. Finally, we consider the potential impact of the project. We look for projects that can bring real value to the NEAR ecosystem and its users by addressing a specific need, introducing a novel solution, or improving upon existing systems.
In Nov 2022, NEAR launched a regional Web3 gaming hub in Korea. Why did NEAR choose to launch the hub in Korea?
Korea is an exciting place for Web3; the country has a fantastic technological infrastructure, advanced telecommunications networks, and widespread smartphone usage. There's a solid foundation for Web3 adoption. But what really sets Korea apart is its vibrant blockchain and cryptocurrency community. They've been pioneers in this space, with prominent exchanges and a large community of enthusiasts and developers.
There's also a strong gaming and eSports culture. With a massive following and an engaged community, Web3 technologies like NFTs and decentralized gaming platforms have huge potential to revolutionize the gaming industry. Koreans are known for being early adopters of technology, so they're really open to embracing new digital trends.
Also, the government has been supportive, implementing policies and initiatives to foster the growth of the blockchain industry. They've set up blockchain zones, provided startup funding, and supported research and development efforts. All of this made it a no-brainer to launch the hub in Korea.
Can you discuss any exciting partnerships or collaborations that you have in the works and what impact they will have on NEAR and the Web3 space as a whole? What factors do you consider when seeking out new collaborations?
When seeking new collaborators, we look for those who share our values – we have a strong emphasis on user experience, scalability, and mass adoption. Our developer, founder, and user-centric approach, coupled with our focus on simplicity and seamless applications, enables easy onboarding for new builders and users.
What are some of the upcoming developments or initiatives that the NEAR Foundation is most excited about?
We recently partnered with METABORA, the web3 gaming initiative affiliate of Kakao Games, to promote the joint development of Web3 games, which I'm really excited about. NEAR Korea Hub will provide full support to the game industry, enabling expansion in Web3 cross-chain game onboarding and NFT models based on exceptional IP. One of the big ambitions of the hub is to tap into the country's active gaming community and to bring amazing projects and creators to the NEAR ecosystem, and given the size of the Korean game market, this is something we are proud to be part of.
Generative AI technology has now intersected with Web3 and the NFT space. Does NEAR have plans to look into that area? If so, how? If not, why not?
NEAR's origin story is in AI. There's no doubt that the integration of generative AI expands the creative potential and functionality within the web3 ecosystem – and yes, generative AI is revolutionizing web3 by enabling new possibilities in the realm of NFTs. I'm not at liberty to discuss specific plans as yet, but the best way to hear about future announcements is through our social media channels and my Linkedin, to which I regularly post.
What advice do you have for builders and founders looking to launch their products in the Web3 space, and what advice would you give to startups looking to apply for the NEAR Base Camp Accelerator?
Understand the tech, be user-centric, and value collaboration. The web3 world is tech-heavy, so you've got to be comfortable working with blockchain and related technologies. But don't let the tech side make you lose sight of the end user. Your product has to be user-friendly: remember, we want to bring more people into the Web3 fold, so the simpler, the better.
Also, collaboration is key. The web3 space is all about building interconnected networks and systems. So be ready to work with others, share ideas, and create synergies. Your product's success will be tied to your ability to collaborate and be part of the wider Web3 ecosystem.
For the NEAR Base Camp Accelerator applicants, we're looking for teams who are enthusiastic about open technologies and have a sharp vision for their product. Passion and vision are important, but so is a clear strategy to make your vision a reality. We're not just backing your product; we're backing your team. Show us your dedication, tenacity, and readiness to dive in and make things happen.
What are some of the biggest challenges facing the web3 industry, and how do you see them being addressed over the next few years?
At the top of the list is the absence of clear and consistent global regulations, which presents a significant challenge for the web3 industry. With different countries adopting varied approaches to regulate decentralized technologies, it creates uncertainty and hampers growth. To tackle this issue, it is imperative for governments to actively engage in open dialogue with industry stakeholders, including entrepreneurs, developers, and researchers.
By gaining a deeper understanding of the potential benefits and risks of web3 technologies through collaborative efforts, regulations can be crafted to strike a balance between safeguarding consumers, driving innovation, and ensuring financial stability. This approach will foster the growth of the Web3 industry while creating a favorable regulatory environment that bolsters its participants.
Any other blockchain/web3-related industry issue you would like to talk about?
A key industry issue is accessibility and user-friendliness. This is why we are really excited about FastAuth, as it dramatically lowers the threshold for adoption and opens the door to bringing billions of web2 users into the Web3 space. As we all know, one of the major challenges to onboarding users in Web3 has been the complicated process and the need to remember long passwords or seed phrases.
Since most users are accustomed to centralized authentication methods like Google, they can find this off-putting, creating a barrier for entry and making it challenging to quickly or easily onboard new people. Beyond streamlining the onboarding, FastAuth also removes the need for users to have or acquire crypto to open an account or transact, making it possible for anyone to get started immediately. Along with this FastAuth also removes the need to download any specialized software or applications because everything works seamlessly right from the browser on your desktop or mobile device.
Read more:
Disclaimer
In line with the Trust Project guidelines, please note that the information provided on this page is not intended to be and should not be interpreted as legal, tax, investment, financial, or any other form of advice. It is important to only invest what you can afford to lose and to seek independent financial advice if you have any doubts. For further information, we suggest referring to the terms and conditions as well as the help and support pages provided by the issuer or advertiser. MetaversePost is committed to accurate, unbiased reporting, but market conditions are subject to change without notice.
About The Author
Cindy is a journalist at Metaverse Post, covering topics related to web3, NFT, metaverse and AI, with a focus on interviews with Web3 industry players. She has spoken to over 30 C-level execs and counting, bringing their valuable insights to readers. Originally from Singapore, Cindy is now based in Tbilisi, Georgia. She holds a Bachelor's degree in Communications & Media Studies from the University of South Australia and has a decade of experience in journalism and writing.Get in touch with her via [email protected] with press pitches, announcements and interview opportunities.
More articles


Cindy is a journalist at Metaverse Post, covering topics related to web3, NFT, metaverse and AI, with a focus on interviews with Web3 industry players. She has spoken to over 30 C-level execs and counting, bringing their valuable insights to readers. Originally from Singapore, Cindy is now based in Tbilisi, Georgia. She holds a Bachelor's degree in Communications & Media Studies from the University of South Australia and has a decade of experience in journalism and writing.Get in touch with her via [email protected] with press pitches, announcements and interview opportunities.
Hot Stories
by Victor Dey
November 30, 2023
by Kumar Gandharv
November 30, 2023
by Victor Dey
November 30, 2023
by Nik Asti
November 29, 2023
Latest News
by Alisa Davidson
November 30, 2023
by Victor Dey
November 30, 2023
by Alisa Davidson
November 30, 2023
by Nik Asti
November 30, 2023